21 ways to upgrade your PC and supercharge your apps for 2021.
Supercharge Slack, Trello, Salesforce, Microsoft Teams, Notion, ClickUp, and all your favorite web apps by using them in Wavebox - it's the ultimate productivity hack for working on the web.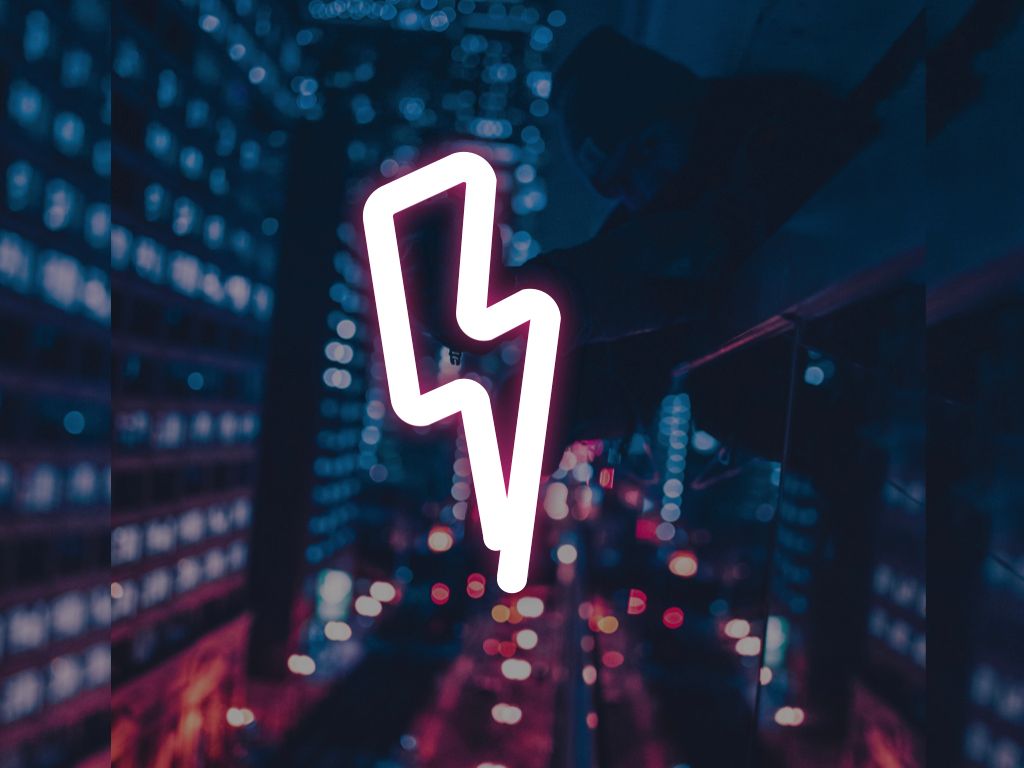 Supercharge Slack, Trello, Salesforce, Microsoft Teams, Notion, ClickUp, and all your favorite web apps by using them in Wavebox - it's the ultimate productivity hack for working on the web.
Get 2021 off to a flying start by giving both your computer and your favorite web apps an instant upgrade!
Using your everyday web tools in Wavebox rather than in Chrome, will not only improve your computer's performance but also transform the way you work. By streamlining workflows and enhancing your favorite apps with Wavebox's inbuilt features, you can save an incredible 90 minutes per day - that's one day a week!
So how does Wavebox do it?
Below you'll find a list (in no particular order) of 21 great Wavebox features that will speed up your machine and boost your productivity in 2021. Most of these features are unique to Wavebox, so why not try them out for free. So get ready to power-up your workflow!
1) App & tab sleeping.
😴  Replace slow loading tabs with lightning-fast apps.
Wavebox won't slow down or grind to a halt, no matter how many apps you have open. Any inactive apps and tabs will auto-sleep in the background to save memory, which can be turned on and off on the fly.  The sleep option is fully customizable on an app-by-app basis in Settings. More.
2) Real-time CPU management.
📈  Get the most out of every web app.
Everything in Wavebox is optimized to provide a fast and flawless performance, not just apps and tabs. Wavebox cleverly monitors your computer's CPU in the background and throttles its own consumption accordingly, therefore ensuring that you always enjoy a smooth performance.
3) Customizable toolbars (create an OS for the web)
🐸  Make hopping between apps second nature.
The app icons on your computer desktop don't move around, appear and reappear, so why are things so different for web apps? Not so in Wavebox, where you can organize your icons to suit any workflow using sidebar groups, toolbar apps, pins, workspaces, and bookmarks.
4) Focused tabs.
🕵 If you can't live without tabs, then at least be organized!
In Wavebox you can use tabs in a more structured way, helping you to stay focused. When using an app, you can use tabs that are only visible within that app which keeps things tidy and makes navigation easier.   These tabs also inherit the sleep function of the app so they don't use memory when not in use.  More.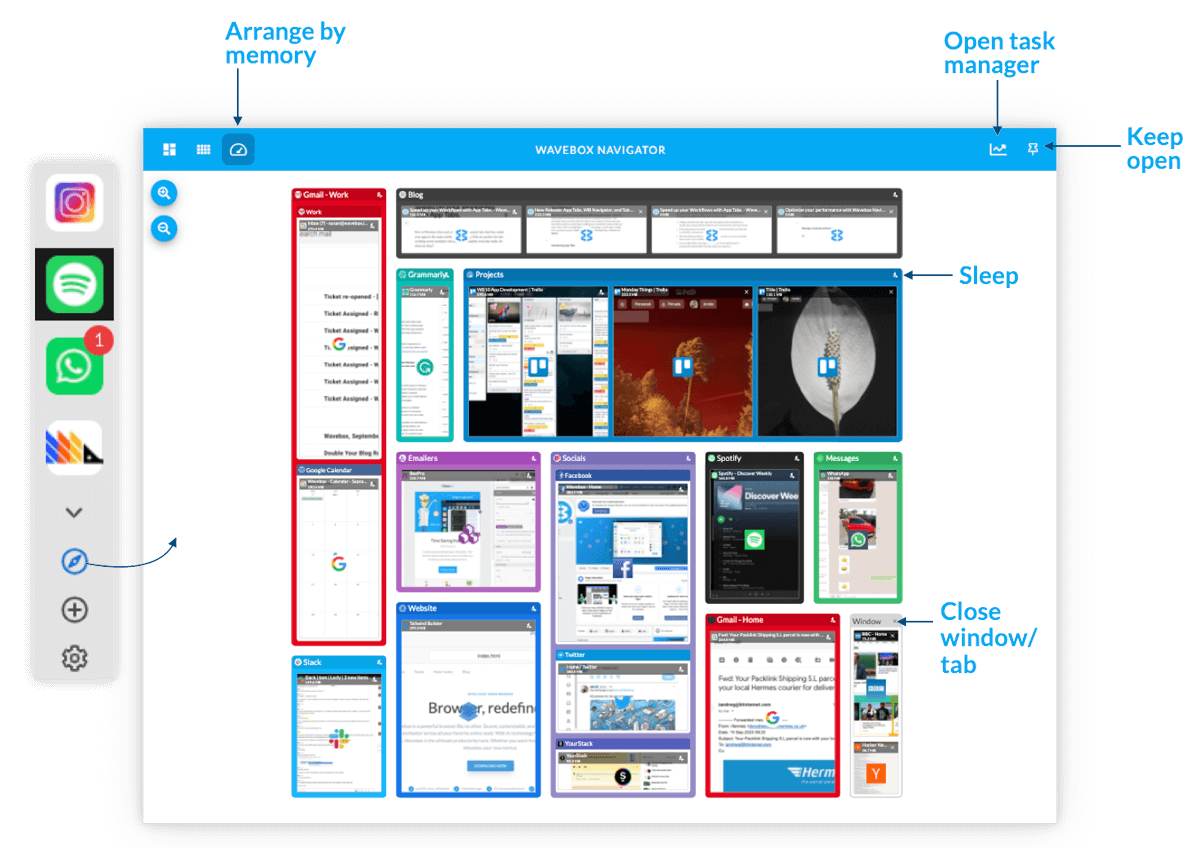 5) Visual Navigator
🧭  Use a visual sitemap of apps & tabs for quick navigation.
Utterly unique to Wavebox is the Navigator.  A visual map of all your web apps and tabs as thumbnails.  Thumbnails can be sorted by group, app or CPU consumption with the largest using the most memory.  Navigator is used to keep track of all your open apps and tabs (click on the moon to sleep an app, click on a cross to close a tab)) and also monitor/manage your computer's performance. More.
6) Thumbnail previews.
👀  Preview what's in any app or tab.
Tabs...they look very much alike don't they, and it's easy to forget what's in each one (especially if they have the same title). We've solved this by placing a recent thumbnail image in the hover menu. The thumbnail is displayed even when an app/tab is sleeping, so there's no need to wake it to remind yourself of its contents (therefore saving time and CPU). More.
7) Tab & app search.
🔍  Quickly find things you're working on.
With everything in one place it's easier to find the stuff you need, and there are 3 search fileds in Wavebox to help you navigate using any keyword. The address bar (omnibox) double's up as a search, and there is also a search field in the main Workspaces window. You can also bring up the 'Quick Switch' (Alt+S, or Ctrl+S on macOS) and type in any keyword to bring up relevant results for Wavebox and the web.
8) Limit distractions.
🧘  Stay focused and get more done.
Use any ad blocker extension from the Chrome Web Store to limit the number of ads displayed in your apps and websites, and we don't display third-party ads either - the main perk of paying for your WB subscription.
9) AI Link Engine.
🔗  No need to copy/paste links, or use extensions to work between apps.
Imagine the Google workspaces experience but across all your apps, tabs and pages on the web. Click on a Trello link in Slack and it opens in Trello, and in the correct place. If Wavebox can match a link, it will try to open it in the correct place, and remember it for next time. Wavebox helps you build streamlined app workflows so that you can work smarter in your favorite tools. More.
10) Inbuilt OpenAI creative writing tool.
🤖  Get help with the creative process!
Currently in Beta is Brainbox - our clever AI assistant that's powered using OpenAI technology. Available across every app/tab/window in Wavebox, you can follow Brainbox's suggestions to save time throughout your day. You can currently use Brainbox to help with creative writing, with more brainwaves in development. More.
11) Clever cookies (multi account sign-in).
🍪  One place for ALL your accounts.
Sandboxing, containers.....there are lots of names for this feature but there's no browser that handles multi-account sign-in better than Wavebox. You can confidently sign-in to multiple accounts of the same type e.g. Gmail, Slack, Trello, WhatsApp, Messenger, Salesforce, and stay signed-in as you work, with everything carefully partitioned in the background.  We call these 'Cookie Containers' and they  extend across apps, groups, tabs and new windows.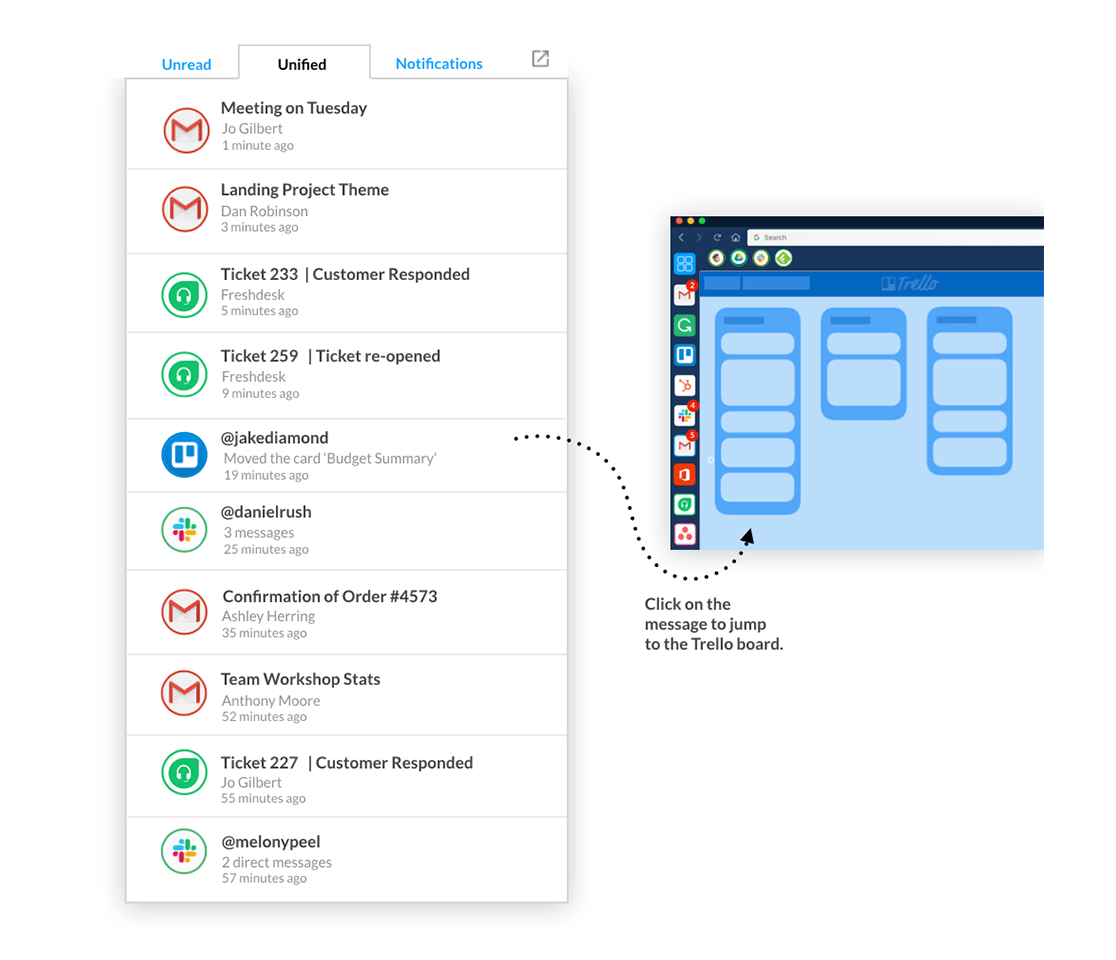 12) Real-time updates & notifications.
📣  One-view of everything that's new.
You've got more than 20 apps, and half of them have desktop notifications! Sound familiar? Wavebox monitors everything and displays a real-time feed of all recent activity in the Mini Menu. The Mini Menu has tabs for 'Unread', 'Unified' and 'Notifications' so you'll always be up-to-date. So if you heard a notification pop-in, but missed it, you'll find it listed at the top of the Mini Menu. Access the Mini Menu via workspaces, from the tray icon, or pop-out onto your desktop....
13) Pop-out updates & notifications.
👩‍💻  Keep up-to-date, even when not in Wavebox.
When you're working in another app on your computer, you can pop-out the Wavebox Mini Menu and stay up-to-date with everything that's new across all your apps and tabs. Mini provides a single view of activity; Unread, Unified, Notifications and Connect - yep you can event chat when you're working in other desktop apps on your computer.
14) App icon unread badges.
📣  Always be up-to-date when working across tools.
Love 'em or hate 'em, unread badges are experts at getting your attention. Badges show on all app icons (if available-many apps don't need them) and integrated apps will update unread badges in the background whilst the app is sleeping.  Note that if you don't like the red badge, you can choose a different colour and/or even hide them completely.
15) One-click mute.
🤫  Make time to concentrate and achieve more in your day.
You can customize notification settings for your apps individually. But if you need to switch everything off, you can do so in just one click.  Select a pre-defined time period, or specify your own.
16) Inbuilt chat, voice & audio calls. Use across everything.
💬  Collaborate as if you're in the same room.
No other browser supports team communication quite like Wavebox. It enables chat, voice calls and video conferencing, and you can use it as you work across everything in Wavebox. Connect doesn't replace Slack or Zoom, but if you're working in an app and want a quick chat or call with a teammate, simply open the Connect panel (shown on the right) Wavebox to get started. No links, no codes, no extra accounts, and you can chat/call as you work across all your apps in Wavebox (use shared workspaces to use the same apps as your team). More
17) Instant screenshare.
🖥️  Instantly share your screen with anyone on your team.
Included in Connect is quick screen sharing, which is the perfect addition to every app. Share a Trello board, go through your Salesforce, or share some designs in Dribble. Wavebox's simple screen sharing feature is a god-send for remote workers with no extra software to download or use.

18) Large file sharing.
📬  Securely share large files with anyone on your team.
Also included in Connect is easy secure and encrypted file sharing between team members. Transfer large files in seconds, without the need to use another app e.g. dropbox, and we don't have limits or size restrictions so you can share whatever you like, whenever you like.
19) Private & shared workspaces.
🤝  Fast access to frequently used apps & shortcuts.
If you want to be super organized, you can pull out apps and weblinks and place them in workspaces.  You could have a workspace for a particular project or for different clients/businesses.  Only you can see a private workspace, but creating a Connect team also generates a shared workspace for everyone to see, which is perfect for onboarding new team members to WB. More.
20) Pins & Bookmarks.
📌  Add any webpage to your workflow with 'recents' and pins.
Hover over any app icon to see a menu of recent activity within that app. Click on the pin icon to save an item to the menu so that you can find it again later.  Yep, it's just like a Bookmark, and you can edit the name of your pins and upload your own icon to make it easier to navigate.
21) Exceptional support & fast on new features.
😍  Every support ticket is quickly answered by a human!
Just ask any of our users! We love getting support tickets because Wavebox gets better with every fix and every feature request. Generate a ticket from the app, and you'll get a speedy human reply, and if you have a feature request you'll most likely see it in the app not long after!
---
Make waves in 2021 by using the best browser for work.
Wavebox is getting bigger and better with every release, and we have many exciting new features coming for 2021. Thousands of individuals and teams worldwide use Wavebox to run their businesses and juggle work and home. Many Waveboxers say it's made their life easier, most say it's completely transformed how they work on the web. If you haven't tried it yet, why not give it a go!
---
Title photo by Max Bender on Unsplash.