Install Wavebox in minutes with our easy step-by-step guide.
Get set up with Wavebox in minutes with our easy step-by-step guide.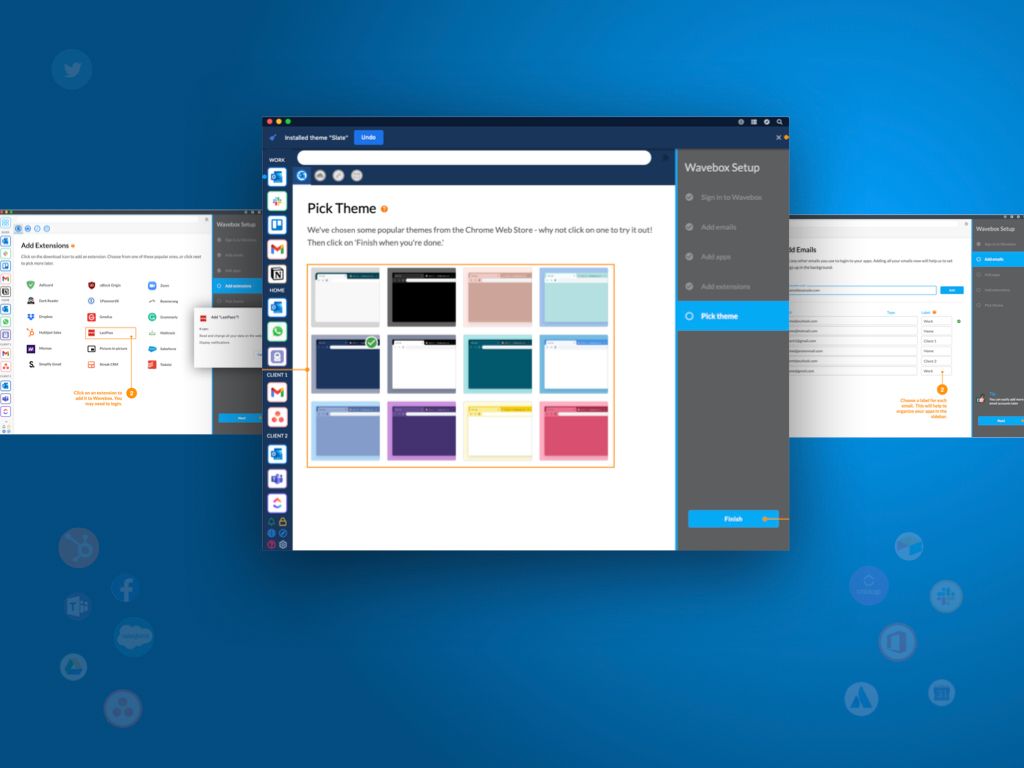 Wavebox takes around 10 minutes to install (or faster if you skip some steps), and the following guide takes you through the process step-by-step.  Don't hesitate to get in touch with our friendly Support team if you need help.
Before you start, here are a couple of key points:
You'll need to create a Wavebox login using any email.  This email will become your primary email address and will be used for your Pro subscription e.g. billing, and to set up Wavebox on a second computer.
If you're adding apps for your clients, have their login emails on hand - you don't need any passwords at this stage.
Download the Wavebox app.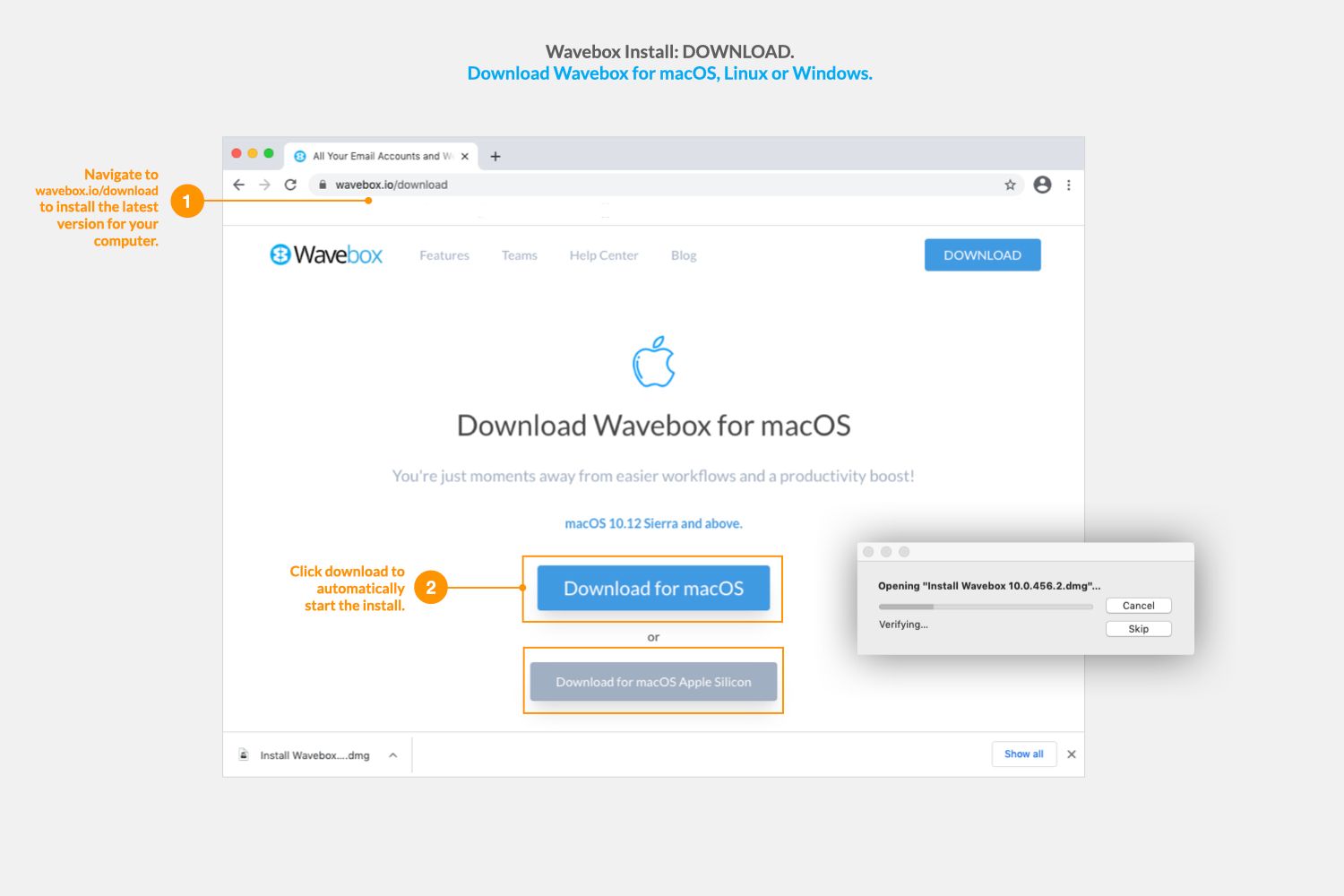 Go to the download page on our website to get the latest version: https://wavebox.io/download.  We'll detect your Operating System and show you the correct download link.  Note that on some OS there may be multiple editions, pick the one that's suited for your machine (in the screenshot above for macOS, there's an Intel and Apple Silicon edition).
Click on the download button to get started.
Install the app.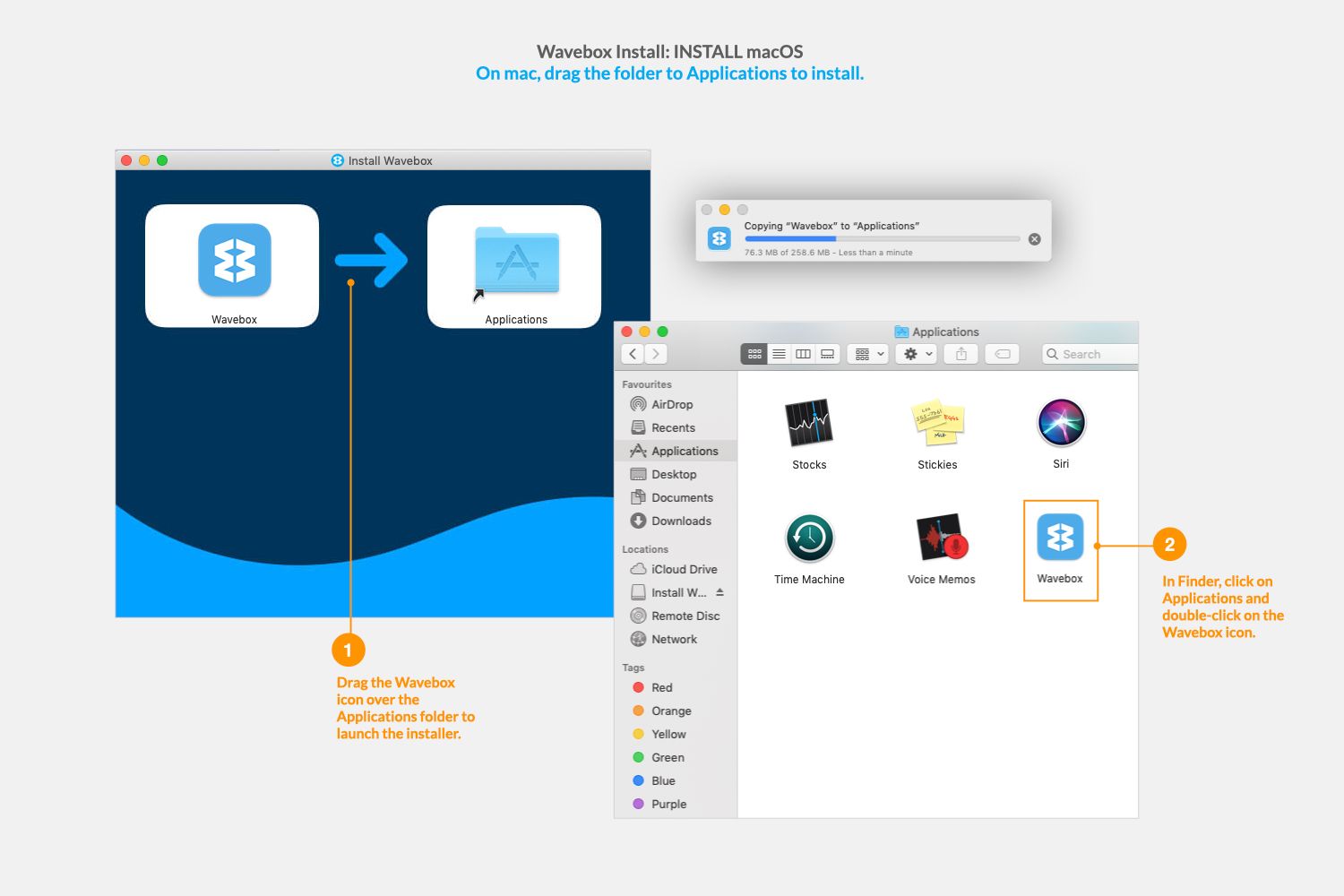 On macOS, go to your downloads folder and double-click on the 'Install Wavebox.dmg' file. From the pop-up window (shown above), drag the Wavebox icon to the Applications folder to start the install.  
Next, open Finder and click on Applications, then double-click the Wavebox icon to get started.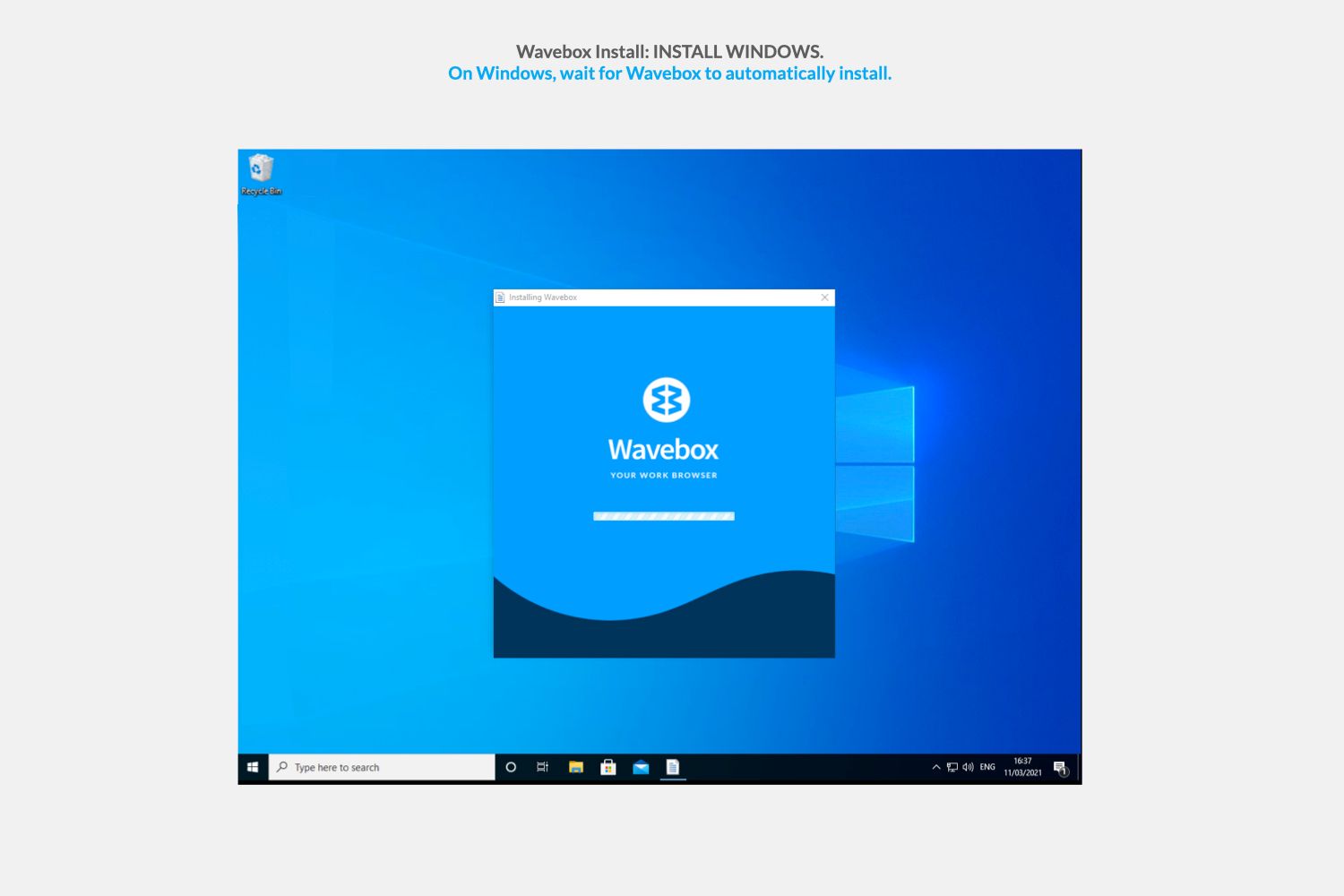 On Windows, just double-click on the downloaded .exe file and let the installer do its thing.
If Wavebox doesn't launch automatically, locate it in the Start menu and click on the icon to get going.
Choose a New Setup.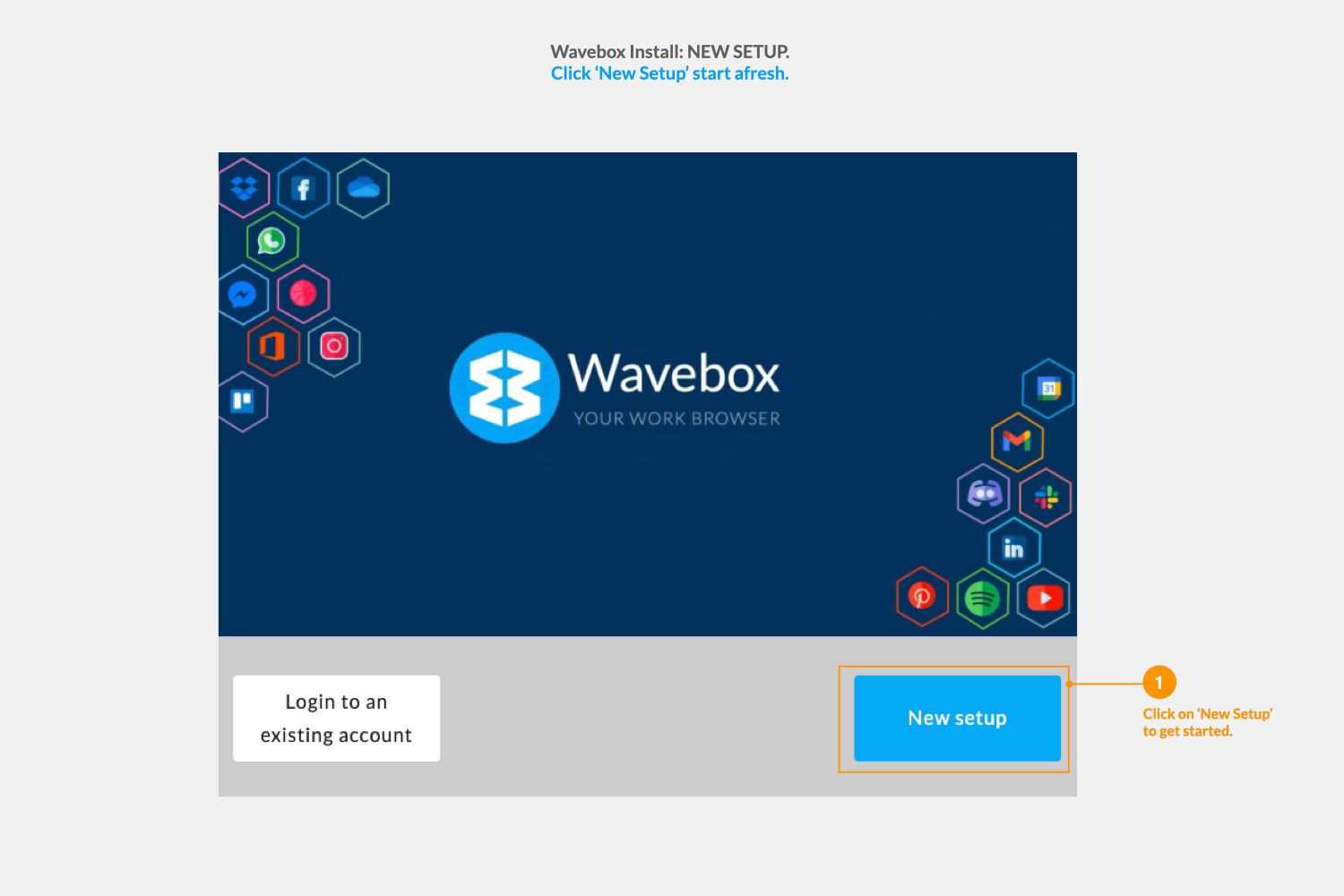 Click on the 'New Setup' to start from scratch. You only need to use 'Login to an existing account' if you want to restore from the cloud using a saved profile.
Create a Wavebox Account (Primary Email).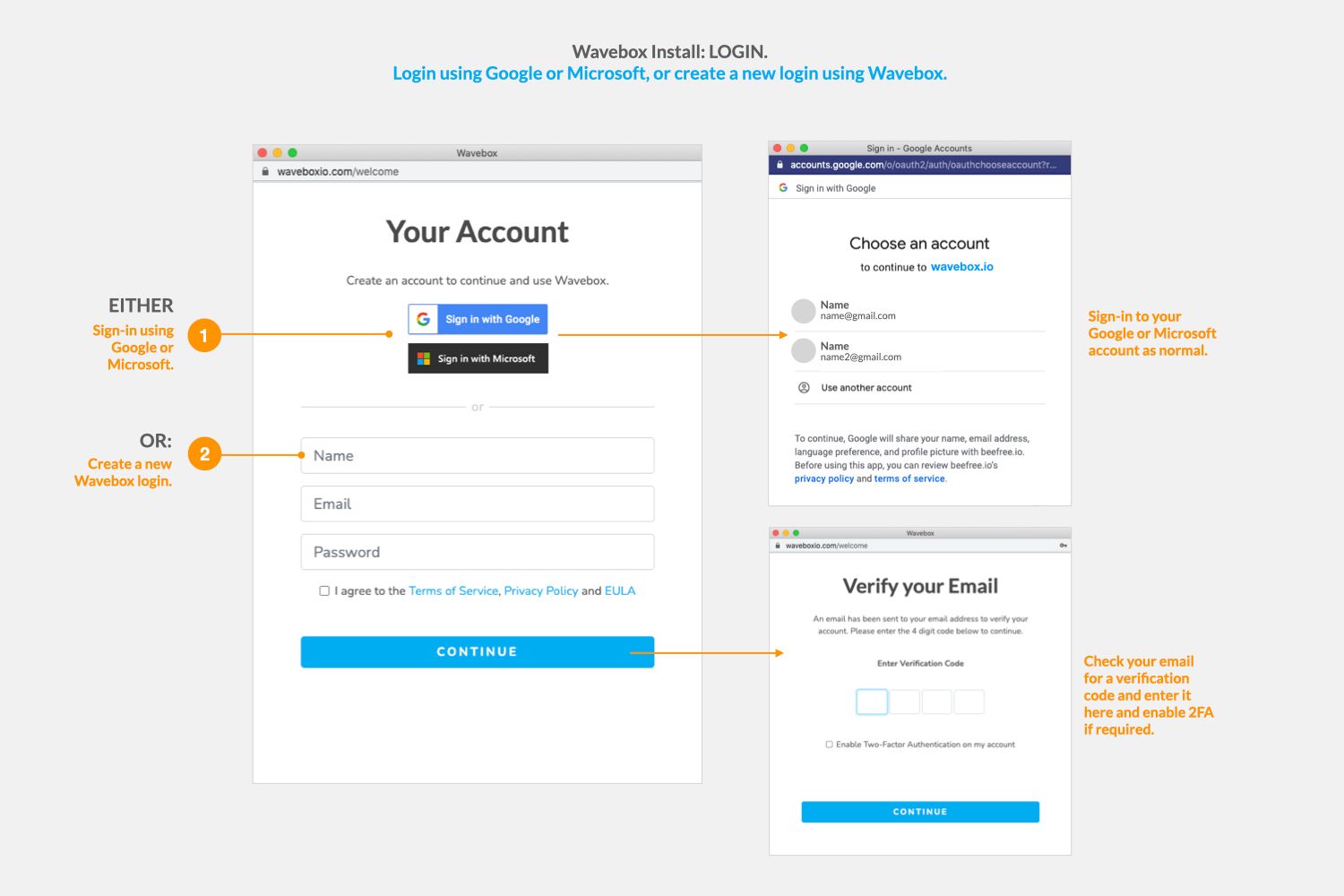 Either: Create an account using a Google or Microsoft email. You will be prompted to sign-in and verify your account.
Or: Create a Wavebox login. Enter your name, an email address and password, then click on 'Continue'. A verification code will be sent to your email address for you to enter in the next window.  (No code?  Try checking your spam or junk folder.)
🚀  If you want to add more email and apps yourself, click on 'Next' to skip steps.
Add More Emails.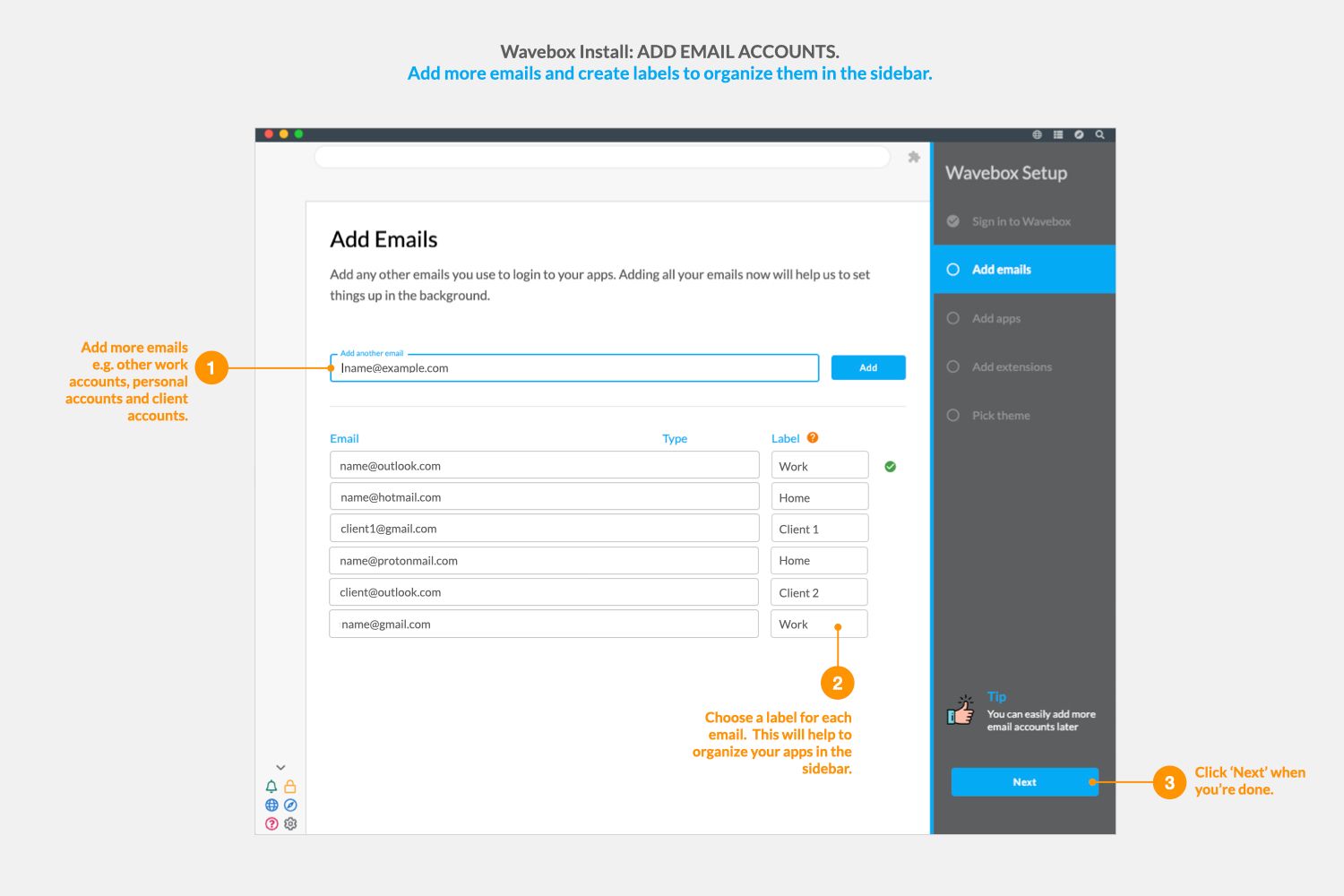 👍  If you used Google or Microsoft to login, note that it's already listed under 'Email'.
Type more email addresses into the text field and click on 'Add' after each. Add all the emails you use to login to apps for work, for home and for your clients. Note that you won't need to login to these accounts during the installation, and you can easily add more later.
Choose a label for each email - these are used to help organize your apps in the sidebar. You can change them later.
Click on 'Next' to continue.
Add Some Apps.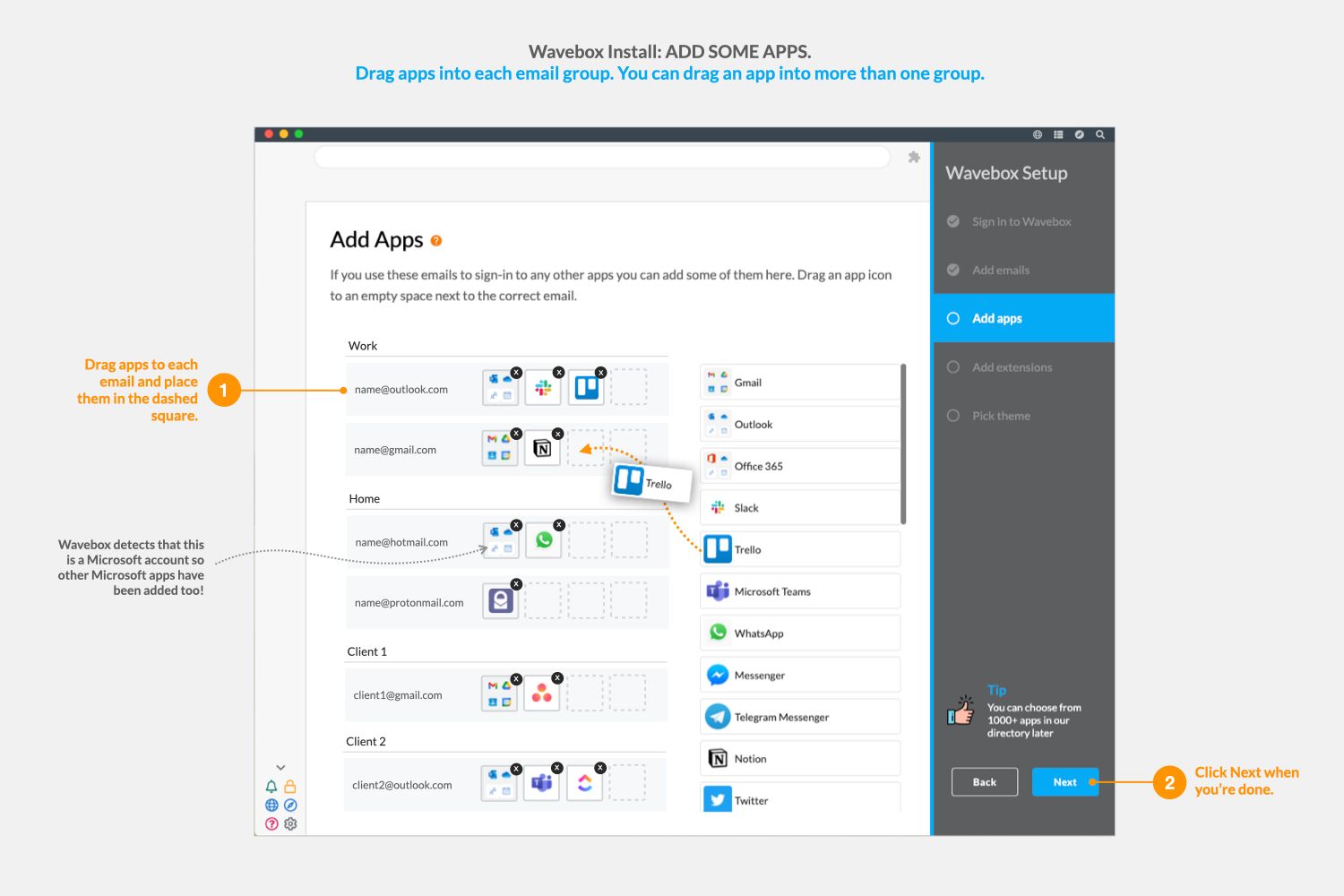 👍 Note that all your email addresses are organized under each label.  If you've added a Google or Microsoft account, Wavebox will have already added a few popular GoogleWorkspaces and OneDrive apps (shown as icons in the rounded squares).
Add more apps to each email by dragging the icons on the right to any empty rounded square on the left.  If you're unsure about what apps to add, don't worry, you can easily add more and move/remove them later.
Click on 'Next' to continue.
Add Extensions.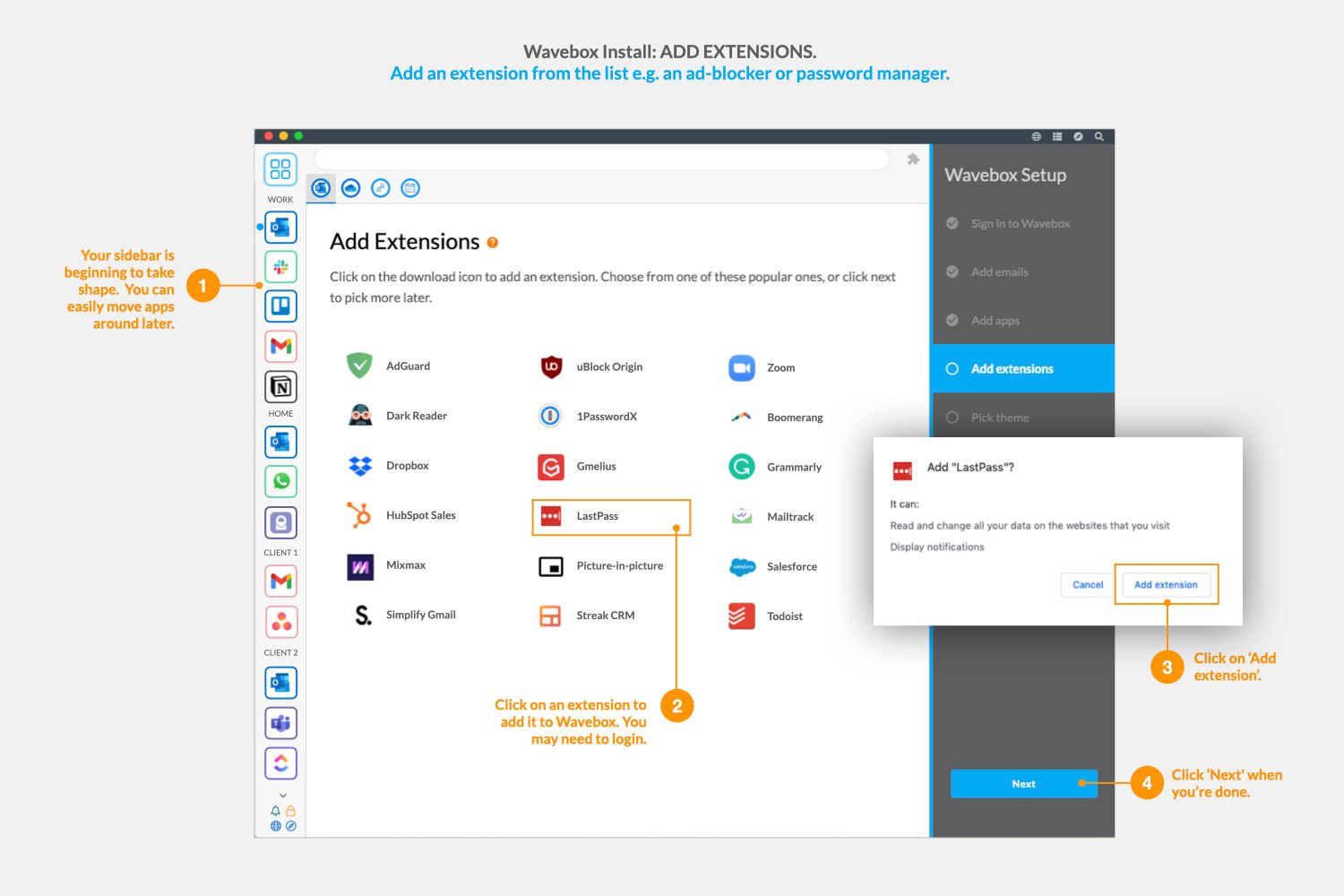 👍  Your apps are shown the sidebar organized under each label. This is how your Wavebox will look. Don't worry if it's not right, you can reorganize them later.
Click on any Chrome extension in the list to install it - it's the same process as in Chrome. If you use a password manager to login to your app, then now's the time to add it e.g. click on LastPass.
Click on 'Add extension' in the extension's pop-up box, and repeat for any other extensions.  If an extension you use isn't in the list, you can add it later directly from the Chrome web store.
Click on 'Next' to continue.
Add a Theme.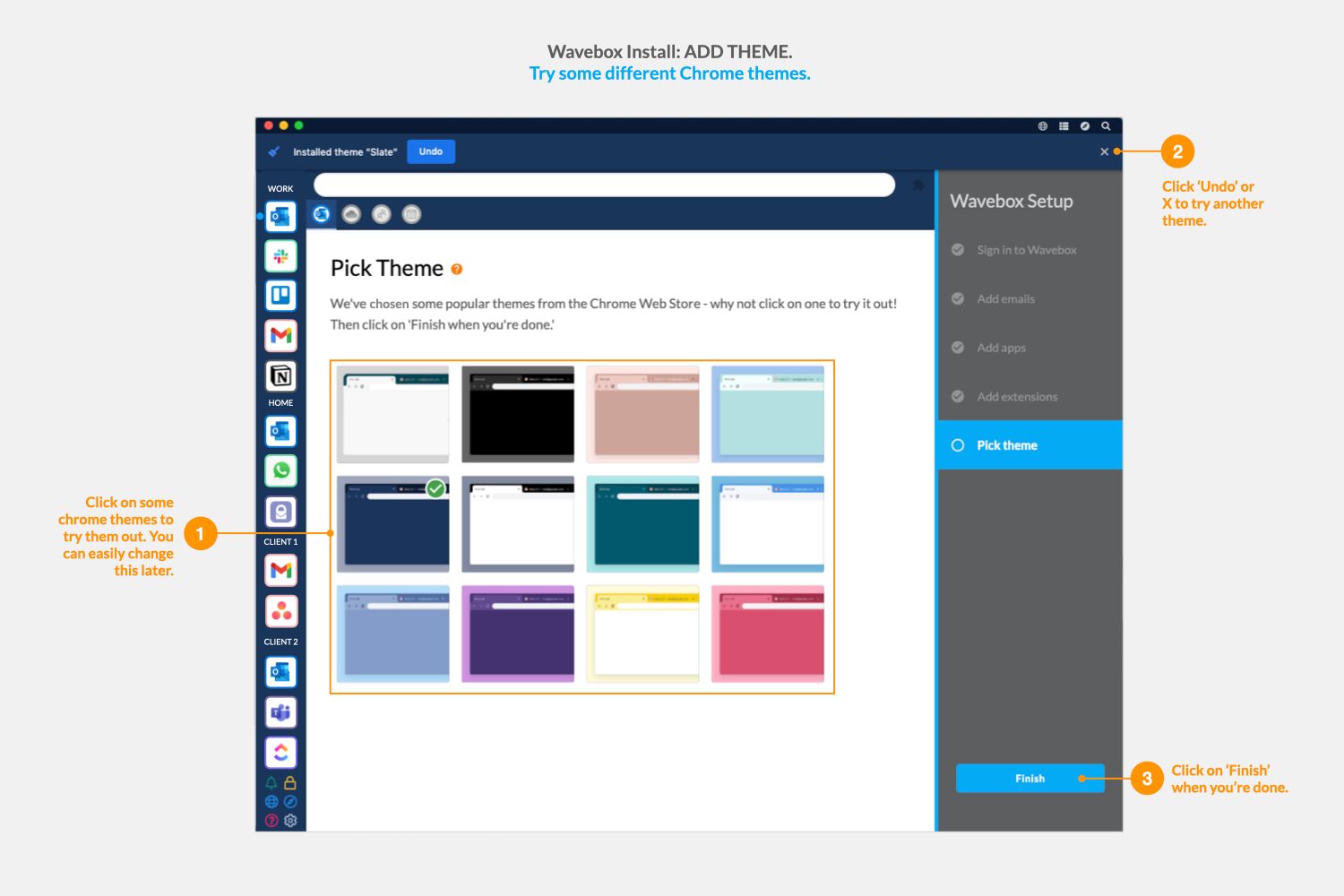 👍  You can use any Chrome theme in Wavebox.
Click on any of the thumbnails to try a theme.
Click on 'Undo' in the top bar to try another theme, or click on X to close the prompt. If you don't add a theme, Wavebox will use a 'dark' or 'light' default theme depending on your OS setting.
Click on the 'Finish' button to complete the install.
Sign-in to your Apps.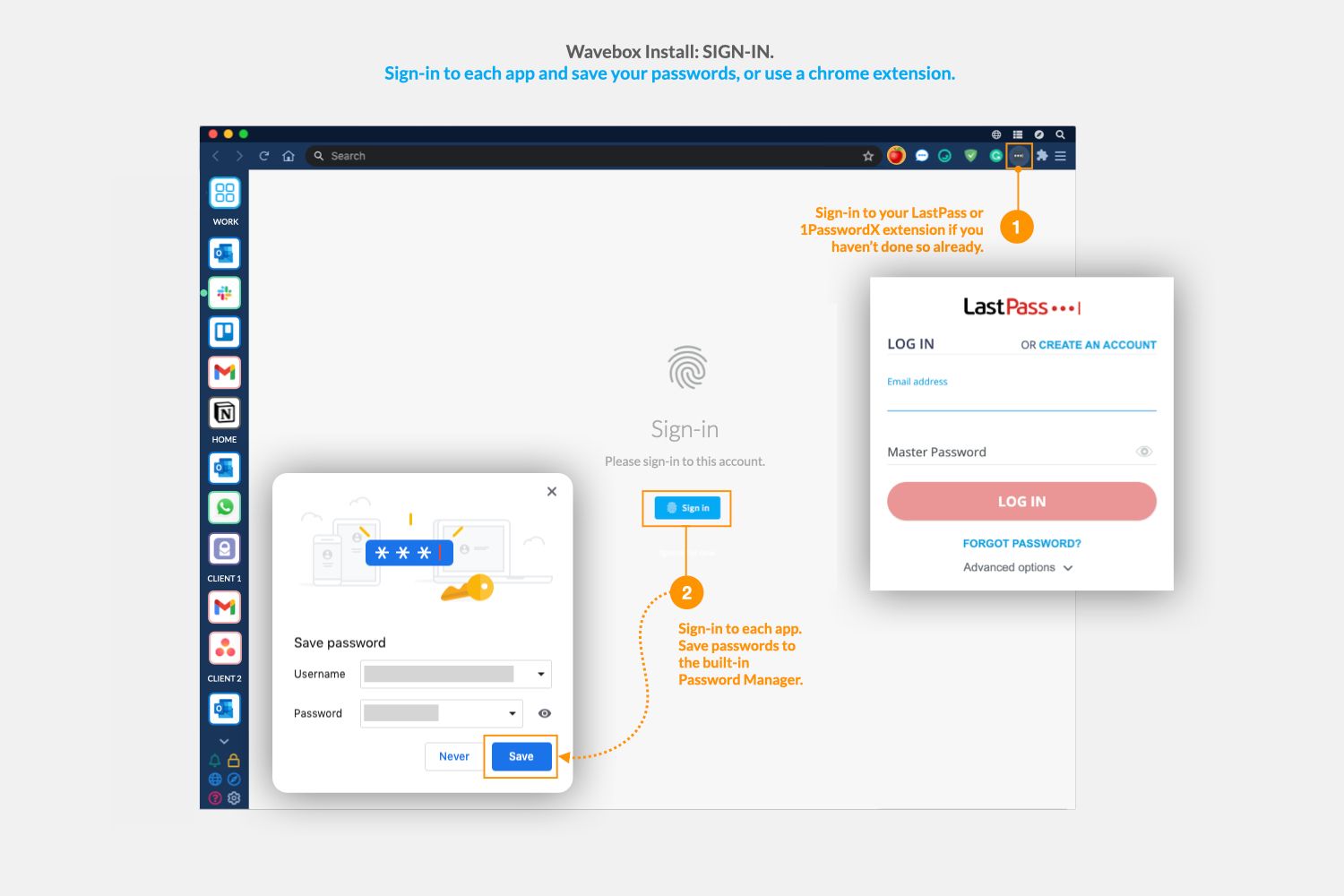 👍  You will only need to sign-in to your apps once, then Wavebox will help you stay signed-in.
Click on each app in the sidebar and sign-in.
If you installed a chrome extension such as LastPass during the install, you can use it to sign-in.  If not, you can use Wavebox's built-in password manager to save your logins.  You can also import your Chrome passwords if that's easier.  Learn how in this KB article.
---
Next steps...
Here are some useful resources to get started:
Here are some more suggestions on what to do after install:
Add more apps: Apps in the sidebar are groups, so you can add more apps to the group by right-clicking on the icon and selecting 'Add another app'.  This will appear in the top toolbar.
Move an app: You can drag the app icons to move them.  Or, right-click on the icon and select 'move app to'.
Change a sidebar label: Right-click on a divider label in the sidebar to change the name or delete it. You can also drag to move it. Right-click anywhere in the sidebar to see the options menu. Clicking on a divider will collapse it.
Add another extension: Click on the + icon at the bottom of the sidebar to bring up the App Directory, and select 'Add Extension'. This will launch the Chrome web store in a new window, where you can search for any extension and 'Add to Wavebox' (blue button).
Subscription Settings: Click on the cog icon in the sidebar to open 'Settings'.  Then go to Wavebox Subscription to see your account details.
Thanks for taking the time to try Wavebox - we're sure you're going to love how it will help you get organized and save time when working online.