5 Tips for Keeping Tabs on your Tabs.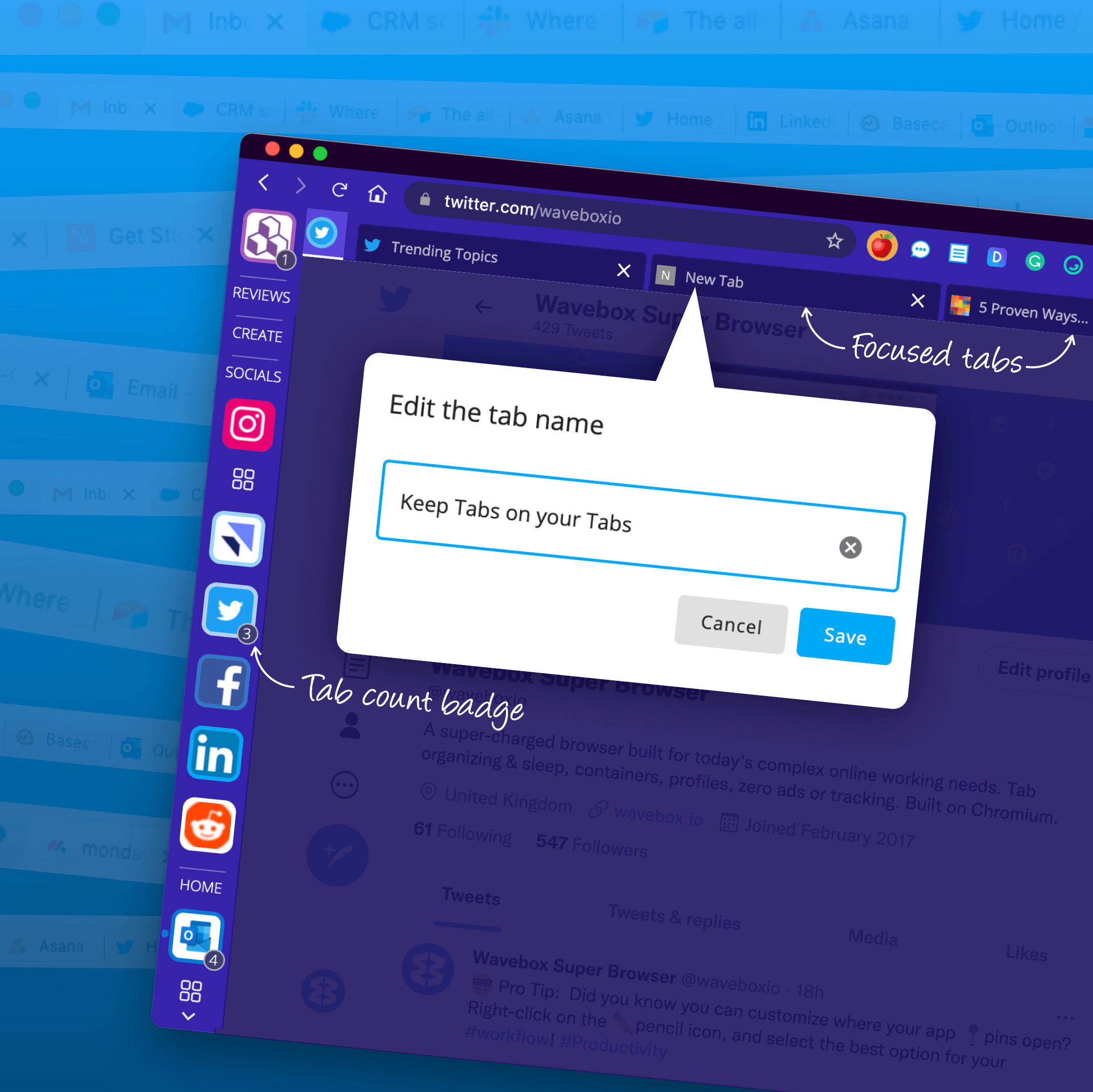 Whether you're doing some research, kicking off a new project, or ploughing through your todo list, there are lots of reasons to use tabs...and yeah, sometimes you do need lots of them. Here at Wavebox we're attempting to harness the power of tabs to make it easier to find/search, organize, and incorporate them into any workflow. To make things sound more official, we like to call this 🤓 'Tab Management' and there are many wonderful tab management features built-in to Wavebox that will make life easier for everyone:
🤓 App Tabs - tabs that live within an app or group for focused browsing.  They can easily be moved between apps, are included in search results, will persist after a restart, and also sleep when inactive to save memory. Learn more about App Tabs here.
📋 Workflows - multiple ways to seamlessly add tabs to an existing workflow e.g. as a pin, bookmark, toolbar icon, workspace shortcut, and workspace session.
🔎 Searchable tab names - edit tab names so they make more sense to your workflow and can be easily found in a Wavebox search.
😴 Sleeping tabs  - all tabs inherit the auto-sleep settings of the parent app to maintain a smooth and consistent performance.
With all these features available right now, Waveboxers are using tabs more efficiently to save time and achieve more when working online. And the benefits don't stop there! Here are another 5 great features to help you use and manage your tabs better:
🌟 New! Tab Count Badge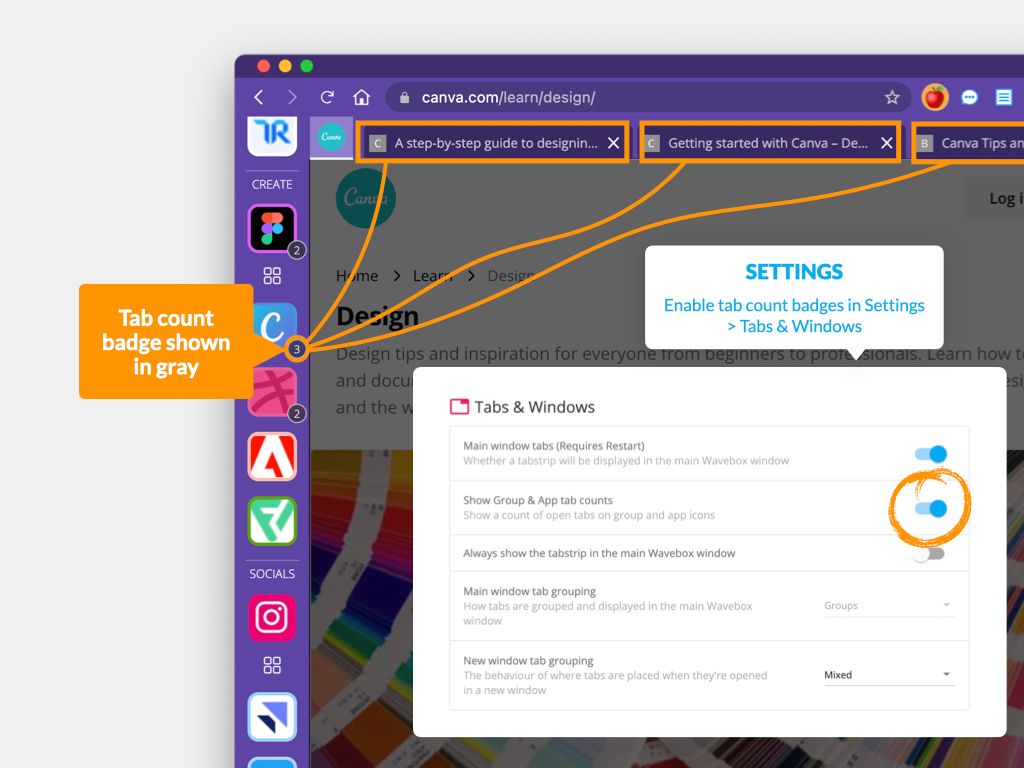 If you like to keep track of the number of tabs you have in each group/app, then you can activate the tab count badge in the sidebar. To activate the badge go to: Settings > Advanced > Advanced Flags > Group & App Tab Counts > Toggle ON.
🧭 Manage your Tabs Visually with Navigator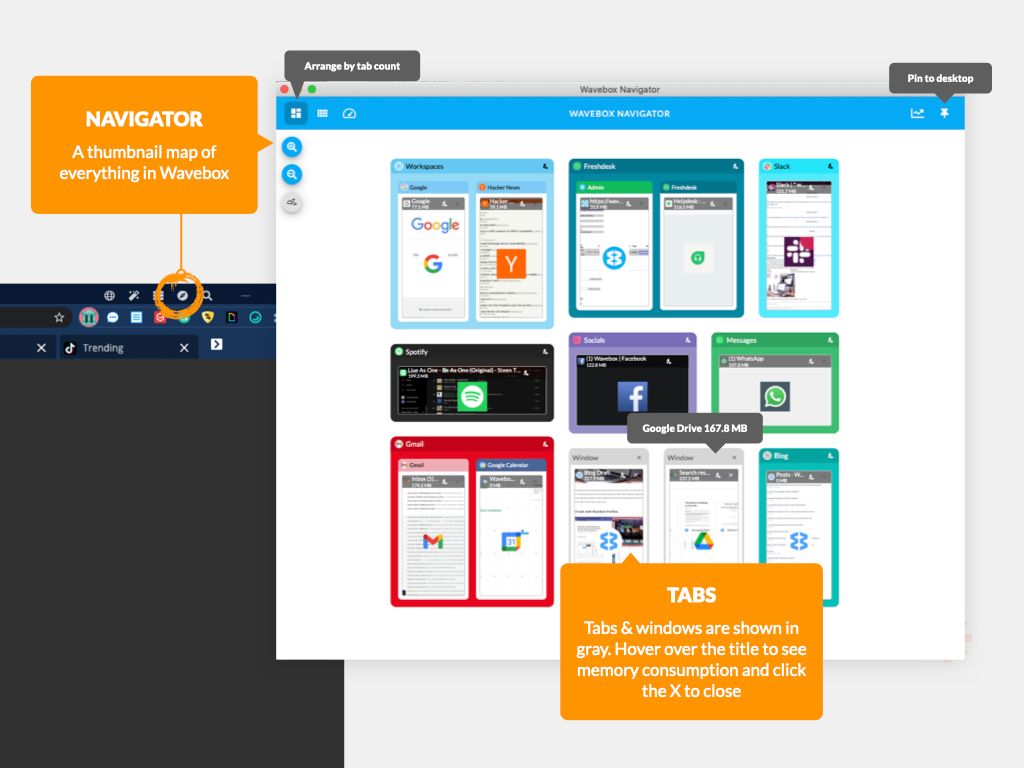 Launch the Navigator for a thumbnail view of everything in Wavebox arranged by tab count, group, or memory usage. Groups/apps are colored, and secondary windows/tabs are gray. If you select the tab count view, then the group/app with the most tabs will be the largest. Just hover over any title bar to see how much memory it's using, then either click on a tab to view it, or select the X to close it.
🔎 Search for a Tab with Quick Switch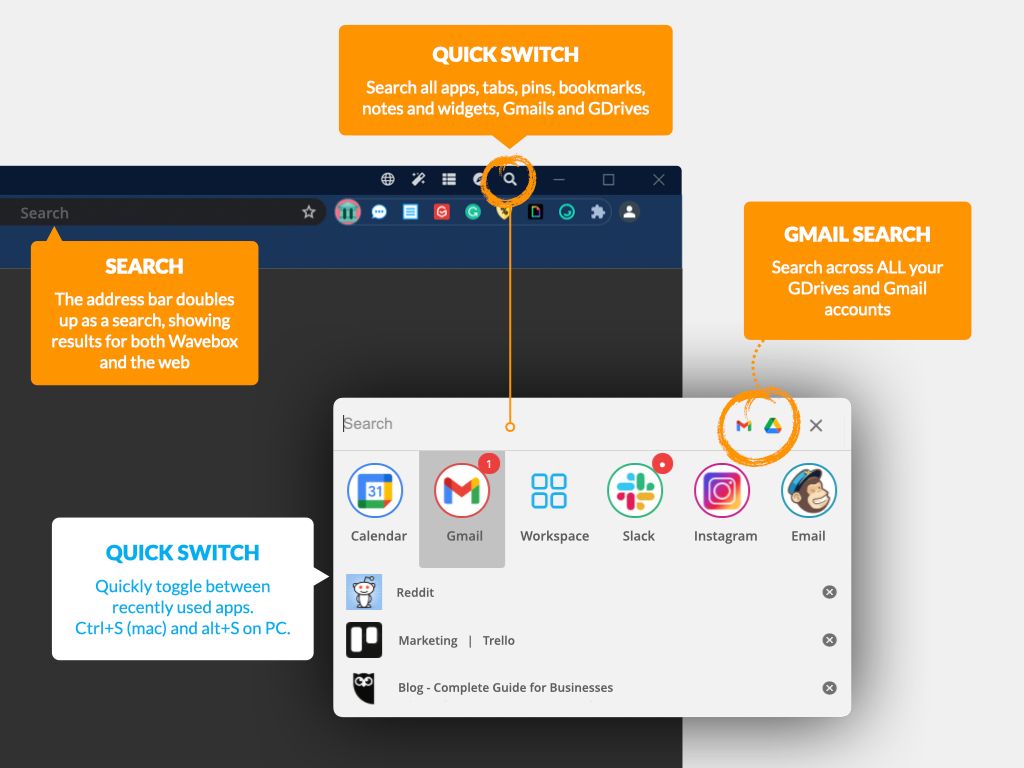 Having all your every day apps and websites in Wavebox means that you can search across everything you use on the web.  There are four easy ways to find your tabs using the 'Search' options in Wavebox:
Click on the magnifying glass in the top title bar to open the Quick Switch - under the 6 recently used app icons you'll see a list of all open tabs.
Type a keyword into the Quick Switch search box to see results for all apps, pins, tabs in Wavebox.
Type any keyword into the address bar to get results for Wavebox and the web, including tabs.
Use the Search widget in any workspace to see results for Wavebox and the web, including tabs.
📋 Add Tabs to any Workflow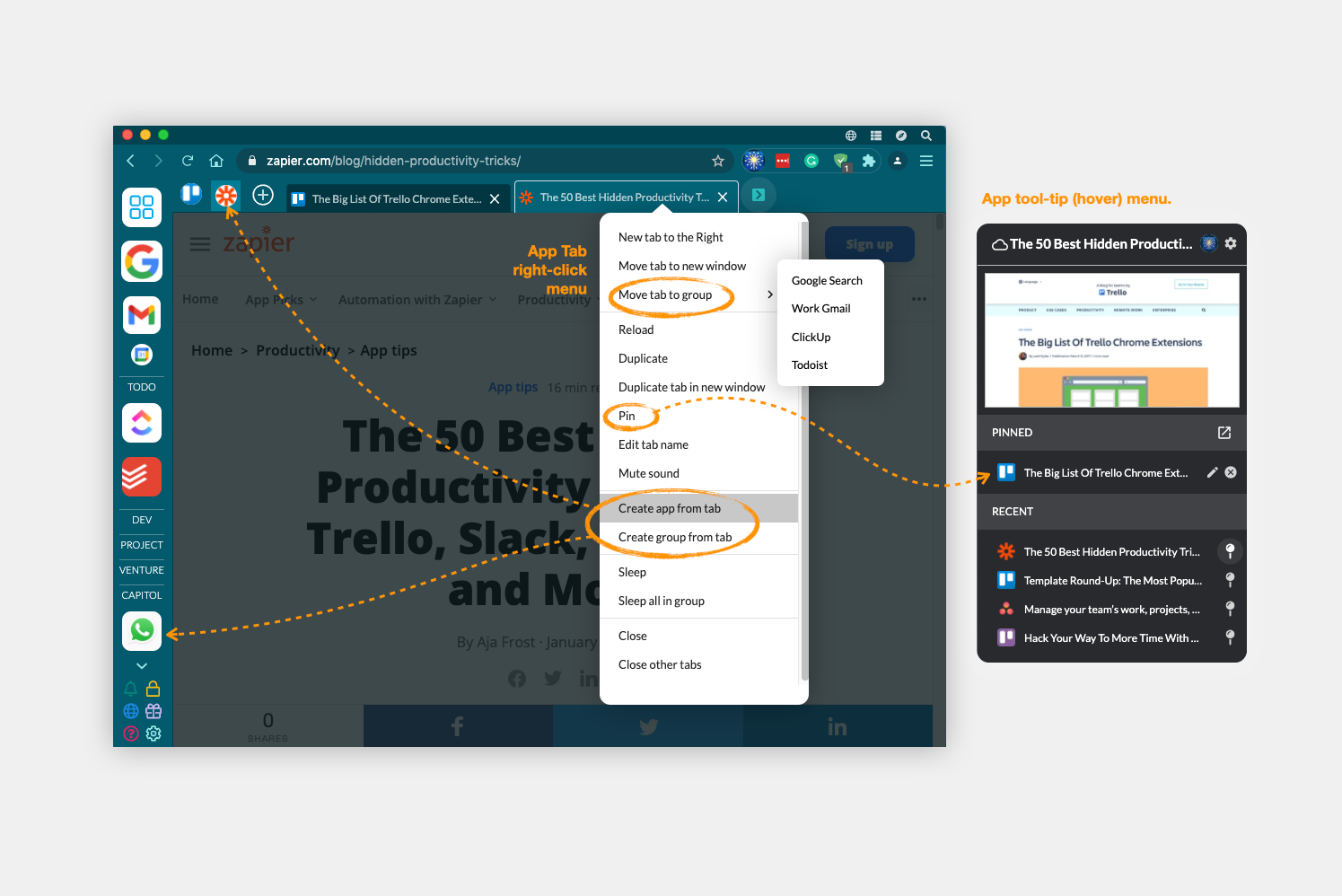 If you use a tab regularly it may be worth giving it a more permanent home in a new or existing workflow. Just right-click on a tab to see the available move options, which include:
Move tab to another app group
Add the tab as a pin in the app's tooltip menu
Add the tab as an app icon in the top toolbar
Add the tab as a group in the sidebar.
📆 Save Tabs as a Session to Use Later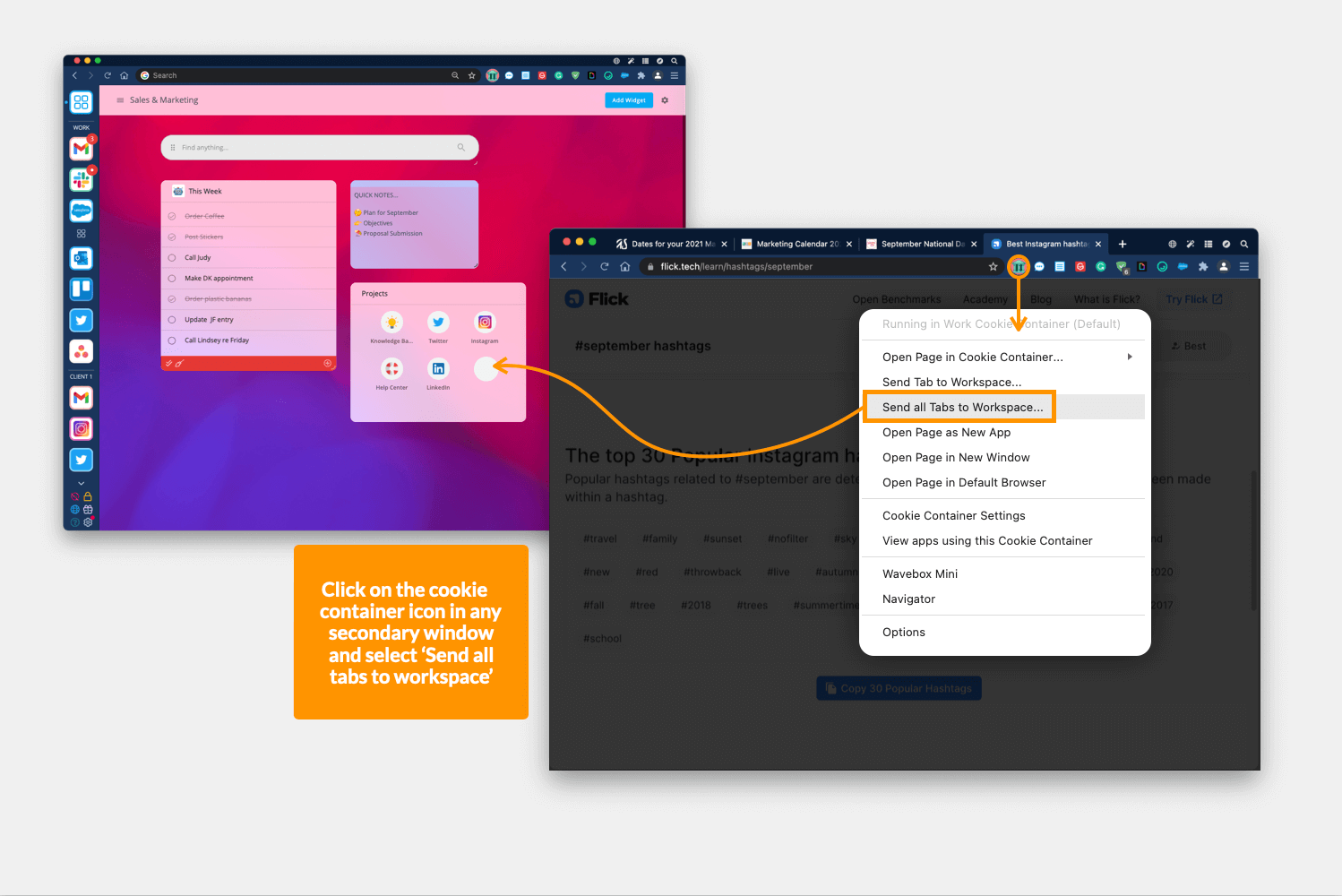 If you have several tabs open in the main Wavebox window or any secondary window you can save them as a session to use again later. The saved session can be placed in a new Collection widget on any workspace, or as a folder in an existing Collection widget. One click, and they all open in a single window ready for action.
---
If you prefer calm over chaos, then try all these awesome tab management features in Wavebox free for 7 days, no credit card required. Download now.