New! Introducing Templates for Profile and Group Sharing
A new feature for sharing Wavebox groups and profiles with co-workers, colleagues, friends, and new users.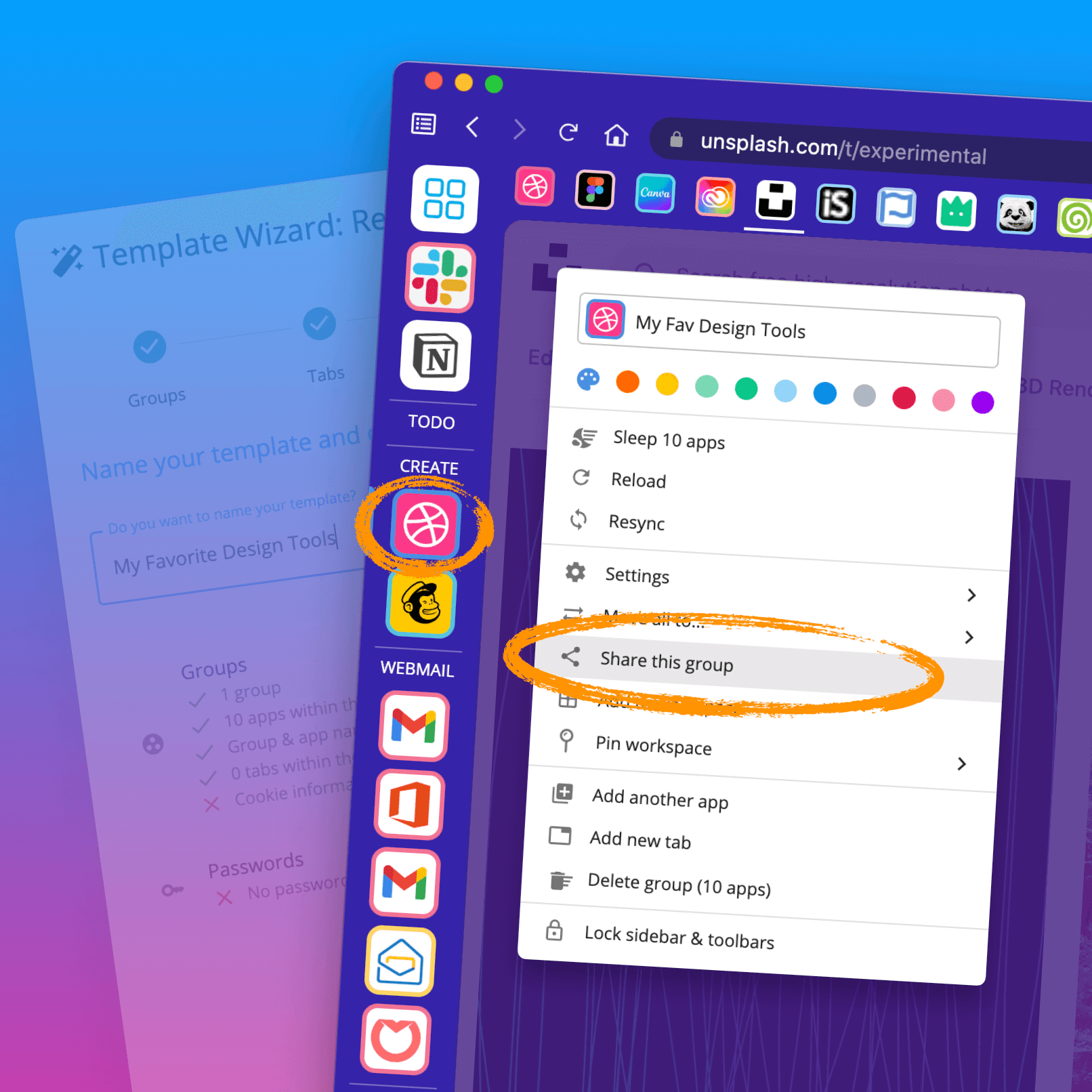 We may be about to burst with excitement! Because today folks, we're launching Templates - a new feature for sharing Wavebox groups and profiles with co-workers, colleagues, friends, and new users.
There are so many applications for Template sharing. Here are just a few examples:
🕣 A time-saving group workflow you've created
📚 A group you've curated for research or campaign
🚀 A set of groups for onboarding new colleagues to your team
🔗 A complete profile to onboard new starters to your organization
👷‍♀️ A complete profile that's useful for others in your industry
DIY Templates in 3 Easy Steps
The screen recording above shows how easy it is to create, share and import a template. In fact, you can use the Template Wizard to create a Template in just 3 simple steps:
Select Group/Profile: Right-click on any group in the webdock and select 'Share this Group' to kick off the Template Wizard. Or, click on the share icon in the profile menu.
Groups, Tabs & Passwords: Select any other groups, tabs, and passwords to include in the Template.
Name & Share: Finish by emailing the Template share code, adding it to your team library, and copying it to your clipboard to share elsewhere e.g., workspace.
And that's all there is to it.
New users can utilize the share code to install Wavebox and instantly enjoy pre-loaded groups, apps, tabs, and containers. Existing users can paste the code into the address bar of any Wavebox window to add the template to their existing setup.
What's Included in the Template?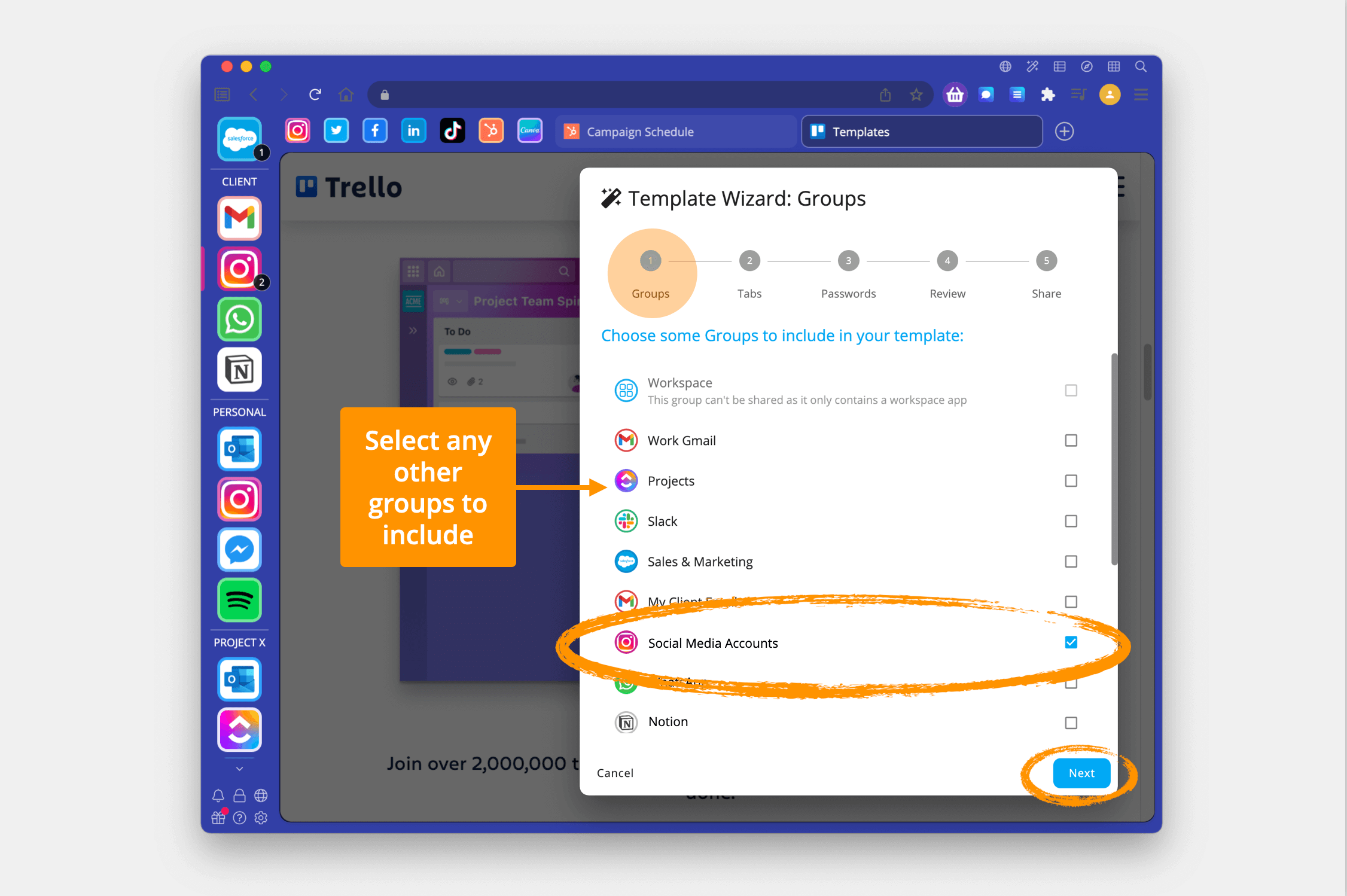 Wavebox Templates are more than just a bunch of organized URLs. They also include the magical stuff that powers productivity in Wavebox as you work:
🏷 App type (integrated, app directory, weblink)
⚙️ Additional app integrations (if available)
🍪 App/group cookie containers
🎨 App/group name, icon & other appearance settings
🔔 App notification & badge settings
💤 App sleep settings
🔗 Any group/profile Link Engine rules
💿 App saved items (shown in the tooltip menu)
📍 App/Group open and pinned tabs
🔒 App passwords (optional)
Not included: Your cookie information and history, bookmarks, private workspaces, and extensions. Read this Knowledge Base article to learn more about what's included in a template.
Using Templates to Onboard your Team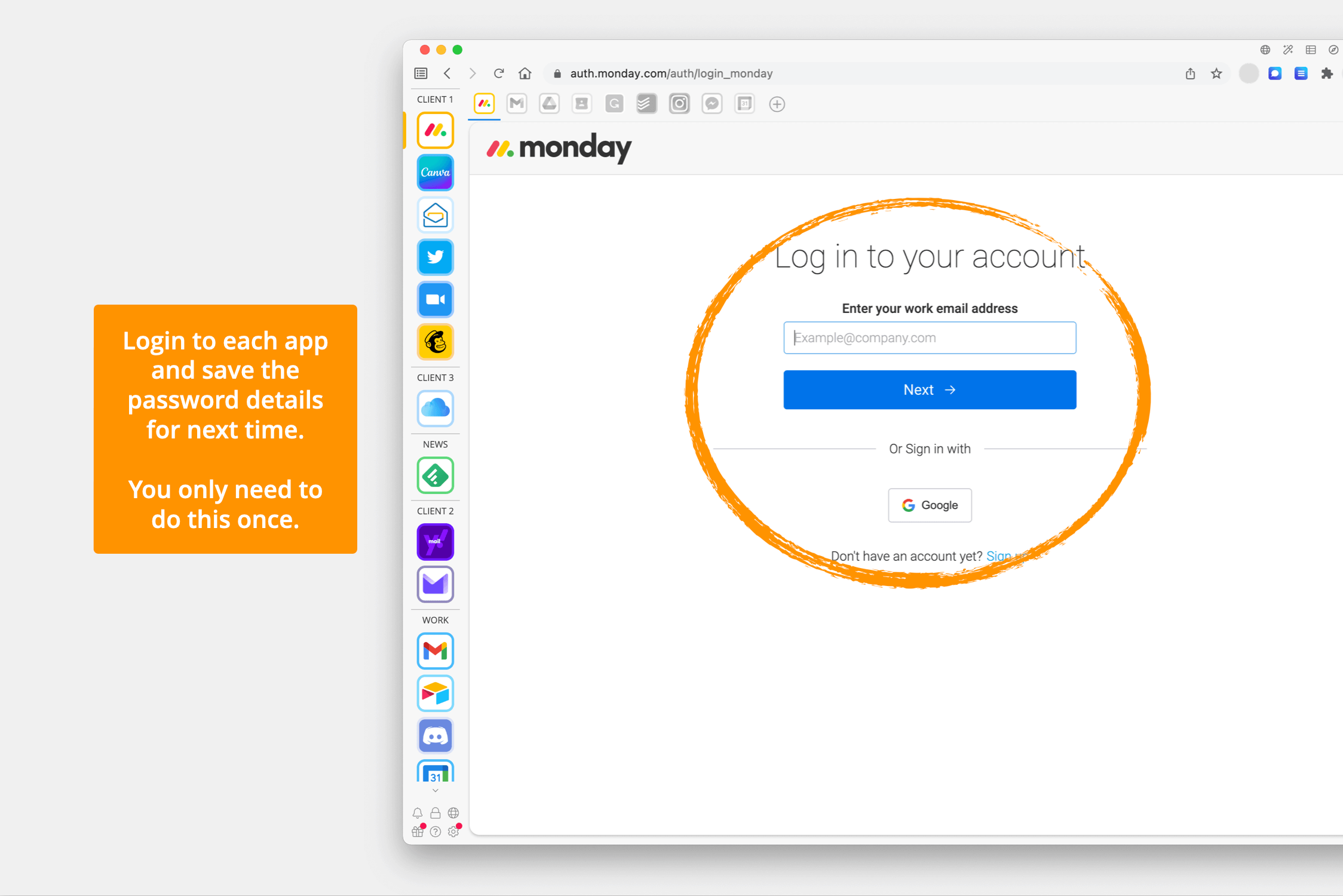 Templates are, without a doubt, the easiest way to introduce Wavebox to your team. We've integrated shared templates into the team invite process so that every new team member has instant access to the same profile when they install Wavebox. The process is simple:
Create a template: Use your own profile to create the template, or create a new profile in your account and build a new one.  Then click on the Profile share icon to launch the Template Wizard, and check the box to add the template to your team library.  Read the team Quick Setup Guide.
Send an invite: Go to My Wavebox > People and add the template to each user.
Template Library (Coming Soon)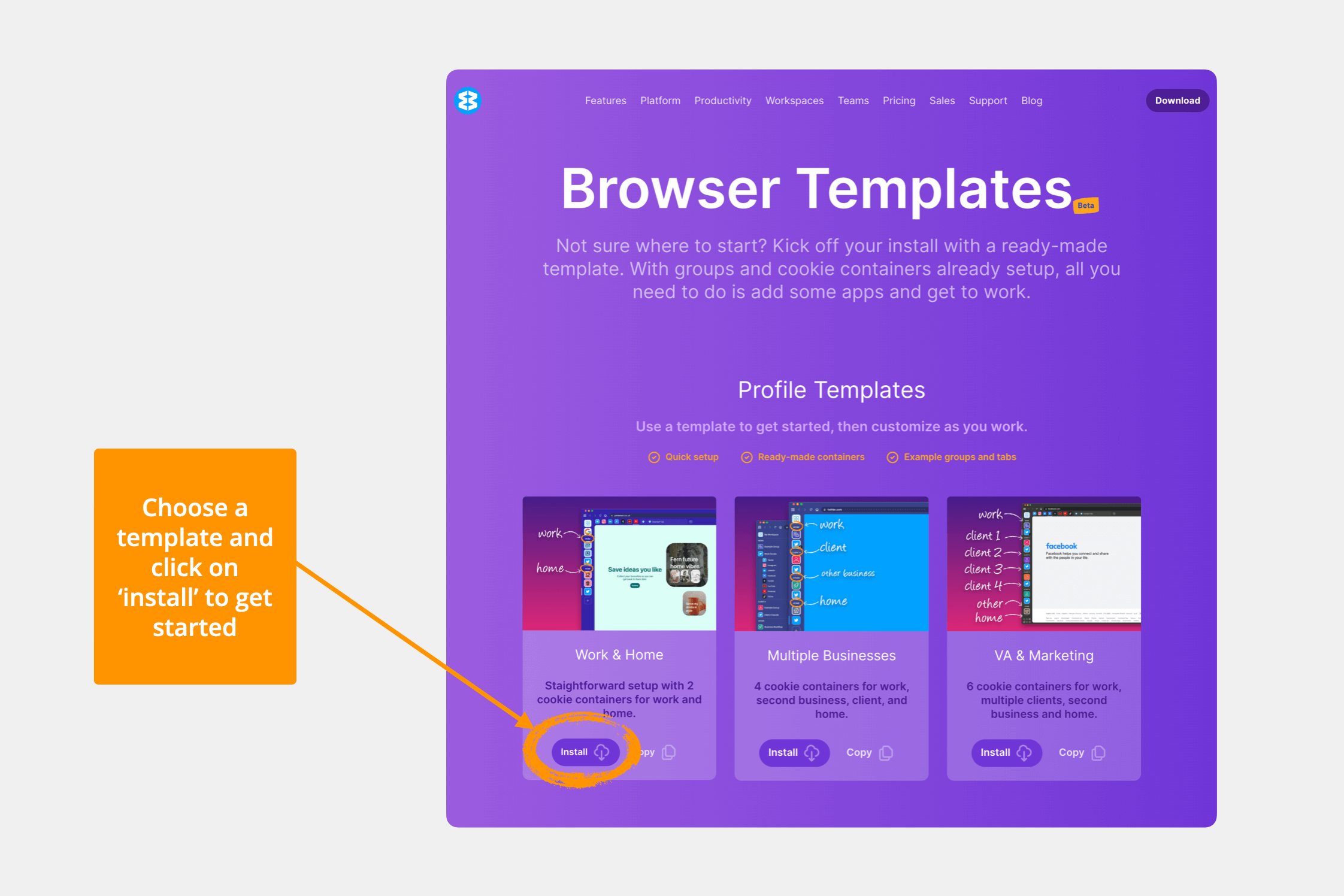 We are in the process of creating a selection of generic templates for new and existing Wavebox users. Profile templates will help new users get setup with groups and cookie containers, and existing users can use group templates to discover new web apps and enjoy new workflows. We've created some already, which are listed below for you to try today.
Give Templates a Try!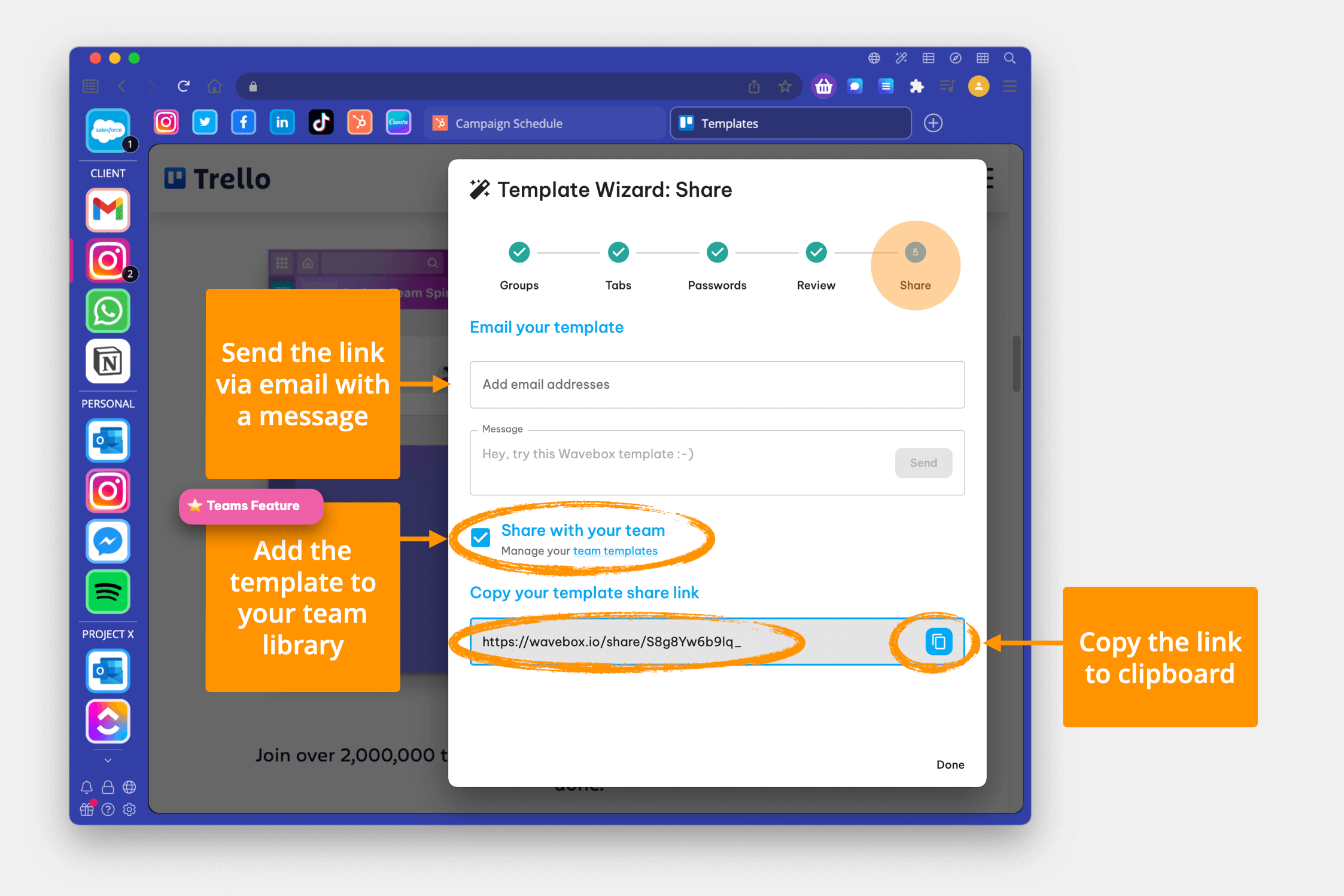 Although our templates aren't officially live (yet), here are a couple you can try out today. Visit our Knowledge Base to help you get started.
Existing Users
Profile Template Examples
Create a new profile using the 'New Setup' option. Then paste the following URL into the address bar to start the import - it takes about 10 seconds.
Group Template Examples
If you're reading this post in Wavebox, just click on a link below to start the import - again, it takes just seconds.
New Users
You can use any of the Template share codes during the install process. It's worth visiting this Knowledge Base article first to find out how. (The example share codes are included in the article.)
---
We hope you enjoy using templates to share your love for Wavebox and help others on your team get setup quickly. If you are bringing new people to Wavebox, why not check out our new Affiliate Program and earn cash rewards for any referrals?
Thanks again to everyone who helped test Wavebox on our Beta channel this month. Thanks also for your outstanding feature requests, feedback, and support. 🤗😀