Introducing Wavebox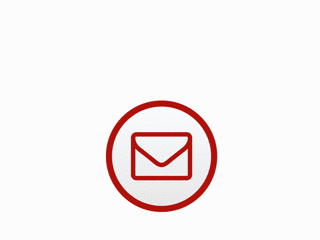 Welcome to WaveboxHQ!
I'm so excited to finally share this with you all. For those of you that don't know, my name`s Tom (or Thomas101 if you're following from Github) and I'm the creator of the open source project WMail. Over the past few weeks I've been busy working on the next generation of WMail.
WMail has grown from a 3-day vacation project into something too big for me to maintain in my free time. Myself, and the overwhelming amount of users that are using WMail on a day-to-day basis are loving it, but unfortunately the time and attention I can give the project is limited. That said, I love WMail and want to evolve it into something that works even better for even more users!
To move WMail forwards, I'm now very proud and excited to announce that it is now part of Bookry, an amazing company that I've been part of for the last 5 years.
Bookry is also the team behind Locly (React Native app builder platform) and Stacktodo (Superbot for Slack). With their support, myself and the team can spend way more time on the project and really begin to take it to awesome places!
---
So what of the name? Well, WMail worked perfectly for Web-Mail and pretty much described what WMail did on the tin. But what happens when you start adding things that aren't mail? What happens when users start requesting other things? The name doesn't really fit after that. With this in mind, I'm proud to introduce.....drumroll please.... Wavebox!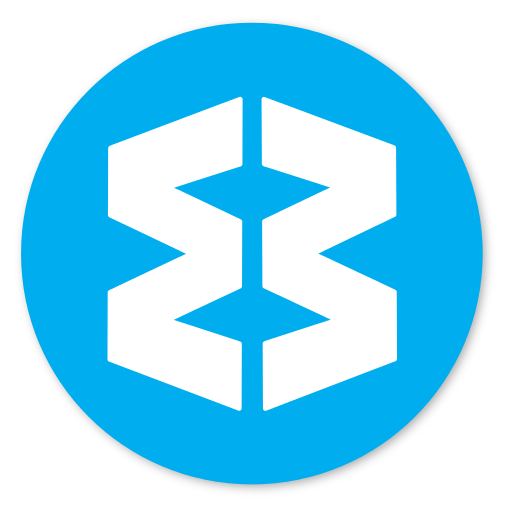 The name Wavebox suggests support for more than just Gmail and Inbox, and yep, that's right....

... we're super excited to invite new account types into Wavebox and these are just the beginning! Here's a rockstar launch list of Wavebox's new, shiny features:
Outlook & Office 365


You've seen the icons above and yep, it's a reality. Just hit the add button and off you go. Wavebox has full support for these platforms, providing unread counts and notifications in much the same way that it does for Google. If you're an email-master, this feature is definitely for you!
Slack

Whaaat? Really? Yup. We love Slack and we use it every day. It seems like a perfect fit for Wavebox. Everything you'd expect and more. It sits alongside your email accounts like a first class citizen!
Trello

Had an email off your boss? You can now add his requests to your Trello board and then Slack your teammates about your progress! Wavebox lets you organise your boards and projects and stay on-top of everything, in just one app.
The rest of the web

Wavebox lets you add anything that begins with http. Maybe you like to keep a search tab open for *Cute kittens* to peek at when you're stressed? Or, maybe you're doing some real work, like monitoring your server load (*boring!*). Either way, you can do this now using Wavebox, straight from your desktop.
Account services
Some of the WMail pre-release users will already know about these. Do you use Google Drive alongside your Gmail account? Are you always checking your calendar to see when you need to pay those bills? Or perhaps you're just making notes about... well who knows! Wavebox has you covered. Wherever possible we've added services that sit happily alongside your mail accounts :-)
Google accounts support: Drive, Calendar, Keep, Contacts, Photos & Hangouts
Microsoft accounts support: Calendar, People, Drive & tasks
What's more, these work the way you want them to. Services down the side? Sure. Toolbar at the top. Gotcha. Clicked on a Google drive link? Read on...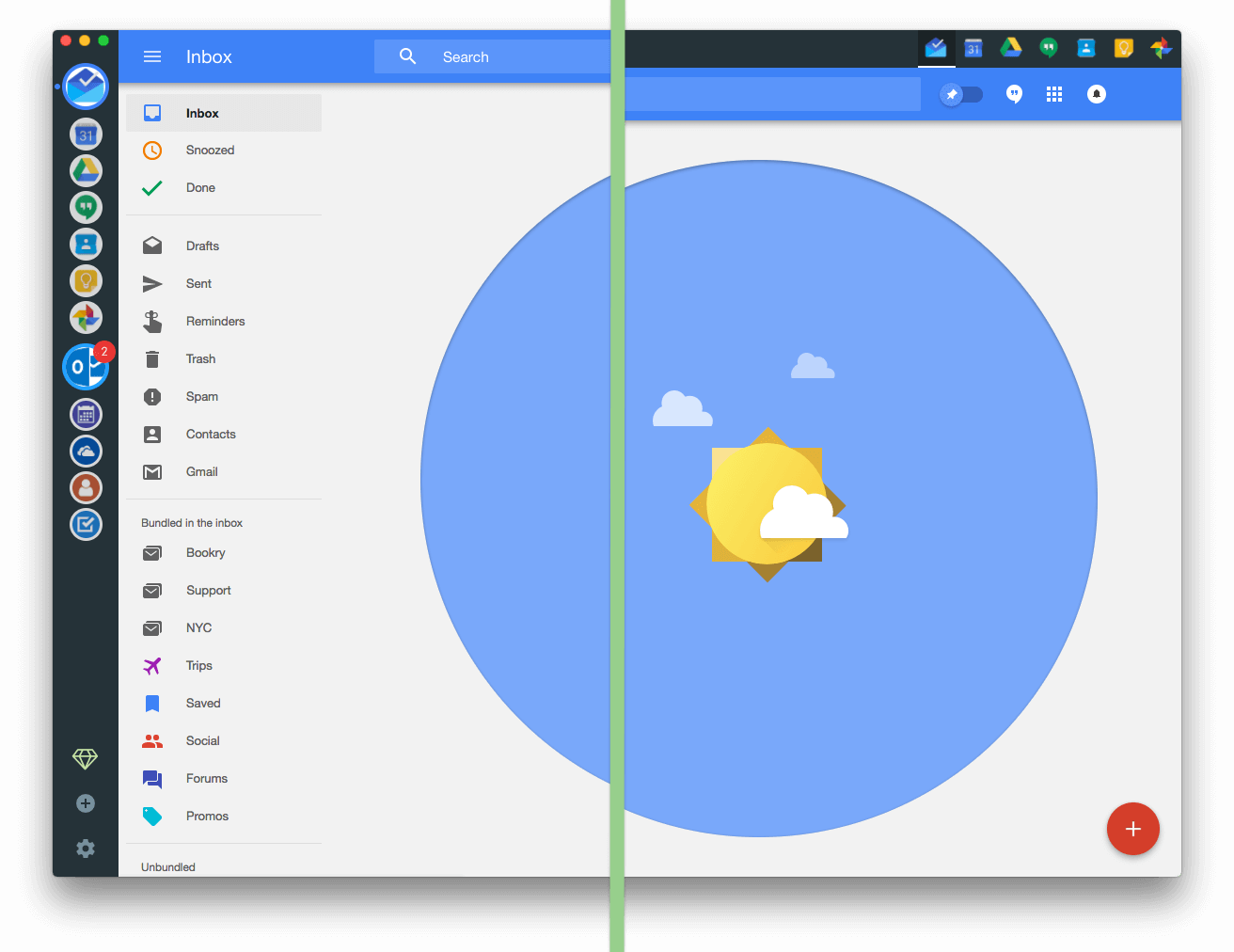 Docs & Office editing
Have you opened up your Google Doc or Excel spreadsheet in Wavebox, but logged into a different account in your browser? Not-a-problem! Wavebox handles all this for you and lets you, well, just get on with stuff. Don't go thinking about where you need to login and why, just pass go!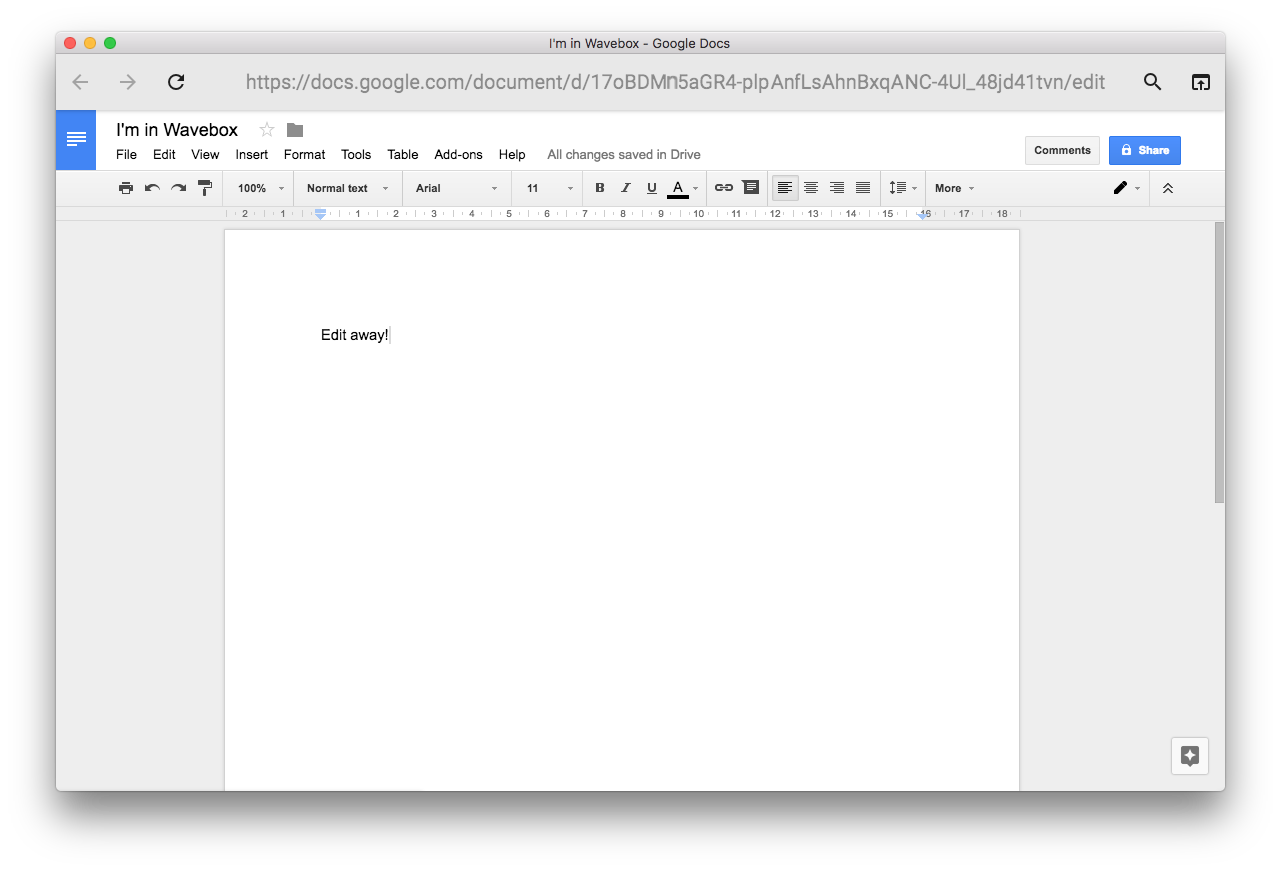 Sleeping & Memory Enhancements
Are all your accounts and services making your machine tired? Do you hear your laptop fans constantly spinning up? Not any more! You can now choose exactly which accounts & services you want to keep open....and put the rest to sleep. Then when you need them, they're instantly woken up and ready for action! But not only that, you will still get notifications & updates for all your sleeping accounts - it's like closing your browser tab, but still being the master of everything that's going on in your world. Oh yeah!
Supercharged Google Notifications
We've been hard at work refining the notification mechanism in Wavebox. Notifications and unread counts now refresh instantly so there's no need to wait for Wavebox to update. They're just ready for you, whenever you need them.
Auto-Updates
Heading to the download page for updates is a bit of a pain, so we've got rid of it! Wavebox on macOS and Windows is always silently checking for updates in the background and will prompt you when an update is available. If you're in the middle of something, don't worry, Wavebox will just install for you next you launch ;-)
Signed binaries
Wave goodbye to install warnings on Windows! Say cheeiro to suppressing gatekeeper on macOS! Wavebox comes pre-signed and all safe and sound. Just double click and run, it's that simple!
Open-source
Still open-source? But of course! Wavebox is MPL-2.0 and up on Github. So if you want to add something or get involved in Wavebox, just do the Github thing and open yourself a fresh pull-request :)
---
So that's a quick run through of all that's new shiny shiny in Wavebox. A big thank you to everyone who has supported WMail so far and I hope that you will continue to enjoy our open-source project. All that's left to say is - why not take it for spin! Get your hot-off-the-press version on our download page and stay tuned for more shiny shiny soon!