New Release: App Tabs, Navigator, and Restore.
Wavebox 10.0.281 includes performance improvements, plus some amazing new features to help you streamline your app web navigation and workflow.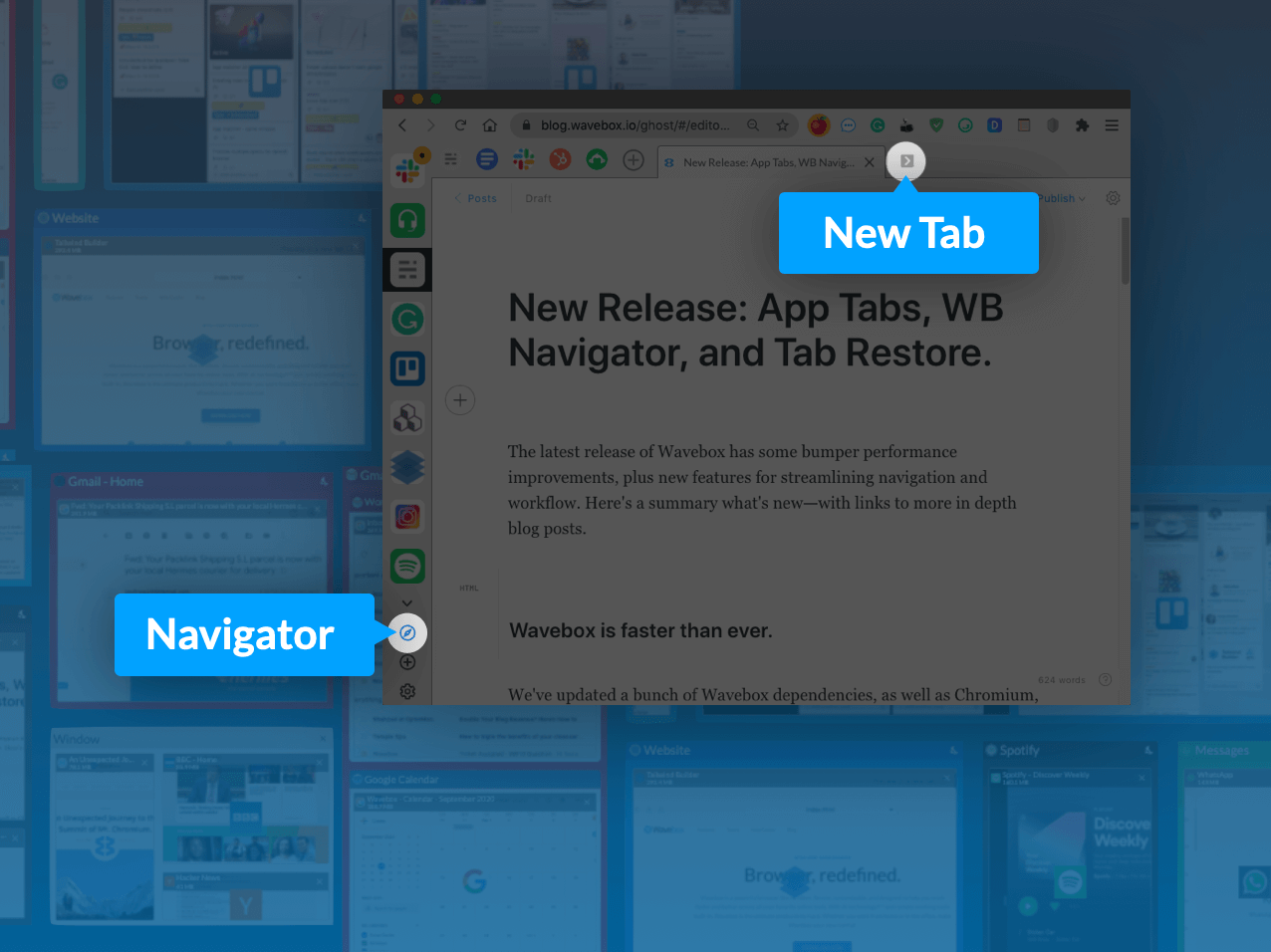 The latest release of Wavebox 10.0.281 includes bumper performance improvements, plus some amazing new features to help you streamline your app web navigation and workflow. So here's a summary of what's new—with links to more in-depth blog posts.
Wavebox is faster than ever.
We've updated a bunch of Wavebox dependencies, as well as Chromium, which is now at 85.0.4183.102. The great thing about updating to v85 is that things now load 10% faster. We've also tracked down some performance bottlenecks, and in many cases, there is a 50% CPU usage reduction across actions.
History & restore.
We've also updated how apps and tabs sleep and restore, so  they startup faster and remember your previous browsing state and history.  Also, when you restart Wavebox, all your apps/tabs/windows will open as before, allowing you to quickly pick up where you left off. To enable restore, go to 'Settings > General > On Start-Up' and choose an option from the dropdown menu.
Introducing App Tabs.
We're delighted to announce that tabs now work in the main Wavebox window. These new tabs sit right alongside your apps in the top toolbar to give a more manageable experience when working across multiple pages.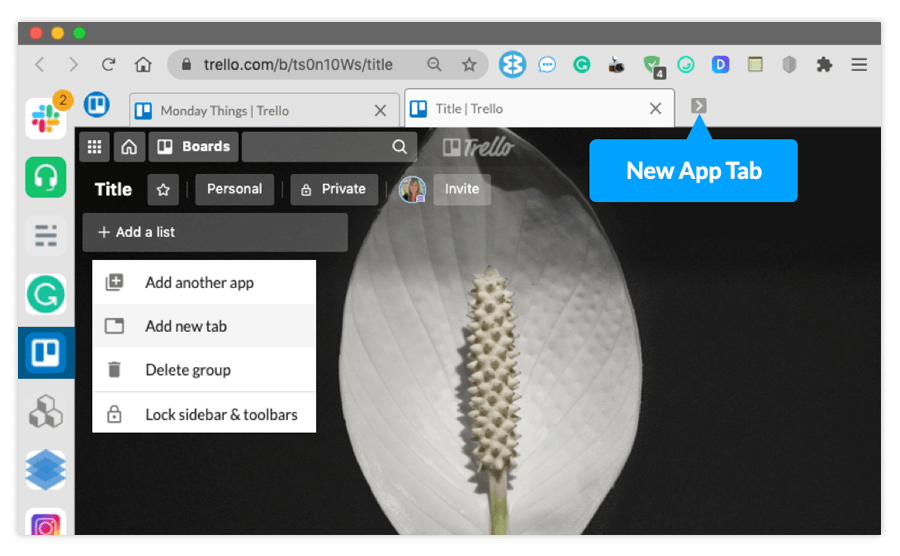 For example, when using Trello in the main window, you can open various boards as tabs under the app, as apposed to replacing an existing window or opening in a new window.  You can also click on the new tab icon in the top toolbar (grey right chevron) to add a new blank tab in that app.
You can tailor tab layout according to your preference, and all app tabs persist until closed, so you can leave them open as you work in other apps. And, you don't need to worry about memory usage either, as these tabs will automatically inherit the sleep settings of the parent app. App Tabs are the perfect way to stay organized as you work across multiple pages your favourite apps.
Read the full blog post on App Tabs→
Say hello to Wavebox Navigator.
To make navigation even easier, and to help you manage Wavebox's performance, we're excited to introduce Wavebox Navigator.  Click on the blue compass icon (in the sidebar) to open a window displaying thumbnails of all open apps, tabs and windows.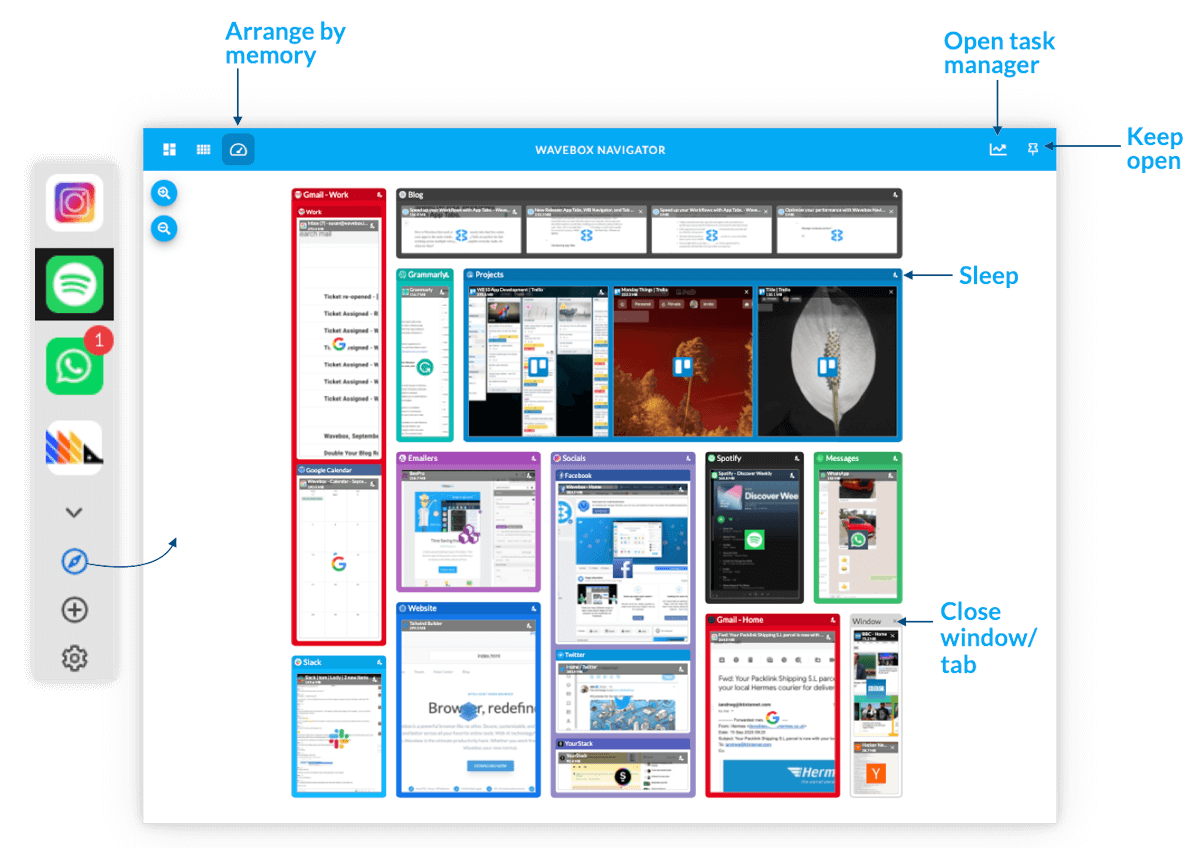 Move your mouse over the title bar of any app to see the memory usage, and click on the sleeping icon to sleep that tab to save memory.  You can also click on any app to navigate to it, and there are three ways to arrange the Navigator—organize by the total number of App Tabs, by sidebar order, or by CPU usage.
This is the first iteration of the Navigator—with more features on the way—so we'd love to hear your views on this exciting new way of navigating apps and managing your computer's performance. Let us know what you think via our website contact form or via the app support link.
Read the blog post on Wavebox Navigator→
Coming Soon.
This release also sees a bunch of other tweaks and bug fixes to make Wavebox run better,  so make sure you update as soon as you can to enjoy the improvements. Just go to: 'Settings > General > Updates > Check for Updates' in the app.
Thanks to everyone who recently completed our survey, and keep an eye out for our next big release which includes a new Link Opening Engine for even tighter control over your app navigation and workflows.