New! Smart Notes, Focus Mode & Workspaces with Widgets.
It's by far our biggest update since launching Wavebox 10 on Chromium, and we're about to burst with excitement! This month's bumper release includes not one, not two, not three, but FOUR exciting updates that will truly transform how you work on the web.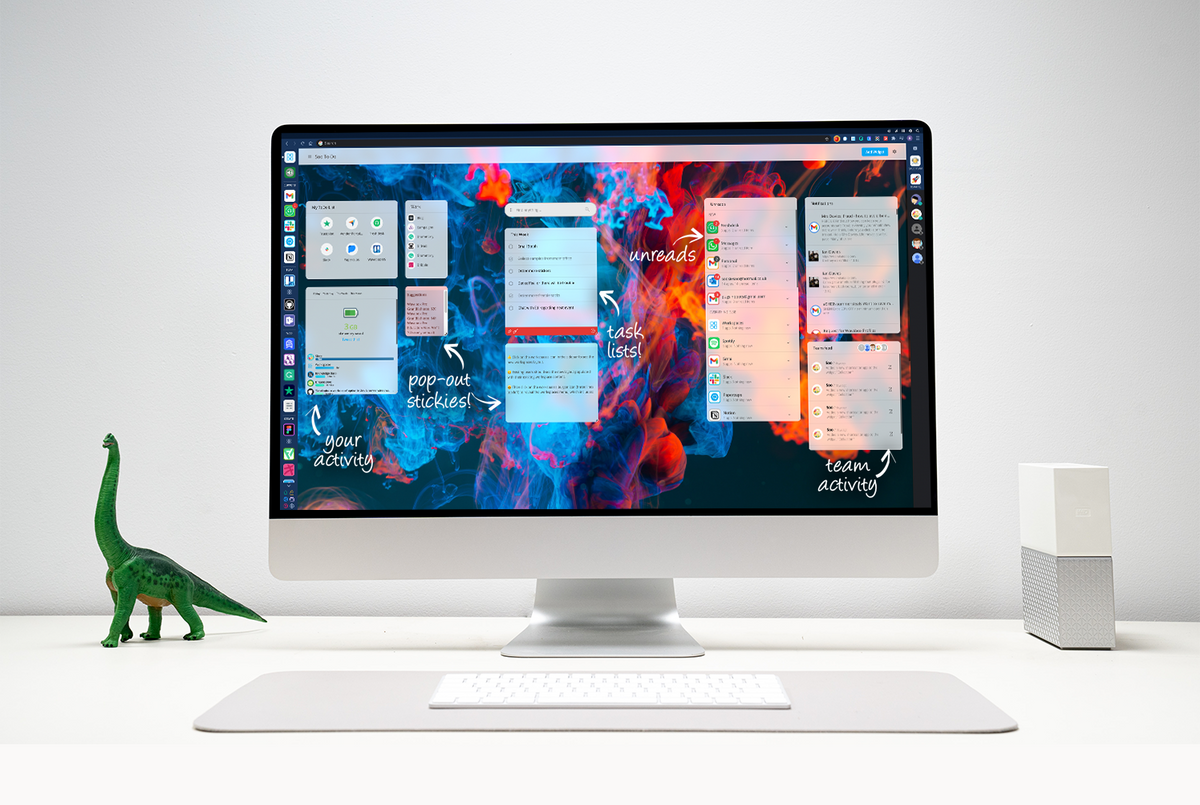 It's by far our biggest update since launching Wavebox 10 on Chromium, and we're about to burst with excitement! This month's bumper release includes not one, not two, not three, but FOUR exciting updates that will truly transform how you work on the web.  They are...🥁🥁🥁
NEW Workspaces
Smart Notes
Profiles
Focus Mode.
With these four impressive updates in Wavebox, you're all set to smash your productivity goals, and achieve more in your workday.  So here's the lowdown on each feature, with details on how to start using them today.  
1. New private and shared Workspaces.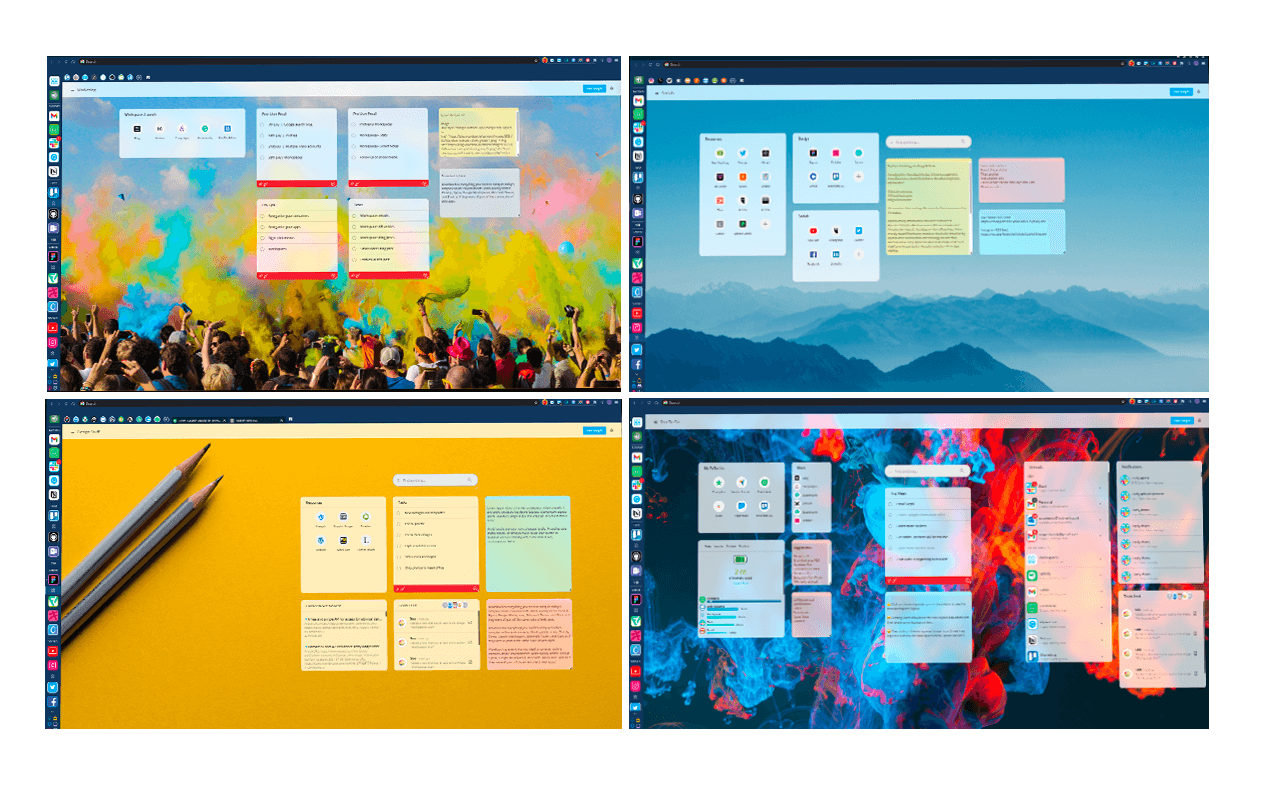 A launchpad for your web apps...your OS for the web...the ultimate web desktop...app hub... over the past few weeks we've come up with a few different ways to describe new workspaces, but at the end of the day, they're just a place to get organized, and get work done. Whether it's for a specific project, a particular client, or just a place to keep things up-to-date, with a selection of great widgets to choose from you can build private or shared workspaces to make life easier.
Here are some of the exciting changes we've made to workspaces:
Workspaces are now full screen - We've replaced multiple stacked workspaces with glorious full-screen versions.
Multiple workspaces - You can create as many workspaces as you like and easily switch between them.
Widget Library - Customize your workspaces with widgets from our library, which includes sticky notes, RSS feed, and collections.
Workspace templates - If you're not sure which widgets to choose from, you can use a templates to get started.
Sharing - Keep everything private or share your workspaces with a team. Shared workspaces are updated via the cloud in real-time so that everyone stays up-to-date.
New Tab - Choose a workspace for all new tabs, and/or for each cookie container (optional).
Pin workspace to a group - Quickly access a workspace from a link in the sidebar.
Enjoy Built-in Extension Functionality with Widgets.
In any workspace, click on the 'Add Widget' button in the top right-hand corner to bring up the widget library. There are currently 14 widgets in the library to choose from, and all have the following characteristics:
Widgets can be resized and repositioned in the workspace by dragging.
You can use the same widget in multiple workspaces.
Widgets can be popped out and 'floated' on your desktop.
Widgets can be shared across teams, and there's a shared library too!
Widgets in any shared workspace are automatically synced across computers.
The Widget Library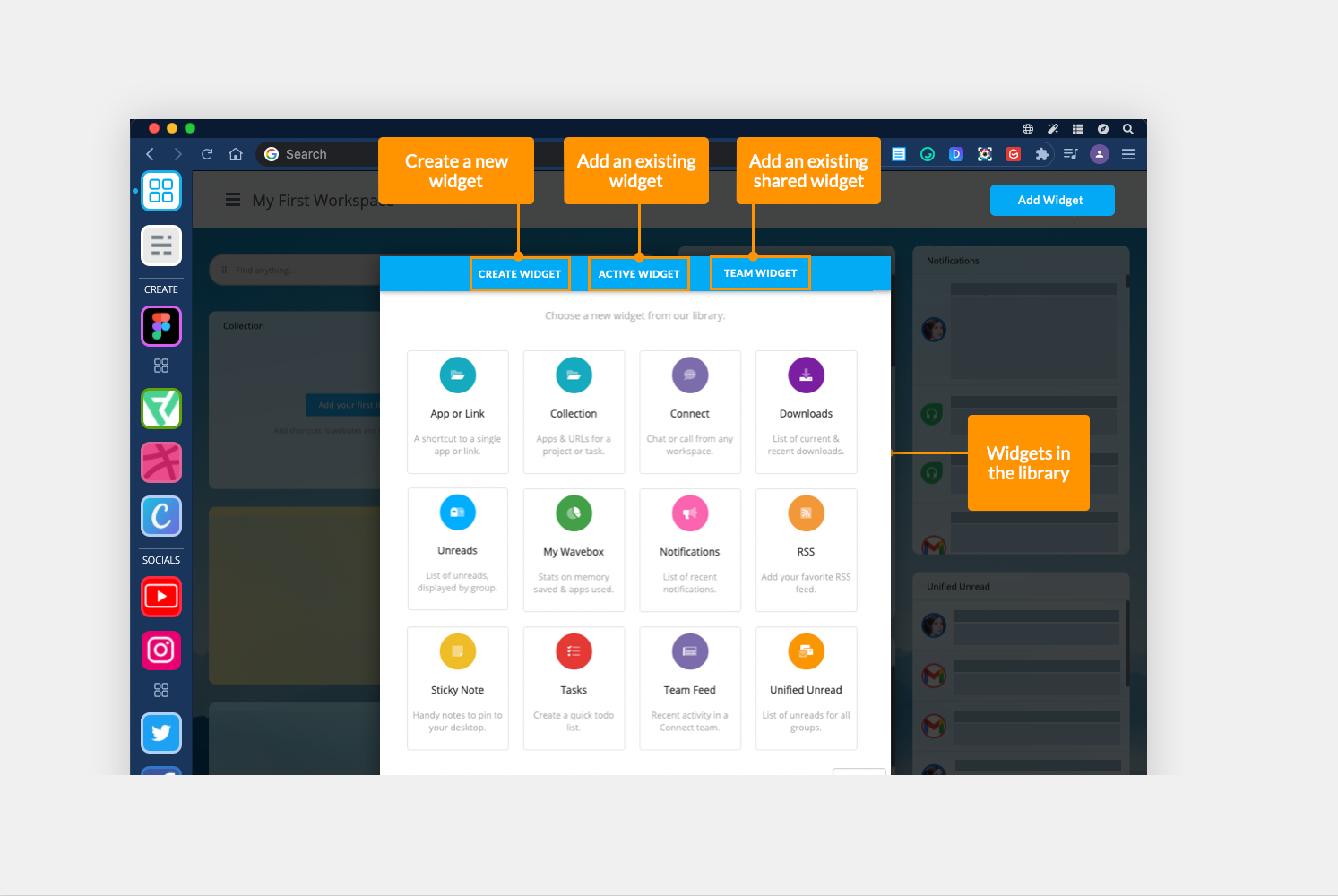 Unreads - see what's new across all your sidebar groups, with new items at the top.
Notifications - a list of all recently received notifications.
Unified Unread - a unified list of everything new in Wavebox.
Tasks - Create simple to-do lists for you and your team.
Sticky Notes - Fun, simple notes to pop out to your desktop.
Search - Search everything including apps, tabs, pins, smart notes, stickies, bookmarks, and the web.
Collection - Group apps and shortcuts together.
RSS Feed - Stay up-to-date with your favorite RSS feed.
My Wavebox - So how much time do you spend in each app? Now you can find out!
Downloads - A handy list of everything that's been downloaded.
Connect - Call and screen-share from any workspace.
Connect Team Feed -  real-time feed of what's new in your team workspace.
App or Link - Add individual links to your favorite apps and websites.
Embedded iframe (in dev) - Place a website in any workspace.
Using Workspaces: Some Examples.
Workspaces offer a unique way to bring disparate web links together under a common theme. See them as a 'desktop' for each project, department, or client. Here are some examples of where you can use them:

Group Quick Links: Create a Workspace for a sidebar group to pull out frequently used apps, websites, and documents.  Pin the workspace to the group so it's easily accessible in the sidebar.
Projects: Create a Workspace for a particular project or department, such as a marketing campaign or sales & marketing team. 'Pin' apps and pages relating to that project in the workspace so that everyone can find it easily, such as a Trello board, or Google Drive folder.
Save Tab Sessions:  Save all tabs in any secondary Wavebox window as a workspace Collection so that you can quickly open them again later.
Clients: Create a workspace for each client, with links to their apps and websites. plus task lists and handy sticky notes.
Onboarding: Use Workspaces to onboard new users with all the apps, links, tasks and tips they need to get up and running quickly with Wavebox.
Teams: Create a Workspace for your team, with Collections for projects, team task lists, plus the Team Feed widget to keep everyone up-to-date.
📊 Start with Workspaces: Existing Users: Update to the latest version of Wavebox (10.92.12) and you'll see a blue upgrade prompt at the top of your workspaces, or dashboard.  Click on it to migrate your current workspace data into new workspaces. New users will automatically start using new workspaces. You can learn more about how to use them in these Knowledge Base articles.
2. Create multiple Waveboxes using Profiles.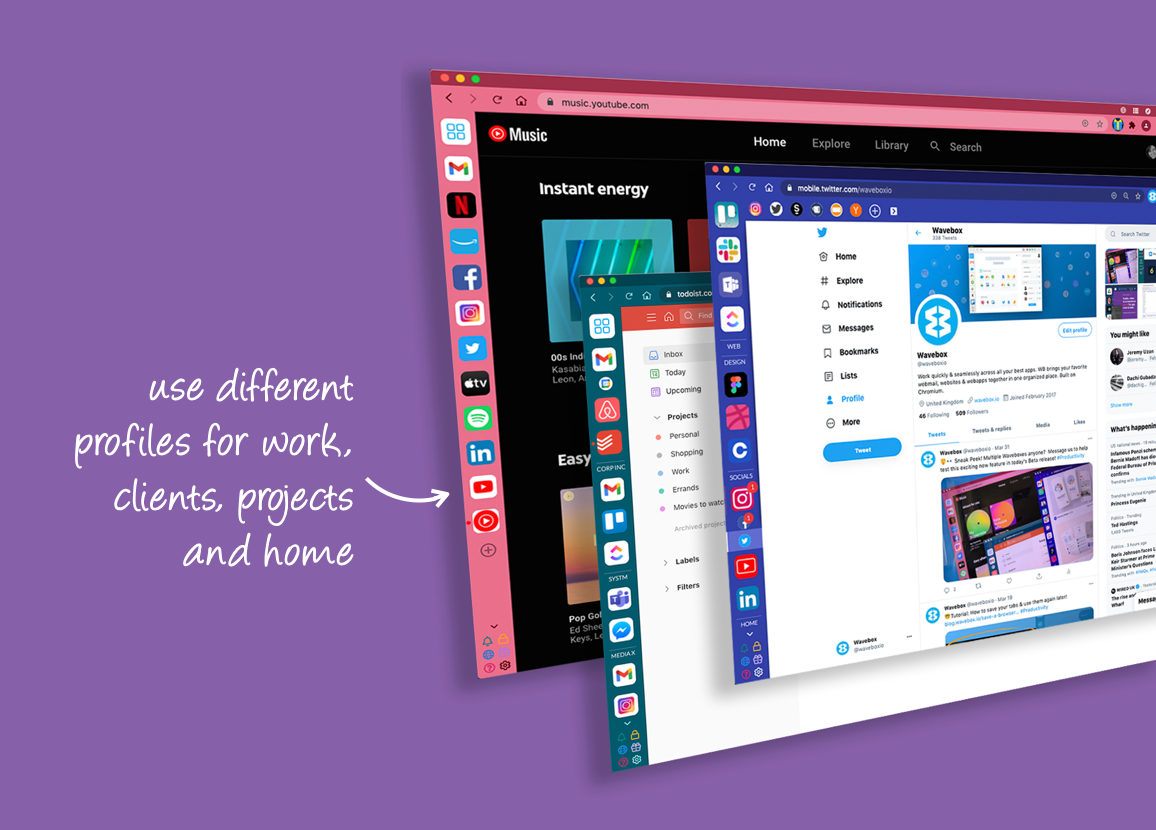 Released in Beta in April but now live for everyone are Profiles. Using Profiles you can set up multiple Waveboxes on your computer. Each Profile has a main window with sidebar and secondary windows, and are completely independent with their own theme, cookie containers, settings, passwords, extensions, notifications, groups, and apps, etc. Reasons you may want to add more Wavebox Profiles include:
Isolate different businesses or organizations.
Manage different projects.
Manage someone else's Wavebox, as well as your own e.g. Virtual Assistants.
Keep your work stuff separated from home.
🧑‍🤝‍🧑 Start using profiles: Update to the latest version of Wavebox - you'll see a new 'user' icon next to your extension icons in the address bar top-right.  Click on the icon to add a new profile. Learn more about how to use Profiles in this Knowledge Base article.
3. Make notes as you browse with Smart Notes.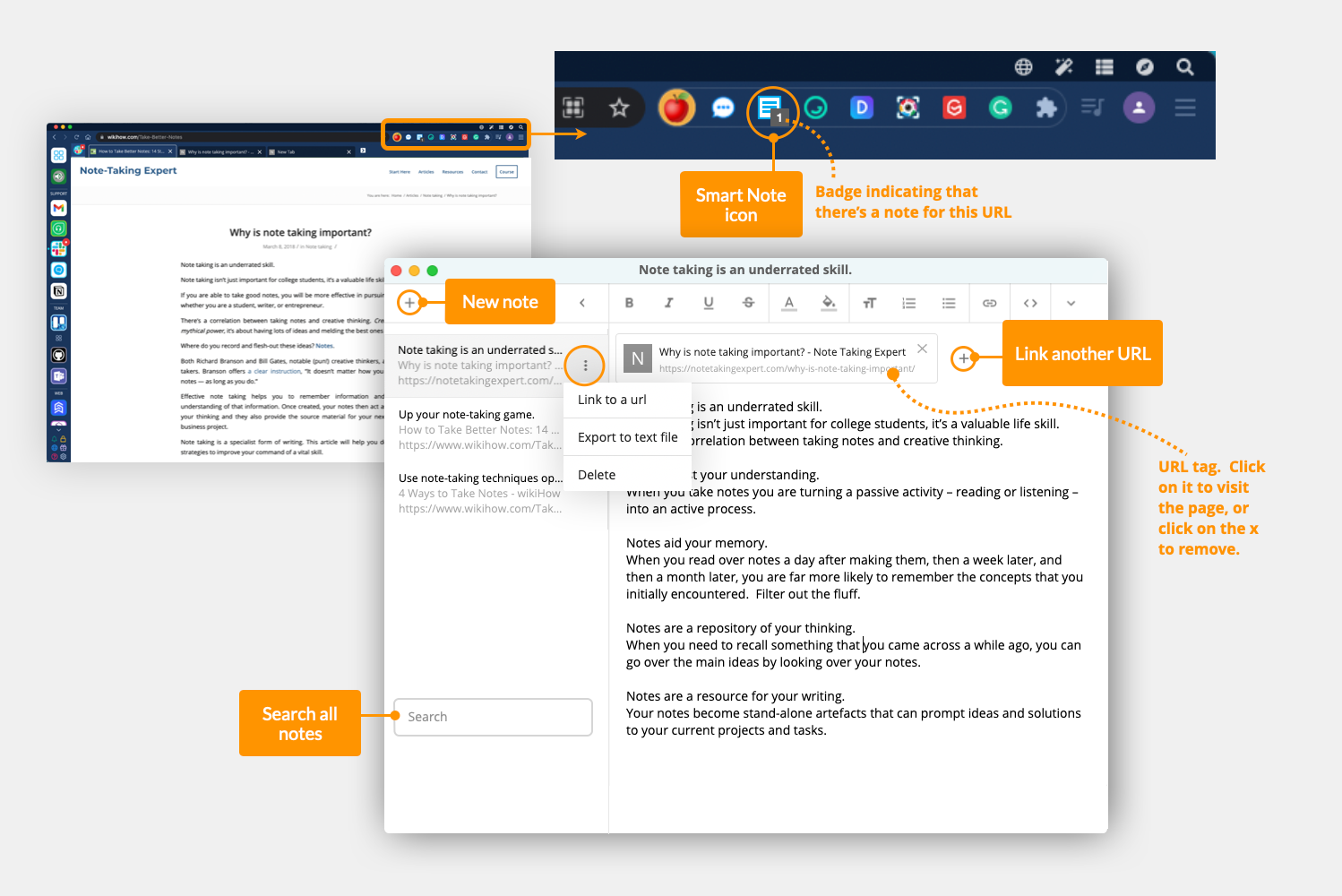 When working across so many different websites it can be a struggle to remember everything. So that's why being able to jot down some notes, and pin them to a particular website can be invaluable.
Smart Notes work in Wavebox like an extension.  The Smart Notes icon is always visible next to your other extension icons, so you can quickly create a note for any app/tab you're working in. Here's the lowdown on how they work:
Create as many Smart Notes as you like.
The Smart notepad appears as a floating pop-out window, so you can move it around your desktop, and use it outside of Wavebox.
Smart Notes auto-link to the URL you're visiting, but you can manually link other URL's too.
Whenever you visit a URL with a note linked to it, a number badge will show on the Smart Note icon. If you click on it, it will open the linked note.
The Smart Note pad is searchable, and the contents will also appear in all other Wavebox searches  e.g. Quick Switch, Workspaces search widget.
📝 Start using Smart Notes - Update to the latest version of Wavebox - you'll see a new blue and white 'note' icon next to your extension icons.  Just highlight some text in any window, or click on the icon to get started!  Read this Knowledge Base article for more information.
4. Stay in the zone with Focus Mode.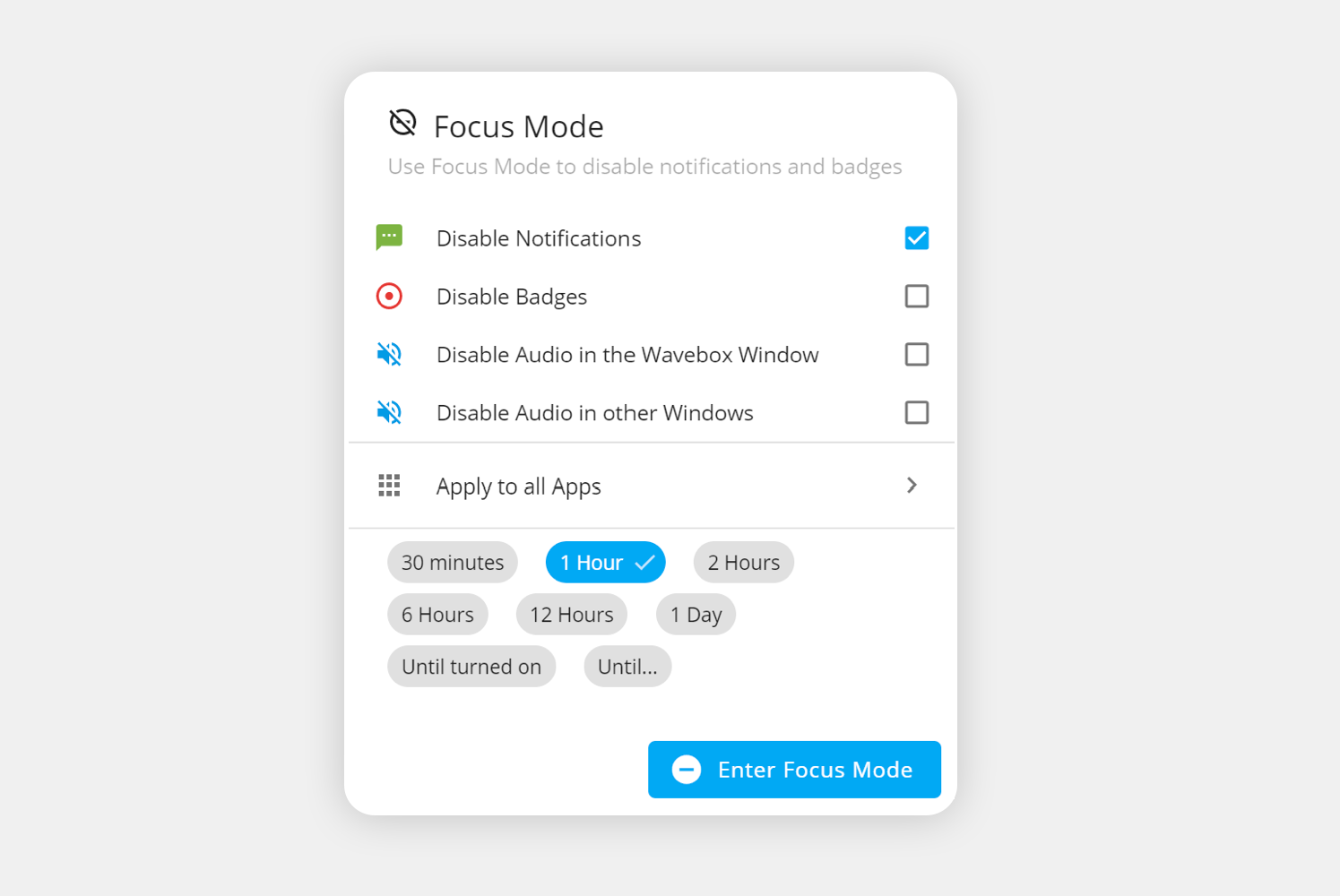 Our notification mute feature has had a major upgrade! Click on the new 'Focus Mode' icon at the bottom of the sidebar to see the new mute options, and it's not just notifications. Now you can now turn off distracting unread badges and audio too! And if you only want to mute a subset of apps we've got you covered there too -  either apply the settings to all apps and tabs or just a select few, it's up to you!
🧠 Start using Focus Mode - Update to the latest version of Wavebox and click on the new 'Focus Mode' icon at the bottom of the sidebar - it's a red 'no entry' icon - to bring up the new Focus Mode menu. Read this Knowledge Base article for more information.
Other Recent New Features.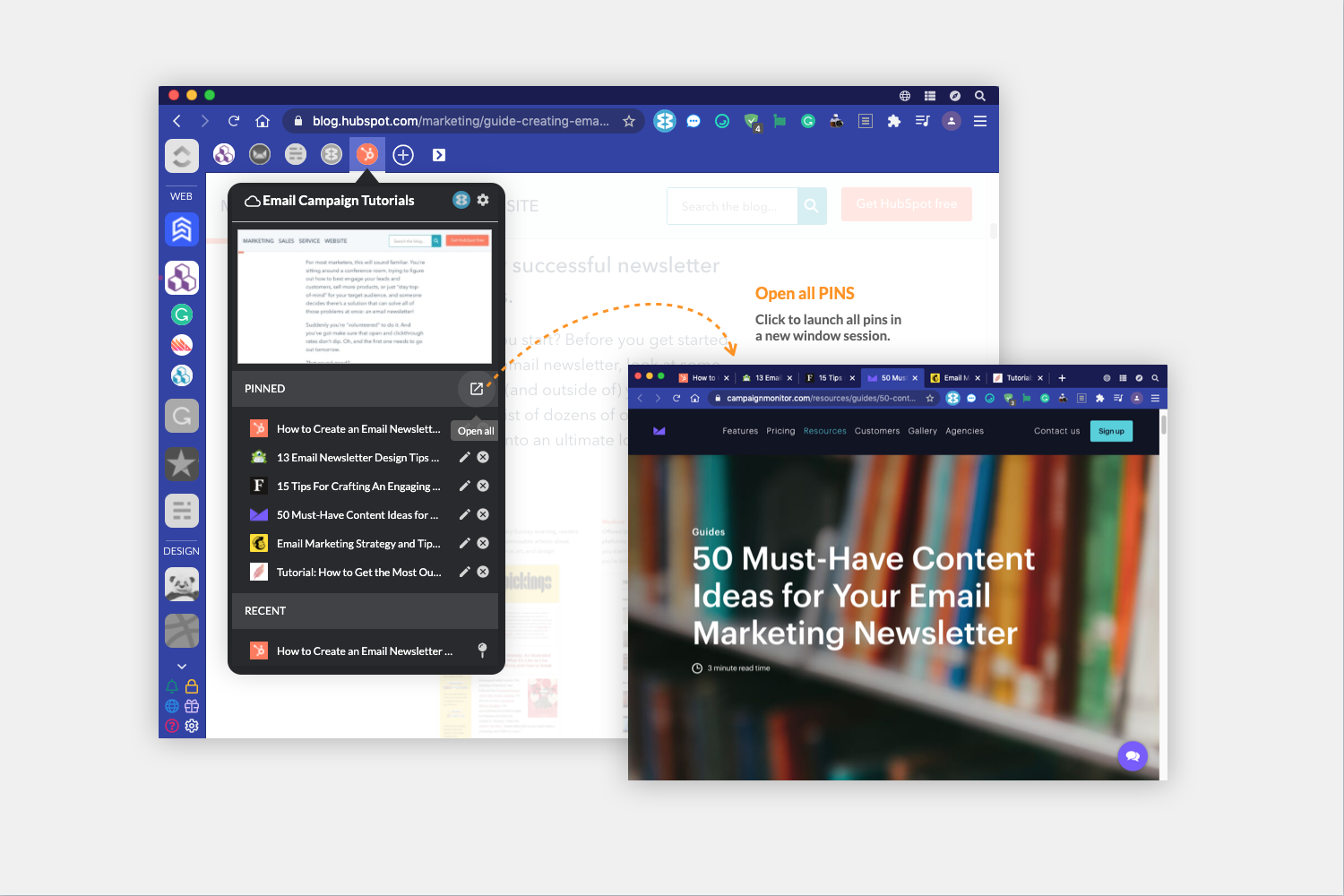 In case you missed them, here's a quick list of some other features we've recently added to Wavebox:
➡️  Option to move tabs between groups. Right-click > Move tab to group.
📌  Open all pinned items in a new window. Click on the 'export' icon at the top of the pinned menu.
🎨  Option to change the taskbar badge color on Windows.
😴  Split the "Sleep tabs on low memory" setting so it can be set independently for tabs and apps, rather than just a single global setting for both.
🏎️  Added 'new tab in current group' to the Link Engine.
🖱️  'Shift+Click' on apps and groups now opens them in a new window.
🏠  New keyboard shortcut to return to an app's homepage.  Settings > Keyboard Shortcuts > Navigation.
👇  New keyboard shortcut to open the new Profile picker window.  Settings > Keyboard Shortcuts > Application > Profile Picker.
🧑‍🤝‍🧑  Option to duplicate a tab in a new secondary window.  Right-click > Duplicate tab in new window.
💡 Send feature requests directly from the main Wavebox window.  Support icon (green question mark bottom left) > Feature Request.
---
Footnote from the WB Team:
🎺  We don't often blow our own trumpet - but we're quite proud of what we've achieved so far this year. We may even stick our neck to say that, following this release, Wavebox is now the best browser available for people who work every day on the web.
And, we're only just getting started. It's our mission to transform the clunky traditional browser into the productivity powerhouse it should be, based on a secure Chromium foundation and working seamlessly across all software/web ecosystems, and all operating systems.  
A massive thanks to all our lovely subscribers - from so many countries worldwide and in all sectors; students, universities, charities, organizations, professionals, small businesses, start-ups, major corporates, the list goes on and on. They all share our vision, and without whom none of this would be possible. Thank you! 🤗 🤩🥳