10 New Productivity Boosting Features to Work Faster in the Browser.
Our latest update is loaded with unique productivity-boosting features that you simply won't find anywhere else.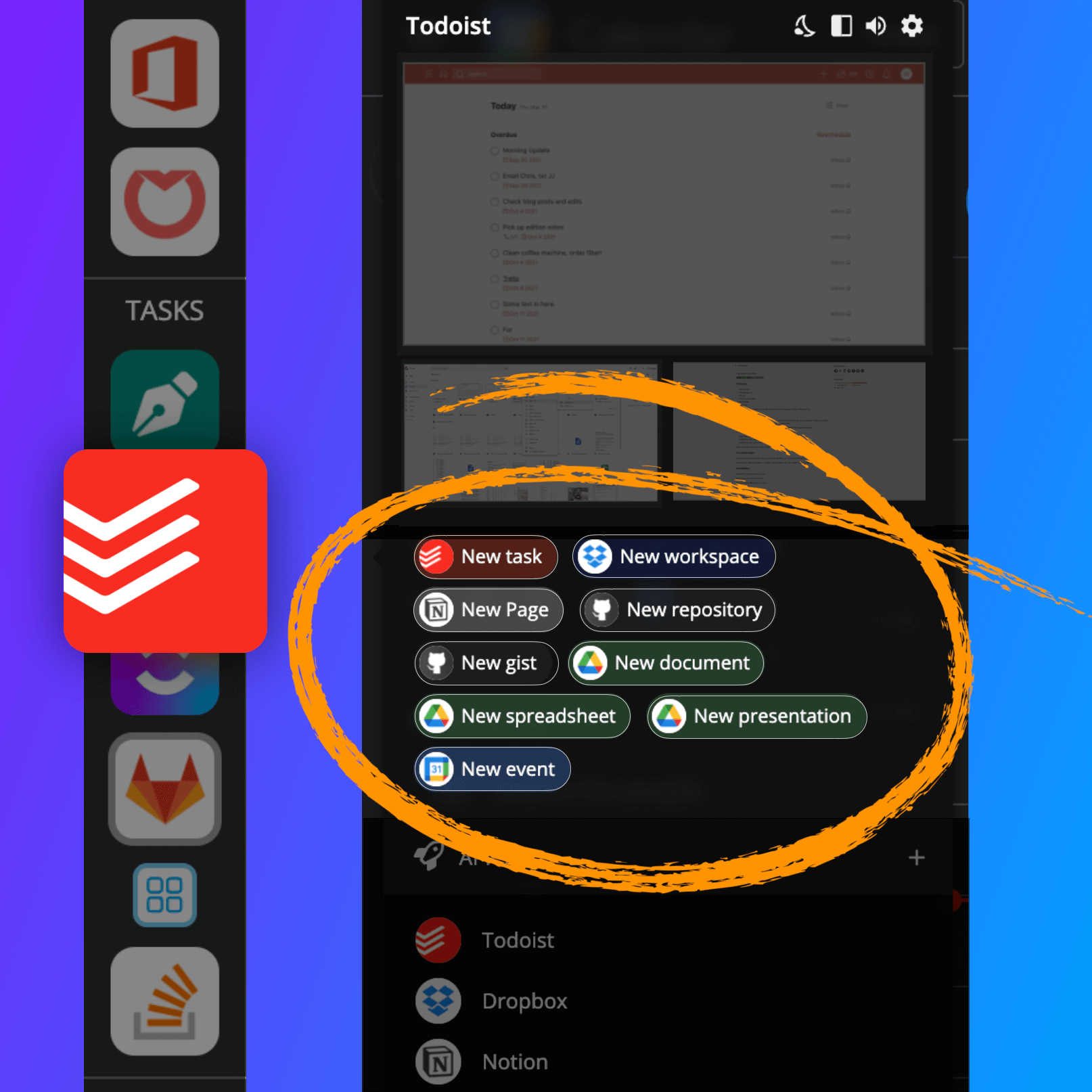 Wavebox is more than just a browser. It's been built for people like you who work every day on the web. Jumping between apps to get work done in Chrome or Edge is exhausting, but in Wavebox, it's a dream—and thanks to the constant feedback and feature requests from Waveboxers worldwide, our time-saving browser keeps getting better and better.
We've loaded our latest update with unique productivity-boosting features you simply won't find anywhere else.
This week's Wavebox release is bursting at the seams with goodies to try out, from tab folders to personal app stats. But where to start? Here's a rundown of 10 new features you can try today...
1. Webdock: List Layout
Productivity Boost:

🚀 Save time! Access all your favorite apps in one click.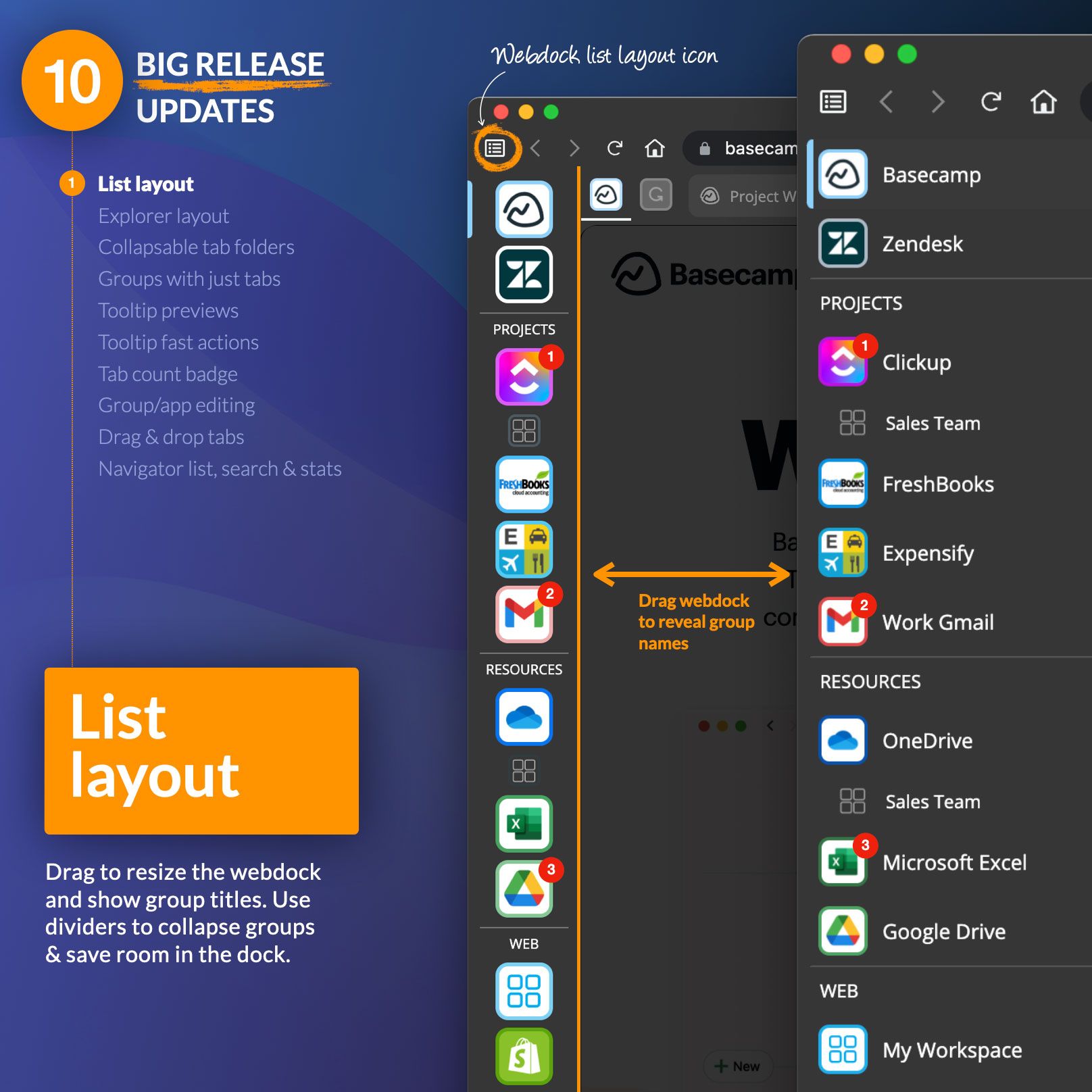 What's New? Use the new webdock icon top-left (it looks like a 📋list or 🗄️filing cabinet) to switch between two new layouts. Choose List layout to resize the webdock by dragging it e.g., narrower to make icons smaller or wider to show group titles.
2. Webdock: Explorer Layout
Productivity Boost:

🤓 Improve Visibility. With tree-style navigation for groups and apps, you have every web resource at your fingertips.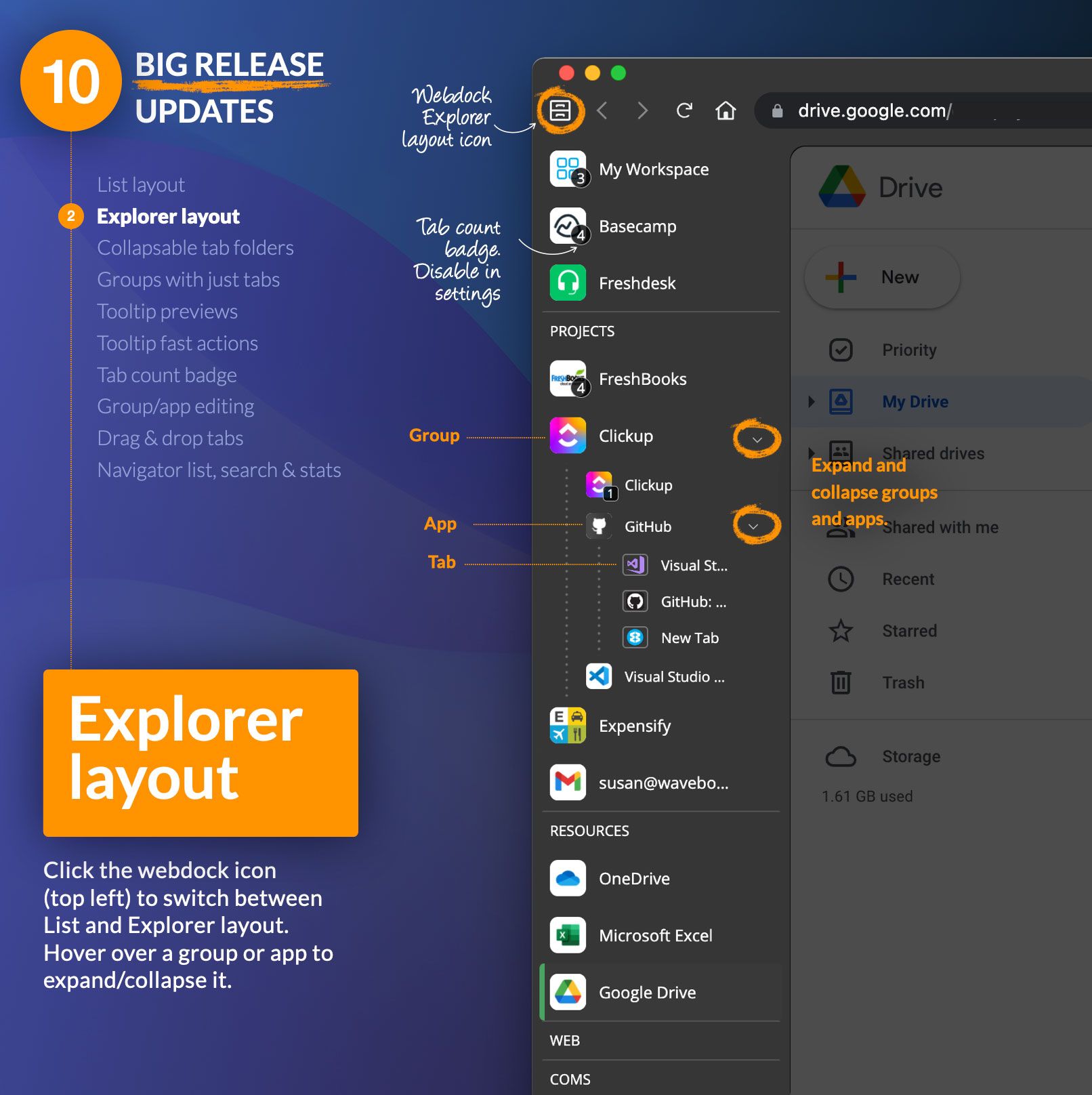 What's New? Click on the webdock icon to use the Explorer layout (it looks like a filing cabinet), which shows all your groups, apps, and tabs in a tree-style list. To expand/collapse a group or app, hover over the name and click on the arrow. Explorer layout is perfect for tab lovers who want to stay tidy and like rearranging resources—drag an icon or tab to move it.
---
🤓 Tip! Some workflows have different navigation needs, so try toggling between List and Explorer layouts as you work.
---
3. Collapsable Tab Folders
Productivity Boost:

📋 Better organization. Tabs are the pages you use to get work done, so keep them tidy and easy to find.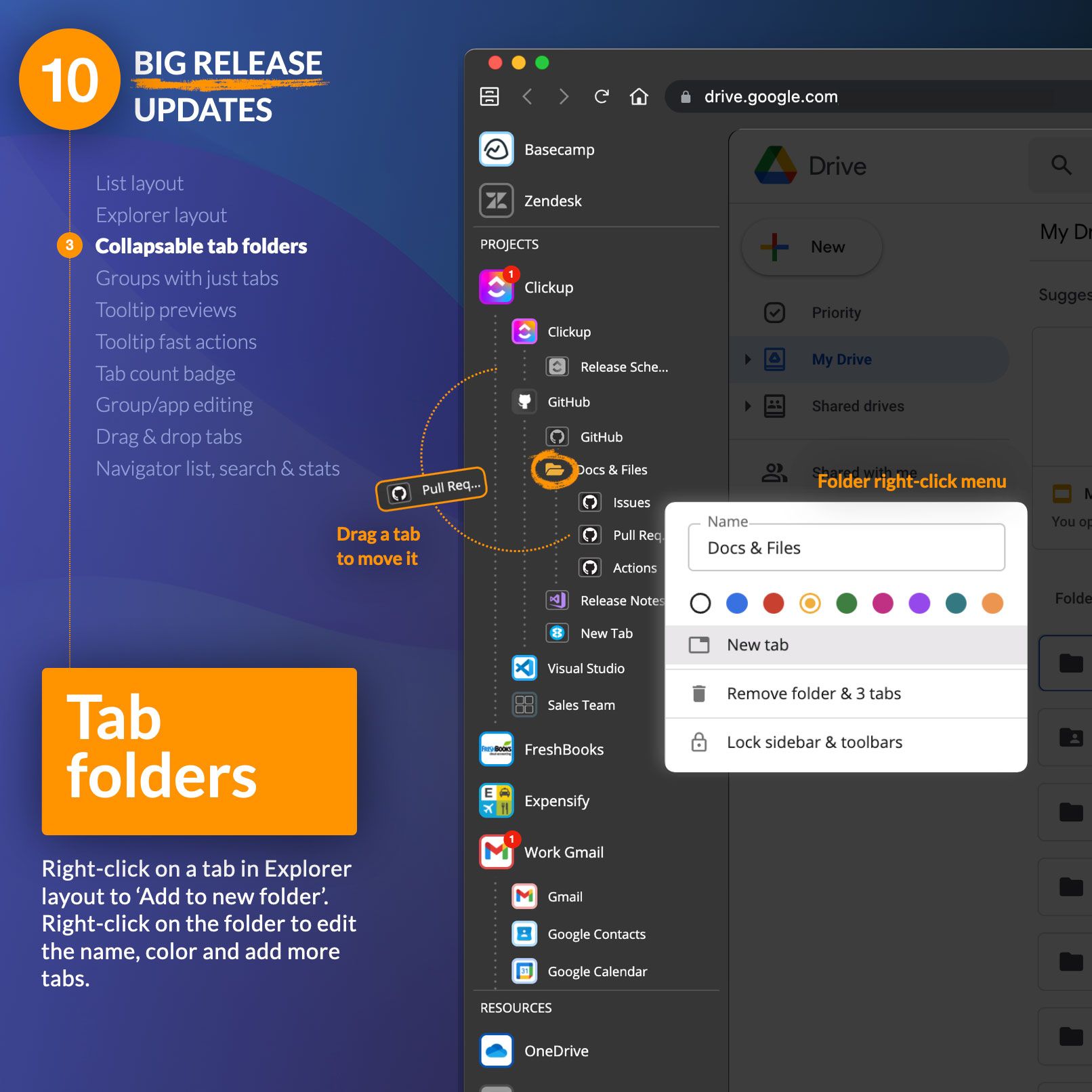 What's New? Most of us use tabs as part of our daily workflows, but they can quickly mount up. So it's essential to keep them organized and easy to find. One way of doing this is using new tab folders. To create a new folder, right-click on a tab in Explorer view, select 'Add to new folder,' and then right-click again to add more tabs.
---
🤓 Tip! By default, all tabs are set to sleep when inactive, so having lots of tab folders and tabs won't affect performance. Any tab can be found using Quick Search: alt+S (pc) ⌃ S (mac).
---
4. Groups with Just Tabs
Productivity Boost:

⏰ Faster workflow creation. Groups are spaces in the webdock for organizing apps, creating workflows, and using tabs in context.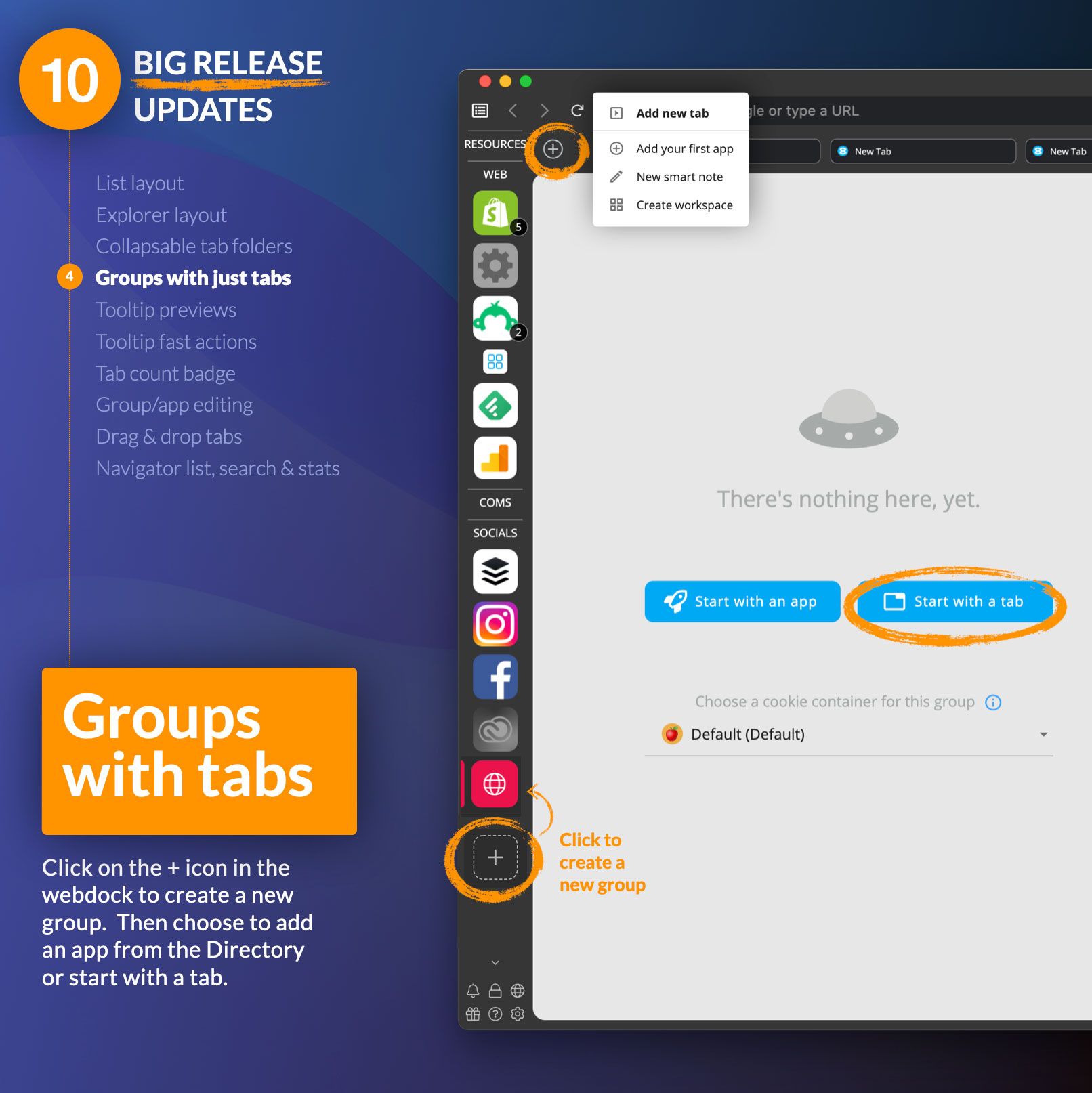 What's New? Groups are your go-to place for critical tools and to complete regular tasks, such as projects, monthly reports, research, departments like sales or finance. They can include apps, tabs and workspaces and have customizable features like sleep, unread badges, and notifications.
And now, we've made groups more flexible and easier to use. Click on the + icon in the webdock to add a new group. A group icon will appear instantly in the webdock and the main window will display the new group start page. From there you can choose to add an app or weblink from the directory, start with a new tab, and choose a cookie container.
---
🤓 Tip: Any tab or page in the main window can be boosted instantly into an app or group. Just right-click on the tab or page and 'Create app from tab/group.' A boosted tab has enhanced features, including custom icons, colors, unread badges, notifications, sleep settings, link engine rules, etc.
---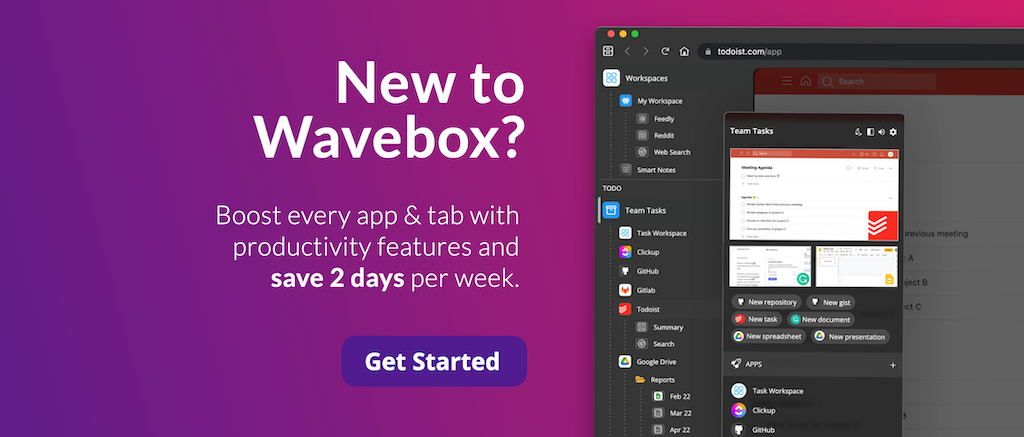 5. Tooltip Previews
Productivity Boost:

👀 Better visibility. Instantly catch up with what's important.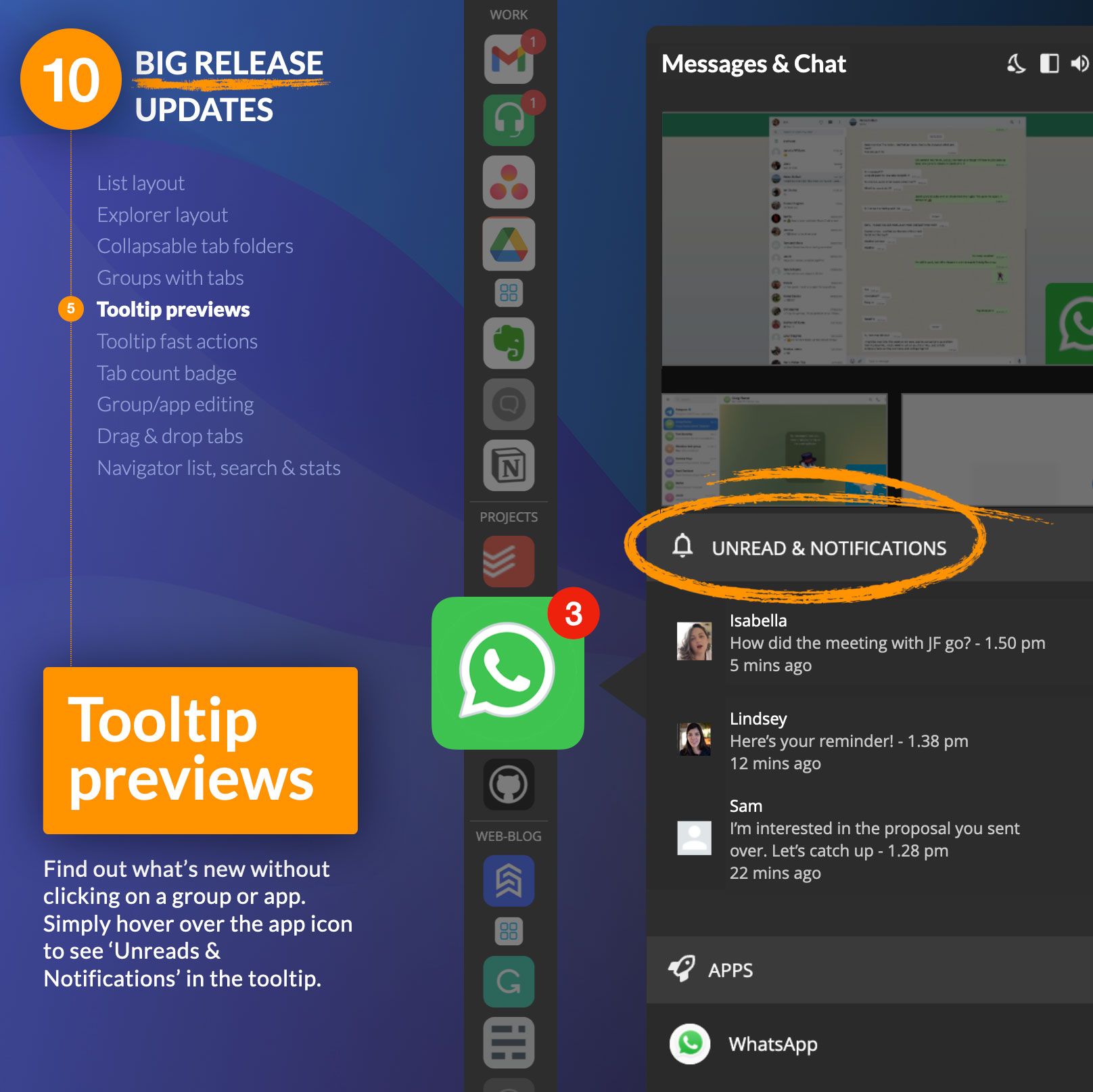 What's New? Ding—there goes your notification alert, and now you can instantly see what's new without a single click. Just hover over the group or app icon to bring up the tooltip menu and check for new items under the heading 'Unreads and Notifications.' Clicking an item will take you straight to the app, ready for action. When you're done, type ⌃Q (mac) alt-Q (pc) to return to your previous app and carry on working.
6. Tooltip Fast Actions
Productivity Boost:

💪 Save time! Jumpstart a task with one single click.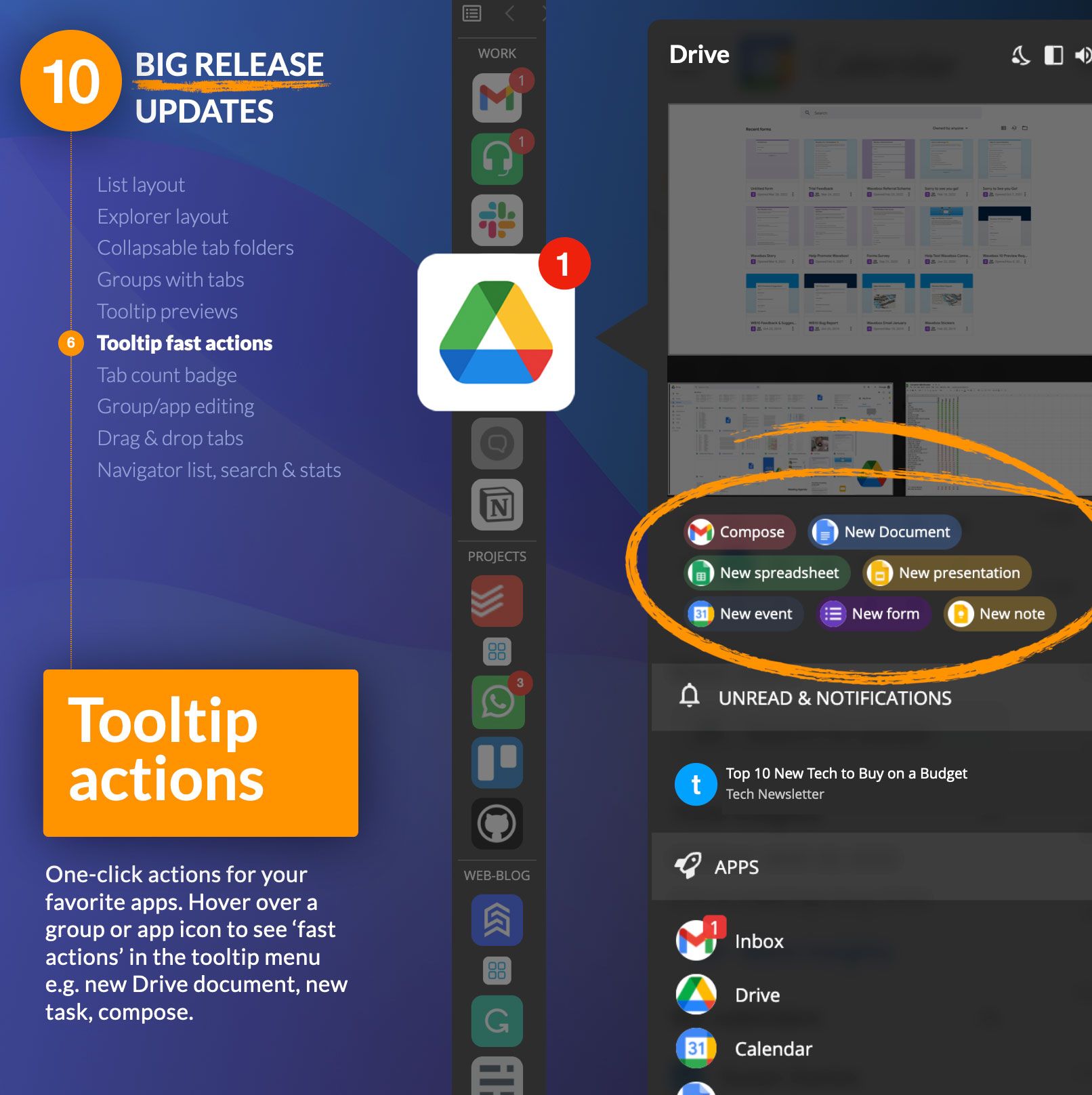 What's New? Wavebox is all about automation—by having all your web apps and resources in one place, you can work faster and smarter. In this update, we've added a bunch of time-saving fast actions for many of your favorite apps, which enable you to jumpstart tasks by skipping manual steps. Hover over a group or app icon to see a 'fast actions' list in the tooltip menu which currently includes:
Asana: new task
Notion: new page
GitHub: new repository, new gist
Figma: new document
Todoist: new task
Discord: new community
Monday: new board
Dropbox: new workspace
Medium: new story
Office365: compose email, new doc (word, excel & powerpoint etc.)
Microsoft Teams: new chat
Google: compose email, new doc (forms, sheets, slides etc.)
Google Keep: new note
Google Calendar: new event
7. Tab Count Badge
Productivity Boost:

🔎 Better visibility. Keep track of tabs in each group or app.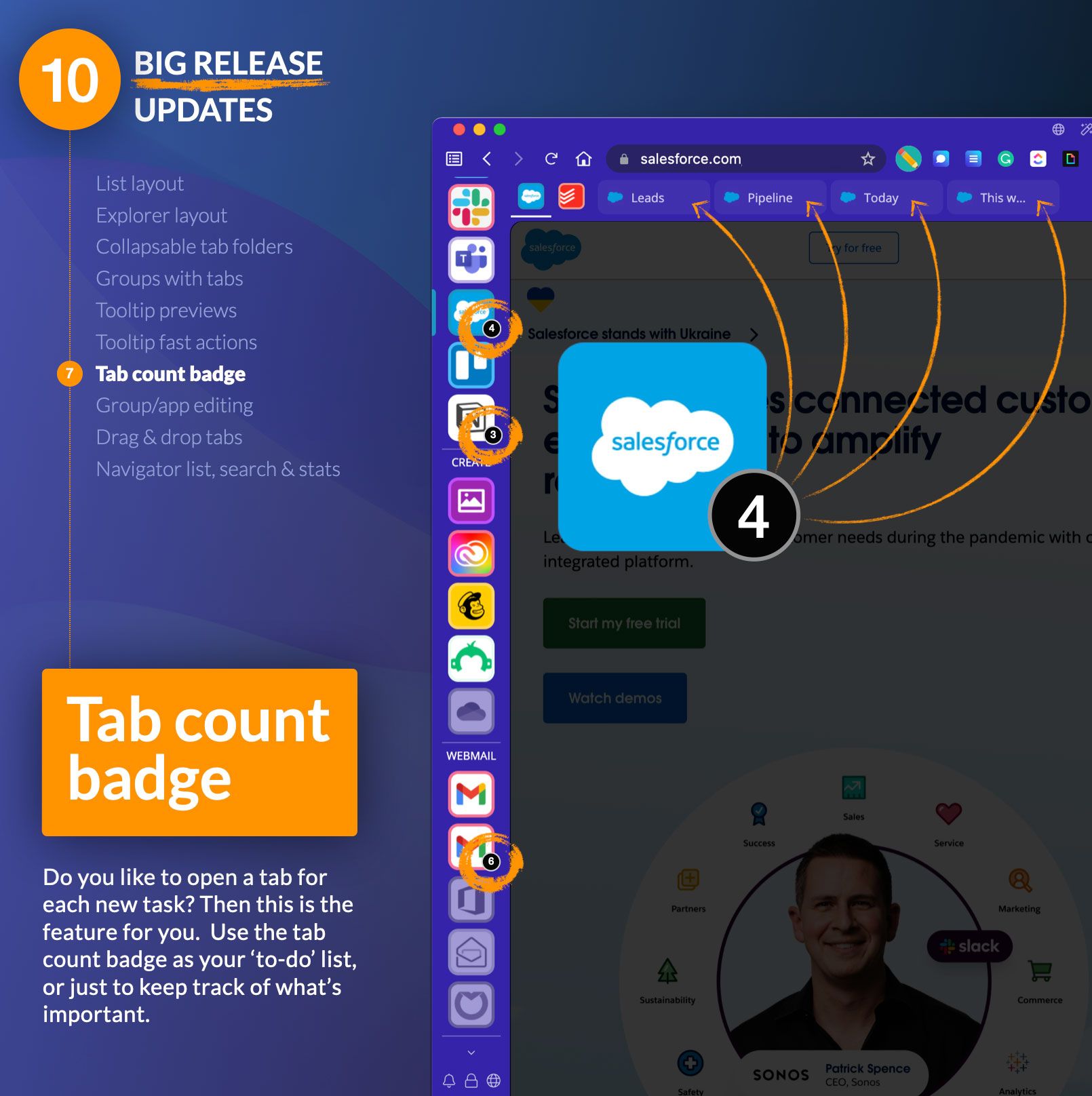 What's New? Do you like to open a new tab for each new task? If so, this is a feature, especially for you! Toggle the tab count badge ON in 'Settings > Tabs & Windows' so it appears on any group or app icon. Then use as your to-do list or keep track of important stuff.
8. Easier Group/App Editing
Productivity Boost:

🔤 Stay organized. Succinct titles for apps and tabs makes them easier to find in search.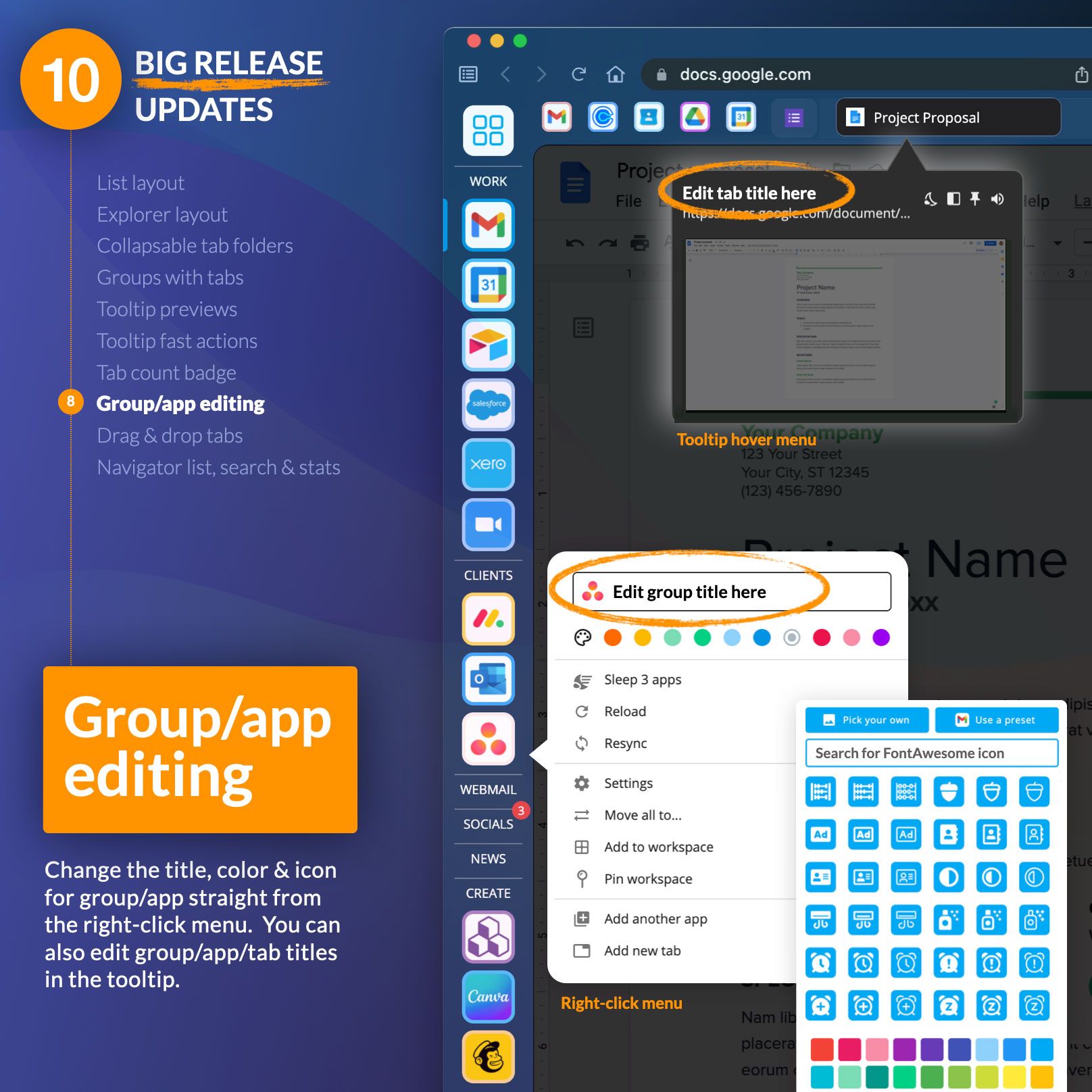 What's New? With all these UI updates, you'll want to keep Wavebox looking nice and tidy, so we've made it even easier to change how your groups and apps look in the webdock and toolbar. There are two major updates here:
Right-click on a group or app icon: use the pop-over menu to edit the title, change the color and choose a new icon.
Hover over any group or app: click on the title to edit it directly in the tooltip menu.
---
🤓 Tip: When editing the name of a group, app, or tab, remember to click on return after the change to save it.  Make your titles snappy and relevant, so they're easier to find in search.
---
9. Better Drag & Drop
Productivity Boost:

🚚 Agile Workflows. Keep workflows agile to achieve more.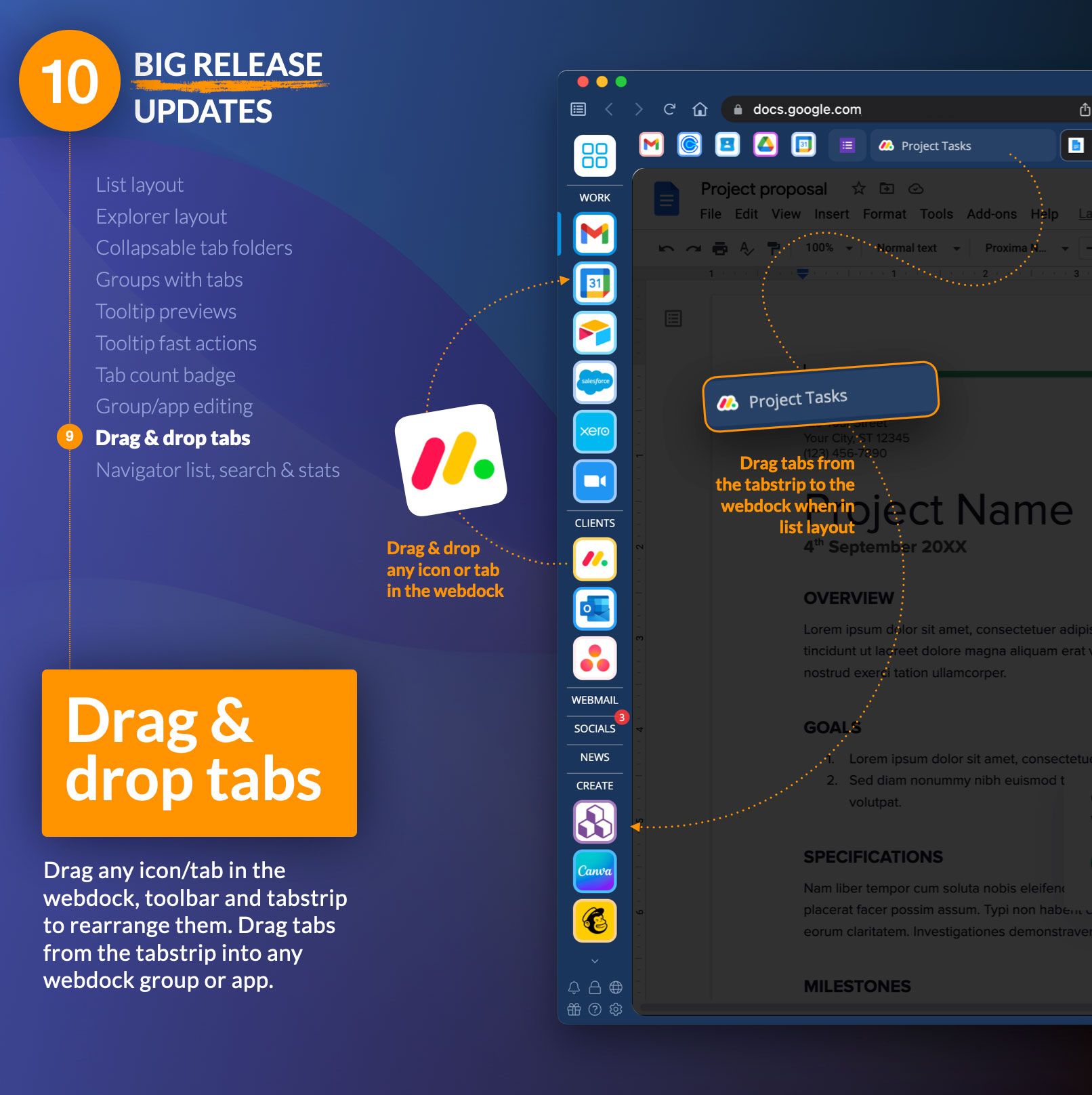 What's New? Drag & drop has been around for a while, but a quick upgrade has made it faster and smoother. Daily workflows can change, so drag & drop is essential for maintaining efficiency and performance. Here's a summary of some drag & drop elements you can use to rearrange your stuff in Wavebox:
Drag group icons, app icons, tab folders, and tabs within the webdock to reorder and move them.
Drag collapsed dividers within the webdock to reorder them.
Drag app icons and tabs within the toolbar to rearrange/reorder them.
Drag tabs from the main window tabstrip into any webdock group.
10. Navigator List View
Productivity Boost:

📈 Monitor performance. Keep on top of your computer resources.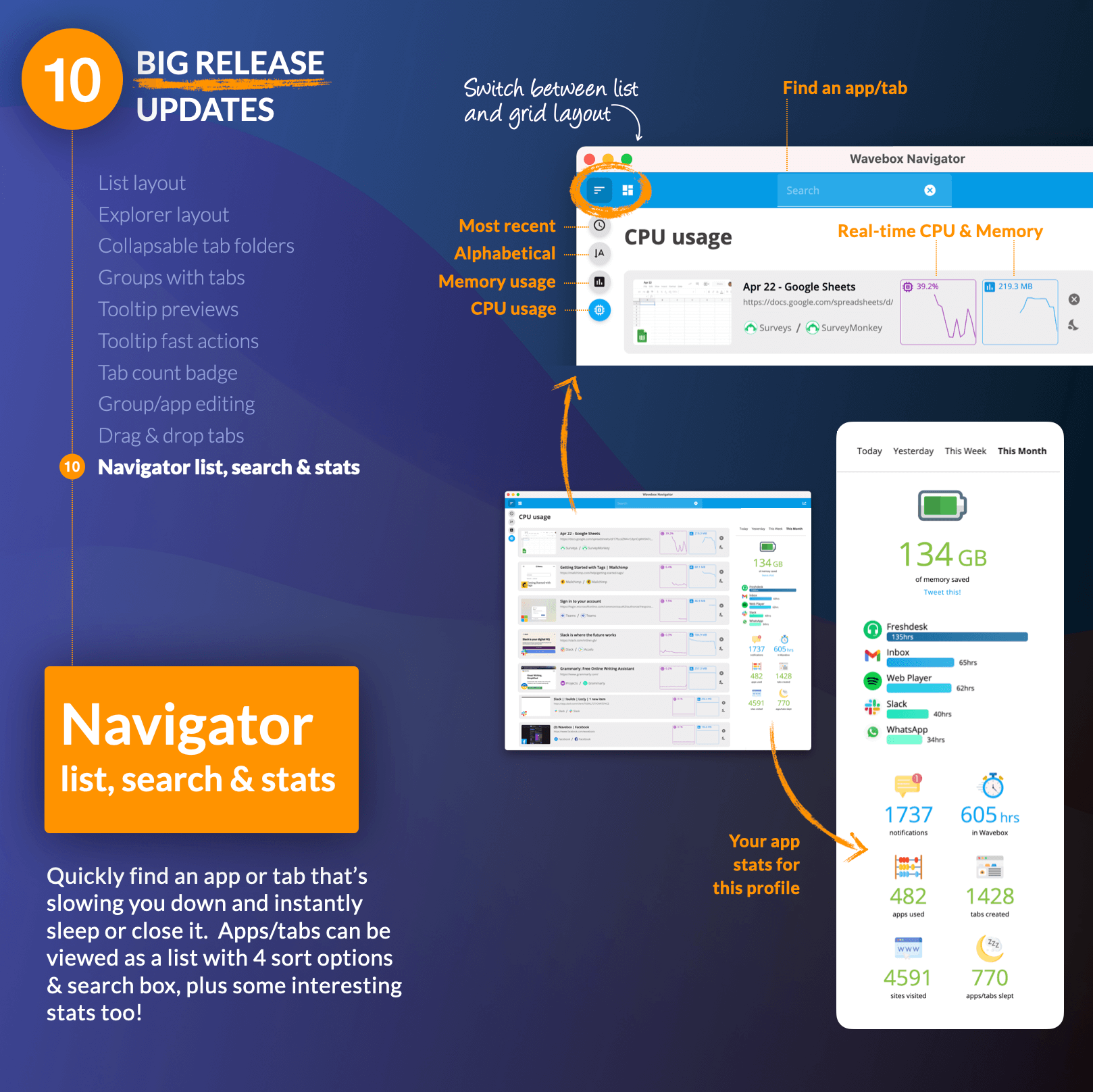 What's New? Wavebox is the only browser with an interactive, real-time, visual map of everything you're using online. As well as the current grid view, we've added a new list view option detailing your Wavebox apps and tabs ordered by (1) most recent, (2) alphabetical, (3) CPU usage, and (4) memory usage. Use the list to find an app that's gobbling resources instantly, so you can sleep it or close it to maintain performance.
You'll also see some interesting stats on your Wavebox usage on the right-hand side of the list. As you can see from the screenshot, I'm a pretty heavy user (to be expected as I use Wavebox to run Wavebox), and....wow....605 hours in Wavebox in March? That's dedication right there, people.

---
Update Wavebox to try out the latest features.  Go to Settings > Updates > Check for Updates, or click on the Update prompt.
New to Wavebox? It's a productivity browser for work.  Use  Wavebox instead of your usual browser to stay focused and organized when working on the web. Try Wavebox today.