Tutorial: How to stay signed-in to multiple Trello accounts in 2 simple steps.
Learn how to use cookie containters to stay correctly signed in to multiple web accounts, using Trello as an example.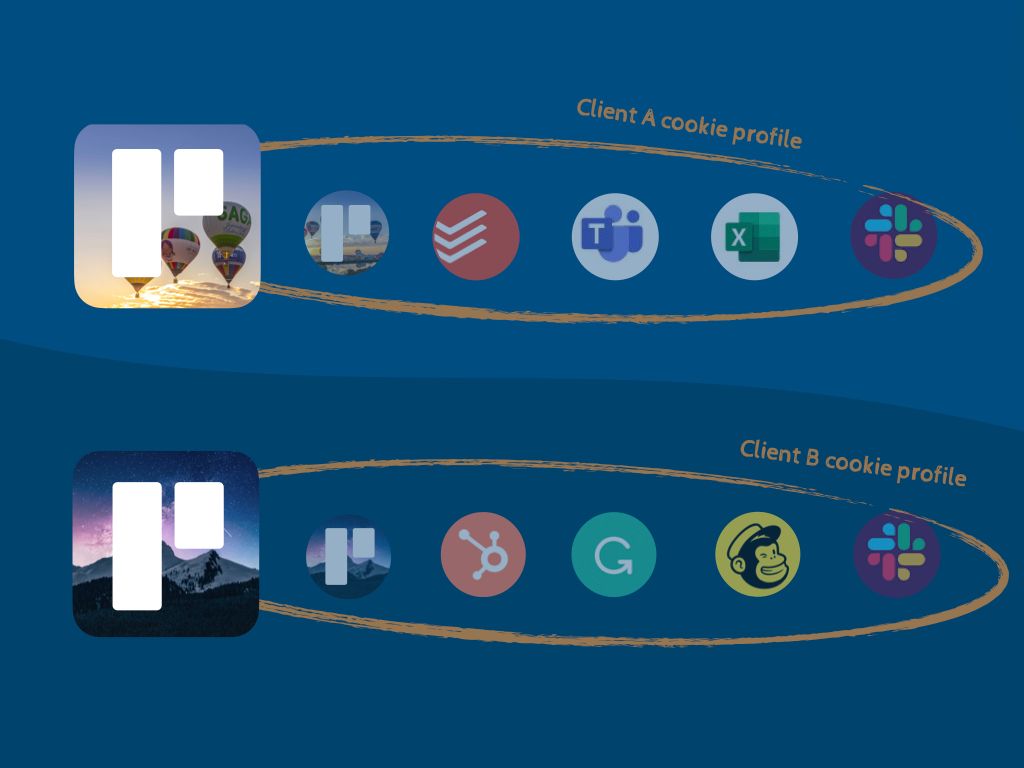 When you're managing multiple web apps, either for yourself or on behalf of clients, the key to success is staying organized and keeping up-to-date.
But if you're trying to manage multiple accounts in a normal browser, every day can feel like an uphill struggle as you are faced with constant tabbing, lots of signing in-and-out, and a sluggish machine. But Wavebox offers a simple solution. Using Trello as an example, this blog post, will show you how to:
Add more than one Trello account to Wavebox and stay signed-in to them all using separate cookie containers.
Keep up-to-date across all your Trello accounts using unread badges and desktop notifications.
Add more apps to a Trello group and create an organized workflow for a project or client.
Maintain a consistent performance by sleeping Trello tabs when they're not in use.
1. Add your first Trello account to the sidebar.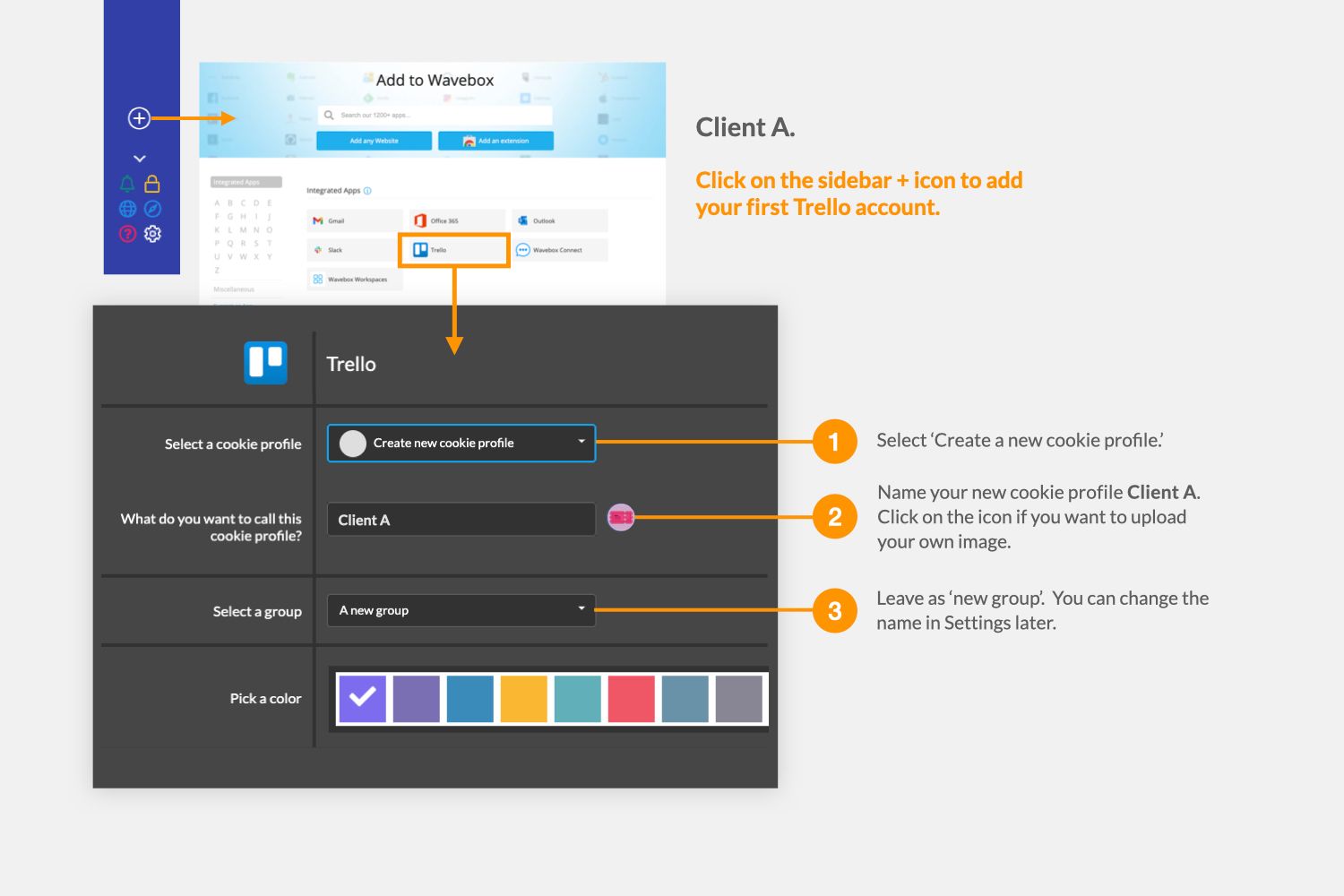 Click on the + icon in the sidebar to open the App Directory.  Click on the Trello icon under Integrated Accounts (right at the top).
On the next window, select Create a new cookie container from the dropdown and give it a name, e.g. Client A.
Adding an app to the sidebar automatically creates a new group, so keep the pre-filled New group setting. You can add more apps to this group later.
The Trello icon now appears in the sidebar, so you can click on it and sign-in to Client A's account. Remember to save the details to the password manager -   you'll only need to do this once.
2. Add your second Trello account to the sidebar.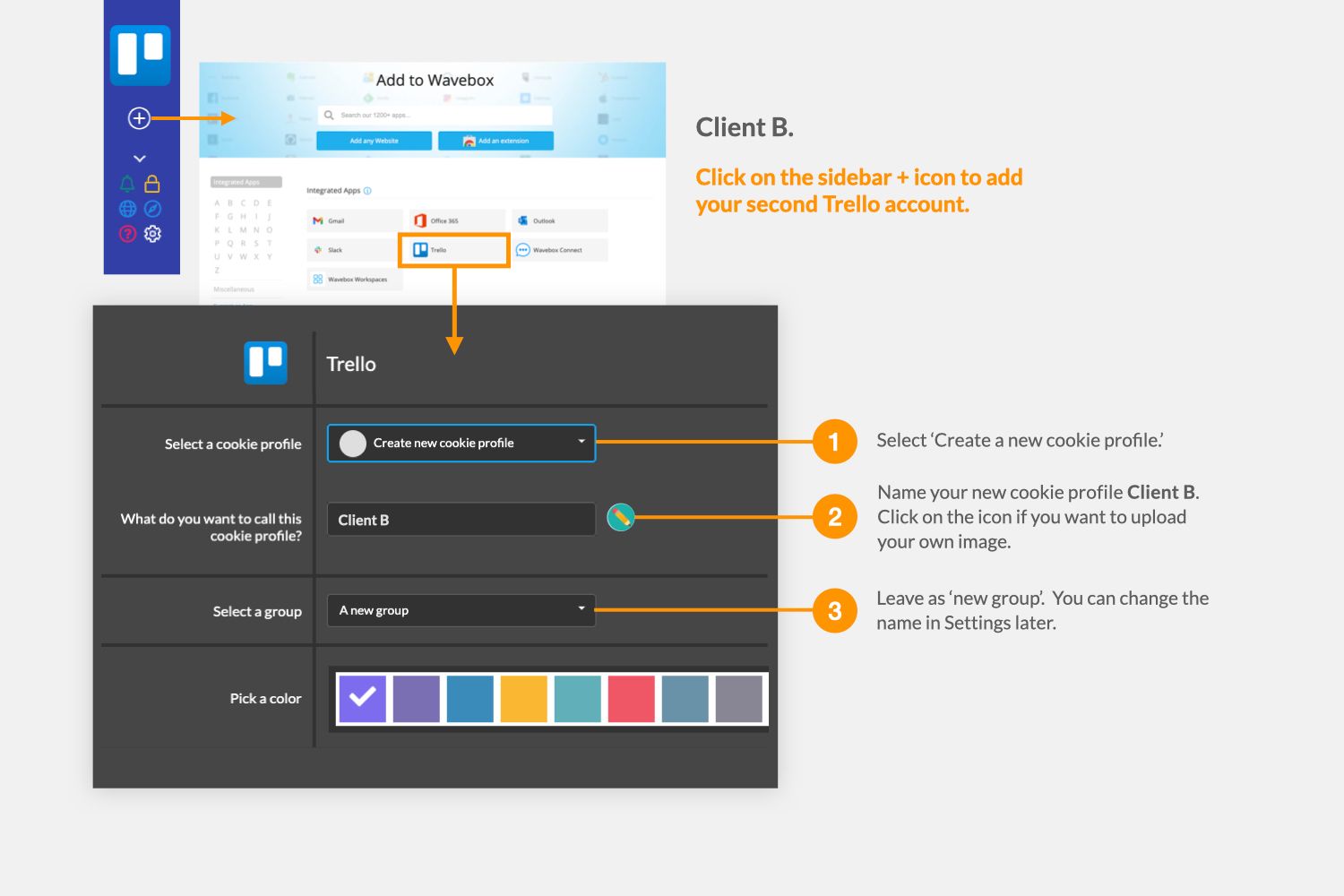 Again, click on the + icon in the sidebar to launch the App Directory and select Trello.
To keep this account isolated from the first one, you'll need to create another cookie container for it.  So select Create a new cookie container, and name it Client B.
We want this to be another group in the sidebar so keep the New group option again.
A second Trello icon now appears in the sidebar, so you can sign-in using Client B's details.
That's it. Now you can seamlessly work in these two Trello accounts simultaneously, without the need to sign-in and out. You can add as many Trello accounts as you like, and you can also use this process for adding multiple Slack, Asana, Jira, Notion, ClickUp, AirTable accounts etc.
Having set up the two new accounts, here are some more ways to customize your setup:
Rename the groups.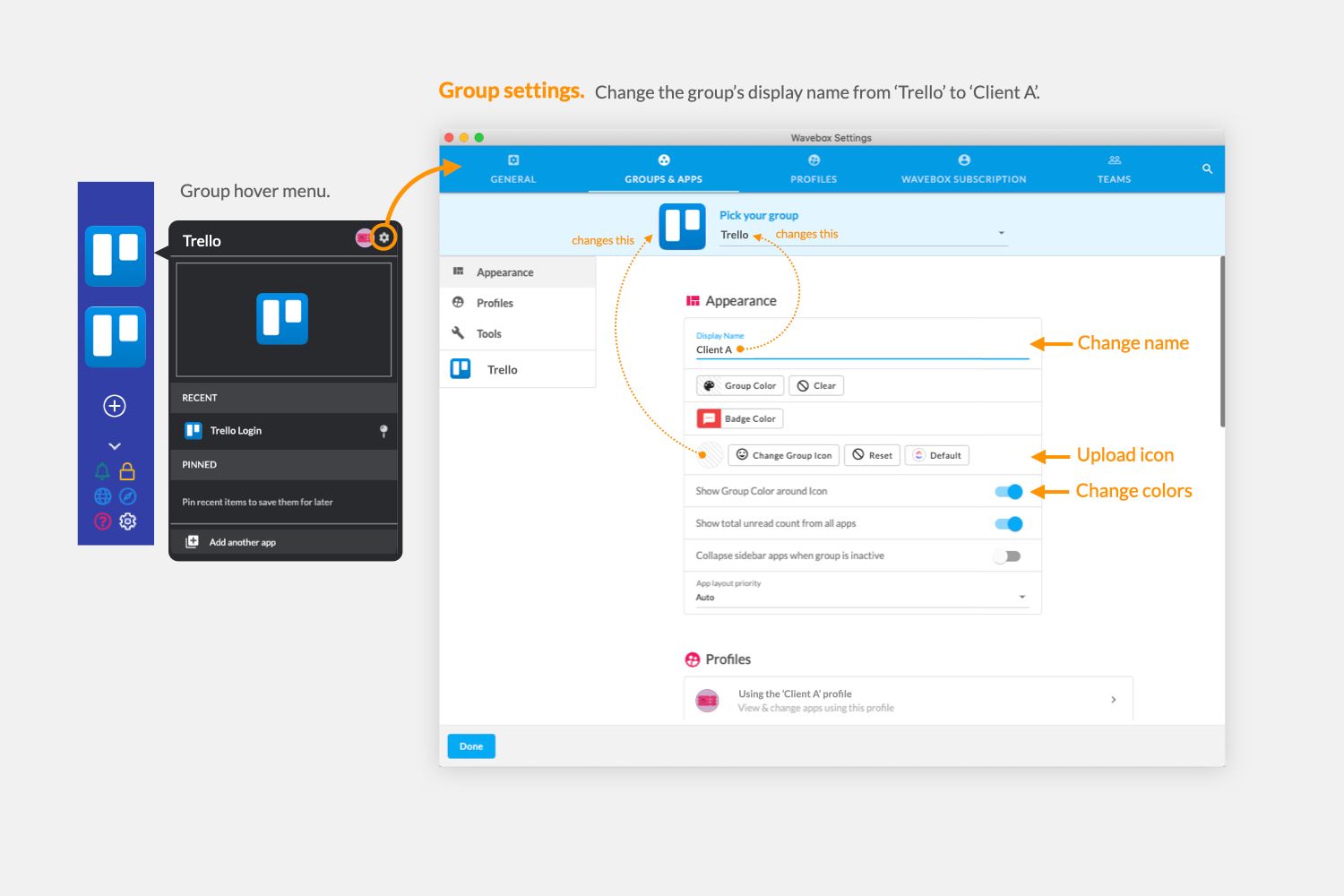 As there are now multiple Trello's in the sidebar, we will customize them to tell them apart.  
Bring up the first Trello group's hover by placing your mouse over the icon. Then click on the cog in the top-right corner to open Settings for that group.
From there, you can rename the group under Display Name, change the border color, or upload a different icon.
Note that if you use a theme in your Trello board, the Wavebox icon will reflect the chosen theme.
Add more apps to each group.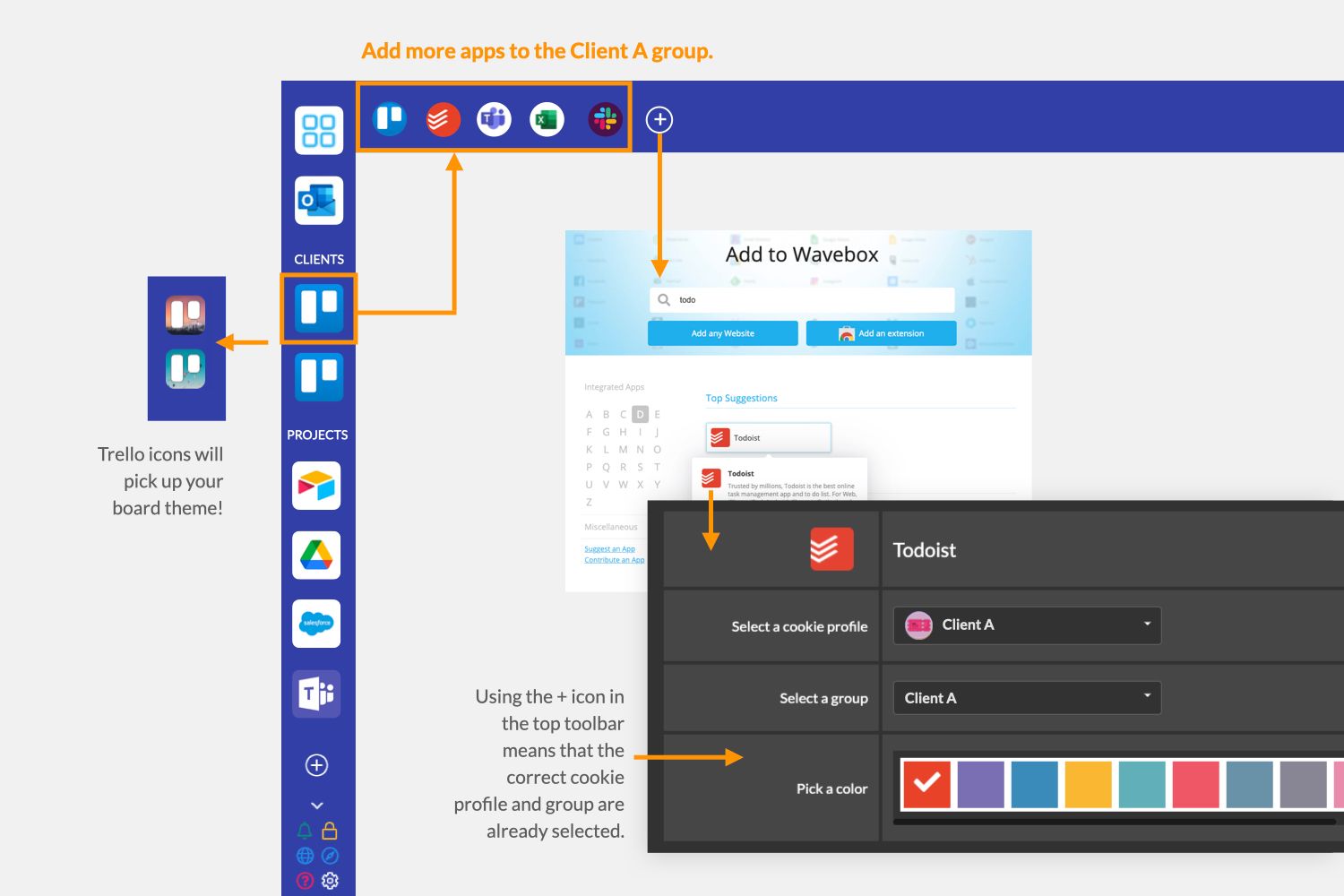 You may have more apps and websites you frequently use with each client, so let's add another app to this group.
Right-click on the Trello group icon and select Add another app from the menu.  Then choose an app from the Directory e.g. Todoist, or select the Add any website button to paste in a URL.
Using the Add another app option in the right-click menu means that both the correct group and cookie container are pre-filled
The Todoist icon will appear in the top toolbar.
With a second app now added to the group, you can add more apps using the + icon in the top toolbar.
Add pins and App Tabs.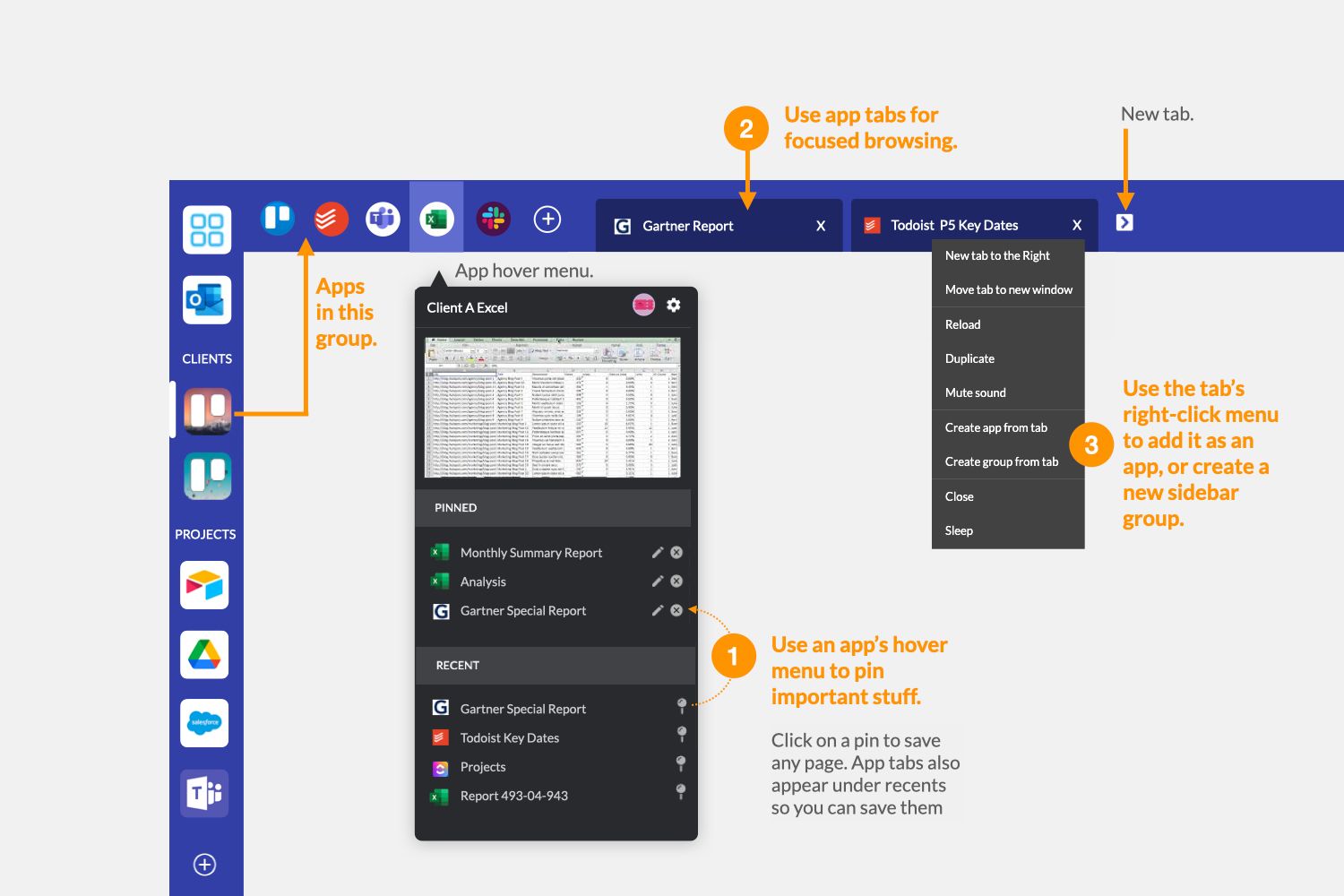 You can add more resources to this workflow using Pins and App Tabs.
Place your mouse over any app icon to bring up the Hover menu, where you'll see a list of recently visited pages. Just click on a pin icon to save it.  You can change the pin's name and icon by clicking on the pencil.
You can also use focused tabs for browsing within a group.  First, click on any app icon in the top toolbar.  Then click on the > icon to open a tab for that app.  You can have as many tabs you like, and also customize how they are displayed e.g. show tabs just for an app, show all tabs for the group.  Right-click on any tab to explore the options.
It's also worth noting that pages visited using tabs will appear under 'recents' for that app.
Sleep Trello apps to save memory.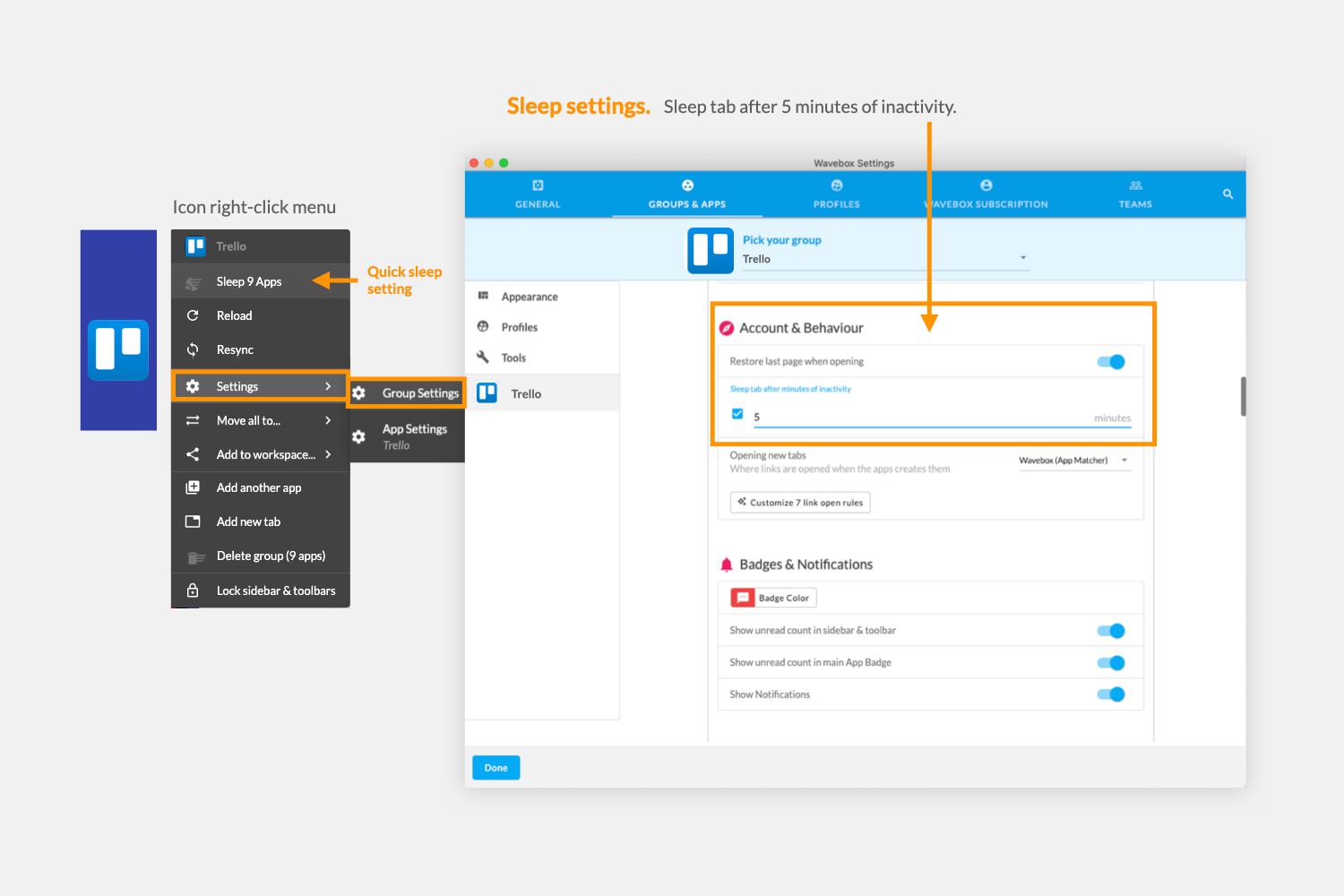 With so many apps in Wavebox, we always recommend using the sleep setting to maintain good performance.
When you add any app to Wavebox it will be set to sleep after 5 minutes of inactivity by default, but this can be changed in settings.
Right-click on the Trello group icon and select Settings > Group Settings. You'll find the section for sleep under Account & Behaviour. You can repeat this for all apps in the Trello group.
Sleep shortcuts can also be found in the group/app right-click menus.
Keeping up-to-date with what's new.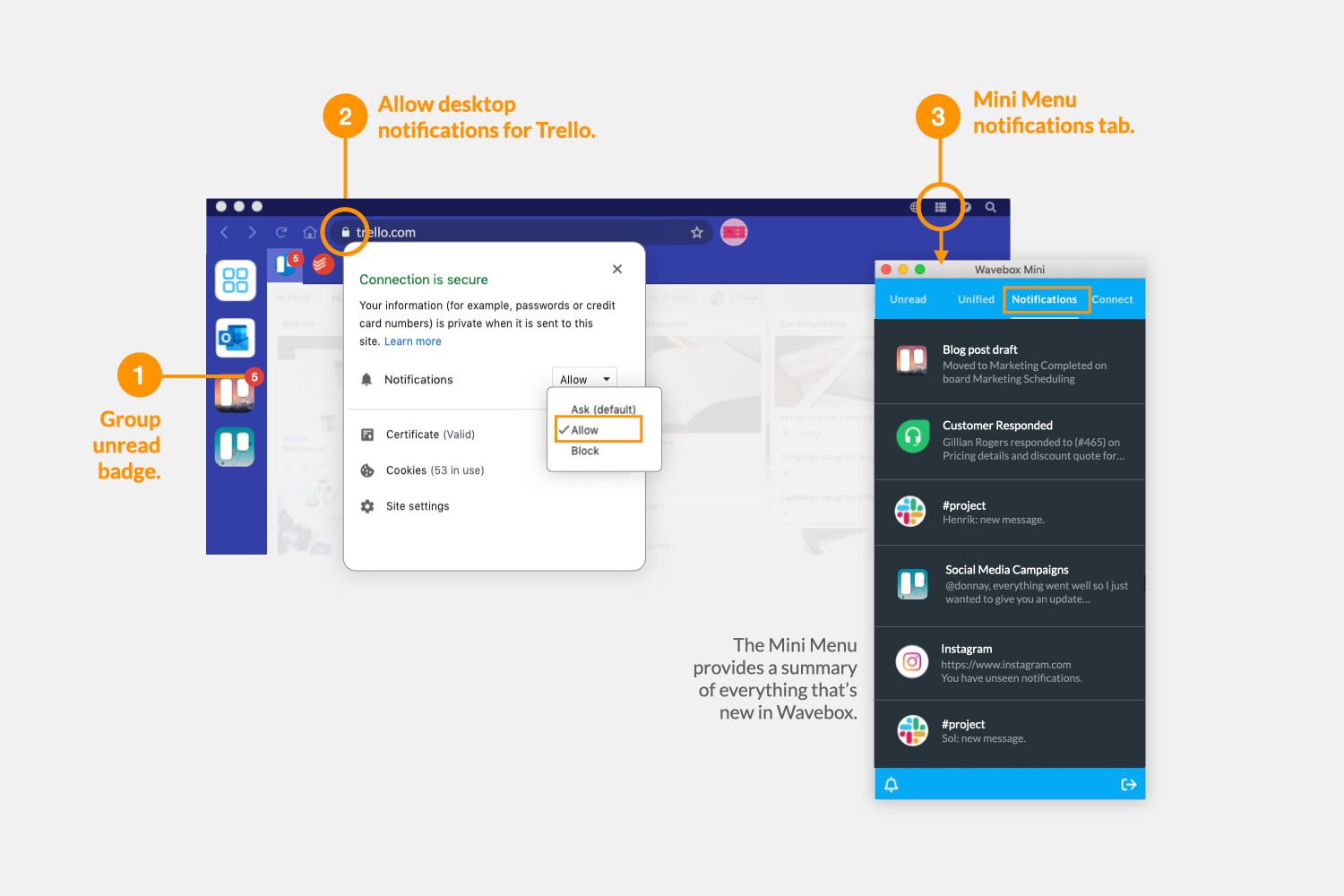 Unread badges will appear on the Trello icons when there's something new to see. Badges will appear on (1) the group icon in the sidebar - a total for all apps in the group - and (2) on the app icon in the top toolbar.
You can also get desktop notifications for Trello too. To check that these are enabled, click the padlock icon in the address bar, and check that Allow is selected next to Notifications.  Select Block if you don't want notifications and you can mute notifications using the bell icon at the bottom of the Wavebox sidebar.
If you're busy working outside of Wavebox in another app on your computer, you have the option to pop-out the Mini Menu to your desktop - this provides a  real-time view of everything that's new across all your apps. To pop-out the Mini Menu, click on the List icon in the top title bar (on the right, at the very top).
---
Try Wavebox free for 7 days, then subscribe to Pro to save 1 day per week.