New! LastPass, App Grouping, plus UI Improvements
Following several Beta releases and a whopping 350 GitHub commits 😅, we're delighted to introduce a significant update to Wavebox!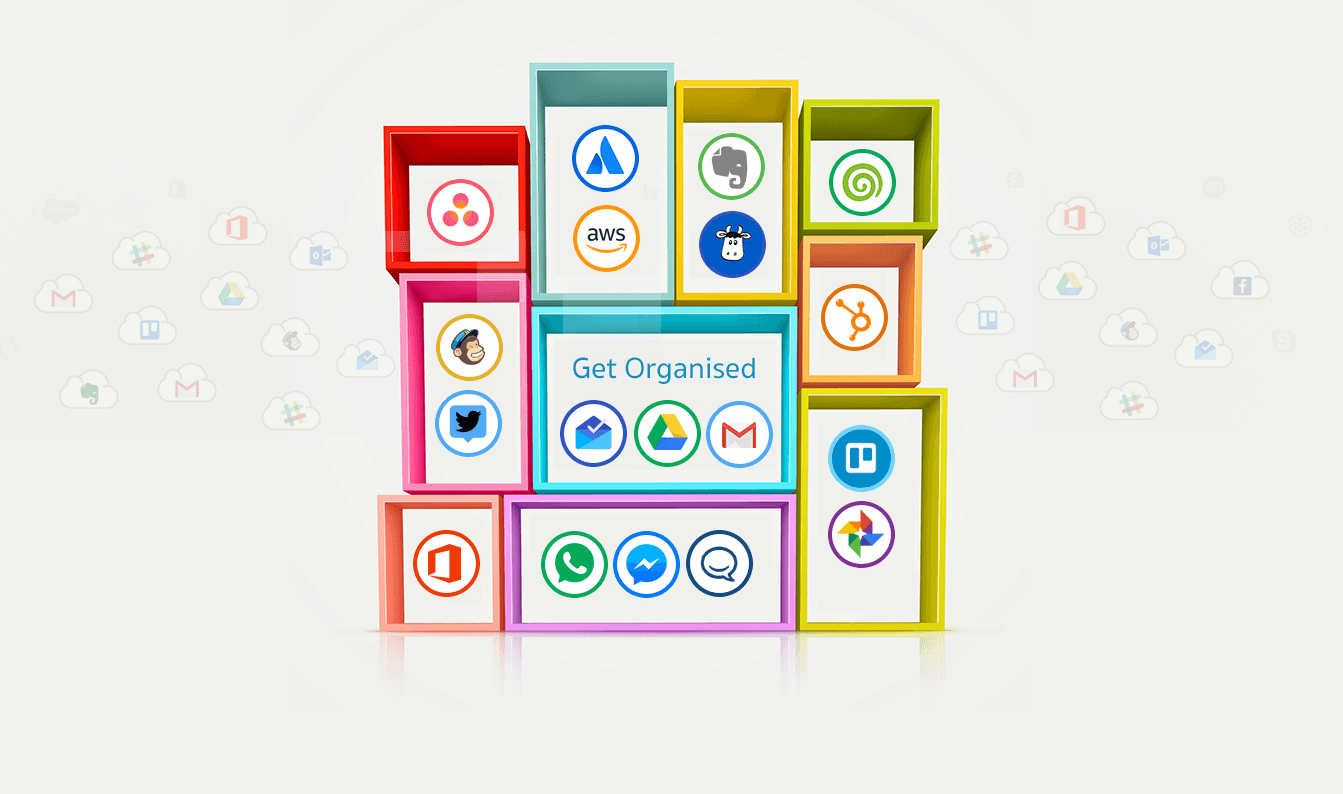 Following several Beta releases, and a whopping 350 GitHub commits 😅, we're delighted to introduce a significant update to Wavebox.
This release includes a selection of great new features, plus improvements to the way Wavebox works. You can find a complete list of all the recent updates on GitHub but here are a few more notable features that we hope you'll like: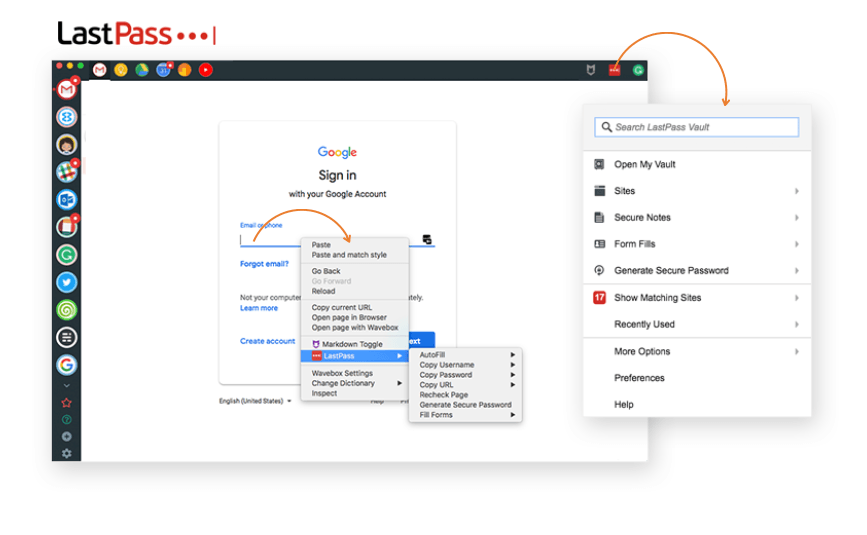 LastPass Support
You can now use your LastPass account with Wavebox, and therefore use all your saved password to add and sign-in to your linked accounts. To activate the extension, just click on the Settings cog, followed by 'Extensions', then 'Install' under LastPass. Once installed you can click on the LastPass icon in the top toolbar to reveal a pop-out window for the settings menu (note that there is a new similar pop-out menu for Grammarly too!) LastPass can also be accessed using the right-click context menu on any password field.
Not familiar with LastPass? It's a secure password manager that stores your encrypted passwords online - very useful when adding new cloud accounts, services and websites to Wavebox.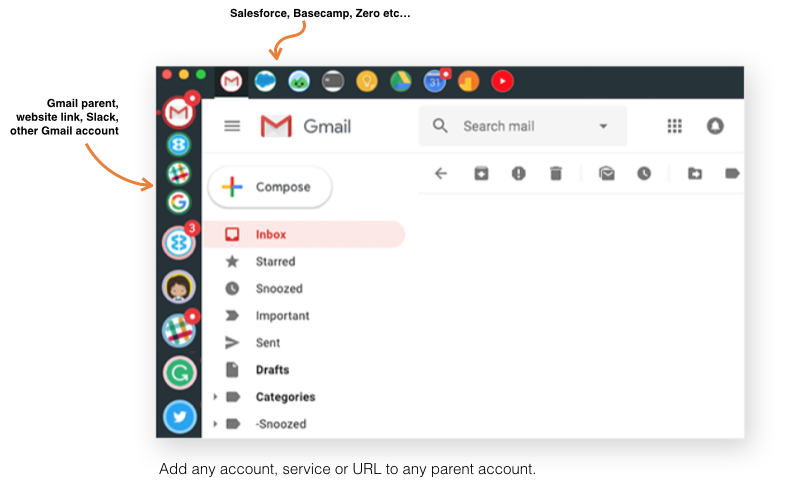 Adding & Grouping your Apps for a Better Workflow
You can now add any other app or website to any account, and it will appear either in the sidebar, or in the top toolbar (on the left or right) - you can specify where using the right-click context menu on any icon. This feature is perfect for grouping accounts and bookmarking apps and websites in a place that makes sense to your workflow. For example, under a work Gmail, you can also have icons for your website, any Google Drive document, blog login, company intranet, Salesforce, Slack, Capsule, Basecamp....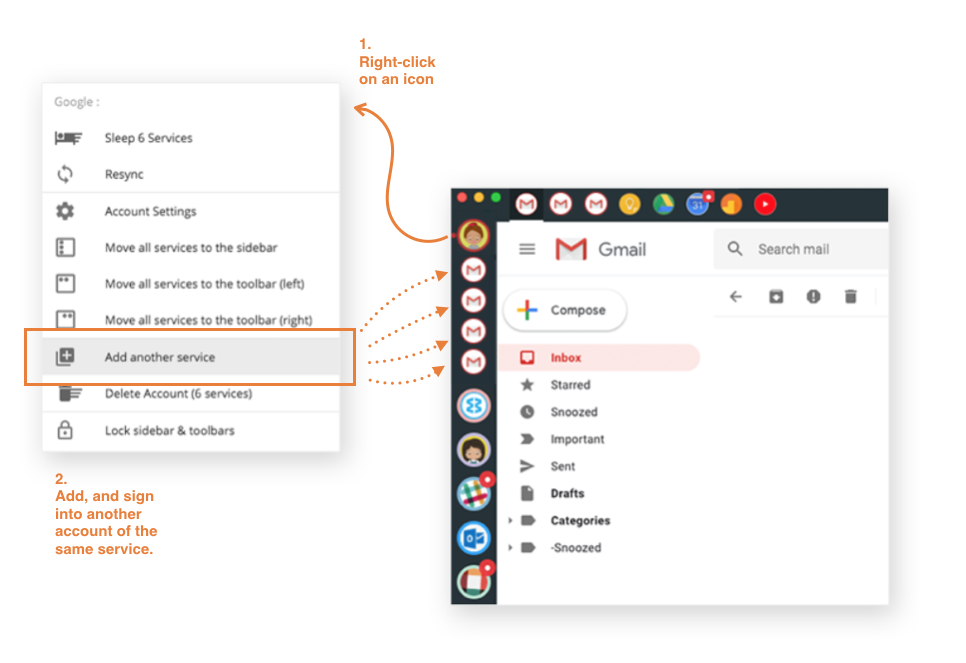 Multiple Sign-Ins Under the Same Account Type
Frequently requested by Waveboxers is the ability to sign-in to several accounts simultaneously under one main account of the same type, so this had been added. For example, you can add a Gmail account to your left sidebar, then add any number of additional Gmail accounts under it, all with different sign-ins. You can then choose to display these accounts either under the main icon in the left sidebar, or in the top toolbar, or both. This doesn't just work with Gmail, but any other account type too, and all accounts can be sandboxed to work independently.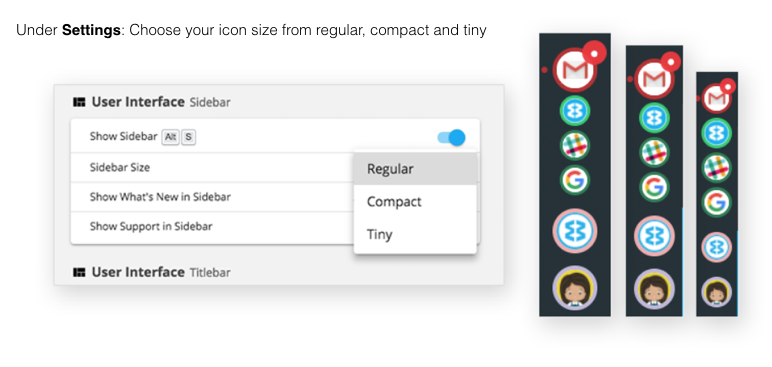 Icon Resizing & Other UI Improvements
We've listened to your feedback and suggestions on the Wavebox UI, and introduced more ways to configure your layout. We've made the 'Settings' icons smaller to give more room in the sidebar, and you can change the size of your app icons to be regular, compact and tiny. Icons for your apps can now be added to both the sidebar and topbar, and you can also change the icon, colour and name of your apps for easier identification. We've also added some new colour themes including Light, Wavy Green and Boxy Blue! Keep a look out for many more UI improvements in future releases, and please keep sending us your suggestions!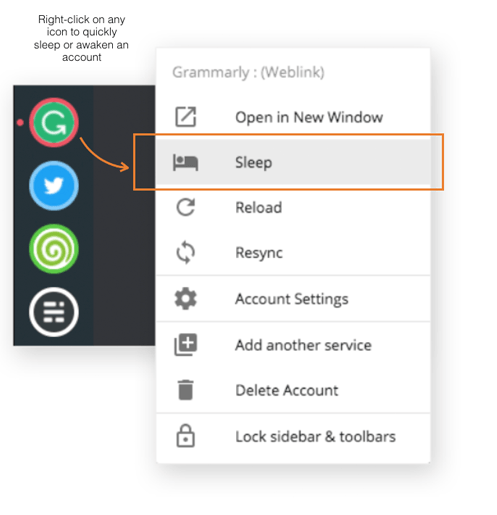 Quick Sleep/Awaken Control Shortcuts
App sleeping is a valuable and unique Wavebox feature, so we've made a few changes to allow better control over this behaviour. If your workflows change regularly, then you can use these new options to quickly amend your sleep settings:
Quickly 'sleep' any account by using the right-click menu, even if sleep has been disabled in 'Settings.'
Disable sleeping on an account by selecting the prompt when waking it, so that it won't fall asleep again.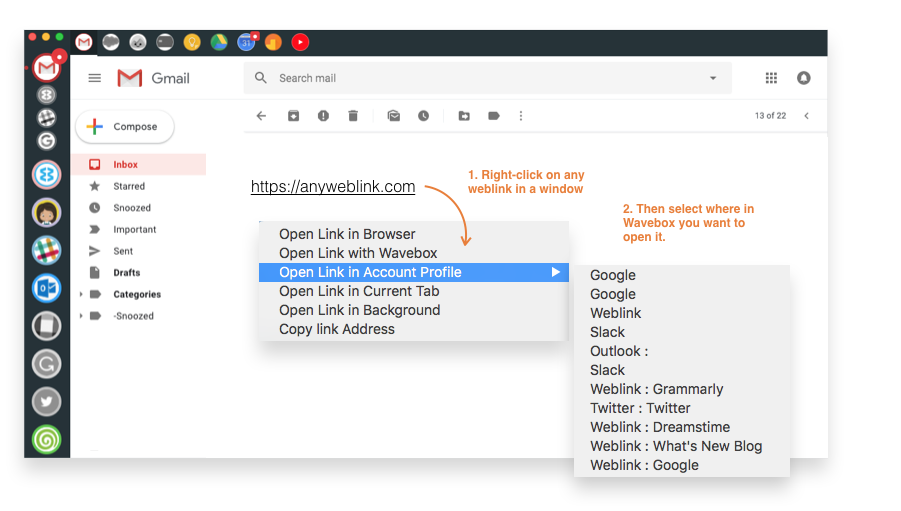 Other Handy Bits & Pieces
There's also been some updates to the right-click context menus. If you click on any icon you can now find direct links to the 'Settings menu' for that account, plus quick ways to move them around, and sleep/awaken them (as mentioned in the previous section). You can now right-click on a link in a Wavebox window, to bring up options to open that link using another account that's in your Wavebox - see screenshot above. Also, when you switch from one account to another, you'll go back to the last active service, rather than first service.
---
For a full list of new features, tweaks and bug fixes, please visit our Changelog on GitHub.
Thanks to all Wavebox users for your ongoing support and feature suggestions - keep them coming, because together we are defining a new way of working with cloud apps on the desktop.
Thanks also for your continued patience - we're a small team, but we have a huge vision and an exciting roadmap of developments ahead. We aim to get things done as quickly as possible! A special thankyou to all the hard work @nmat has done in testing the app from master. 👍👍