5 New Gmail Features to Use in Wavebox
There's been a major update to Google's web-based Gmail this week, and we're delighted to say that you can enjoy all the great new features in your Wavebox.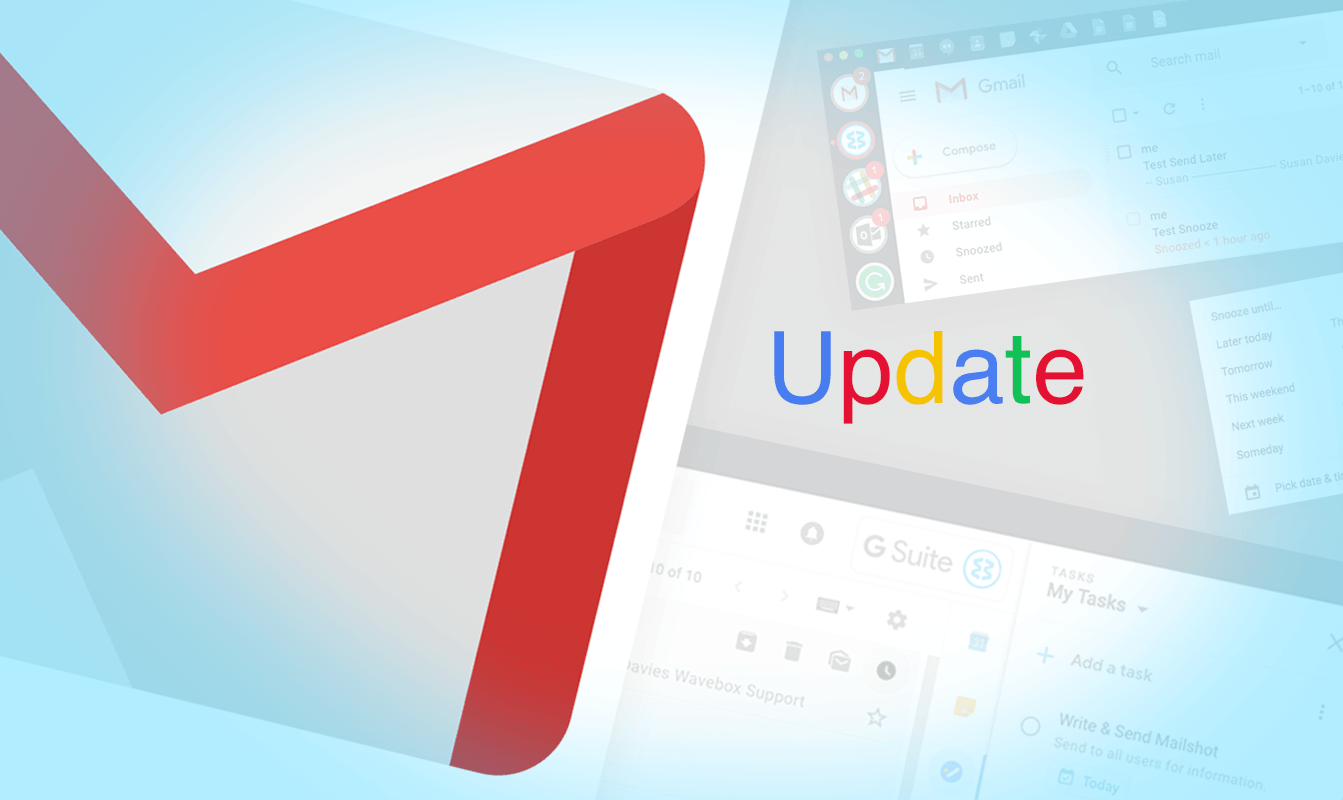 There's been a major update to Google's Gmail for the web this week and we're delighted to say that you can enjoy all the great new features in Wavebox.
Google is gradually rolling out the update. If you're a personal user, you'll need to keep and eye out under the 'Settings' cog in the top-right corner of your Gmail account for the prompt to try it. If you're a GSuite user, your sys admin will need to enable it on your company / organisation's account. There's some more information on this here. Note: our accounts took a few hours to update after being enabled, so you may not see it straight away, so keep refreshing.
There's lots of new features to explore in this update, so here's a quick guide to some of our favourites: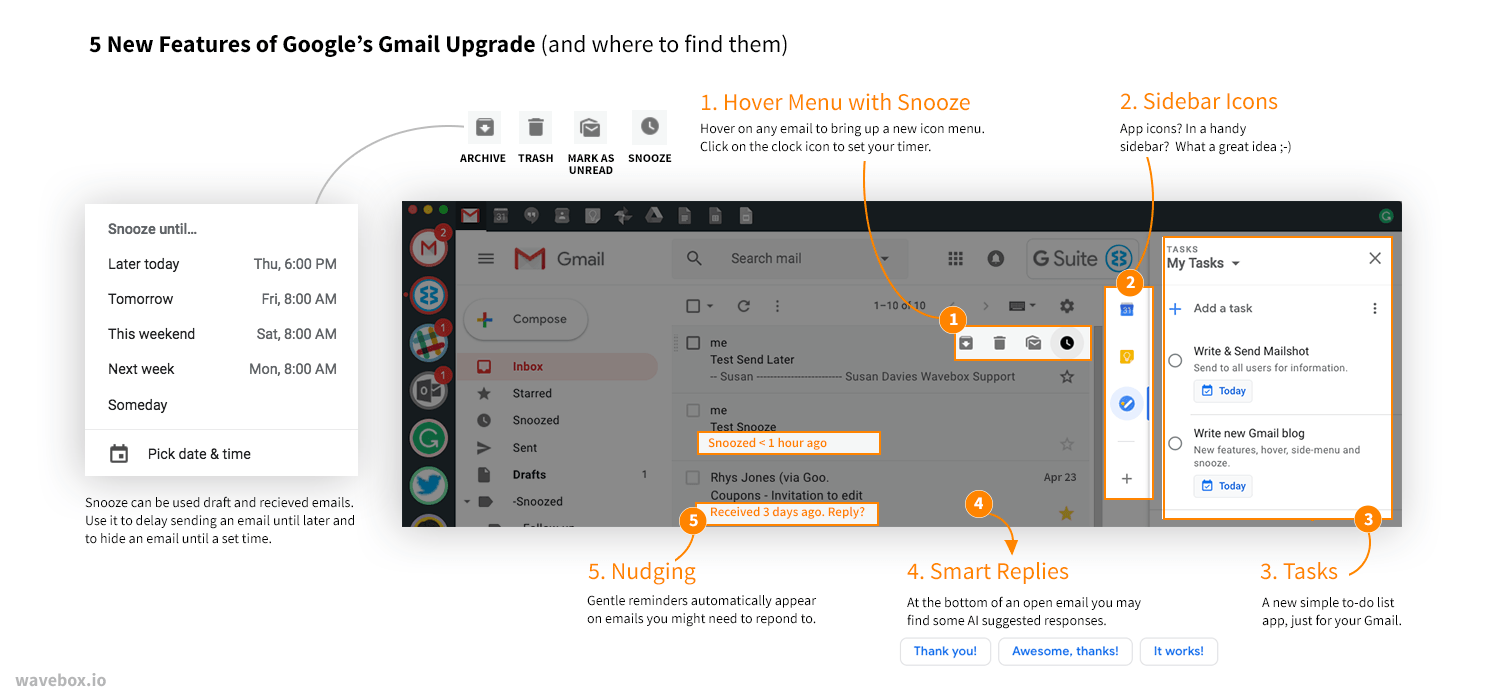 1. Hover Menu with Snooze
Hover your mouse over any email in your inbox to reveal a new options menu with icons for archive, trash and mark as unread/read. There's also a clock icon, which can be used to set some snooze options. for example you can:
Send Later - click on the clock to delay sending an email until a specified time.
Hide - click on the clock to hide an email from your Inbox for a specified time. One of the main aims of snooze is to reduce the need to open the same emails in your inbox, again and again.
Review - you can see all your snoozed emails in one place by clicking on 'Snoozed' in the left sidebar menu (beneath the new fancy 'Compose' button).
2. Right Sidebar with Add-Ons
App icons in a sidebar? It must be catching on, as Gmail now have handy links to some popular apps like Trello (they call them add-ons) in the right sidebar. Calendar, Keep and Tasks are shown as default. Clicking on an icon brings up either basic information, or a quick-embed version for that particular app in the sidebar. This is a bit different to Wavebox, which gives you direct access to the apps from the Wavebox window, so both complement each other well.
3. Tasks App
This new app, which is also available in the stores for mobile, can be accessed in the new right sidebar. So far, we've found it quite useful, especially for writing quick notes when you're in Gmail. You can also drag emails into it to quickly create tasks and set notifications. According to Google tasks will automatically appear in your calendar, although we haven't been able to do this yet?
4. Smart Replies
Here's the first of some clever Google AI functions. You'll see a collection of suggested short responses to emails when replying in much the same way as in the mobile Gmail app. These have been auto-generated based on the content of the email, such as 'Thank you', 'Awesome, thanks!' and 'It works!'. Useful if you're in a rush... although we promise not to use this when replying to your support emails!
5. Nudging
Here's another use of clever AI. Based on an email's content, Gmail will gently remind you if it thinks an email needs a response. It will move the message further up in your inbox and highlight it with a prompt such as 'Recieved 3 days ago. Reply?'. On a similar note, still to come is a 'suggested unsubscribe option, which will be based on your interaction with newsletter/subscription messages.
---
We love the new update and are delighted that everything works wonderfully in Wavebox!
We've listed just a few of the new features here but there are many more. For example you can now see and click on attachments in your inbox without having to open a thread (Settings > Display Density > Default). There are also some new security and privacy capabilities on the way and there's also talk of offline access for up to 90 days - something we're hoping to bring to Wavebox, too! To read a full list of what's new take a look at this Google article.