New: Cookie Containers, plus updates to Quick Switch and Pins.
The first release of 2021 has some significant improvements to Cookie Profiles, plus Quick Switch and Pins.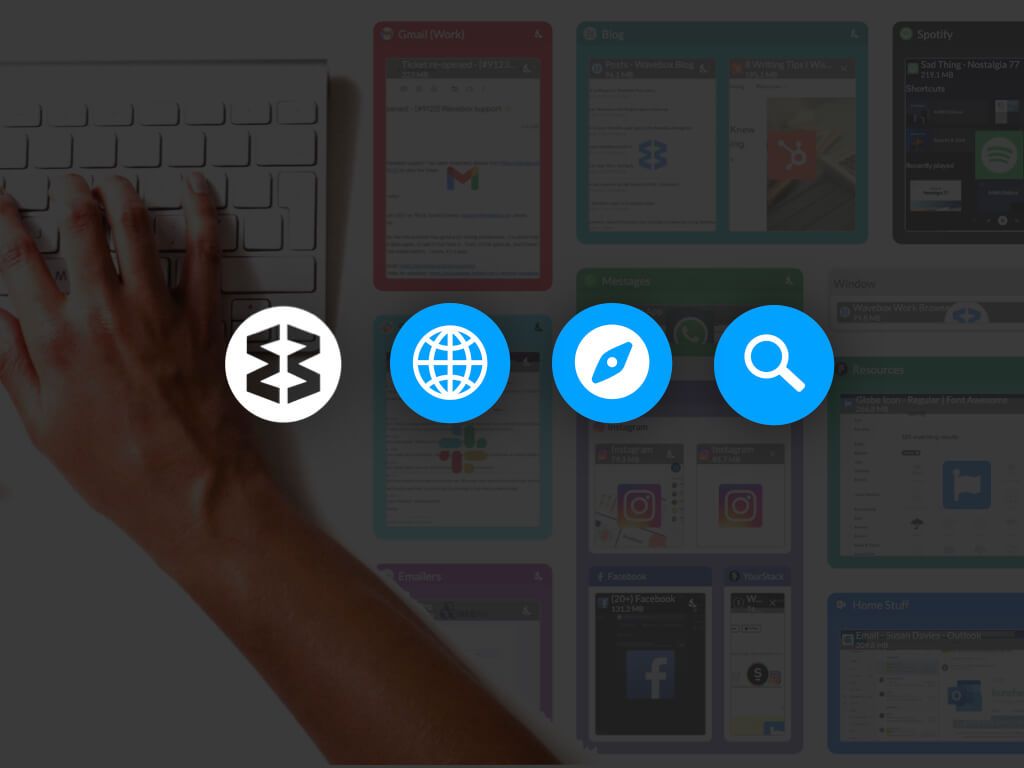 For the first release of 2021 (Wavebox 10.0.401) we've made some significant improvements to one of Wavebox's core features, 🍪  Cookie Containers, plus there's updates to 🔎 Quick Switch and 📌 Pins.
Note:  Since publishing this blog post, we have done a further release with an update to Chromium (Wavebox 10.0.412).  You'll also find an icon in the titlebar for the Mini Menu, plus an audio icon will display on any tab that has sound. Read the release notes.
Improvements to Cookie Containers.
Every app/tab in Wavebox is linked to a cookie container, which has two main purposes: (1) Share cookies - apps in the same cookie container share cookies so you can work easier across them without having to sign-in-and-out etc. (2) Isolate cookies - apps in different cookie containers are completely separated (contained) from each other, so they can be used independently. e.g. signing into two or more Gmail accounts, or separating 'work' from 'home' apps.
Since Cookie container underpin how apps work together in Wavebox, we seized the opportunity over the holidays to make improvements so they work better than ever.  So what's new in Version 2.0 of Wavebox Cookie Containers?
Stability - Occasionally you may have experienced a little cookie containers hiccup. But now, they should work more smoothly across all your apps and tabs.
Compatibility with apps - Most apps in Wavebox stay signed-in. However, there were a few cheeky sites that had a tendency to sign-out periodically. Having worked on this too, you should notice fewer sign-in prompts after installing the update.
Compatibility with chrome extensions - Chrome extensions work great in Wavebox, and you can add any extensions in just a few clicks. However, there were a small number of extensions that would occasionally struggle with Wavebox's Cookie containers.  This has now been resolved resulting in a better extensions experience across all apps and tabs.
Locking an extension to a single cookie profile - Only need the HubSpot extension available with your work email?  No problem! This frequently requested feature lets you lock an extension down to a particular container. Here's how you do it:
How to lock an extension to one cookie container.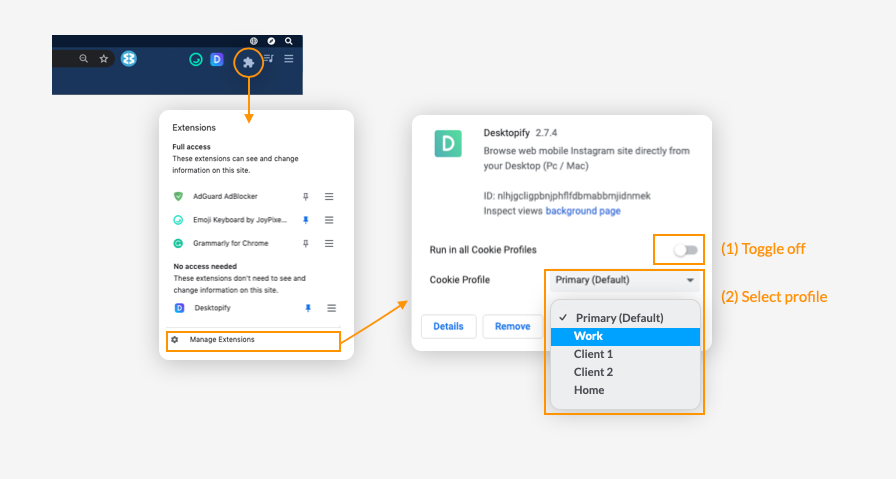 Click on the 'Extensions' jigsaw icon in the top toolbar (on the right).
Select 'Manage Extensions'.
Find the extension you wish to isolate.
Switch OFF the toggle next to 'Run in all profiles'
Click on the dropdown menu and select a profile from the list.
That extension will now only be available for apps and tabs in that cookie container.

Navigate faster with new Titlebar icons, including Quick Switch & Search.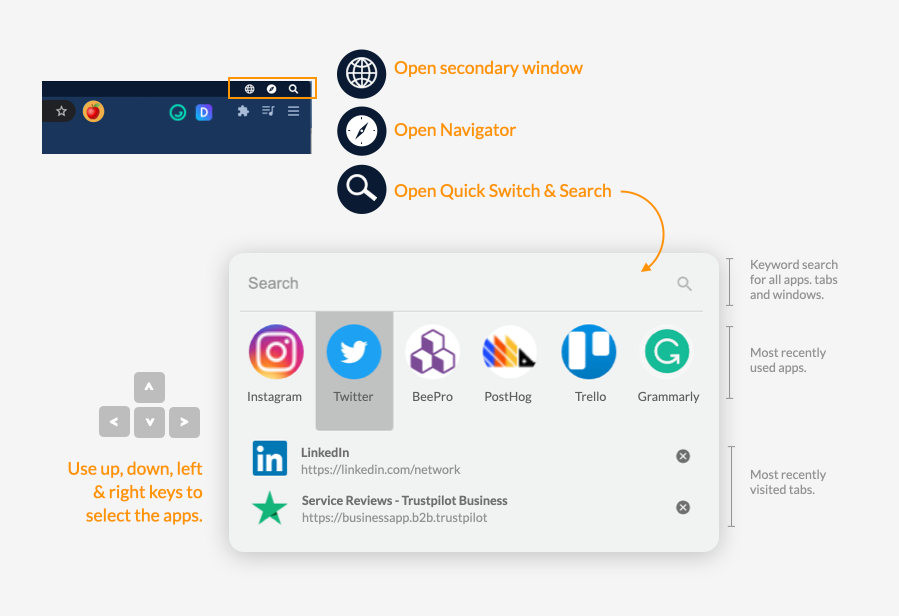 We're currently exploring new ways of making lesser-known Wavebox features more accessible in the workspace. In this release we've add 3 icons to the top titlebar (on the right):
🌐 New Window (globe) - Instantly launch a new secondary window by clicking on the globe icon. Tabs in secondary windows behave more like Chrome, and you can import/use your Chrome bookmarks too.
📋 Mini Menu (list) - Instantly pop-out the Mini Menu and drag to anywhere on your monitor.  The Mini Menu remains active even when you're not using Wavebox, so you can always keep up-to-date with the latest notifications.
🧭 Navigator (compass) - If you hear the fans starting to whirr, then quickly check Navigator to find the hungry app/tab. Reorder the thumbnails by RAM to see which apps are using the most memory, and if you're not using them, you can snooze or close them in on click.
🔍 Quick Switch & Search (magnifying glass) - Put simply its, a control panel for all your most recently used items, including apps, tabs, pins and windows.  So if you do get distracted, or can't find a file you were recently working on, you can find them here in a snap. Refer to the screenshot above to see a breakdown of the Quick Switch & Search panel, where you can:
Keyword search - type a keyword into the search field to bring up matches for all apps, tabs and pins.  Then use your keyboard up and down arrows to select one of the results and then enter to go to it.
App switch - shows 6 of your most recently used apps.  Use the left and right arrows to select an icon, and enter to go to it.
Recents list - under the 6 icons is a list of the most recently used tabs. Use the up and down arrows to select one of the results and then enter to go to it.
Tip: You can also bring up the Quick Switch & Search panel using the keyboard shortcut (mac)Ctrl+S, (Linux, Windows)Alt+S.  You can edit this shortcut in Settings > General > Keyboard Shortcuts > Application > Open WB Quick Switch.
Toolip Menu Pins.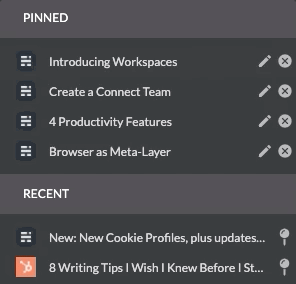 Just a small update here, but one that's been frequently requested by Waveboxers. Finally you can reorder your pins! 👏  Hover over any app icon to bring up the Tooltip menu, then drag your pins up and down to organize them in a way that's best for your workflow. To hide/show the tooltip menu, go to Settings > User Interface > Tooltips > App Tooltips.
Other Updates and Fixes.
Also in this release is an update to Chromium 88.0.4324.96, plus some App Tabs UI tweaks to make navigation easier.  We've also done some bug squishing for uploading folders to Google Drive and OneDrive, character encoding in the Mini Menu, Slack sign-in and more - read the full release notes for a full list of updates, improvements and fixes.  Happy New Year folks! 🥳 🍪 🚀