Wavebox for Teams: Admin & Billing
Many organisations are adopting Wavebox as their default productivity tool. So to help speed up the admin process, we've introduced Team Billing as an easier way to create, buy and manage multiple accounts.
There's no charge for Team Billing and anyone can become a Team Admin to set things up. With Team Billing you can:
Manage multiple Wavebox accounts from one account and one screen.
Easily setup new Wavebox Pro accounts (we call them 'Seats').
Benefit from consolidated billing for all accounts.
Enjoy discounted pricing for bulk-buying accounts.
What follows is a basic run-through of how to get setup. For a step-by-step guide please refer to our Team Billing Knowledge Base article:
1. Become a Team Admin
In Wavebox, go to the 'Settings' cog and click on the 'Wavebox' tab.
Click on 'Login' and follow the simple steps to sign-in (if you've not already done so before).
Next, click on your 'Username' (top-right) and select 'Wavebox for Teams' from the dropdown.
Click on the green 'Yes, enable Team Admin' button. This will take you to the 'Administer Accounts' screen.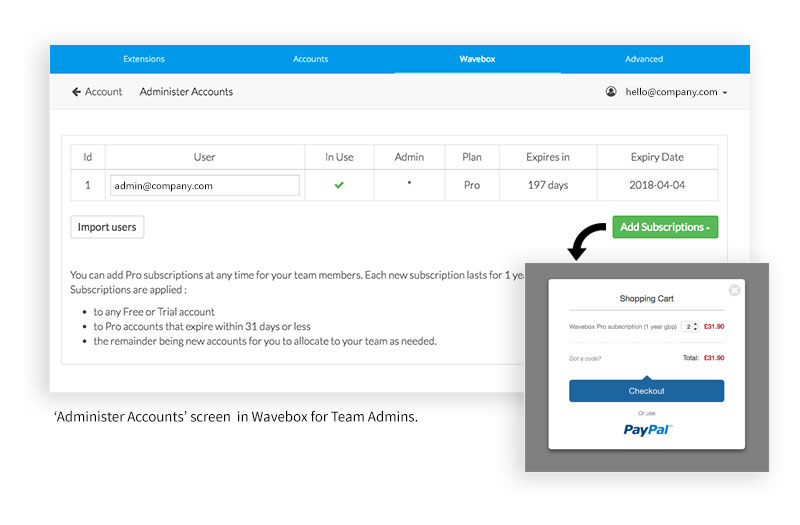 2. Administer Accounts
From the 'Administer Accounts' screen there are two steps:
Purchase Subscriptions
Click on the 'Add Subscriptions' button. This will open up a payment window in your browser. Select the number of seats you want to purchase and then complete the payment process. The corresponding number of 'blank' account fields will appear on your 'Administer Accounts' screen. Each new subscription lasts for 1 year. Please refer to our pricing page to learn more about subscription costs.

Add Users
Next, enter email addresses into each blank field. You can also use the 'Import' button to paste email addresses from a CSV file or similar, which will automatically populate the seats for you. If any of the email addresses you enter already have a Wavebox account, their subscription will either be upgraded from Basic to Pro, or extended for an additonal year.
Consolidated Billing
All accounts that are linked to the same team can be billed at the same time, making it easier for you and your finance dept to process the payment. Please contact us if you have any queries about setting this up for any existing Pro users.
Please contact us if you have any questions on teams, Wavebox for Enterprise, or to get a discount code for buying multiple accounts. dsfsdf