New! Link Engine, Ad-Blocker, Download Manager & Inbox-to-Gmail Converter
We've got a packed release this week, crammed with features that have been requested by users and are 100% focused on simplifying your workday.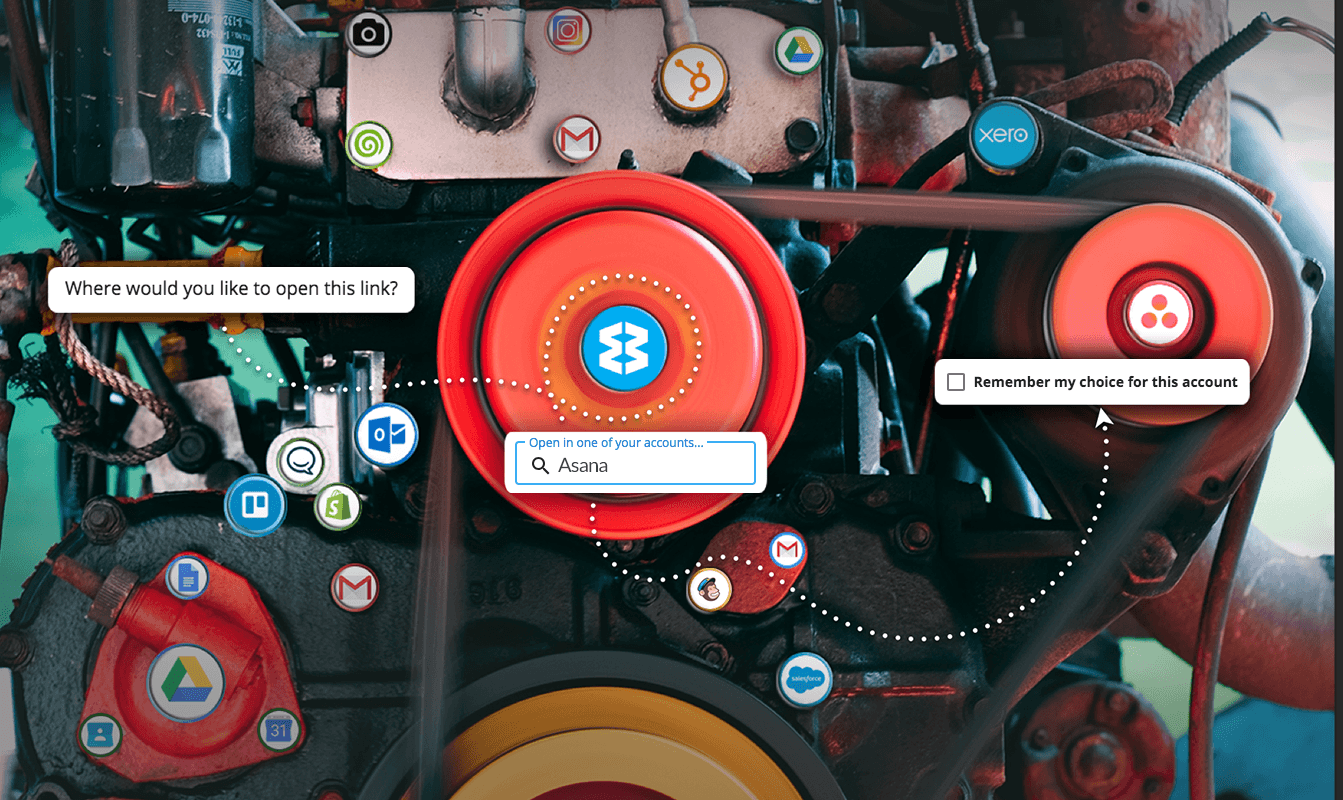 We've got a packed release this week, crammed with features that have been requested by users and are 100% focused on simplifying your workday.
Link Engine
First in this week's release is a fantastic tool that will help you navigate faster and more efficiently between apps in Wavebox. This new pop-up menu gives you more control over where links in your apps will open in Wavebox, enabling you to get to the content you need sooner. So how does it work?
1. Click on a link
After updating to the latest version of Wavebox (4.7.0), the first time you click on a link in any Wavebox account, the 'Link Engine' pops up.
2. Choose where you want to open the link
The Link Engine will give you options. Two default options are (1) Default Browser and (2) New Window. Or you can choose another app/service from your workspace. Depending on how many apps you have, you can use the search to quickly locate the one that you want.
3. Decide what to do next time
Is this a one-off click, or is it something you do all the time? Here's where you can select the future behaviour of links opening from that location. The options are self-explanatory really, and once you've made your selection Wavebox will remember it for next time - don't worry if you change your mind, you can override your choice in 'Settings'.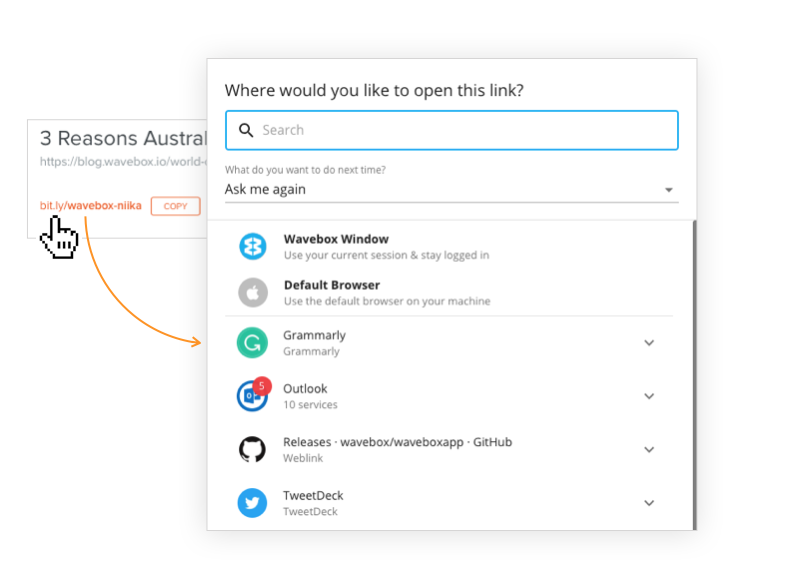 Google Inbox to Gmail Converter
Google is retiring its Inbox service in March, so many of you will need to across to Gmail, which now includes most of the features that Inbox launched with (Snooze, nudges, smart reply etc). We've made it easier to move across by introducing a quick Inbox-Gmail converter, that will take you through the switch process (although it's hardly a process as it's only two steps!)
Blog: Make the Simple Switch from Inbox to Gmail with Wavebox.
Blog: From Inbox to Gmail....a Wavebox story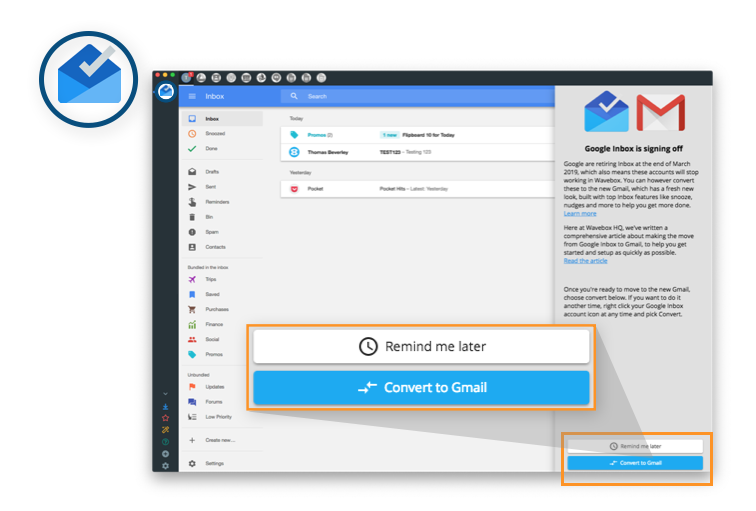 Download Manager
We've introduced a new pop-up menu to help you keep track of your downloads. When downloading a larger document, a new icon will appear in the sidebar (bottom left). Hover over the icon to see the progress of the download, or click on the icon to bring up the download menu to see your download history. You can also click on the 'open' icon to be automatically navigated to the item on your machine, and there is a new 'Downloads' tab in the mini menu.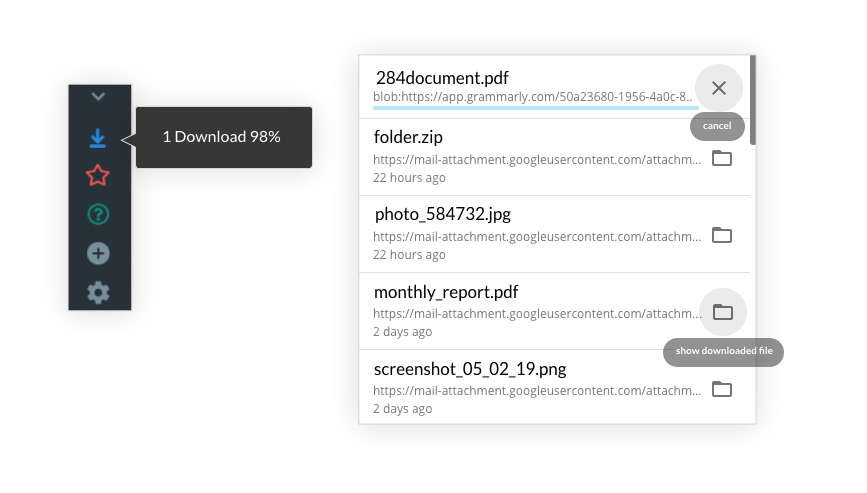 Pinned Items Editor
When creating a new pinned item, you can now edit the name so that it makes more sense to you! Gone are confusing (and in some cases exceptionally long) web URLs. Here to stay are more sensible custom titles! You can also upload your own icon for each pin too!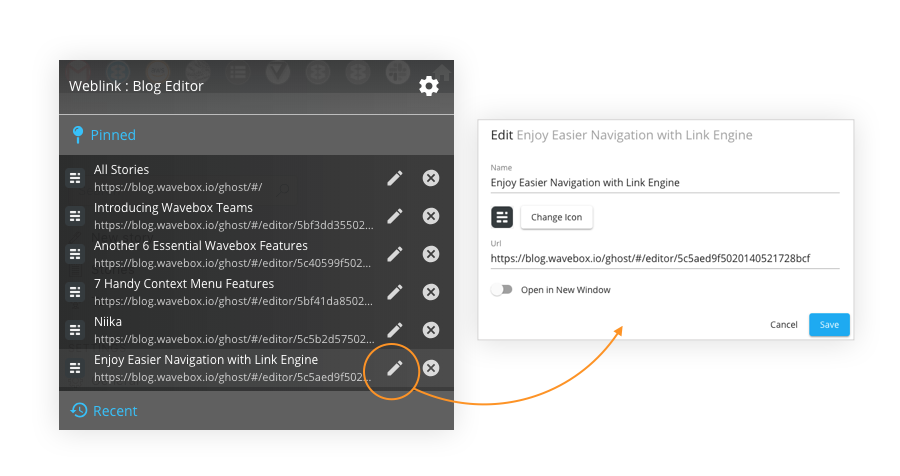 Ad-blocker
Last but not least is our new Ad-blocker. Activate this custom extension to enjoy ad-free content across all your apps and websites. To activate the extension, click on the 'Settings' cog in Wavebox, then select the blue 'Extensions' tab and look for Ad-bLocker in the list. Once installed, you should then see the green Ad-blocker icon in the top toolbar (on the right, next to your extension icons).
Also...added to the App Directory
Apps that have been added to the app directory since the last release are Zoho SaaS Suite, Twitch, Canvas Flow, eCLincher and more!
Find out more in our Release Notes on GitHub
That's about it for this release. To get the full list of features and bug fixes head on over to our release pages on GitHub. Thanks to everyone who's sent in suggestions and requests - keep them coming!
Photo: Engine image by Ciprian Boiciuc on Unsplash.