Wavebox Profiles, unified Gmail search, edit tab titles, and sleep improvements.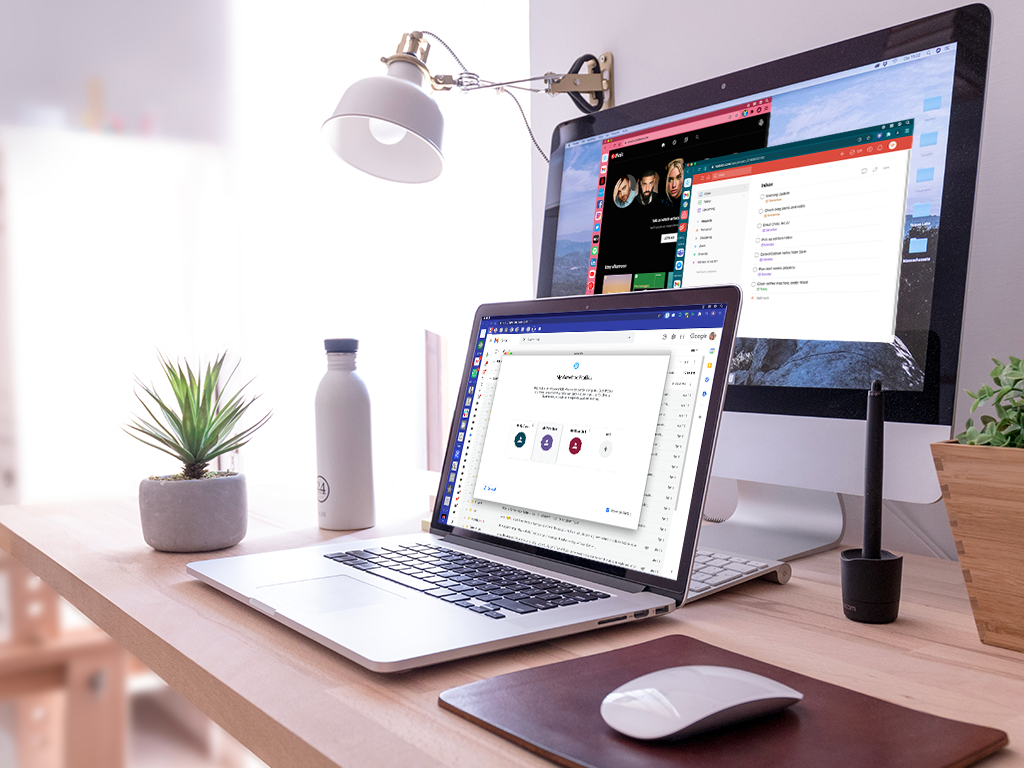 🥳 Update! Following a very successful Beta, Profiles are now live for all Pro users as from August 2nd 2021.
Wow, it's April already, and we've got another great release for you this month. First, we have new Profiles which let you simultaneously work across multiple Waveboxes. We've also made some significant improvements to app/tab sleeping to improve performance further and introduced some cool new UI features. So, let's take a closer look at what's new:
🤓 Multi-task with Wavebox Profiles.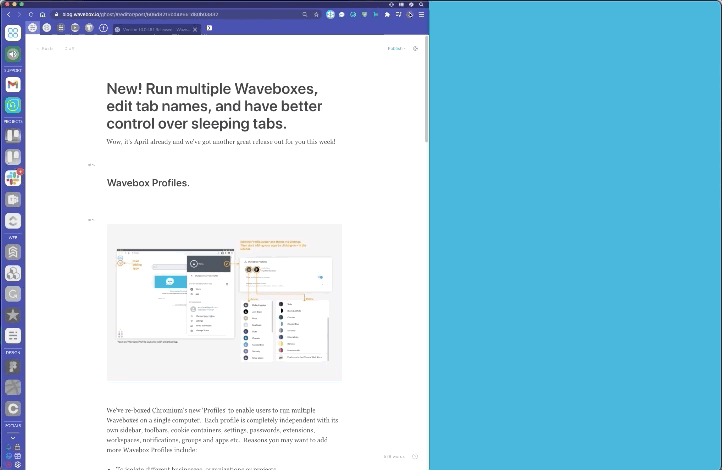 We've already unboxed Chromium's improved 'Profiles' and tweaked them to work wonderfully in Wavebox. Now you can set up multiple Waveboxes on a single computer. Click on the user icon (top-right) followed by 'Add' to create a new Profile, and you can either start a fresh setup, or use a different Pro subscription to restore from the cloud. Each Wavebox Profile is independent with sidebar, toolbar, cookie containers, settings, passwords, extensions, workspaces, notifications, groups, and apps, etc. Ideal if you want to:
Isolate different businesses, organizations, or projects.
Keep your client's apps completely separate from yours.
Manage someone else's Wavebox, as well as your own.
Isolate work stuff from home.
Trying Profiles:  If you would like to try Profiles, email support(at)wavebox.io and we'll activate it in your account.
You'll find the Profile menu under a new 'user' icon in the top-right corner of the Wavebox window (next to your extension icons). From the menu, you can switch between profiles, manage profile settings, and add new profiles. When to click on 'Add' you'll see options to:
A brand new setup - choose this option if you want to use your current subscription and begin a fresh setup.
Restore from the cloud - choose this option if you want to login using a different subscription e.g. a client, your boss, a colleague.
If you have multiple profiles setup you can opt for a profile picker to appear each time you start Wavebox, which prompts you to select a profile.  You also have the option to launch all your profiles at once.
Cookie Profiles are now Cookie Containers
Important note! Following the release of Wavebox Profiles, we have renamed cookie profiles to be cookie containers so there's no confusion between the two. The word 'containers' is also more in line with emerging industry terminology (e.g. Firefox Containers). We've already made this change in the app.  Blog posts and KB articles will be updated in the coming weeks.
---
So how do Wavebox profiles differ from Chrome's profiles?
You can use Chromium's profiles in Chrome to isolate individual Google accounts. So you can  have one account for each profile. Wavebox on the other hand, allows you to sign-in to multiple Google accounts simultaneously in each profile, and   you can add as many as you like. The same goes for Office365 accounts, Slack accounts, Asana accounts etc. - all these all work perfectly in Wavebox across multiple accounts. No other browser currently offers this level of multi-account support for today's complex online working environments.
---
📝 Rename your tab titles to stay organized.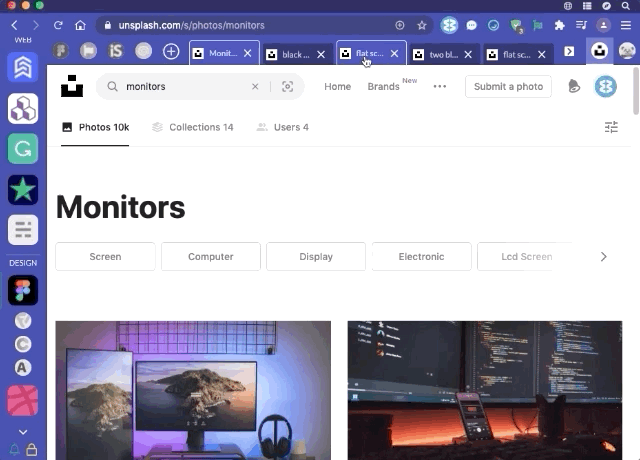 Tabs often have long and ambiguous titles, which can be a pain if you're working across lots of similar tabs.  Right-click on any tab (main window or secondary window), and select 'Edit tab title' from the menu.  Then type in a more sensible title and click 'Save'.  This new name will persist until the tab is closed.  Simple but oh so useful, and your Navigator will look more tidy to boot.

Tip: If you want to keep all your tabs open when you re-start Wavebox, go to: Settings > General > On Start-Up > Continue where you left off.
Search across all your Gmail and Google Drive accounts.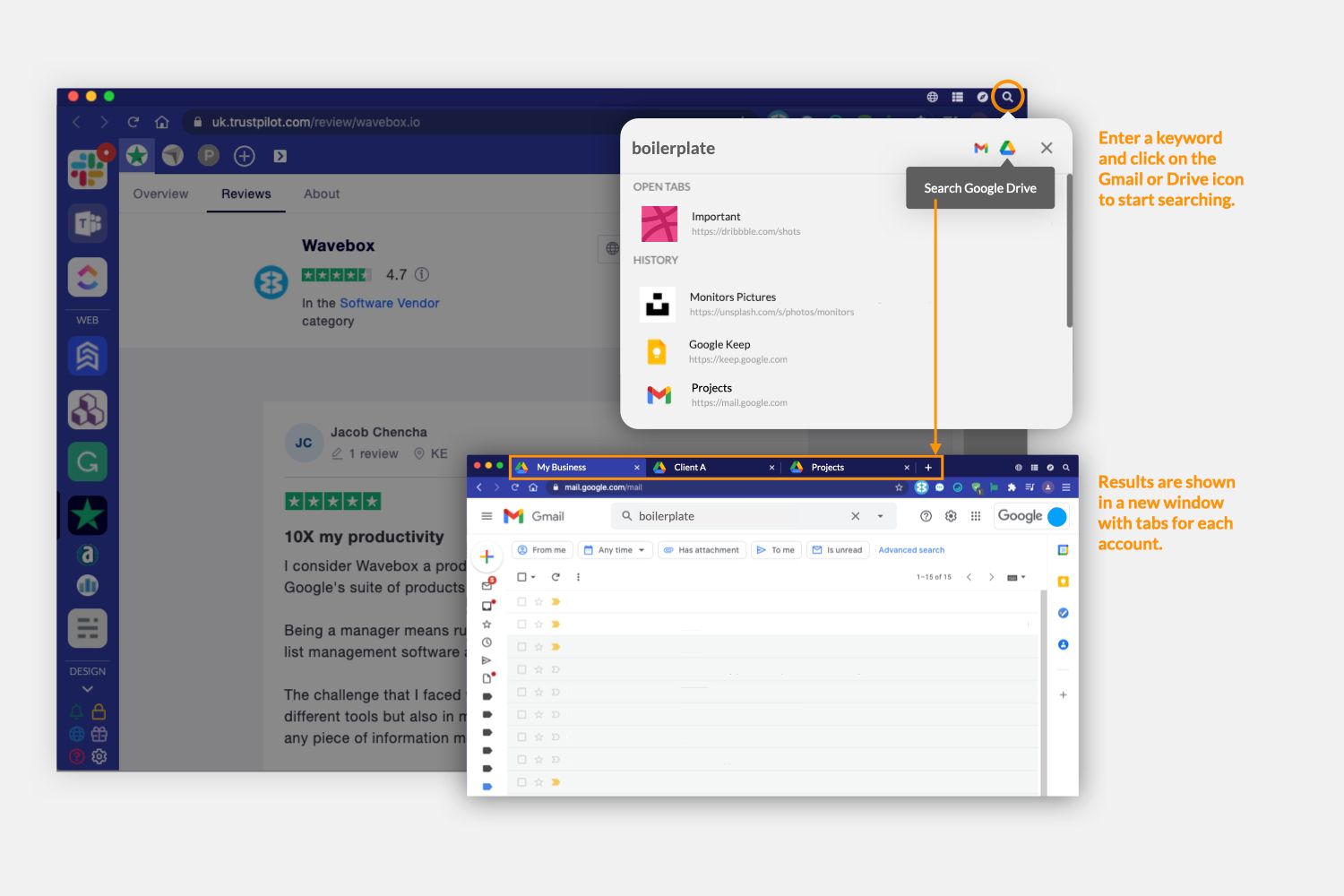 Click on the 🔎 search icon in the title bar to bring up the Quick Switch & Search box.  Enter a keyword into the search field and click on the Gmail and/or Google Drive icon to search across all accounts in Wavebox.  Search results appear as tabs in a new window, this is so they don't disrupt any work you're doing in those accounts elsewhere.  Tabs are opened in the correct cookie containers, so links will work across apps in that container.
😴 Major sleep improvements to apps & tabs.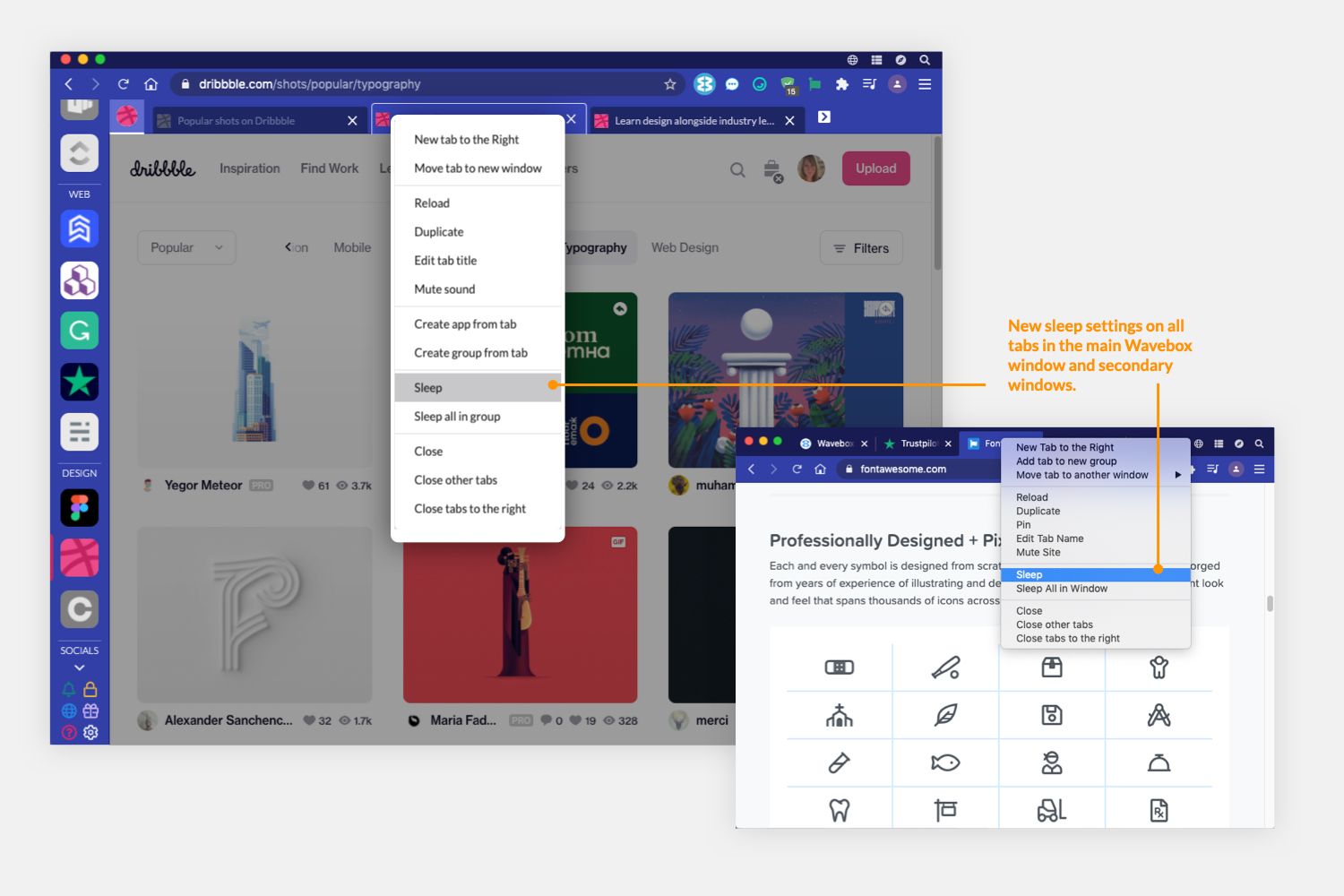 We spent some valuable time this month nurturing sleep, and improving how Wavebox manages memory in the background. Here's a summary of what's been added;
App tabs in the main Wavebox window now use the global setting, rather than parent app settings.  Settings > General > Sleep.
The global sleep setting has been extended to tabs in all windows.
We've added an option to sleep a tab on demand via the right-click menu. Wake a tab by clicking on it.
We've added the option to automatically start sleeping apps & tabs when your machine is running low on memory.  You can turn this on/off in Settings > General > Sleep.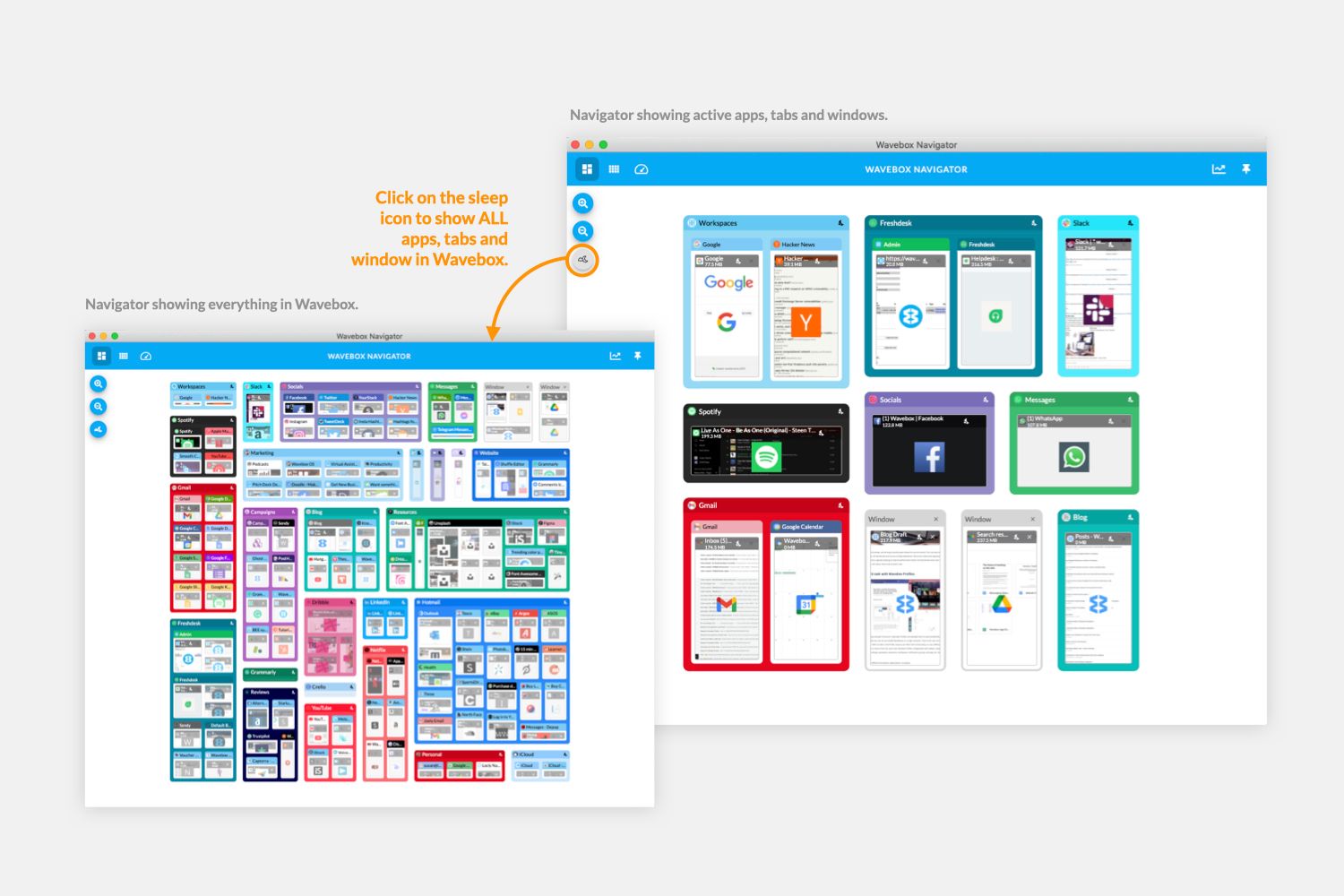 Sleeping tabs now have grayed-out titles and favicons.
Finally, the thumbnail Navigator now has the option to show sleeping tabs, therefore providing a visual map of everything in Wavebox.  Click on the sleep/moon icon on the left to show sleeping apps/tabs.  Handy if you want to have a good ol' fashioned spring clean! 🌻🧽🧼
All these improvements have enabled us to extend the default sleep period from 5 to 15 minutes, without impacting performance.
🎁 What's New icon.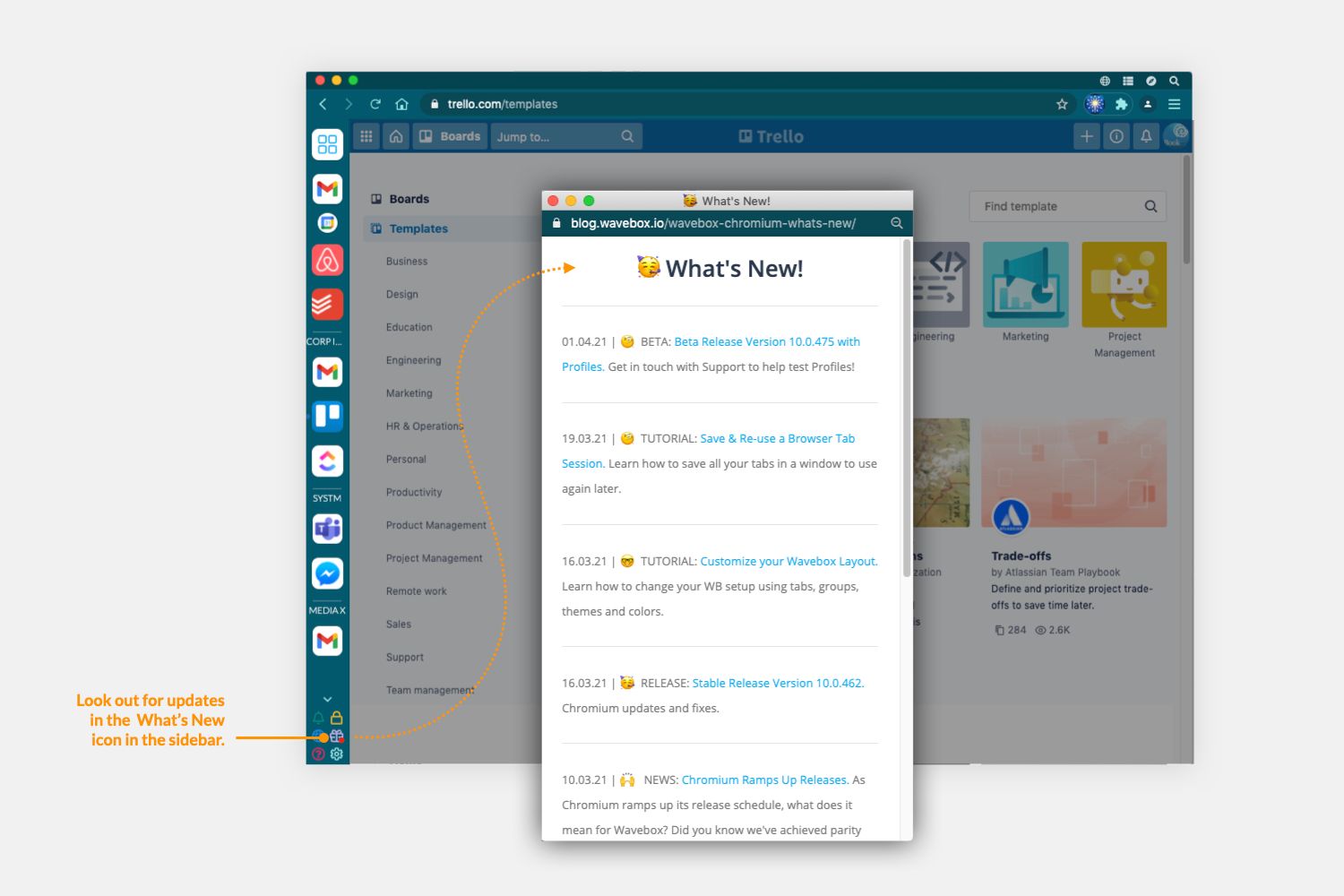 We've added a What's New icon to the sidebar.  This display a red dot when there's something new to see.  Click on the purple gift icon to pop-out the What's New window.  You can control which icons appear in your sidebar by going to Settings > General > User Interface > Sidebar.
🤖 New Chromium Update.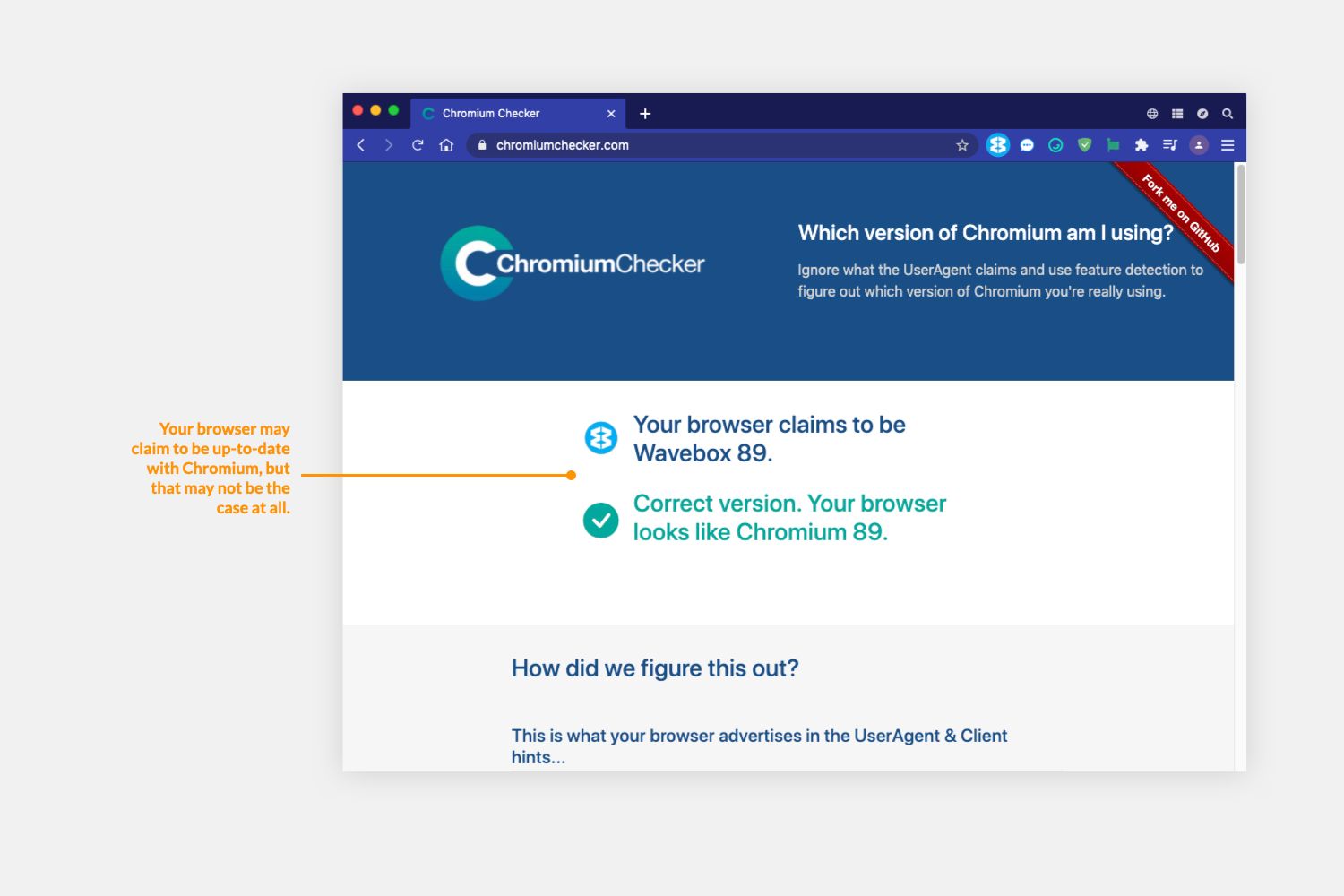 Last month we were delighted to achieve parity with Chromium releases, meaning that Wavebox is always bang up-to-date with the very latest security updates.  This is no mean feat, and you can learn more about our journey to this point in the blog post As Chromium ramps up its release schedule, what does it mean for Wavebox?  
Surprisingly, some browsers claim to be on the latest Chromium when they're not. So if you're in doubt, you can check which Chromium version they are actually using with ChromiumChecker.com. Just open a new tab in the browser, and paste in the URL: https://chromiumchecker.com.  ChromiumChecker will instantly detect which version you're using and show the results on screen. Give it a try - you may be shocked at what you find! 😲🔓
---
That's all folks. For a full list of updates, read the release notes.
Photo by Domenico Loia on Unsplash