Tutorial: Use Profiles to setup Wavebox for a colleague or client.
In this tutorial you can learn how to use Profiles to setup Wavebox for someone else, such as a colleague or client, therefore helping them to get up and running faster than starting from scratch.
Tip: To follow this tutorial for real, your colleague/client needs a Wavebox Pro subscription or be on an active trial.  Ask them to download and install Wavebox to create a new account, then share their login details with you.
1. Create a new Profile in your Wavebox.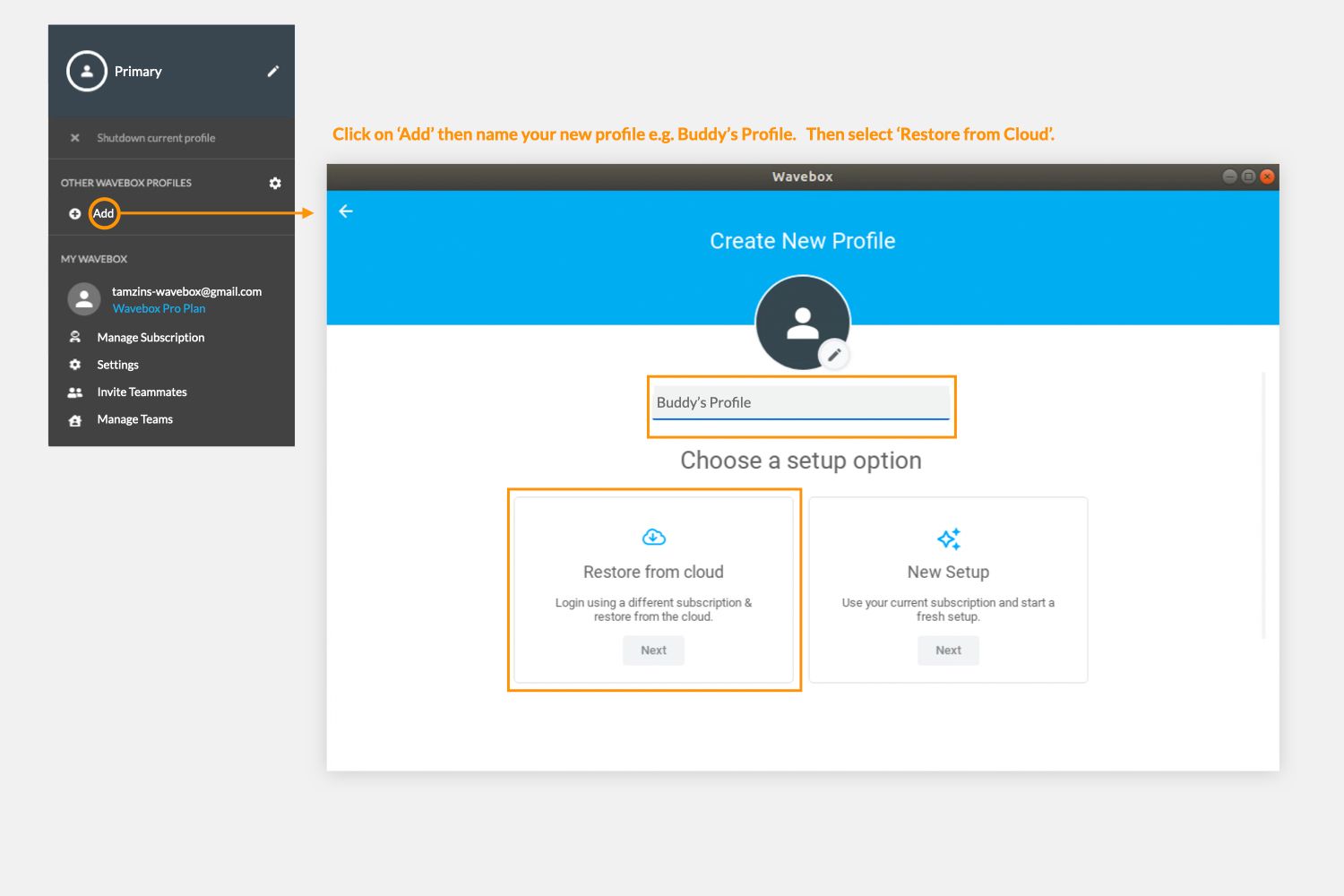 In your Wavebox, click on the 'Profiles' icon top-right to bring up the Profiles menu and click on 'Add'.
On the 'Create New Profile' pop-up window, name your profile e.g. 'Buddy's Profile'.
Next, click on 'Restore from Cloud' to launch a new Wavebox setup window.
2. Enter your colleague/client's subscription email.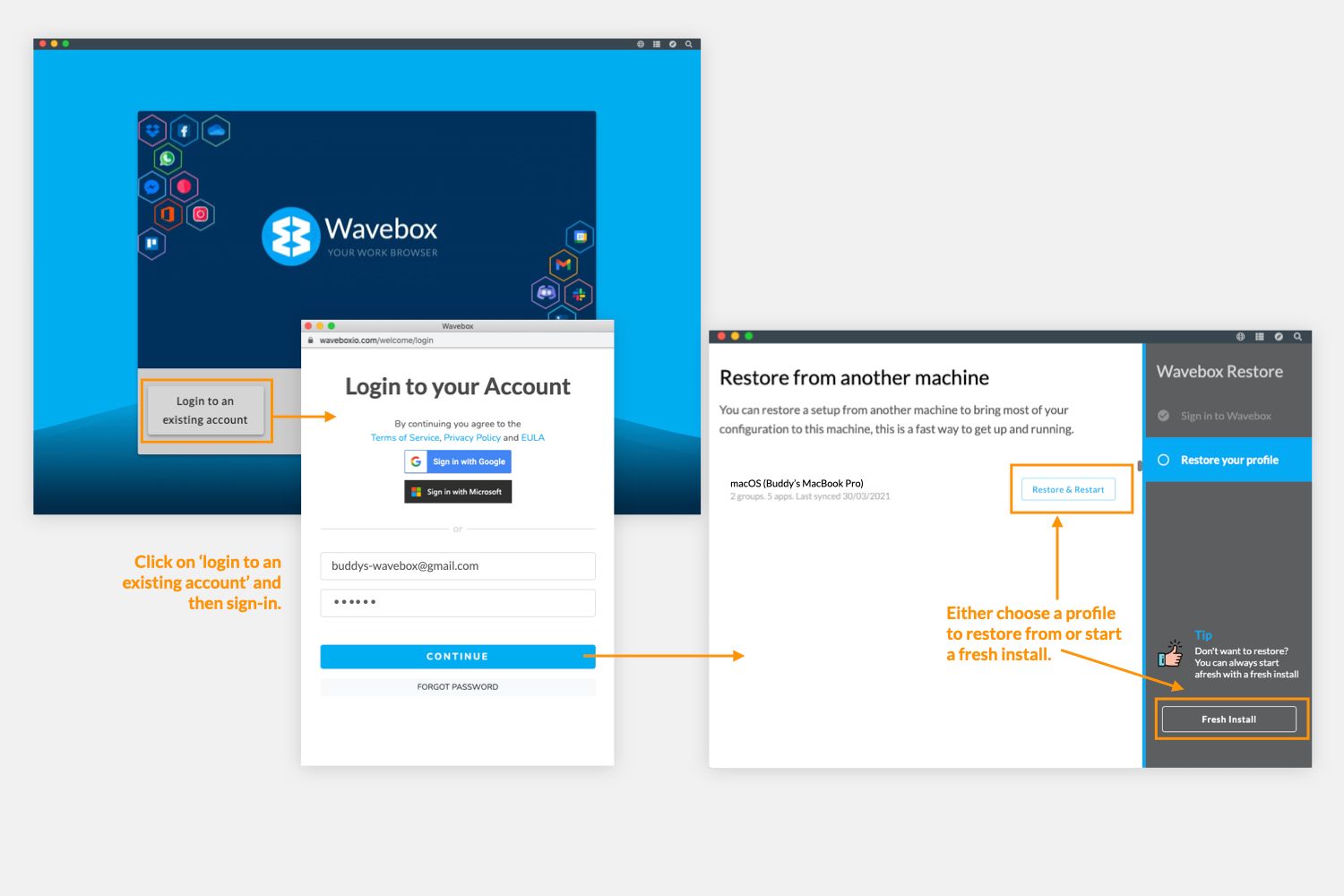 Select 'Login to an existing account' and use your  colleague/client's Pro subscription or Pro trial email to login.
EITHER: If there are saved Profiles in the cloud for that account - maybe they began setting setup - you can use that Profile as a starting point by selecting it. Alternatively, just click on the 'Fresh Install' option (bottom-right) to start from scratch.
OR: If there are no saved Profiles for that account, you'll automatically start the 'Fresh Install' process.
Follow the steps - it's up to you if you want to follow the wizard to add apps at this point, or just skip and add them later - and when you're done, Wavebox will close and restart.  
To remind yourself of the install process, take a quick look at this guide.
---
Note: If you use one of your client's existing setups as a starting point, any changes you make will not be reflected on their computer (unless they do a manual cloud-sync via Settings).
---
3. Add groups, apps and tweak Settings.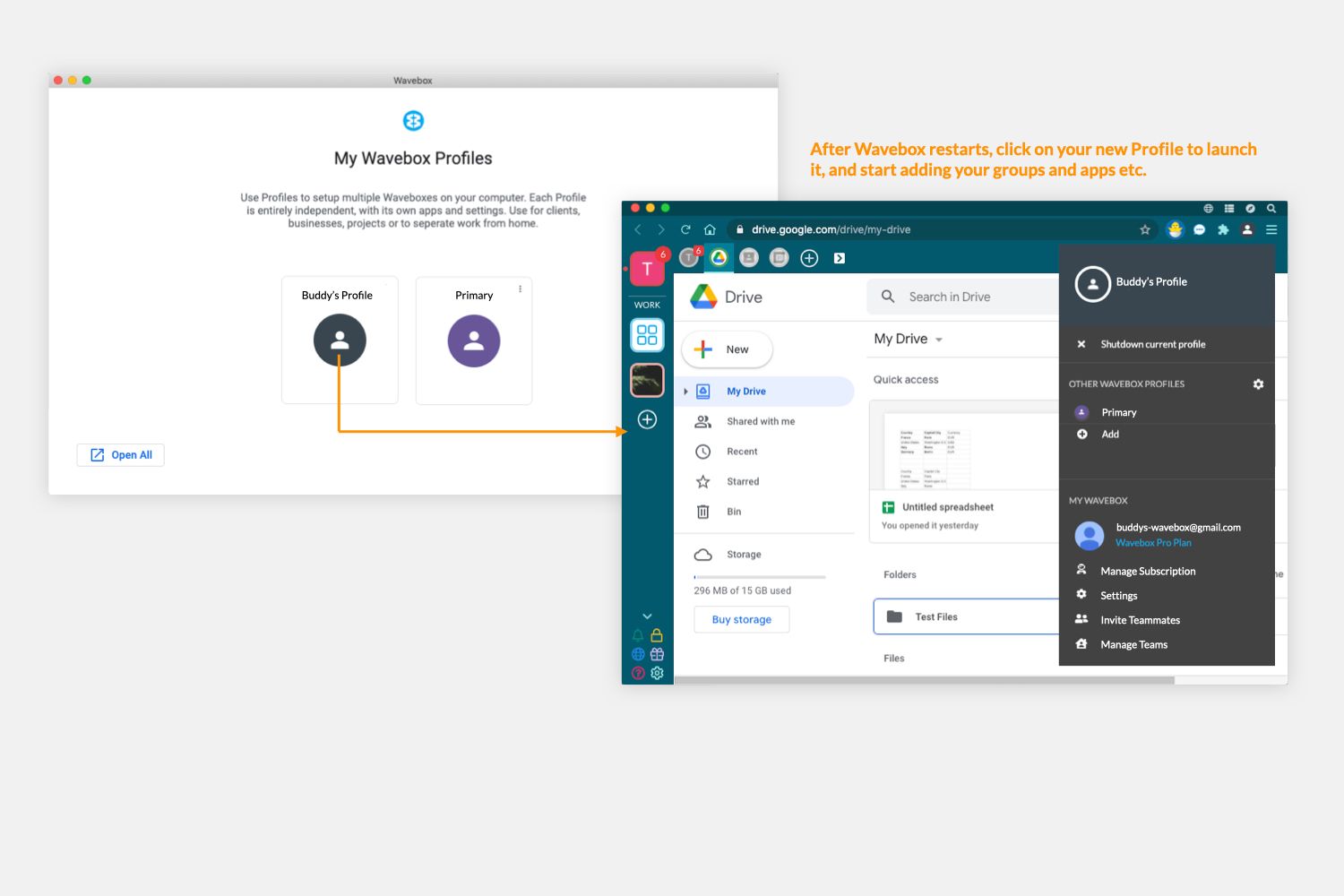 When Wavebox restarts it will display the Profile Picker. From the Profile Picker, click on the Profile you just created e.g. Buddy's Profile to launch it in another Wavebox window.  (Important: Note that this is completely isolated from your Wavebox, so making changes in Settings here will not affect your other Profiles.)
Now get stuck in adding all the apps, groups, websites, your client needs, and tweaking Settings for things like sleep and notifications.
Tip: Why not create a workspace for them, adding any useful links as shortcuts. For example, as extensions aren't synced via Profiles just yet (workin' on it 😅), you should include shortcuts to their chrome store listing - all your colleague/client needs to do is click on the blue 'Add to Wavebox' button.
4. Sharing the profile with your colleague/client.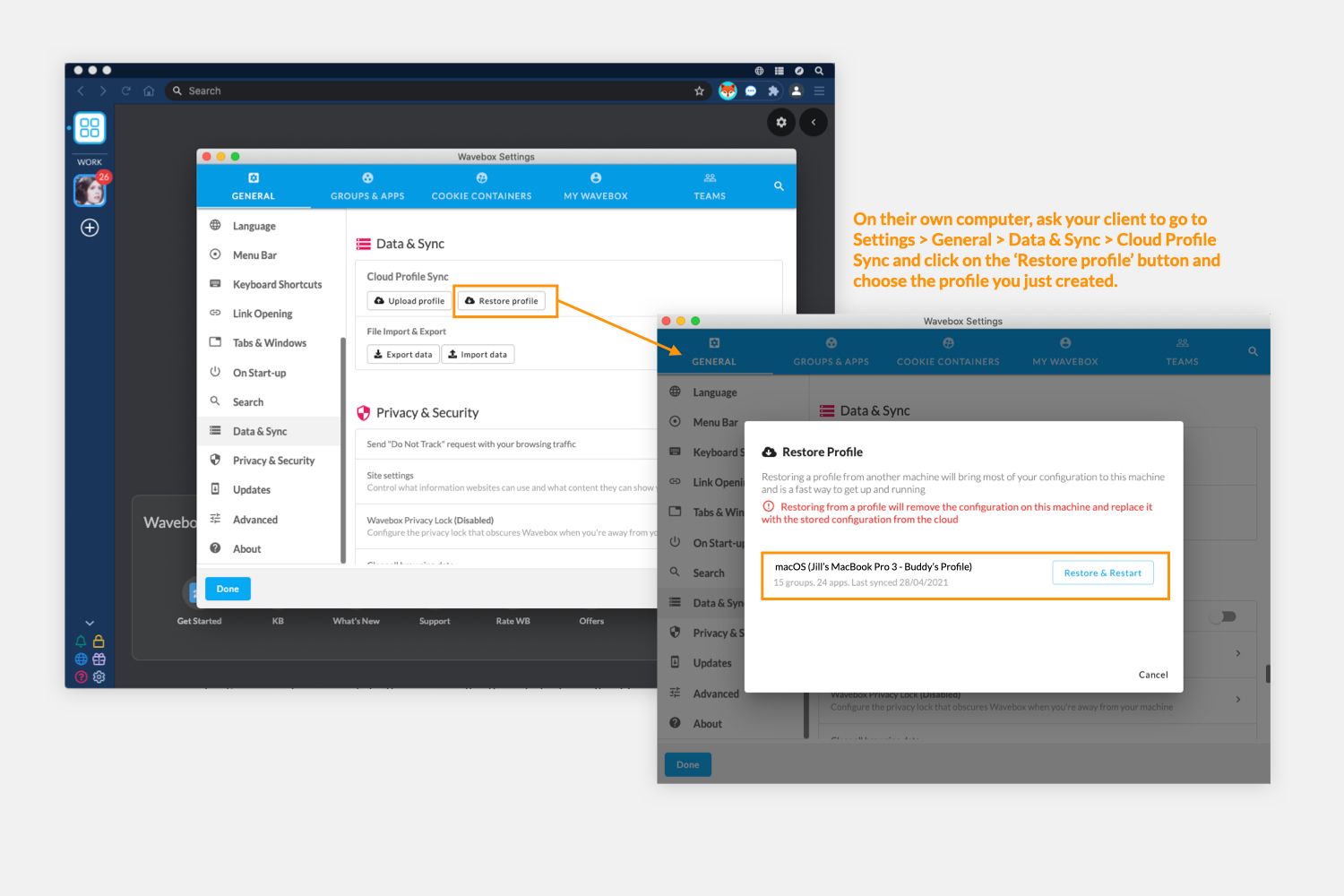 It's time to share your  new Profile!  Your colleague/client will need to log into Wavebox using the same login email as the Profile you've created for them.
Then, direct them to: 'Settings > General > Data & Sync > Cloud Profile Sync' and click on the 'Restore from Profile' button.
This will bring up a list of all the saved Profiles for their account, so 'Buddy's Profile' should be on it and get them to select it.
🥳 Wavebox will then magically restart with all the settings, apps, groups and workspaces you have lovingly set up for them!
---
Job done.  Here one final pointer;
To avoid any conflicts and potential loss of work, the only way to sync Profiles across computers is  currently is to manually restore again from the cloud via 'Settings > General > Data & Sync > Cloud Profile Sync > Upload Profile (button) or Restore Profile (button).  This means that Buddy's Profile on your computer does not automatically background sync with Buddy's Profile on your colleagues/client's computer,  so any changes made after the initial setup on either machine will not be reflected in the other's Profiles.  
---
Photo credit:  CoWomen on Unsplash.