Merry Multitasking! Easily Switch Between Your Favourite Web Apps
The latest Wavebox release includes a splendid new navigation tool for quickly switching between recently used apps.
Using the new feature couldn't be easier. Simply hold down the Ctrl (⌃) and Tab (↹) keys to bring up a menu of recently used apps. Ctrl + Tab again to select the app you want, then release the keys to display it in the main Wavebox window.
Use when multitasking, or to create faster workflows between apps. We hope this addition makes Wavebox an even better plaform for working effeciently and simultaneously across mulitple cloud apps.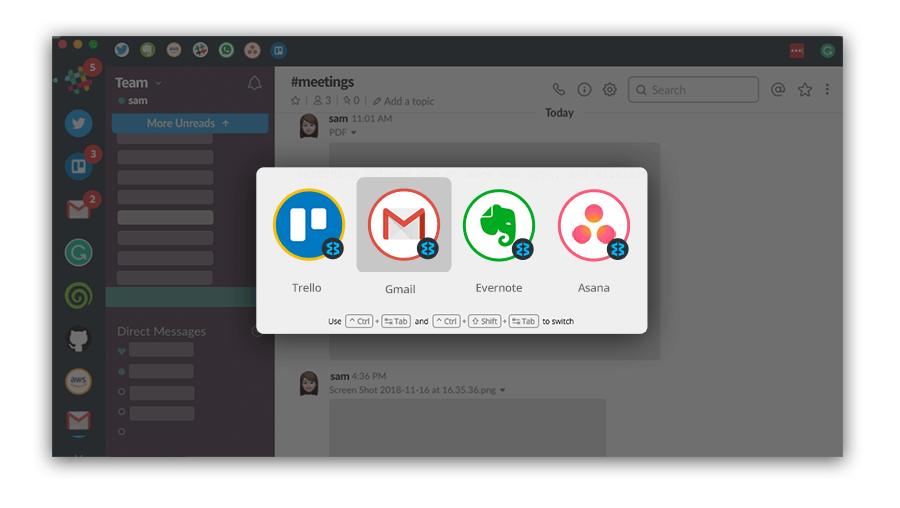 Also in this Release...
This week's update also includes some other UI tweaks, general improvements and bug fixes. Please read our change log on GitHub for a full list of changes.
How to Update Wavebox
To get the new navigation tool you'll need to update your Wavebox. You can either; Open the app, and click on 'Wavebox' in your computer's menu bar. Then click on 'Check for Update' and follow the instructions. Or; click on the 'Settings' cog in Wavebox (bottom left) and look for 'Update' in the settings menu on the left (ninth option down) and then click on 'Check for Update'.
🎄 Happy Holidays from Wavebox HQ! 🎄
We would like to take this opportunity to wish all Wavebox users a very Merry Christmas, and say thanks for your continuing support. We have a packed roadmap planned for 2019, and please keep sending us your ideas and requests - we love hearing from you! Seasons Greetings and a Happy New Year to you all.
Title Photo by Annie Spratt on Unsplash