How to get an Instagram app for desktop (Mac or PC)
Instagram is one of the most popular social networking platforms today, but how do you get it in a desktop app?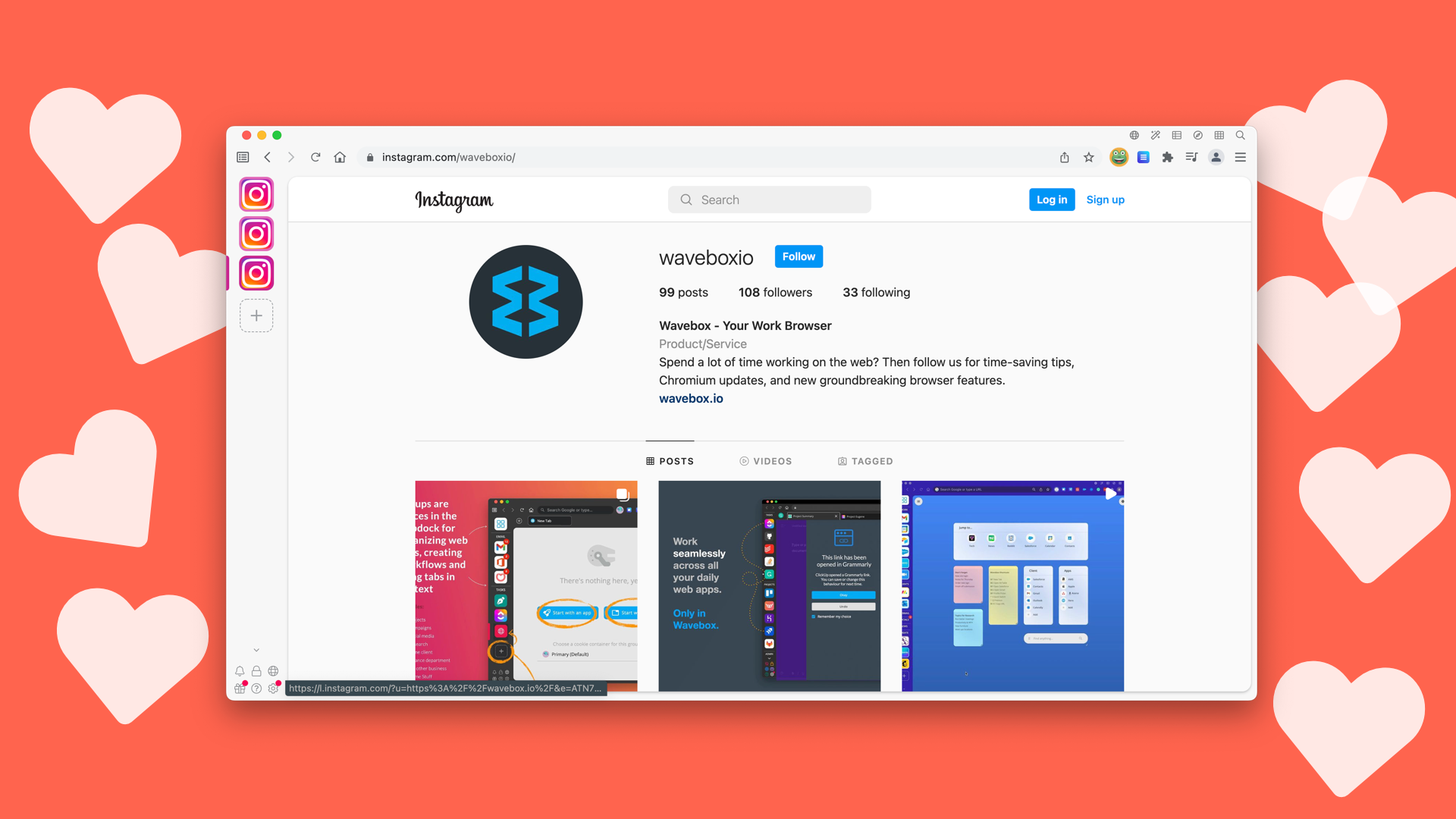 Instagram is one of the most popular social networking platforms today. With over 1 billion monthly active users, it's no wonder that everyone from celebrities to businesses are using the platform to connect with their fans and followers.
If you're like me, you probably spend a good chunk of your day scrolling through Instagram or maybe you're in charge of a company's Instagram account. Sometimes you might find yourself wishing you could do that on your desktop instead of your phone. Well, good news! There are a few different ways to get an Instagram app for your desktop.
One way is to use the Instagram website. Instagram recently added the ability to post from the website which is great, but the web version is still missing that desktop app feeling. If you're looking for the most official way to get an Instagram app for your desktop, you can use the official Instagram app for Windows, but if you're looking for an Instagram app for Mac, you're stuck with just using the website.
Another way to get an Instagram app for your desktop is to use a third-party app, some of which offer extra features over and above the web experience. Read on to find out more...
Why install Instagram on your desktop
Using Instagram on your mobile device is more convenient than using it on your desktop. You can take and upload photos and videos from your mobile device wherever you are. This is especially useful for sharing photos and videos of events or experiences as they happen. Additionally, most people are more likely to have their mobile devices with them than their desktop computers.
However, there are a number of advantages for businesses who use Instagram on a desktop device vs a mobile device. Perhaps the most significant advantage is that businesses can take advantage of the larger screen size to create more engaging and visually appealing content.
So, which should you use - Instagram on your mobile device or desktop? It really depends on your individual needs and preferences. If you want to be able to share photos and videos quickly and easily, then using Instagram on your mobile device is probably the best option for you. If you want to be able to see everything in your feed in one place and spend more time managing your Instagram account, then using Instagram on your desktop is a better option.
Overall, using Instagram on a desktop device can be a great way for businesses to improve their content strategy and reach a wider audience.
The problem with the Instagram desktop app

If you're a Mac user, you might be wondering why you can't access Instagram on your computer desktop like you can with other social media sites. Unfortunately, the Instagram desktop app is only available for Windows users, which can be a major pain for Mac users who want to stay up-to-date on their feed while they're working on their computer.
There are a few different ways that Mac users can work around this issue. The first option is to use the web version of Instagram, which can be accessed through any web browser. The problem with this approach is that the Instagram tab you've been using all day can be easily lost amongst all your other tabs. It's also not possible to see quickly what's new without digging out your Instagram tab and taking a good look.
The good news is there are some desktop apps that make managing your Instagram profile, or profiles, much easier. One such app is Wavebox.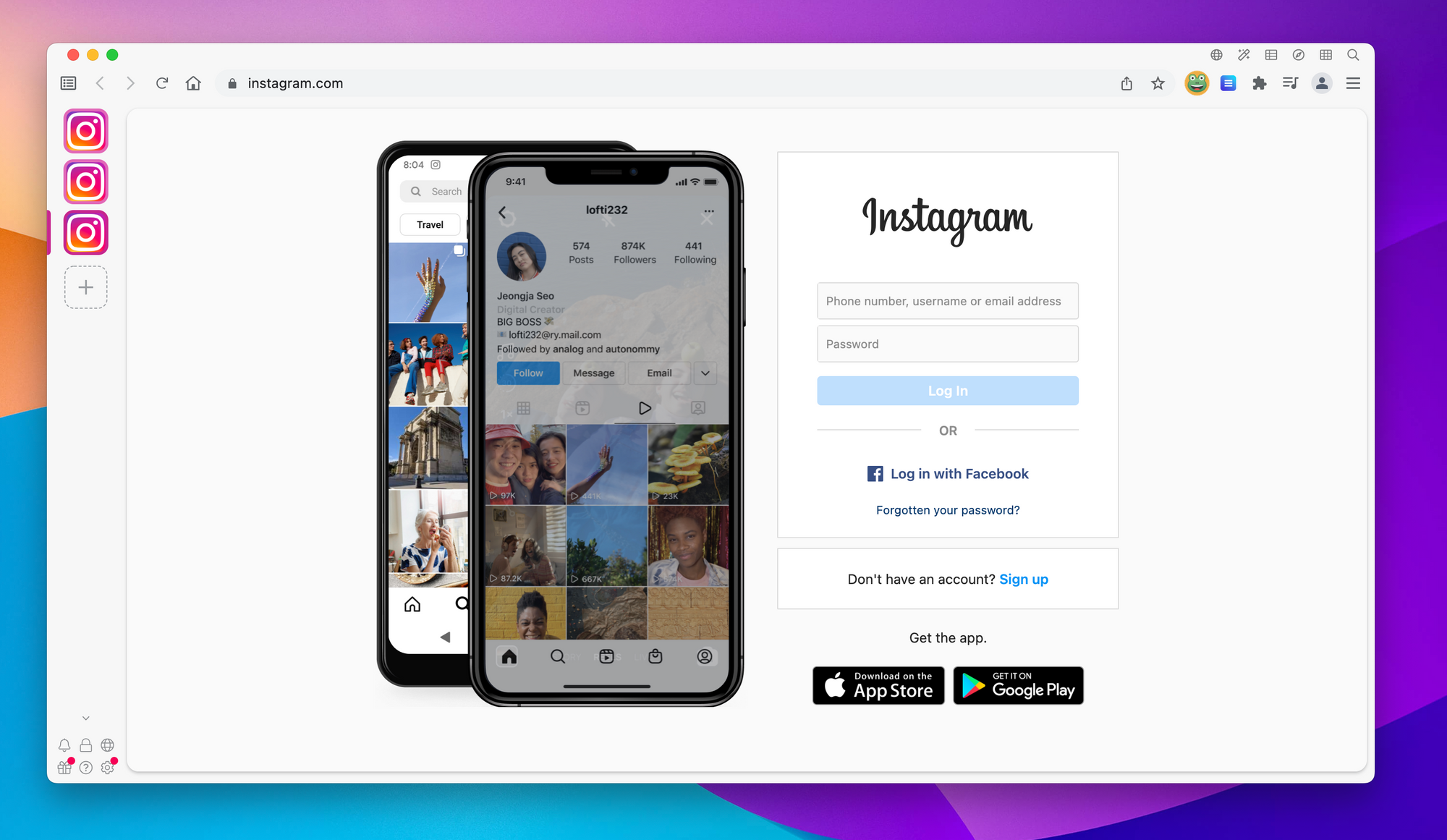 How to get Instagram on your PC
The first and most obvious way is to simply go to Instagram.com in your web browser. You can view your feed, like and comment on photos, and even post new photos directly from the website. You can even add it to your bookmarks bar, or create a desktop shortcut to quickly get back to Instagram.
Another option is to download the official Instagram app for Windows 10 from the Microsoft Store. Once you've installed the app, you can log in with your Instagram account and access all of the features you're used to, like messaging, posting photos, and viewing Stories.
But if you're a power user who wants even more control, or maybe wants to manage multiple accounts, both of these approaches present one problem. Switching between accounts is cumbersome. This is where a desktop app like Wavebox is really powerful. When you add Instagram, it gets its own entry in the Wavebox sidebar. This entry has its own icon and own sandbox, meaning when you come to add a second Instagram account it's completely separate. This makes switching backwards and forwards as simple as clicking on the icon in the sidebar.
If you're managing multiple accounts, say, for home and for your brand, Wavebox makes it much easier to manage. You can quickly upload content to each account with ease and switch backwards and forwards whenever you need to!
How to get Instagram on your Mac
There isn't an official Instagram app for Mac, but luckily Wavebox supports MacOS, so you can download Wavebox and add Instagram. Being able to add multiple Instagram accounts into Wavebox and being able to switch between them quickly is the best solution on MacOS.
You can also use the web version in your browser, but you're more limited in terms of quickly accessing Instagram and changing accounts with ease. You can use a bookmark, which is arguably the easiest solution, or if you're using Google Chrome, you could add Instagram to the Chrome Apps folder. To do this...
Visit https://instagram.com in Chrome
Use the three-dot menu in the top-right of the toolbar and locate more tools > create shortcut
Your new shortcut will save into your Chrome Apps folder, where you can double click to launch.
Finally, and arguably more technically, you can install an Android emulator on your Mac, so that you can use the Instagram Android app, just like you were on your phone. This is a solution but is quite technical, the best option is to use the Wavebox desktop app and add Instagram.
How to get Instagram on for your Linux distribution
Just like with macOS, there is no official Instagram app for Linux, but Wavebox supports the most recent versions of Linux. Depending on your Linux distribution, you can use the DEB, RPM & AUR repositories as well as the AppImage version and a plain TAR.
Managing Instagram notifications on desktop
If you're using Instagram in the browser, you'll get notified about new notifications. You'll need to grant permission for Instagram to do this first. Normally there's a popup that appears, but if you've denied the permission in the past, you'll need to head into settings to change the permission for Instagram. To do this in Chrome for example
Open Chrome and use the three-dot menu to launch settings
Find Privacy & Security > Site Settings > Notifications
Next to "Allowed to send notifications" click Add
Enter https://instagram.com and finally Add
Although the desktop notifications are great, Wavebox offers more customization and options when it comes to finding out what's new...
Badges: The little red dot next to the Instagram app, shows you how many new notifications and what's new for each Instagram account
Desktop notifications: Similar to how they appear from the browser, these give you an instant alert that there's some kind of activity on Instagram
Notification sounds: In Wavebox, you can choose from one of the pre-set sounds, or pick your own. You can even change the sound for each Instagram account, so without even looking at the screen, you know where the notification has come from
Wavebox mini: This gives you an overview of all the notifications, and everything that's unread in all your Instagram accounts, ideal for quickly catching up with what's new after lunch!
Manage your desktop Instagram account with ease
If you're managing one or more Instagram accounts and want to unleash the power of Instagram on the desktop, then Wavebox is the best app to do that. What's more, you can add all your other social media apps into Wavebox, Twitter, Facebook, WhatsApp and more, turning your Wavebox window into an influencer, or social media manager's dream!