Connect every app to your workspace. Choose an app from our Directory or paste in any URL.

Organize your apps into groups and colleactions to build better, faster workflows. 

Use 'Cookie Profiles' to work confidently across multiple accounts of the same type e.g. Gmail, Drive, Outlook, Microsoft Teams.

Add any Chrome extension in seconds using a direct link to the Chrome Web Store.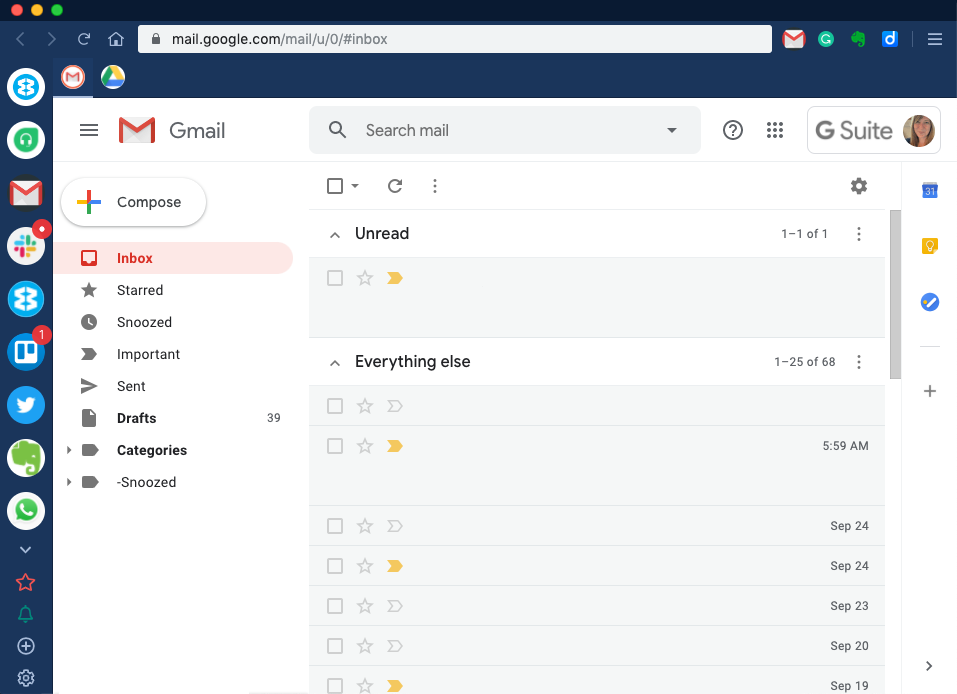 ALL YOUR APPS, TOOLS & WEBSITES
Add everything you use online to do your work.  You can add ANYTHING with a URL, just like a normal browser.
MANAGE MULTIPLE ACCOUNTS OF THE SAME TYPE
Add everything you use online to do your work.  You can add ANYTHING with a URL, just like a normal browser.
CREATE SIMPLE WORKFLOWS WITH GROUPS & PINS
Add everything you use online to do your work.  You can add ANYTHING with a URL, just like a normal browser.
ALL YOUR APPS, TOOLS & WEBSITES
Add everything you use online to do your work.  You can add ANYTHING with a URL, just like a normal browser.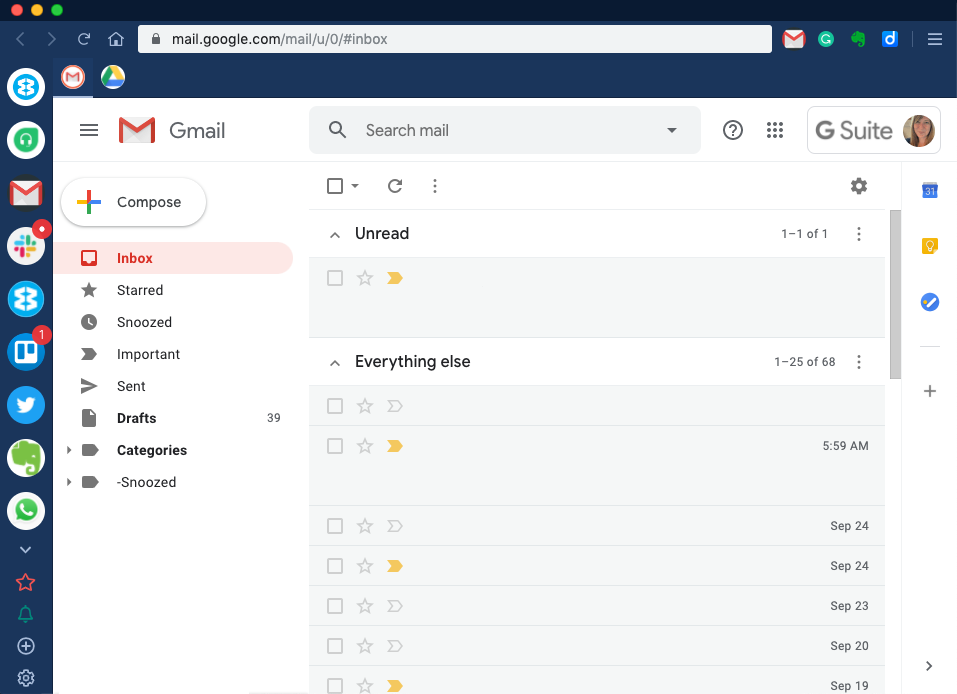 Add all your apps to the workspace. You can add anything with a URL.

Confidently manage multiple accounts of the same typr e.g. Gmail, drive, Outlook.

Create groups on the dashboard to get everything organised.

Running apps in Wavebox is 86% faster than using tabs in Chrome.
With all the right tools at your fingertips, you'll feel less stressed and achieve more.
Are you struggling to focus when working online? Are you looking for ways to have a more productive workday?
 Introducing Wavebox, a purpose-built work browser offering a distraction-free, organized space for working across all your daily web tools and apps.  Replace 'too many browser tabs' with our fast and efficient Chrome alternative, and feel happier and more organized when working on the web.
Declutter your computer and get organized.
Wavebox offers a tidy, functional space for all your web stuff. Connect your favourite web apps, emails, sites, services and Chrome extensions. Then easily switch between them to create lightning-fast workflows. Wavebox is fully customizable so you can have everything organized in a way that suits your workfow.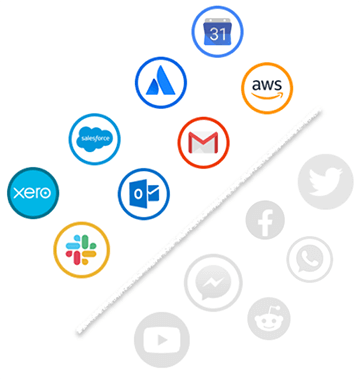 Create a distraction-free zone for working online.
Connect only your work tools to create a distraction-free workspace. Or hide tempting sites away in a group until you have time to spare. Wavebox also gives you the option to snooze and mute all your notifications so you don't get interrupted when you're trying to get stuff done.
Improve your work efficiency by automating tasks.
Constantly logging in-and-out of web apps is slow and time-consuming. With Wavebox, everything is always signed-in and ready to go. All your key resources are just a few clicks away and easier navigation between apps and tools will help you concentrate and maintain context.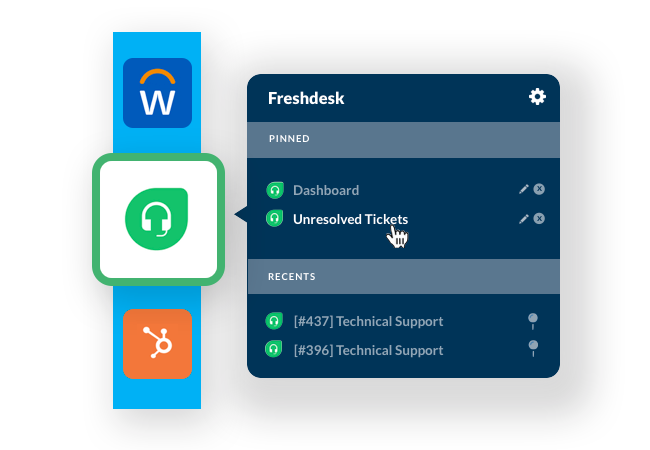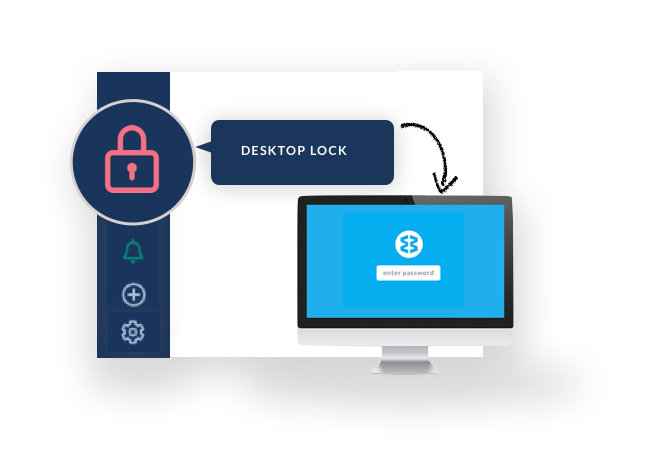 Lock Wavebox when away from your desk, or sharing a computer.
If you are sharing a computer with other people e.g. a colleague or family members, or need to pop away for a while, you can lock your Wavebox window in just one click. This prevents anyone from opening Wavebox without the password or pin number.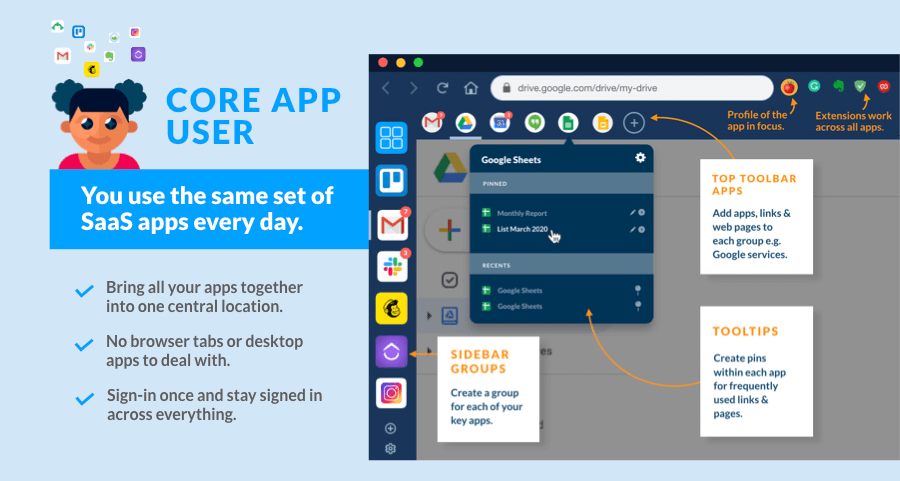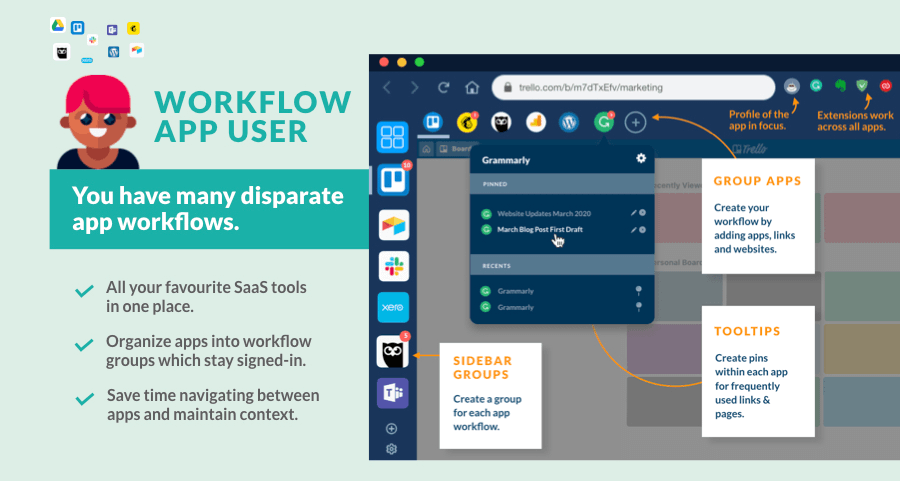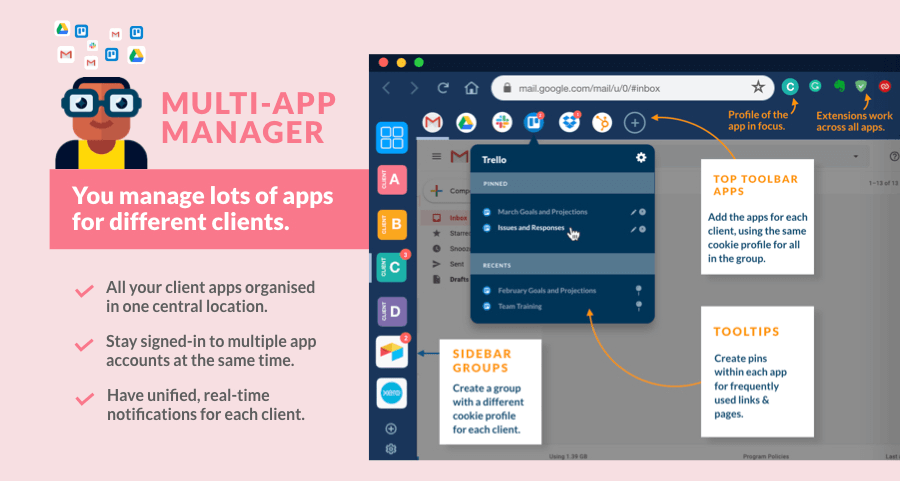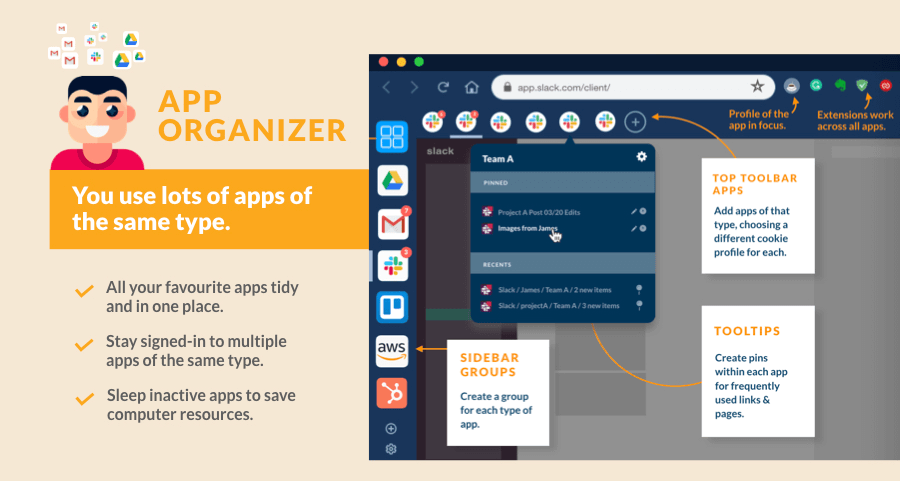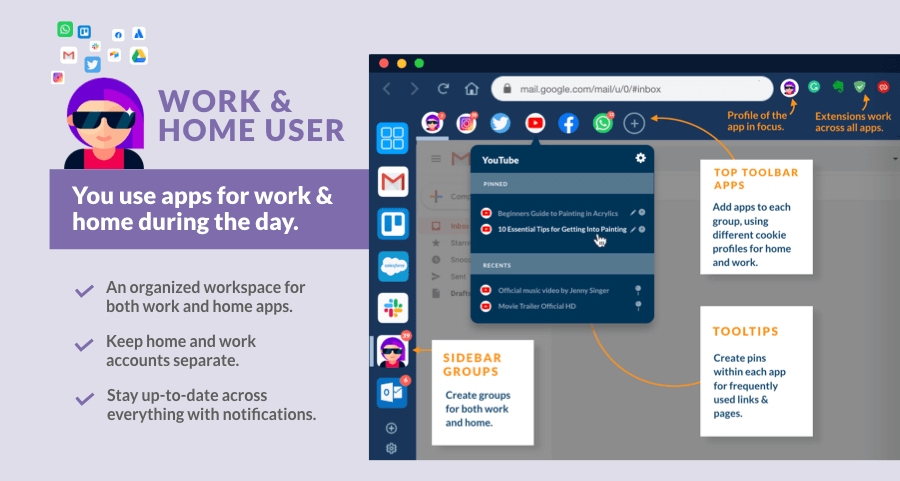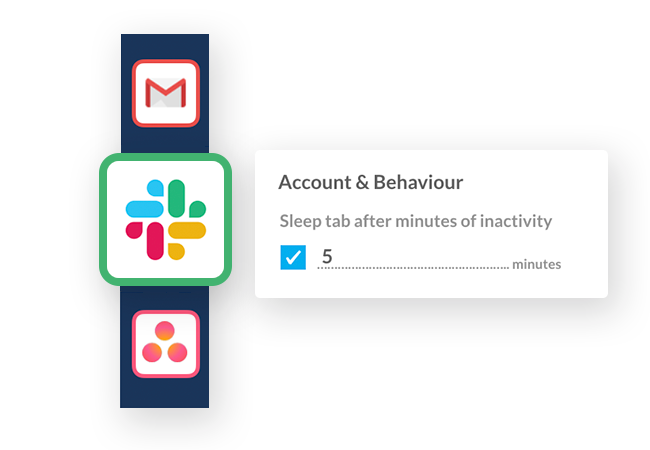 Optimize your time and performance.
Does having too many browser tabs open slow your machine and push your patience to the limit? Wavebox enables both you and your computer perform at your best. Not only does Wavebox use significantly less power than standard browser tabs, it also 'sleeps' apps when they're not in use to save more power.
All your Chrome extensions work perfectly in Wavebox.
Including all the best AdBlockers, themes, password managers, productivity and collaboration tools!
If you rely on one or more Chrome extensions to get work done, then you'll need them in Wavebox.  You can add any Chrome extension using a direct link in the app for the Chrome web store;  such as Dashline, Salesforce, 1Password X, Zoom, Todoist, Docsify, Clearbit, Streak, Boomerang, MixMax, HubSpot and everything else!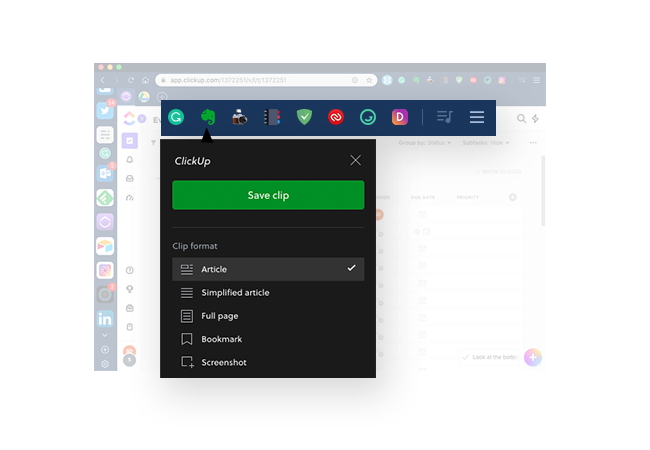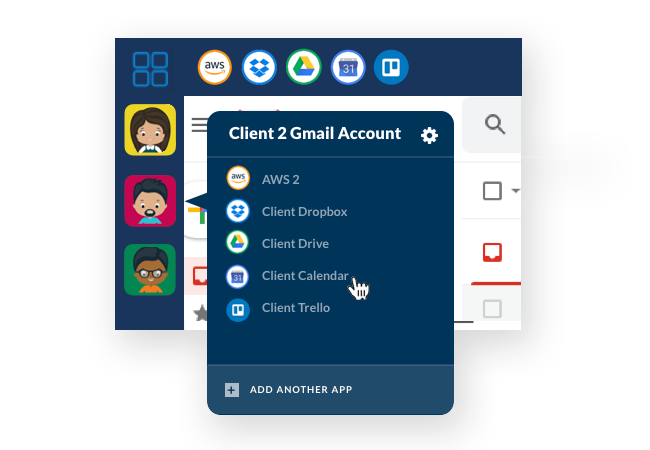 Work efficiently across multiple accounts e.g Gmail, Microsoft, Slack.
Connect all your GSuite and Office365 apps and services to gain maximum visibility throughout your day. Microsoft Teams, Hangouts, Google Drive, Gmail offline – everything just works. Wavebox uses profiles to provide a safe and structured environment for handling multiple accounts of the same type. It correctly sandboxes accounts to ensure there are no complications when working between them.
Know you're all caught up, in just one glance.
Just one glance at your dashboard ensures you're up to date across everything. Unread badges and desktop notifications keep you informed throughout the day. Watch how Wavebox becomes your central hub for everything web. Wavebox users spend all day in Wavebox, briskly working across apps, saving time and getting things done.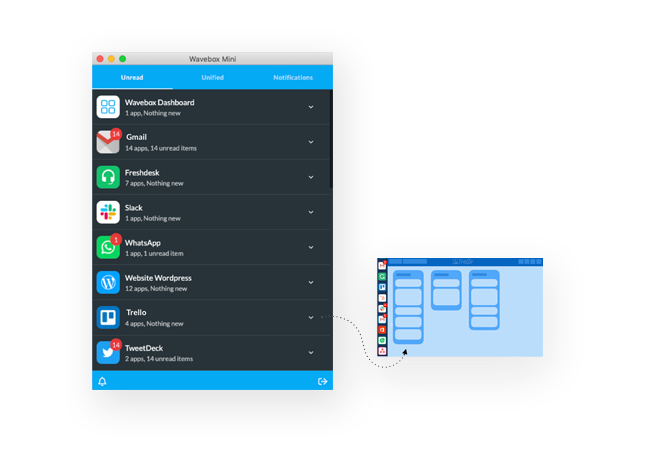 Try Wavebox Pro free for 7 days.
No credit card required. Monthly payment options available.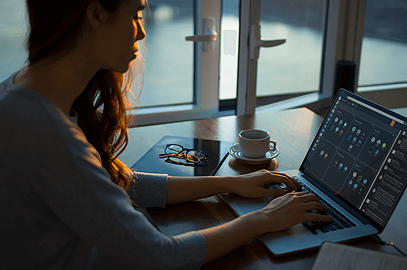 Here's a quick, step-by-step guide to setting up Wavebox on a new computer, and sharing your SaaS apps with a colleague.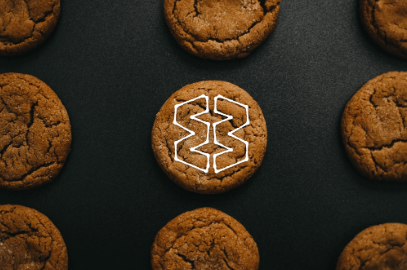 Wavebox makes working across different SaaS apps easy, but what's going on under the hood? Essential reading for Wavebox users.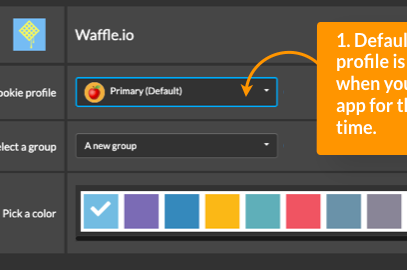 This week's release includes including drag and drop app organiser, keyboard shortcut improvements and more.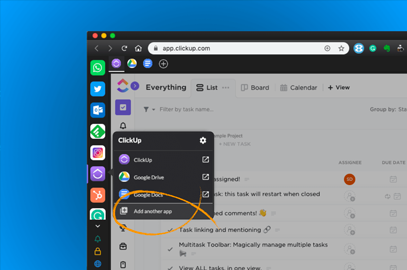 Here are 7 nonsense ways to quickly grab your favourite web tools and add them to your Wavebox workspace.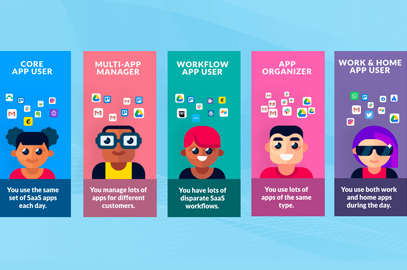 Wavebox users enjoy a better way of working across their daily SaaS tools. Find out which SaaS user are you and how Wavebox can help.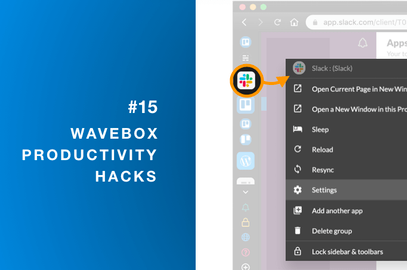 If you're just starting out with Wavebox, or just curious about how it works, here's a hit list of some great features to start using today!
This has changed my life. The new version with full chrome support is insane and I'm slowly turning my computer into a machine to just run Wavebox on.
Jack Skinner, on Trustpilot
Best SaaS Productivity App
Wavebox makes working with our various cloud services a breeze. It's far ahead of other apps in the space (and we've tried a bunch of them). Great customer service too!
Breeze Team, on Trustpilot
Love WaveBox! I had been a Franz user, also tried Rambox and Station. WB is far more polished and supported. Important enough to my daily workflow that I purchased a license.
Kenny Schiff, on Trustpilot
We've tried various other tools like Shift & Station, but now they feel clunky in comparison and I can't go back. Wavebox just takes everything to that next level of polish!
I use a lot of different web apps and managing them through Wavebox is so much easier and quicker than having a dozen-odd tabs open all the time.
Wavebox has done an amazing job of identifying all the inefficiencies of having to routinely access multiple web services for work, and solved every one of them.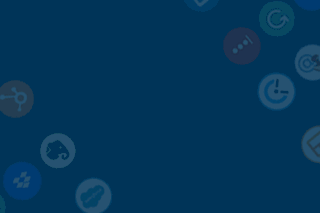 With a familiar look and feel, find out what's changed under the hood.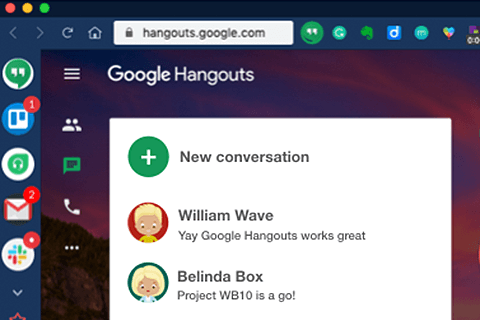 Learn more about our vision for Wavebox 10 and our move to Chromium.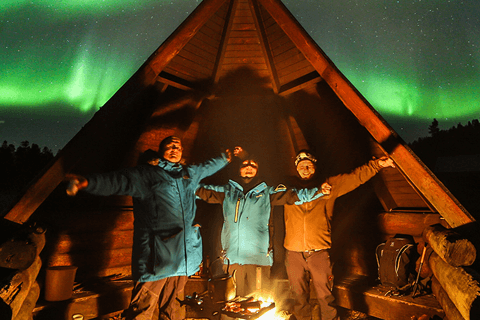 In a very special holiday village in Finland, an exciting change has happened.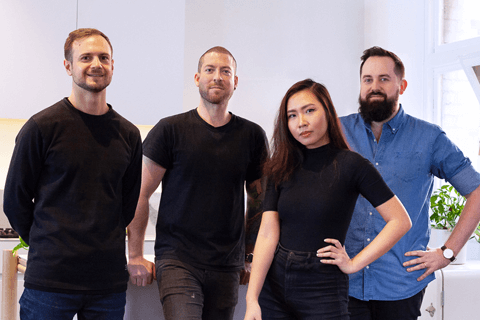 Design agency Niika have revolutionised how they handle project management.
I never knew that a simple app could make my days much more productive. Try it. I'm sure you'll love it!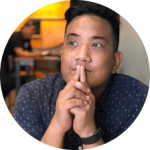 This @waveboxio app is #productivity mix on my #linux: #gsuite @SlackHQ @trello @evernote included 🙂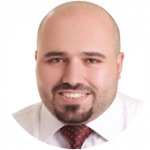 A do-everything app that can really cut down on browser tab clutter and help centralize app management.

4 Steps to Regaining Focus when Working Online.
Follow our simple step-by-step guide to enjoy better productivity at work with Wavebox.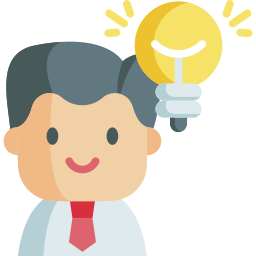 4 steps to regaining focus at work.
Follow our simple step-by-step guide to enjoy better productivity at work with Wavebox.

Having the right tools to hand will ensure you optimise your time and do your best work.
Download & install Wavebox on your Windows, macOS or Linux computer. Create an account so you can use Wavebox on all your computers – one subscription covers all. 

 Avoid social media sites, or hide them away! Having all your work stuff in one place will help you retain your focus during the day.
With Wavebox you can connect all the web apps, tools and pages you use every day – you can add anything that has a URL.
3. Get everything organised.
Having all your web tools organised will help you keep a clear head so you can focus on what's important.
Use the sidebar, toolbar and dashboard to organise your apps. Then within each app use 'pins' to bookmark frequently used pages.

Make sure you have the time  and the means during your day to concentrate on a task.
Make sure you use the 'mute' button to silence notifications when you need time to focus.
Build better workflows and achieve your goals.
All Wavebox downloads start with a fully featured free trial of Pro for 7 days – no credit card required. 
After that, you can continue to use Wavebox Basic for free or subscribe to Pro on a plan that suits your budget.