The 11 Best Task Management Software in 2023 (Free And Paid Tools)
re you looking for the best task management software to help you stay productive and organized? With so many options to choose from, it can be hard to decide which one is the best for you and your team.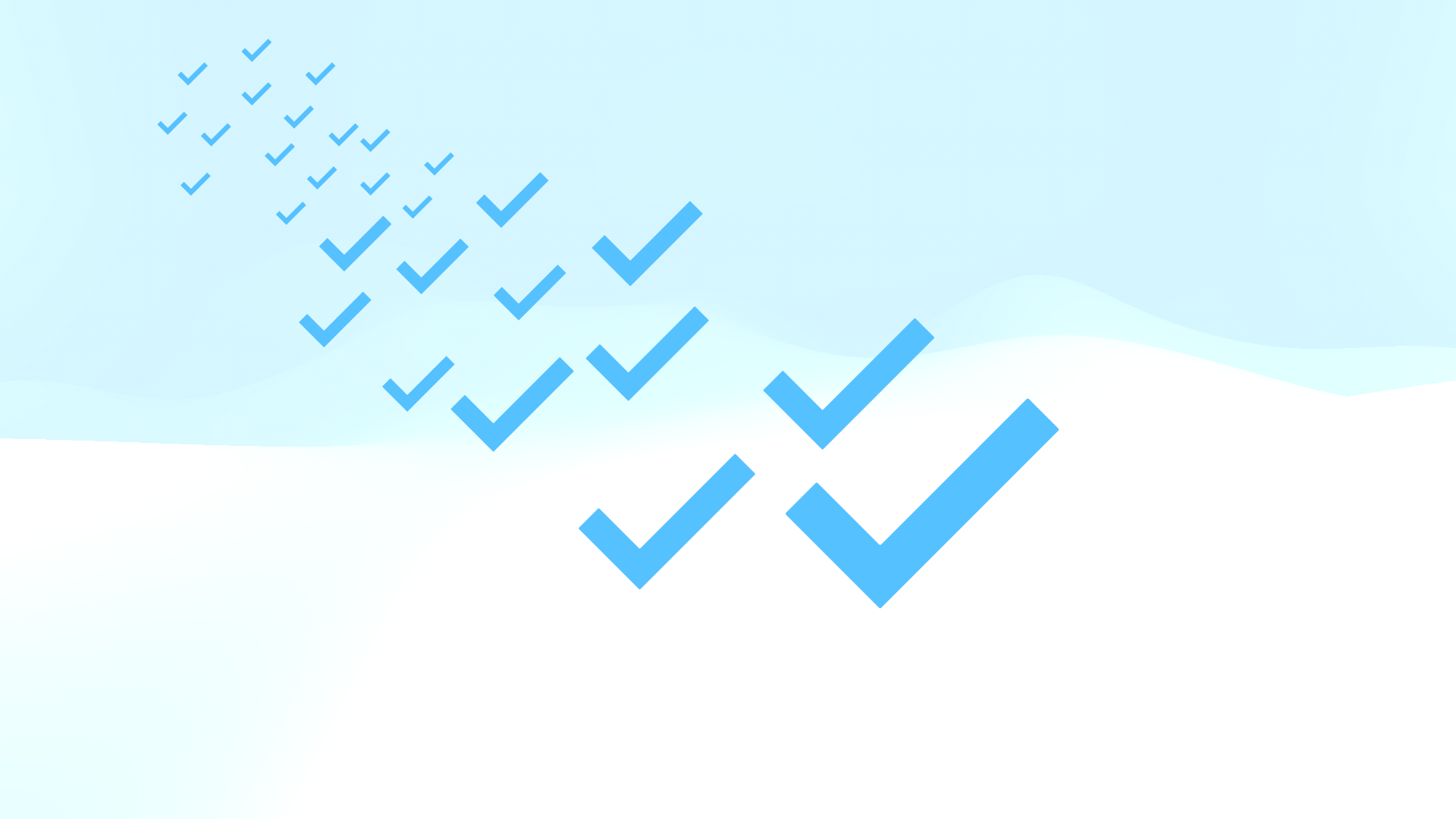 Are you looking for the best task management software to help you stay productive and organized? With so many options to choose from, it can be hard to decide which one is the best for you and your team. In this blog post, we'll take a look at the 11 best task management software available in 2023. From free tools to premium services, we'll review each one and provide our recommendations to help you make the right decision. Read on to find the perfect task management software to help you get and stay organized.
Each of the apps listed works great in the browser, but work even better in Wavebox. Wavebox gives all your task management and web tools a home and allows you to sign in to multiple accounts and switch between them with a single click!
What Is the Best Task Management Software?
Here are the 11 best task management tools for organizing your tasks and team tasks efficiently:
ClickUp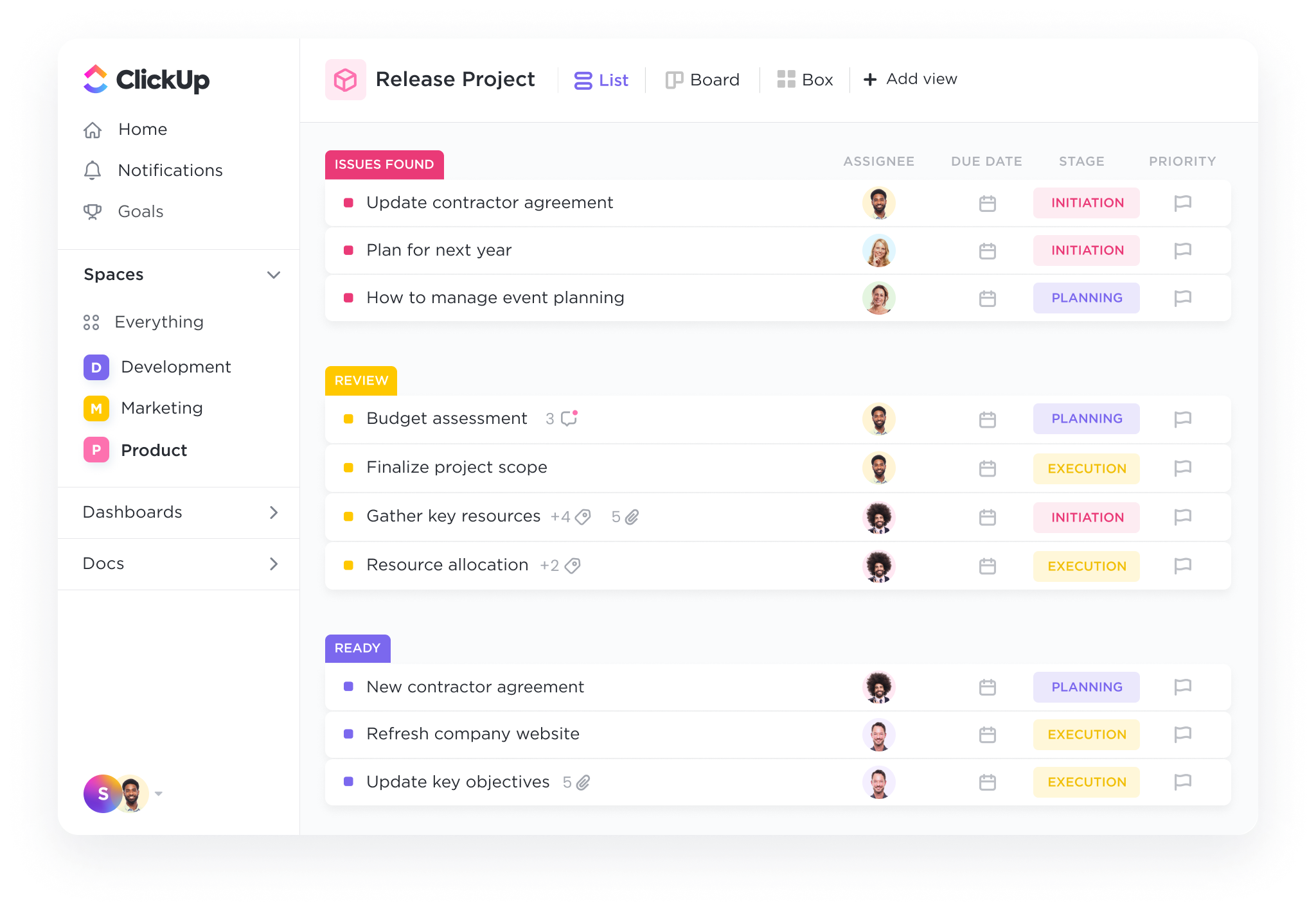 ClickUp is an easy-to-use, cloud-based task management app that can help teams stay organized and productive. It offers an intuitive user interface and a wide range of features that make managing tasks easy. It allows users to create to-do lists, assign tasks to team members, set deadlines and track progress. It also has powerful collaboration features such as shared workspaces and real-time chat.
One of the key features of ClickUp is its flexibility. It can be customized to fit the needs of any business and is compatible with popular applications like Slack and Dropbox. It also includes powerful reporting and analytics tools that help teams to stay on top of their tasks.
Overall, ClickUp is a great task management app that can help businesses of any size to stay organized and productive. It is easy to use, customizable and has powerful collaboration and reporting features. With ClickUp, teams can easily manage tasks, assign tasks to team members, and track progress.
We love ClickUp because: it helps our team to stay organized across multiple projects. Adding ClickUp to Wavebox gives it a permanent home on our desktop, allows us to manage multiple accounts and stay on top of notifications
Todoist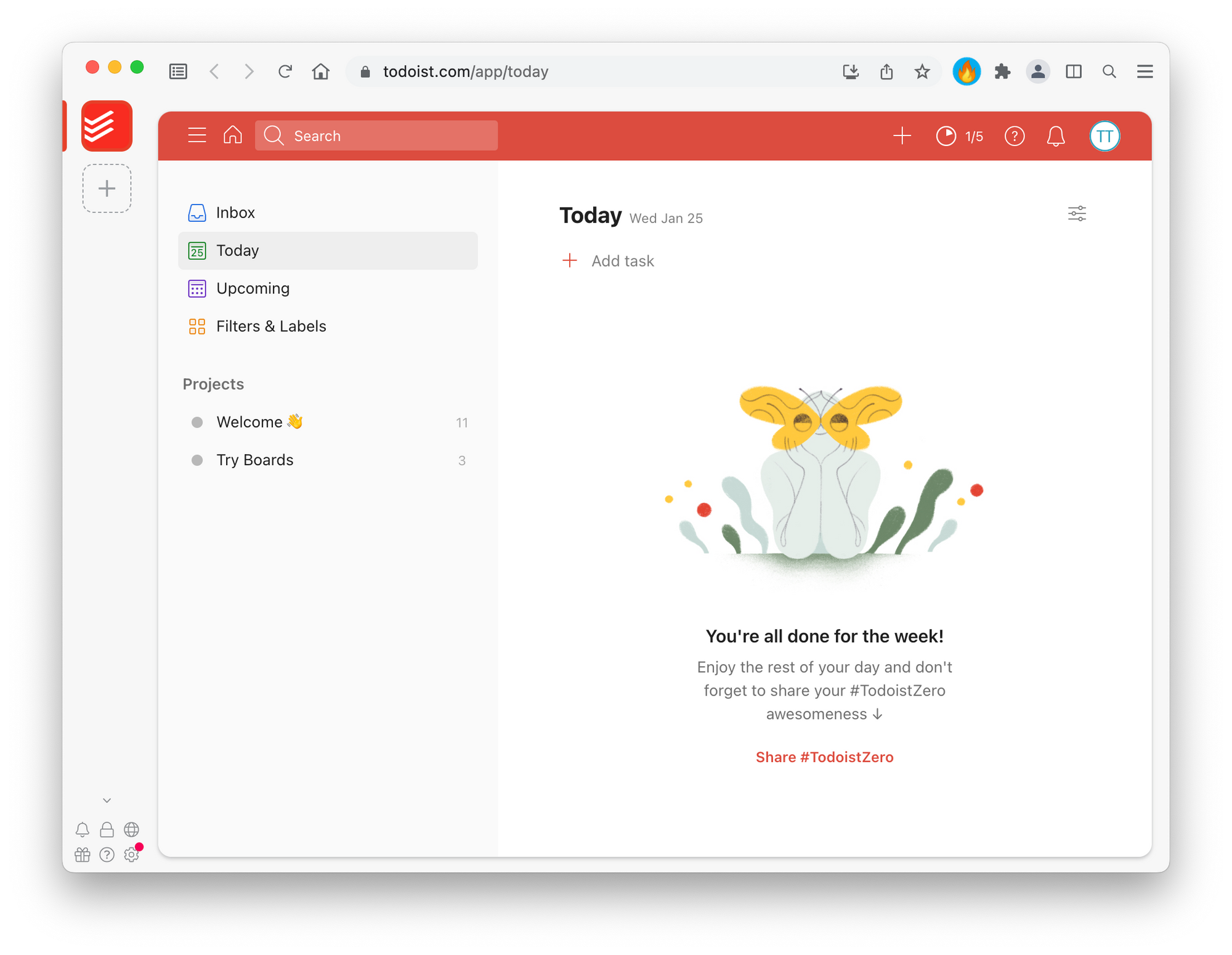 Todoist makes it really easy to get started, as nothing more than a simple to-do list, but once you scratch under the surface you find its really intuitive user interface is powerful.
Tasks can be organized into projects and then with colour-coded labels. Each task can have a different due date and even be recurring. If bringing your team to Todoist, tasks can be assigned to different members to spread the work across the team.
We love Todoist because: you can schedule daily email digests to keep on top of your tasks. You can add the Todoist app to Wavebox, add the Gmail extension if lots of your tasks originate from Gmail and even add Todoist as a Wavebox workspace widget.
Any.do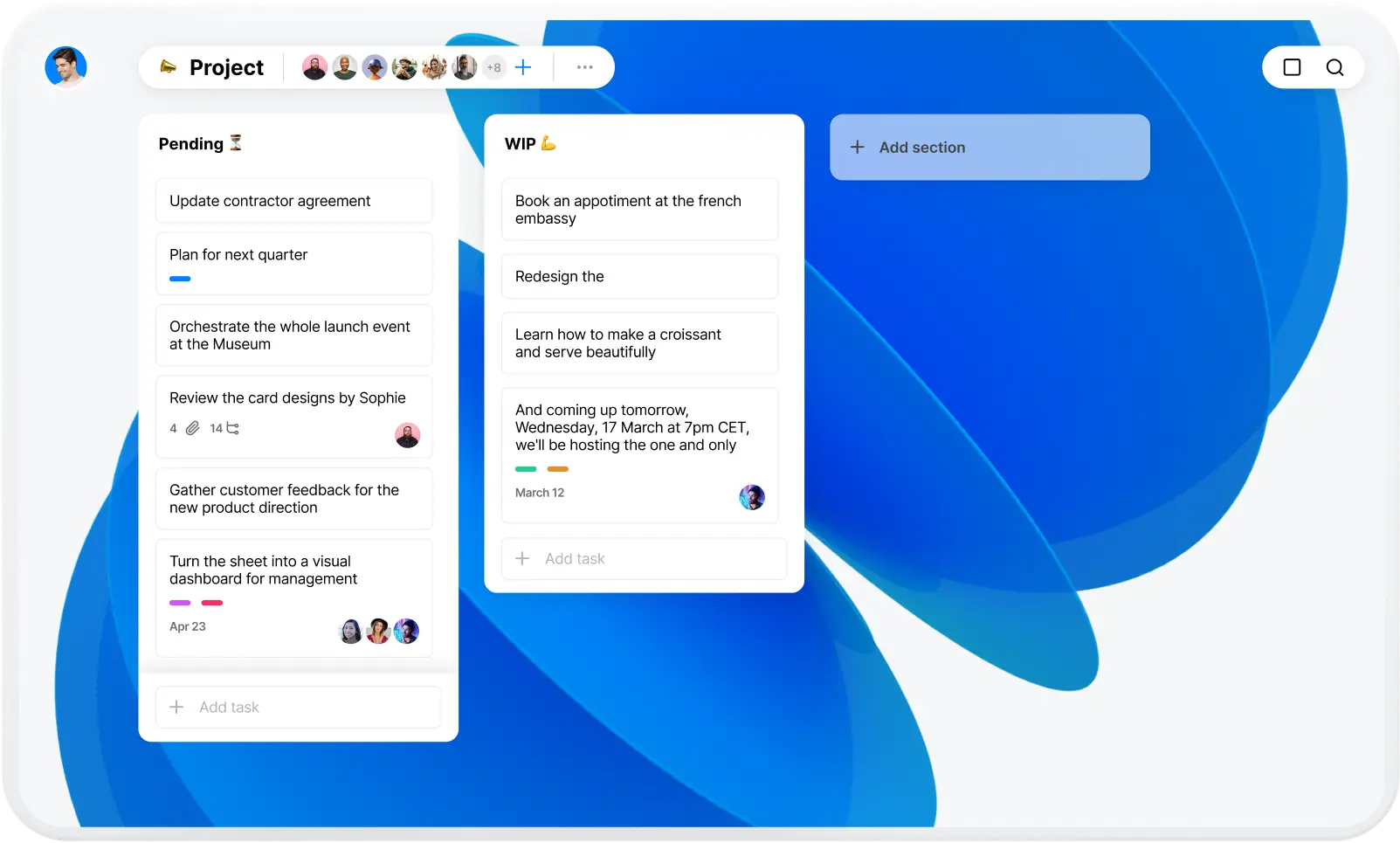 Any.do is a task management app that helps users organize their daily tasks in an efficient and organized manner. It helps users establish and maintain control over their daily activities, making sure that all tasks are completed on time. Any.do can be used for personal, family, or business tasks.
Any.do's key features include a user-friendly interface, customizable reminders and notifications, task sharing with family and colleagues, and synchronization with multiple devices. The app also allows users to add notes, attachments, and due dates to tasks. Any.do also allows users to set up recurring tasks, and they can also prioritize tasks by setting up a "To Do" list. The app also integrates with popular calendars, such as Google Calendar, Outlook, and Apple Calendar. Any.do also offers seamless integration with other popular productivity apps, such as Evernote, Dropbox, and Slack. All of these features make Any.do an excellent choice for anyone looking for a comprehensive task management app.
We love Any.do because: it offers a really strong free tier for personal use, which really shines. The Any.do browser extension is a great addition to any browser that lets you get back into your task list at any time!
Trello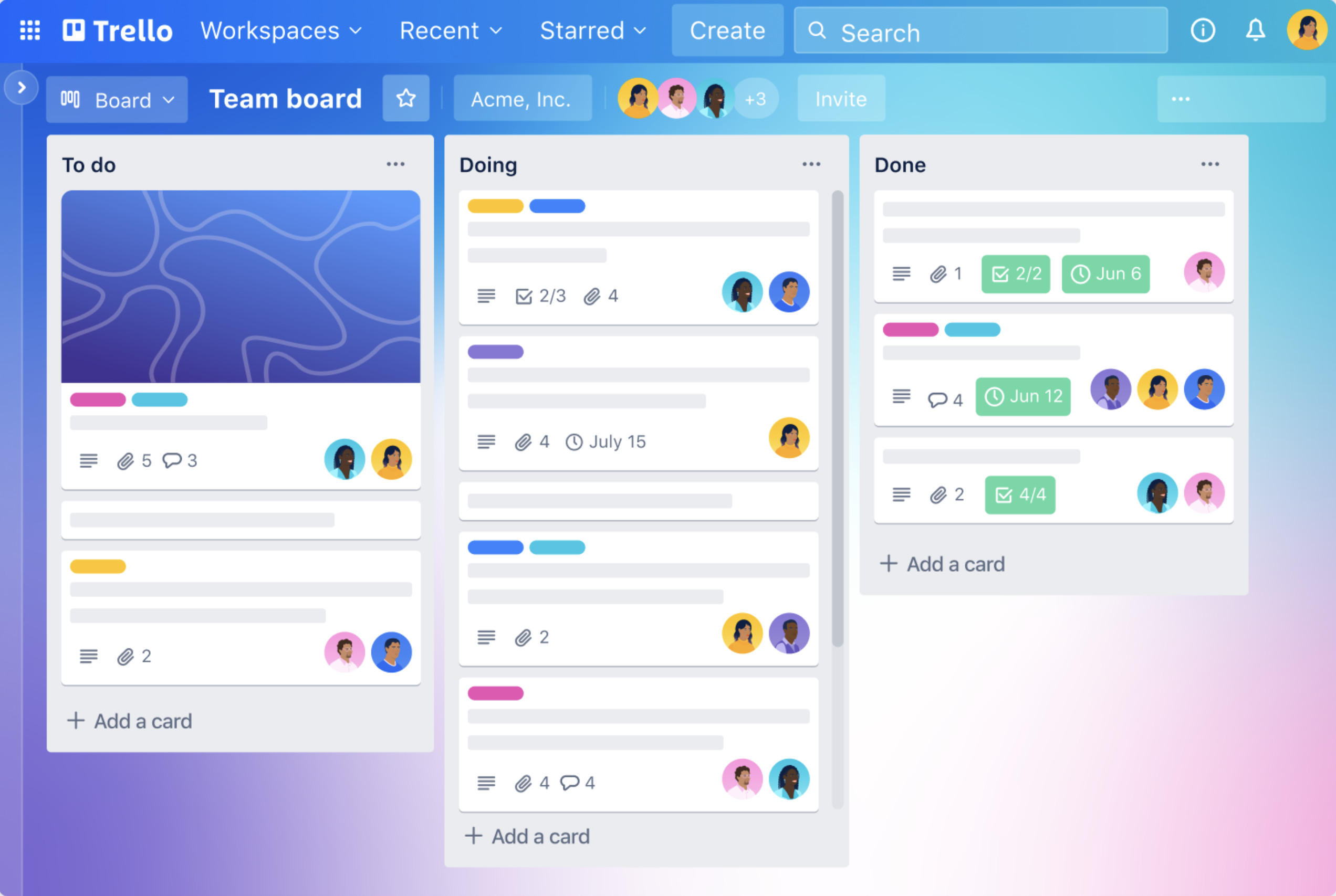 Trello is one of the most popular task management apps on the market and focuses on the kanban board layout allowing you to visually organize your projects and tasks. With Trello, you can easily create and manage tasks, assign deadlines and priorities, and collaborate with other users.
Trello's drag-and-drop boards allow you to quickly and easily move tasks from one board to another, giving you the flexibility you need to organize your workflows. You can also add comments, attachments, and due dates to tasks, which makes it easy to keep track of progress. Additionally, Trello allows you to integrate with other apps, such as Slack and Google Drive, making it easier to collaborate with other users.
We love Trello because: it makes visually organizing your projects easy. You can add multiple Trello accounts to Wavebox and quickly switch between them, each one maintaining an unread badge so you never miss out on those all-important tasks!
Things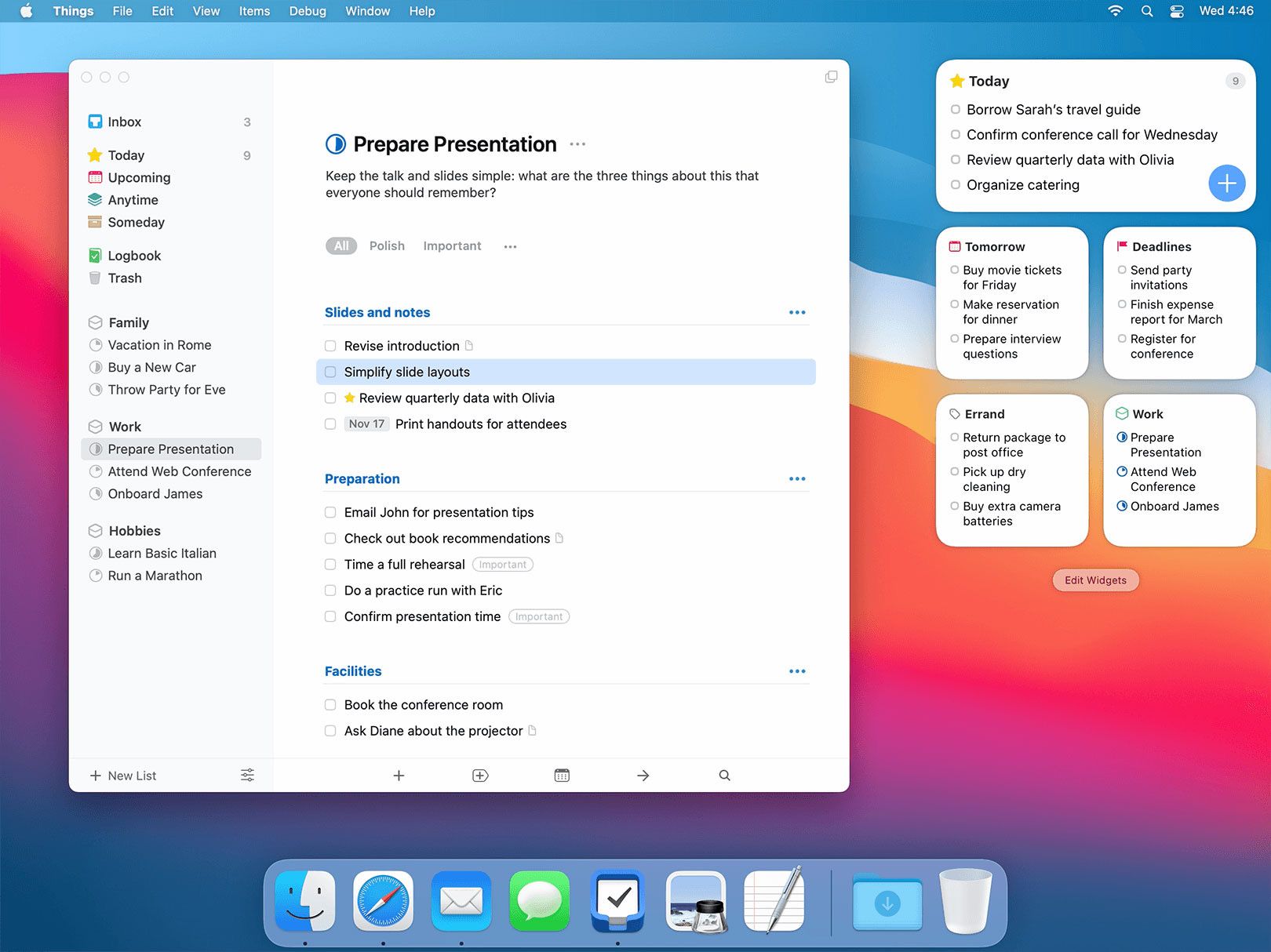 Things is one of the few task management apps that shuns the move to the web and instead focuses on its macOS and iOS apps... but it does them really well! Its design is simple and easy to use, whilst being powerful enough for even the most organized power user.
Things allows you to organize your tasks into Projects and Areas. Projects are used to group related tasks together, while Areas are used to organize tasks related to a specific area of life, such as work or home. Each task can be set as a reminder that can repeat at specific dates or be repeated.
We love Things because: if you're a busy person that needs to organize all your things (excuse the pun) from different parts of your life it makes it beautifully simple and powerful.
Asana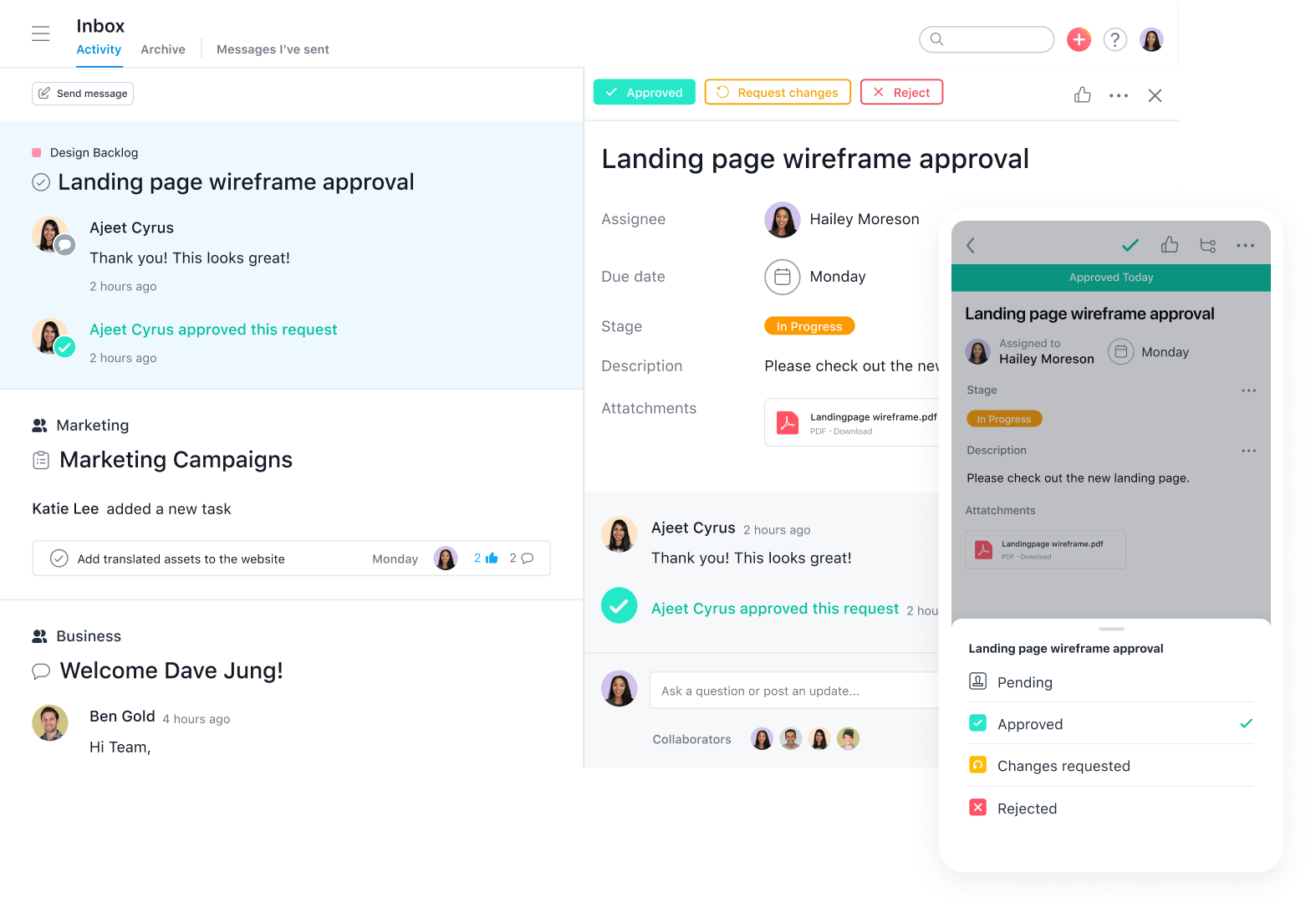 Asana is a work management platform that enables teams to manage tasks, projects, conversations, and objectives in one place. It is designed to help teams organize, track, and manage their work so they can be more efficient and productive. Asana's features include project timelines, task tracking, conversations, integrations, and reporting. With Asana, teams can easily collaborate, plan, and stay on top of their work.
We love Asana because: it focuses solely on team organization. This along with the hundreds of integrations makes it perfect for busy teams that just need to get stuff done. We found that using Asana in Wavebox really gave our team a power-up as we could login to multiple Asana accounts at the same time.
Monday.com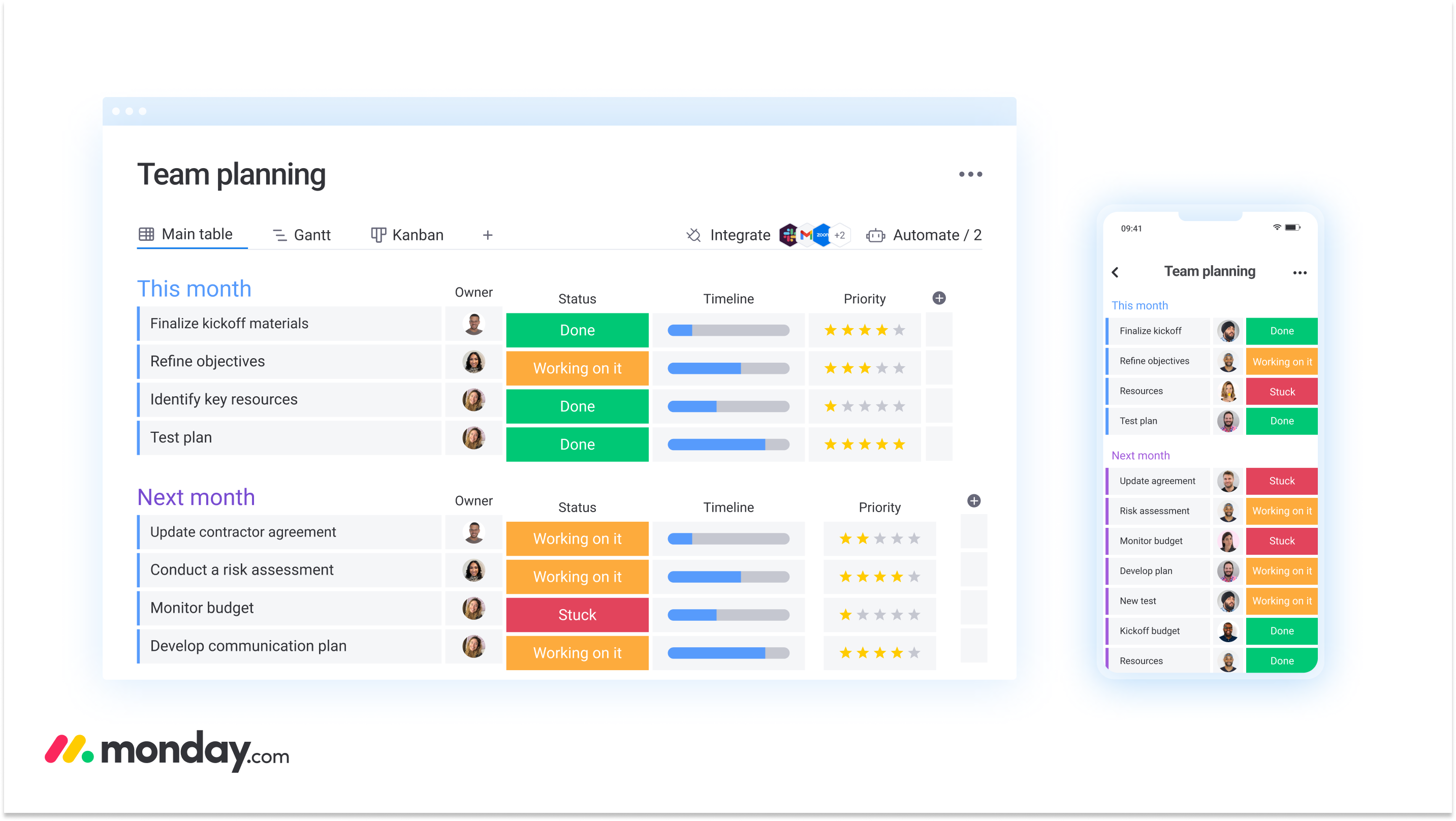 monday.com won't leave you disappointed like Mondays often do, instead, it is a work operating system (Work OS) where organizations of any size can create the tools and processes they need to manage every aspect of their work. By combining building blocks, like apps, automations and integrations, teams can build or customize the workflows of their dreams.
The project management and collaboration tools helps teams to plan, organize, and track their work. It provides an easy-to-use visual interface that enables teams to track progress and stay on top of their tasks. With features such as real-time updates, customizable boards, automated reminders, and more, Monday.com helps teams stay organized and get things done.
We love Monday.com because: This vast platform works for all kinds of teams, of different sizes. Whether you're starting out, running a huge sales team or have developers using it to track issues, there are more than enough tools to fit whatever needs you have.  
Clockify
Clockify focuses on time tracking and time management and helps you to track and manage your time more efficiently. It allows you to easily track your time and activities, generate reports and invoices, and collaborate with your team.
Beyond using it for time tracking, you can also use it to manage your tasks, to-dos, and projects making it a really powerful tool for those that work on different projects needing to organize their time and tasks.
We love Clockify because: if we ever need to work with multiple clients, it helps us to track the time we spend with them and silo our tasks and projects to those clients accordingly. Freelancers, this one's for you!
Chanty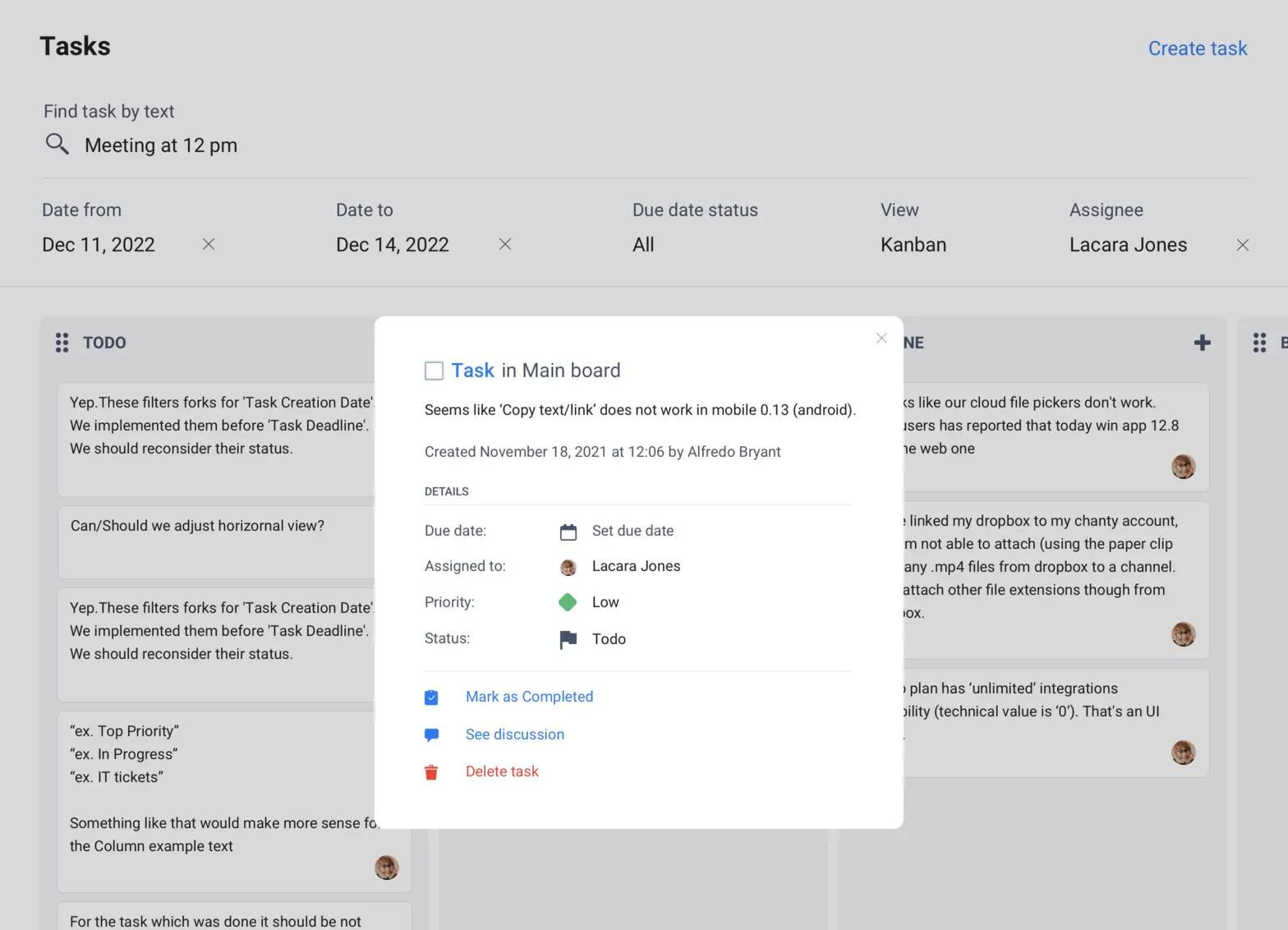 Chanty is a team communication and organisation platform that helps your team to collaborate efficiently and effectively. It provides tools to help teams stay in sync and improve their communication. With features like real-time chat, task management, video conferencing, and screen sharing, Chanty offers an easy-to-use platform where teams can stay connected and productive.
We love Chanty because: for those remote teams where you need to stay in constant communication and focus around projects and tasks it really helps you do this in a way using separate communication and task management platforms can't.
Google Keep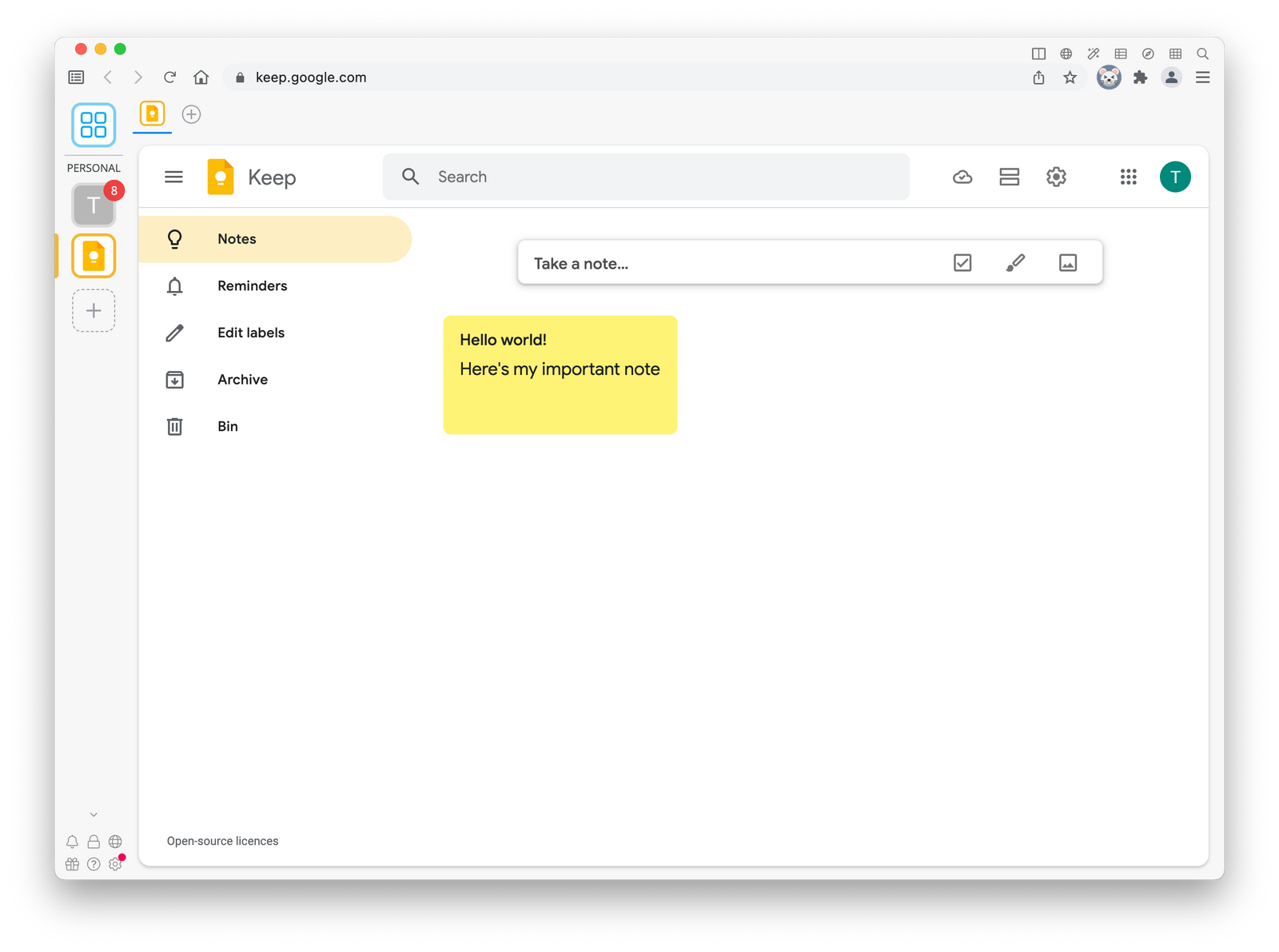 Google Keep is a note-taking and task-management app that can help you stay organized and productive. It allows you to create notes, lists, and reminders to help you keep track of tasks and to-dos. If you're working on your own, or in a small team, Google Keep is a great free solution that helps you focus on small to medium projects.
You can add labels, colours, and images to your notes to make them easier to find and organize. You can also share notes and lists with others, and collaborate on tasks. With Google Keep, you can quickly jot down ideas, create to-do lists, and more—all from one central place.
We love Google Keep because: it's simple and it just works. It's great for creating a few todo-lists and also for sharing tasks and notes between a small team. We use Google Keep in Wavebox because it gives us a desktop app that provides fast access to what we need to get done and let's us sign into multiple accounts.
---
Task management is the process of managing tasks and resources within an organization, and typically involves the organization of tasks and projects into a timeline, assigning tasks to appropriate staff, and tracking progress. It is a critical tool for keeping projects on track, meeting deadlines, and ensuring that the highest quality of work is achieved. Additionally, it is important to delegate tasks appropriately and ensure deadlines are met. Communication is also key, as it allows for keeping everyone informed and on the same page. This is why picking a task management solution that works for you and your team really is key.
Use Wavebox to consolidate your task management & communication tools
Wavebox is a desktop app that lets you manage all your task management & communication tools in one place. You can add multiple accounts and separate them into different clients or areas of your life so nothing ever gets mixed up.
Wavebox is a great solution for anyone who wants to stay on top of their projects and get things done!