How to log in to two WhatsApp accounts at once
Find out the best way to log in to more than one WhatsApp account without the need to logout and log back in again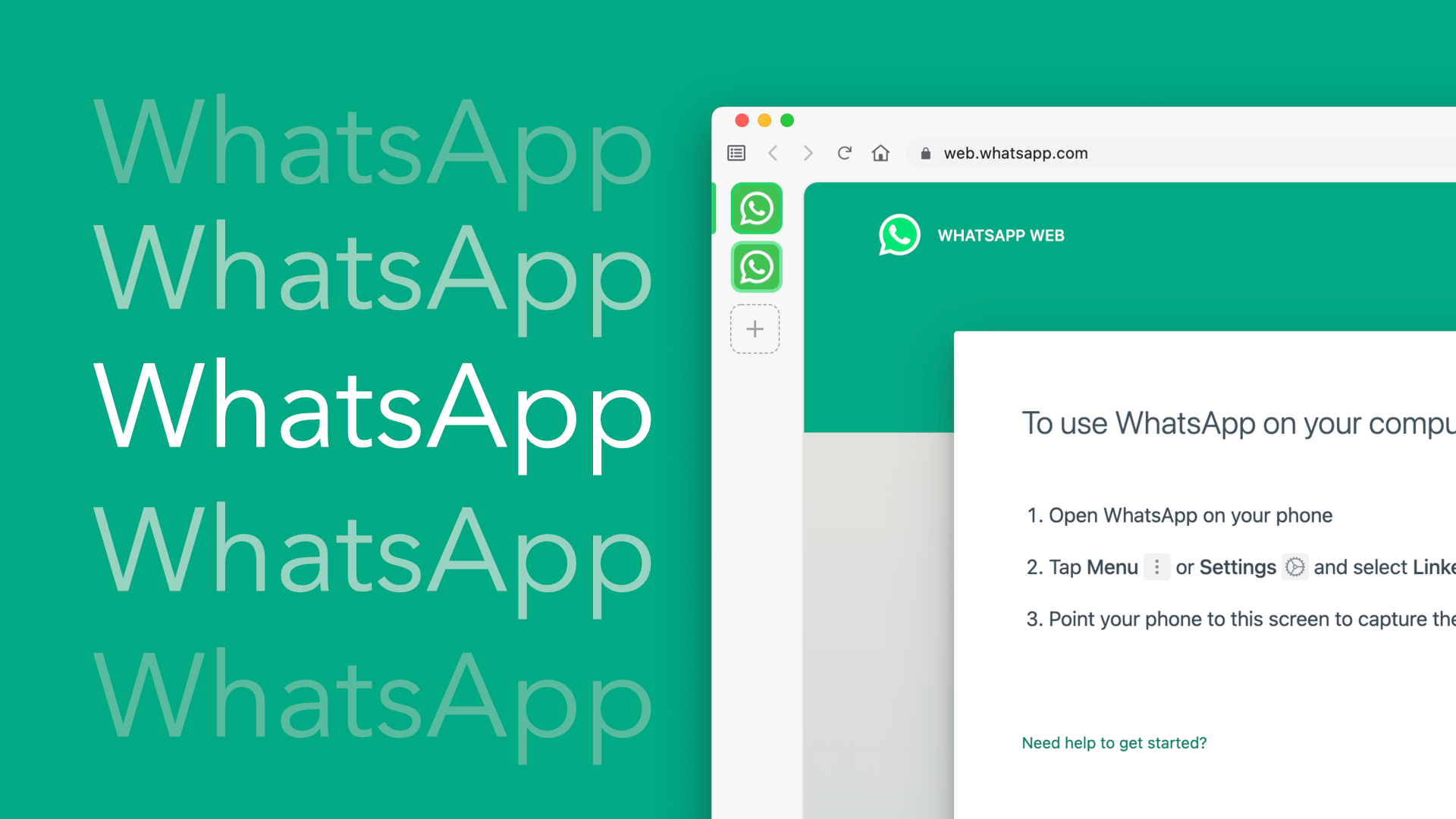 WhatsApp is one of the most popular messaging apps in the world. It's simple to use and has become a go-to app for many people. But there are some limitations to the app. One of them being that you can only log into one account at a time. This can be frustrating if you have two phone numbers or if you want to use WhatsApp for business and personal purposes.
There are ways to get around this, but they're not perfect. You can use WhatsApp Web, which is the web version of WhatsApp. This allows you to use WhatsApp on your computer or laptop. But this still only allows you to login to one account.
If you're managing multiple WhatsApp accounts on your computer, there are a couple of options available, one of them is to use multiple browsers, a different one for each account you're managing, but the best way to use multiple WhatsApp accounts is to use an app like Wavebox.
How to access multiple WhatsApp accounts?

To login to multiple WhatsApp accounts using different browsers, you will need to use a different browser for each account. For example, if you have two WhatsApp accounts, you will need to use two different browsers to login to each account.
To login to your first WhatsApp account, open your preferred browser and go to the WhatsApp web page and scan the QR code from your mobile device. You now need to repeat this step in your second browser to login to your second account.
This isn't an ideal solution, you need to keep two browsers open and switching between them can be really messy. That's why using a dedicated app that supports logging into multiple WhatsApp accounts really helps with your productivity.
The best way to use multiple WhatsApp accounts at once
Wavebox is a desktop app that allows users to manage multiple WhatsApp accounts at once. Each WhatsApp account has its own icon in the sidebar, shows an unread badge when there's new activity and shows popup notifications to keep you up to date. To add WhatsApp to Wavebox...
Click the add button in the sidebar
Pick "Start with an app" and search the store for WhatsApp
Follow the onscreen wizard and when complete scan your WhatsApp QR code using the app
That's it, your first WhatsApp account has been added. To add more, simply repeat steps 1-3 to add a second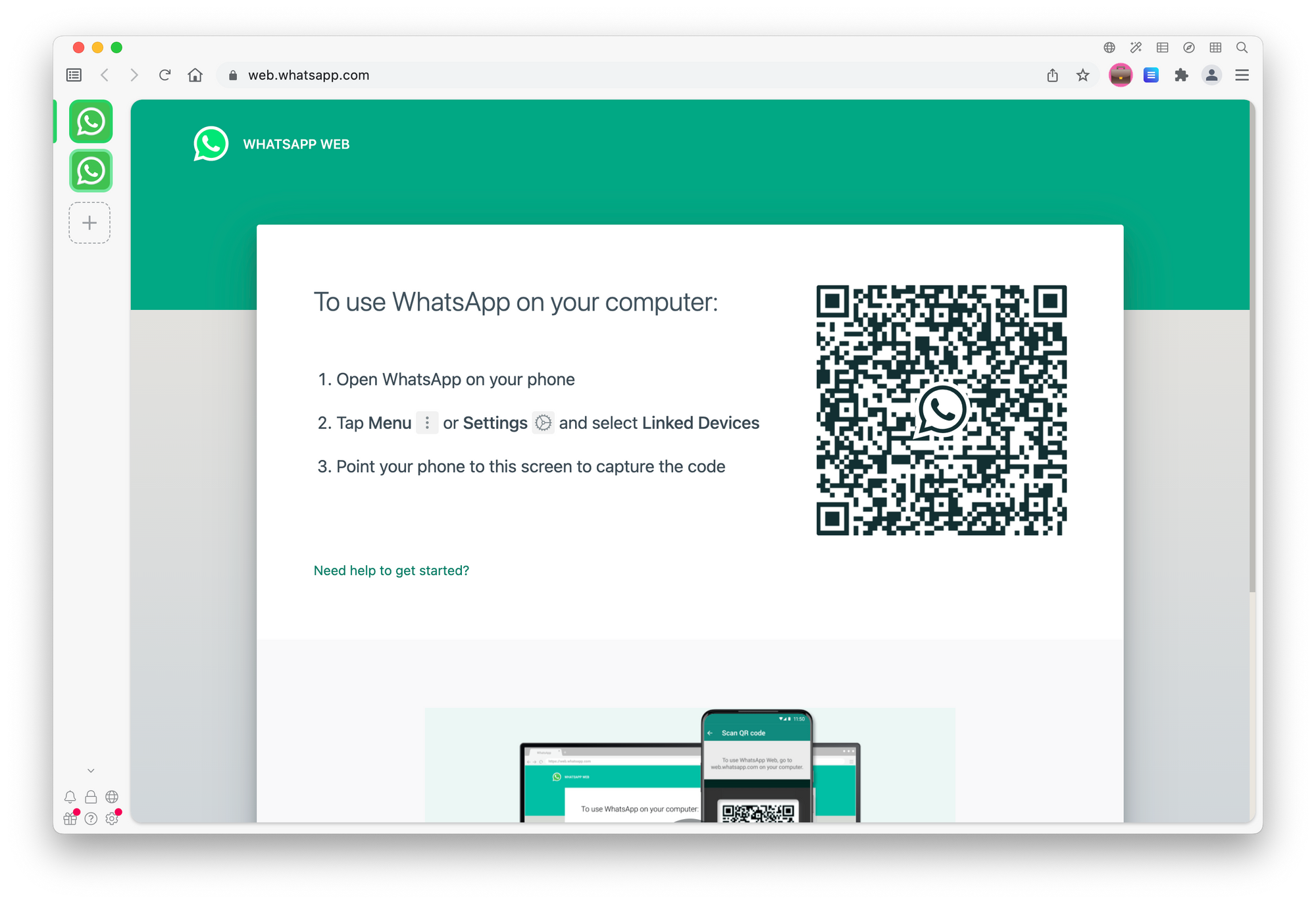 How to switch between WhatsApp accounts?
Switching between WhatsApp accounts in Wavebox is easy, it's as simple as just clicking on the icon in the sidebar. To really power up your WhatsApp switching, you can change the icon to something a little bit more recognisable to easily switch into your account, you can customize this by right-clicking on the app in the sidebar - we normally recommend something like your company logo if it's a company email address, or a cartoon avatar if you want to keep it more casual.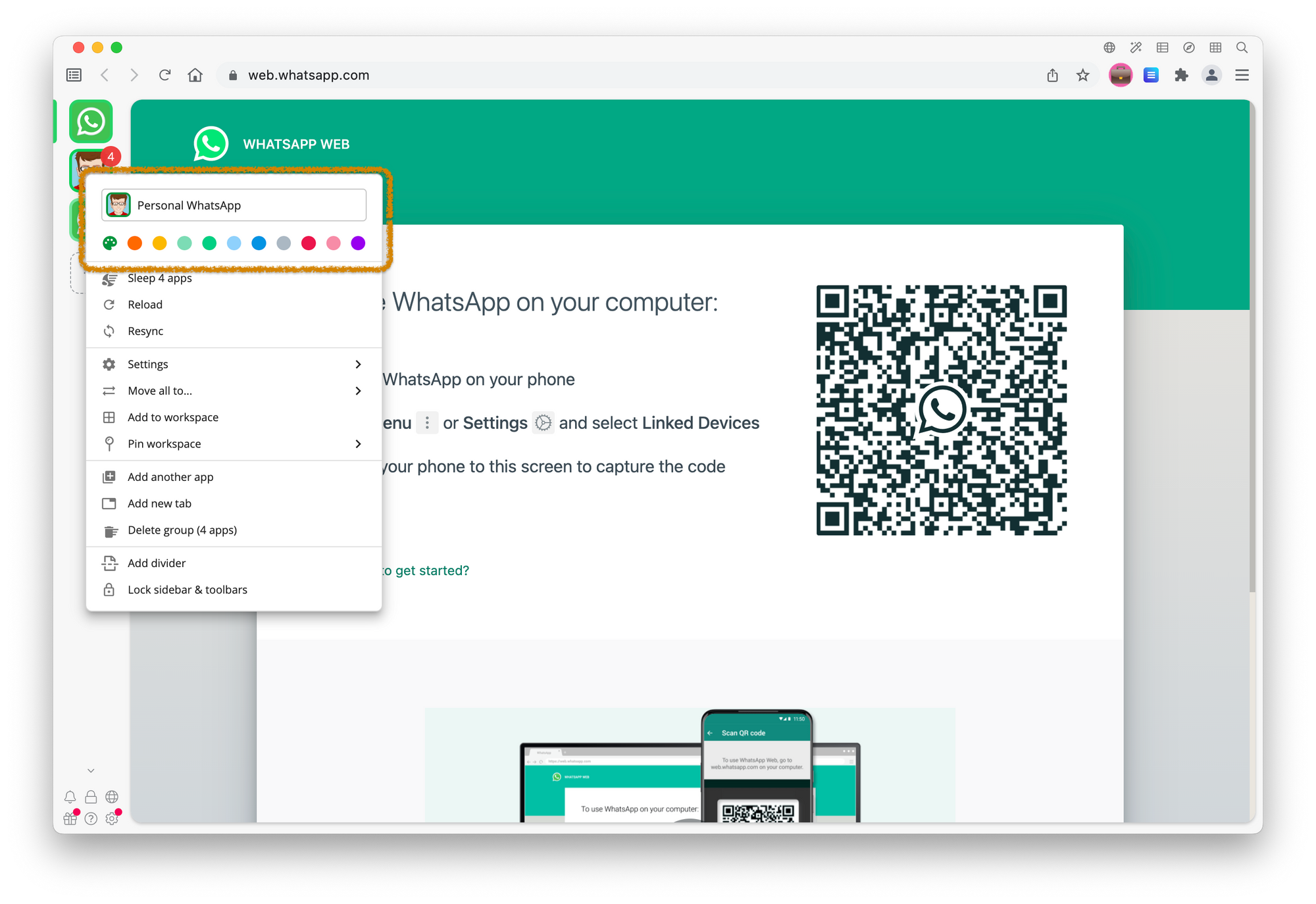 Use Wavebox to power up your WhatsApp
With Wavebox you can add as many WhatsApp accounts as you need. Better than that, if you need Facebook Messenger, Discord or any other communication tool, just search the Wavebox app directory.