12 Days of New Features & Settings!
It's been a busy couple of months and in case you missed them, here's a special holiday roundup of 12 productivity-boosting features and settings we've added to Wavebox recently. Most have come from user feature requests, so if you have a suggestion please get in touch via support@wavebox.io or click on 'Feature Request' in the app. We love making Waveboxers smile, smiling's our favorite! 🎅
1. Integrated support for ClickUp, Freshdesk, and Asana.
🔔 We're excited to share the news that we're currently working on more app integrations, and up first are ClickUp, Freshdesk and Asana. Integration includes better support for unread badges and notifications, with Freshdesk and ClickUp showing notifications even when the app is sleeping.  To take advantage of these new features, just re-add them from the App Directory.
2. Change display mode for app icons in the toolbar.
🤔 Hmmmm round or square icons....decisions, decisions.  You can now choose to display your app icons in the top toolbar as rounded squares as well as ovals. Go to: Settings > General (tab) > User Interface > Apps > App Display Mode to make your choice.
3. Experimental dark mode for Settings.
😎 Are your Settings too bright for these dark winter months? Then try dark mode for Settings even when you're using a light theme on your OS and/or Chrome theme. Go to: Settings > General > Advanced > Advanced Flags > Enforce dark mode for Settings UI.
4. Tried Split-screen yet?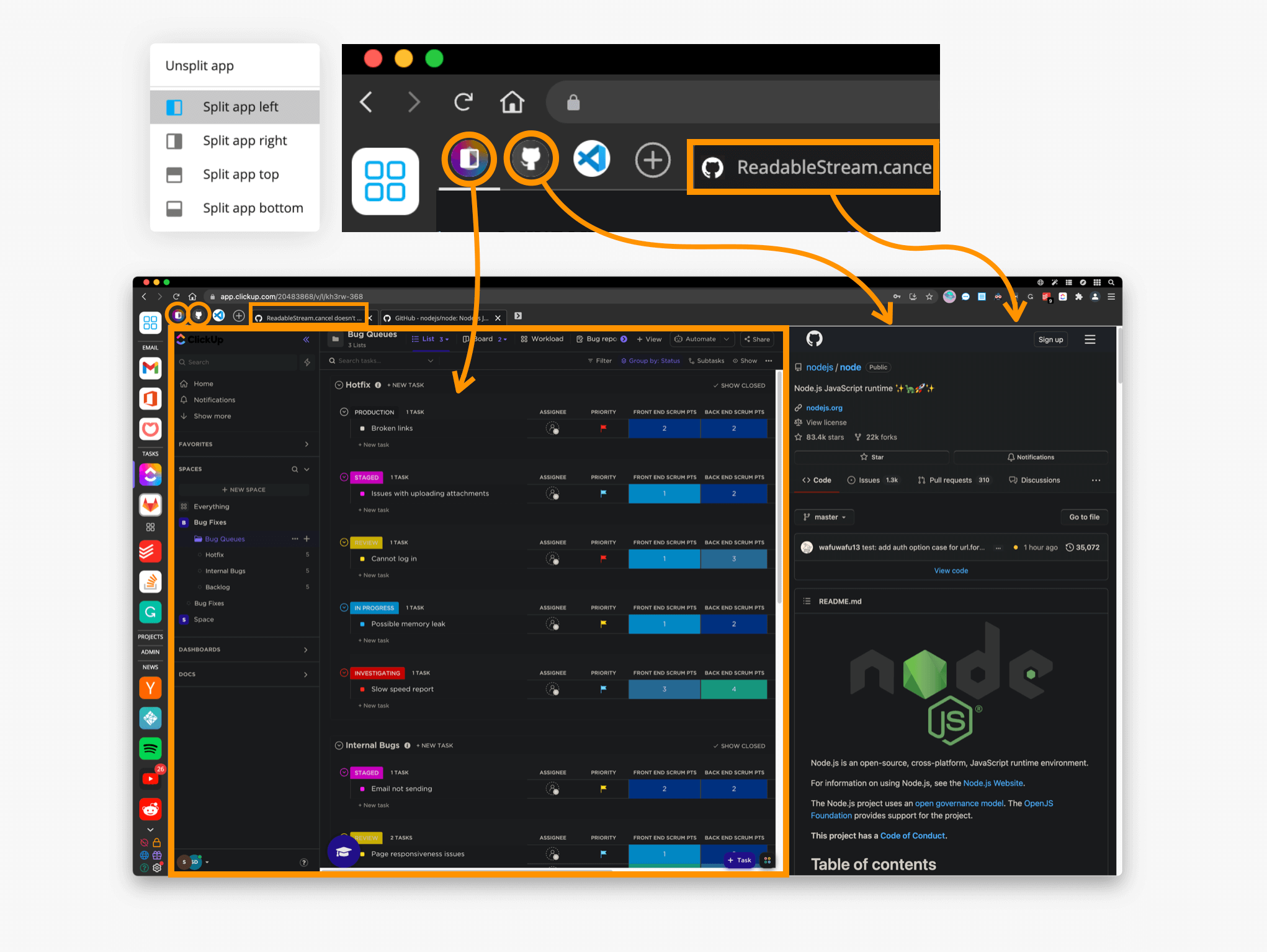 Hot off the press is split-screen for apps in groups, which has just been released. First, navigate to any group, then right-click on an app icon, and select 'Split app' in the menu to reveal 4 options: left/right/top/bottom. That app will be your primary view, and you can now work across other apps (or any other websites) in the secondary view. Give it a try - you'll wonder how you ever survived without it! Learn more in this blog post.
5. New keyboard shortcuts for frequently used modals.
⌨️ We know how much you love keyboard shortcuts, and there are some new customization options in Settings to improve navigation, save time and increase productivity. Go to: Settings > General > Keyboard Shortcuts followed by:
Open a modal: Settings > General > Keyboard Shortcuts >Wavebox Features > Focus Mode, Smart Notes, etc
Quickly sleep an app or tab: Settings > General > Keyboard ShortcutsSleeping Tabs & Apps
Toggle between apps: Settings > General > Keyboard Shortcuts > Application > Switching between Tabs, Groups, and Apps.
Close the app: Settings > General > Keyboard Shortcuts > Application > Minimize app to tray.
6. Install any app as a Desktop Web App.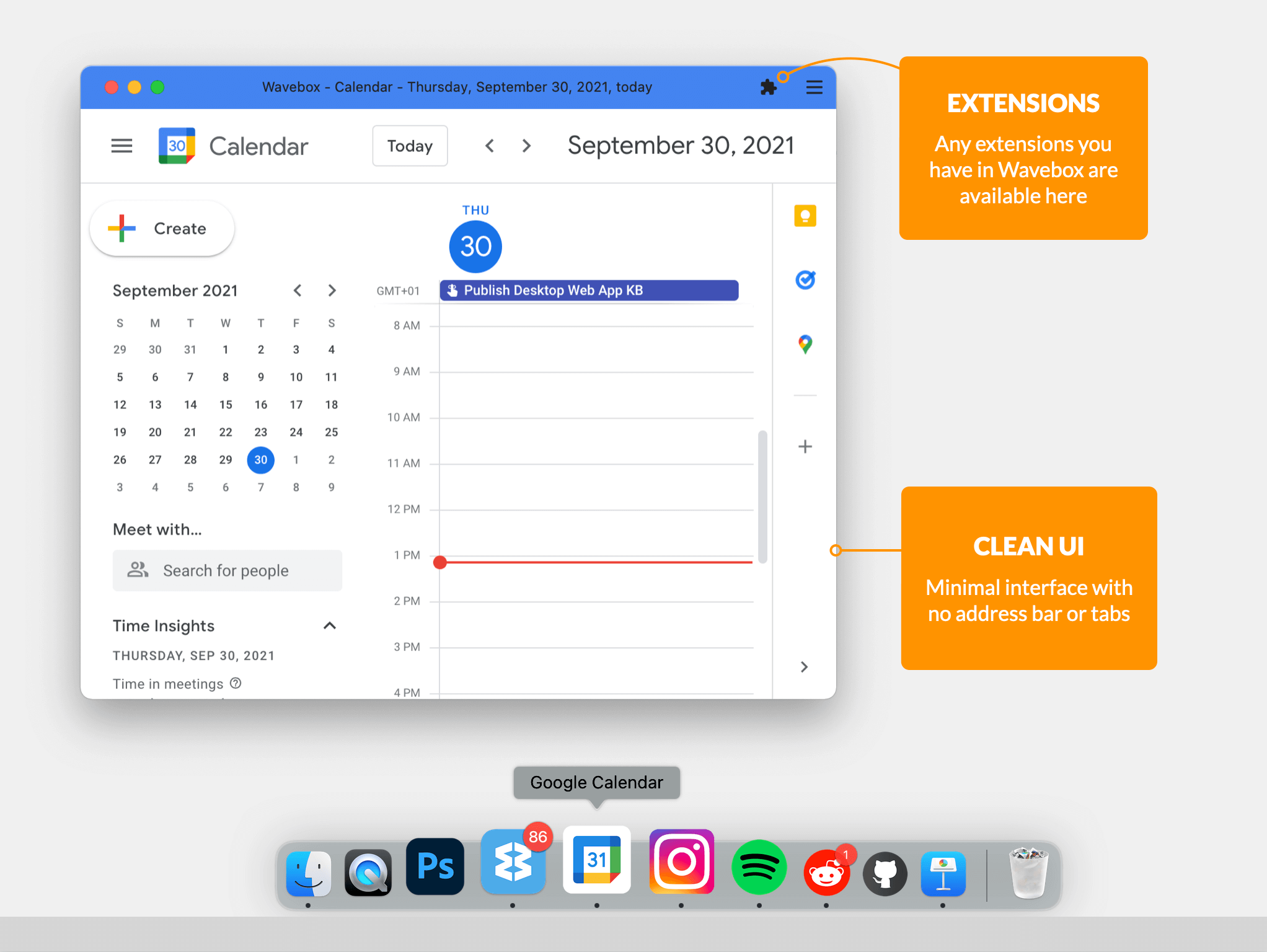 🖥️ If you've always wanted a desktop app for GitHub or Facebook, nows your chance! Just click on the new 'grid' icon in the top menu bar (right-hand side) to install any app on your desktop.  It will look and feel more like a native app, and will also appear in your OS taskbar and switcher. Learn more in this blog post.

7. Tweaks to the RSS, Sticky Note & Tasks widgets.
😍 Thanks for all your amazing feedback for our widgets, and following your suggestions we've started to make a few tweaks, with more on the way soon. Here's what you can try out today:
Make text larger/smaller in Sticky Notes.  Click on the Settings cog in the widget header, followed by the A (up arrow) and A (down arrow) icons.
Easily drag individual tasks between different Task Widgets.
Choose to hide/show feed previews in the RSS widget. Click on the Settings cog in the widget header, then check/uncheck the box next to 'Show previews'.
8. Customize the Notification & Unreads widgets.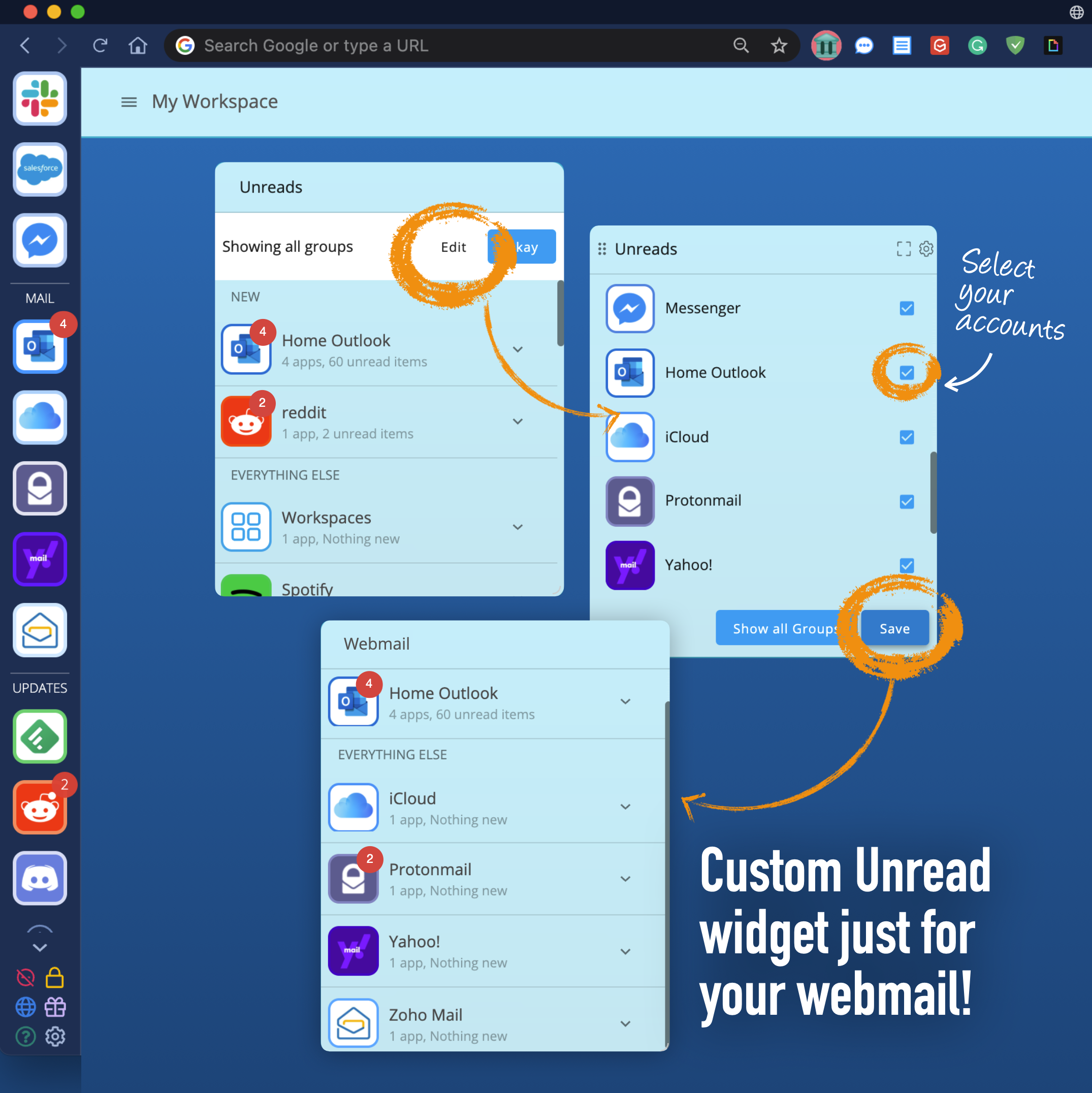 ✅ Hugely popular are the Wavebox Mini widgets, which enable you to keep track of everything that's new in Wavebox. You can now create multiple Notifications, Unreads and Unified Unreads widgets for different sets of apps, for example, all your chat apps, just your webmail accounts, or your private apps etc.  Here's how you do it:
Create a new Notification, Unified, or Unified Unread widget in any workspace
Next to 'Showing all groups', click on 'Edit'
Uncheck the apps you don't want in the widget, so you're left with a list of apps you want listed and click 'Save'
Repeat for other groups of apps e.g.  Chats, Webmail, Private, Project X, etc
If you use the Notifications widget as a to-do list, you can also clear them all by clicking on the paintbrush icon in the widget header.
9. Automatically wake up all apps in a group.
🌞 Sleep is an important feature in Wavebox and we're constantly improving how it works. For this use-case, users needed to instantly wake up all apps in a sleeping group, rather than waking them individually.  So we've added this in. Go to Settings > General > Advanced > Advanced Flags > Wake all apps when opening a group > Toggle ON.  It's currently under advanced because it has the potential to adversely affect WB performance if there are a lot of apps to wake up, but if that won't affect your workflow, then go for it!
10. Tab count badge on group and app icons.
🆗 We're also constantly iterating on how tabs are displayed and managed in Wavebox.  One popular request was for an open tab count badge for groups.  If you'd like to give it a try, go to: Settings > General > Tabs & Windows > Show Group & App Tab Counts.
11. Navigate back to the app's home page.
🏠 It's easy to get distracted when working online, so we've made it super simple for you to refocus, and navigate straight back to an app's homepage in just one click. Just hover over the app icon to bring up the tooltip menu, and double-click on the app title in any tooltip menu (hover menu) to get back to work!
12. Make Wavebox your default browser and mail handler.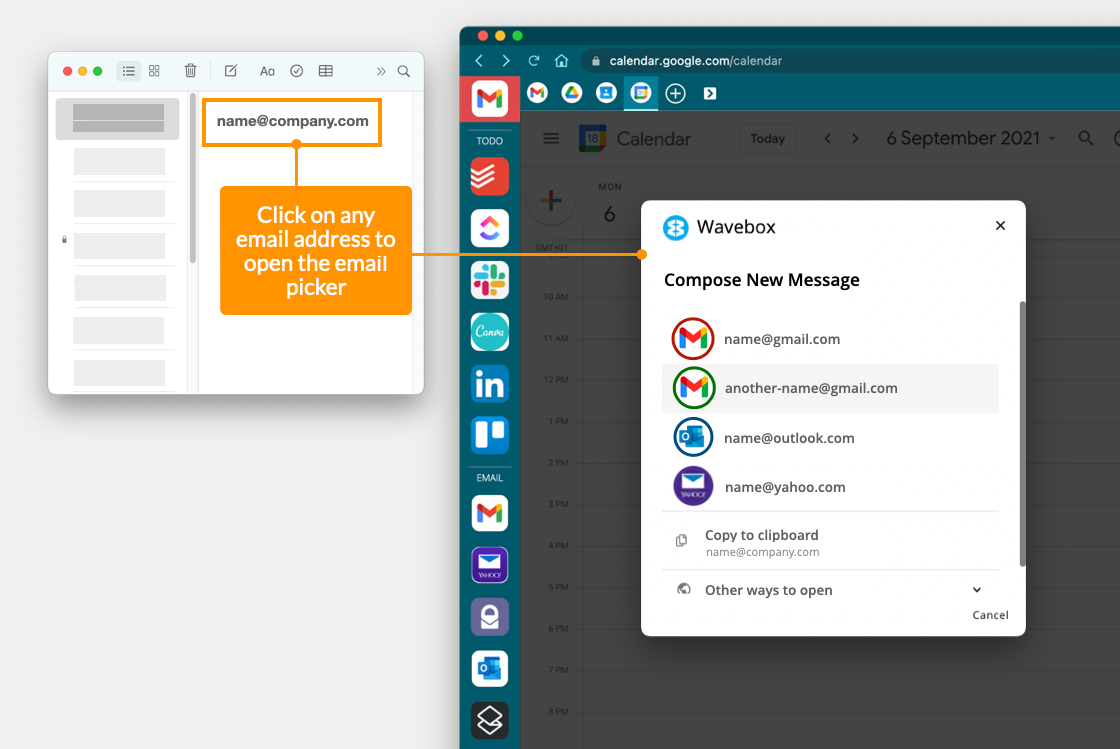 ⚙️ We want Wavebox to work seamlessly with other apps on your computer, and so we've made it easier to set Wavebox your default browser and default mail handler, so that external links e.g. Notes, will open in the right app/webmail account in Wavebox. Go to: Settings > General > Default Browser & Handlers to activate these settings.  Learn more in this blog post.
---
We hope that you get a chance to try out some of these new features over the holidays.
And now for a cheeky spoiler alert! We are working on some major UI updates to be launched in January/February 2022.  Expect details on how to join the Beta for these exciting changes over the holiday period, or email support@wavebox.io to be first in the queue. Happy holidays from everyone at WBHQ 🤫🥳👏
😍 Photo by Erol Ahmed on Unsplash