New: Audio alerts & mute, main window bookmarks, and performance updates.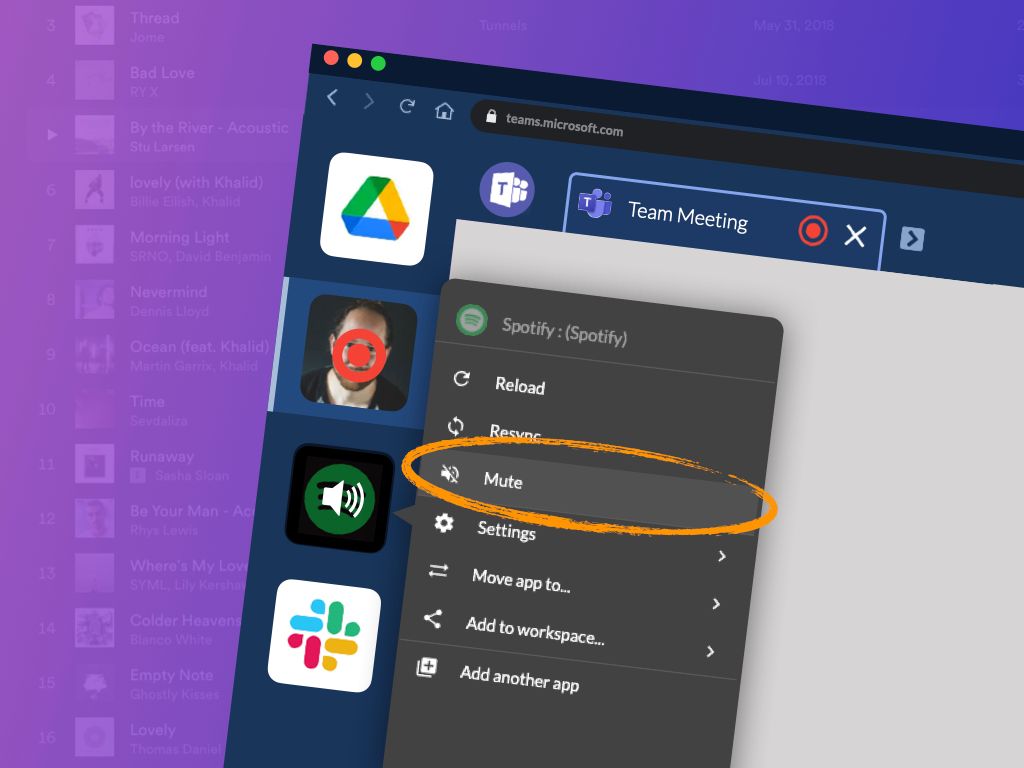 Our latest release includes a Chromium update, plus new UI features requested by users. We've also optimized and tweaked Wavebox's performance to make it even faster - it's by far the snappiest release to date! 🙌😀
🔊 App icon alert states & right-click mute.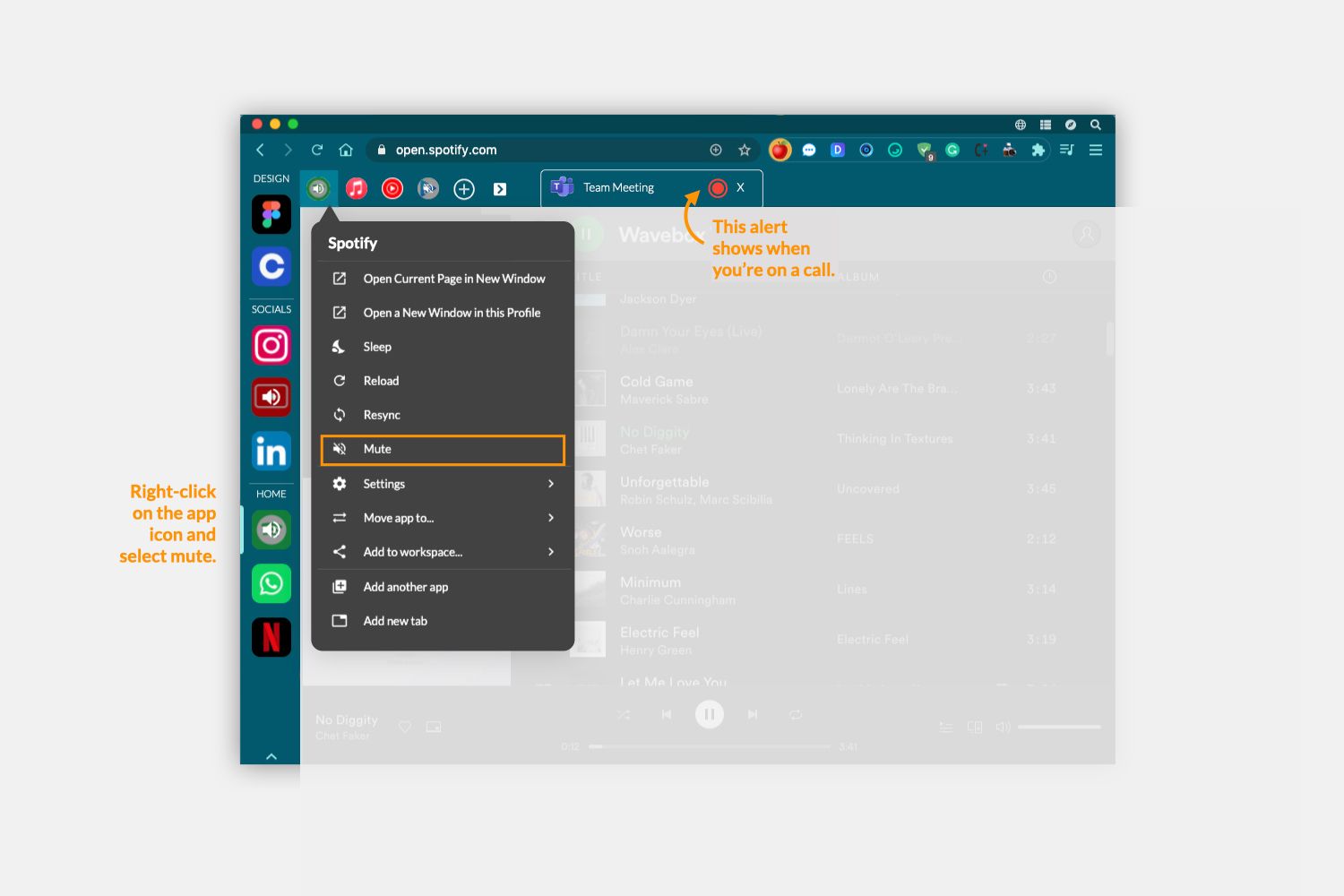 Whether it's Spotify playing in the background, an auto-playing YouTube video, or a Teams meeting, you can now quickly identify which group/app is playing sound. The group/app icon and/or tab will display icons for a call or meeting, a sound e.g., audio/video, and screen-sharing in Connect. We've also added the option to quickly mute and unmute the app or tab using the right-click menu. Just right-click on the app icon or tab, and select 'mute.' It will stay muted until you manually unmute it using the right-click menu.
📌 Main window bookmarks (experimental).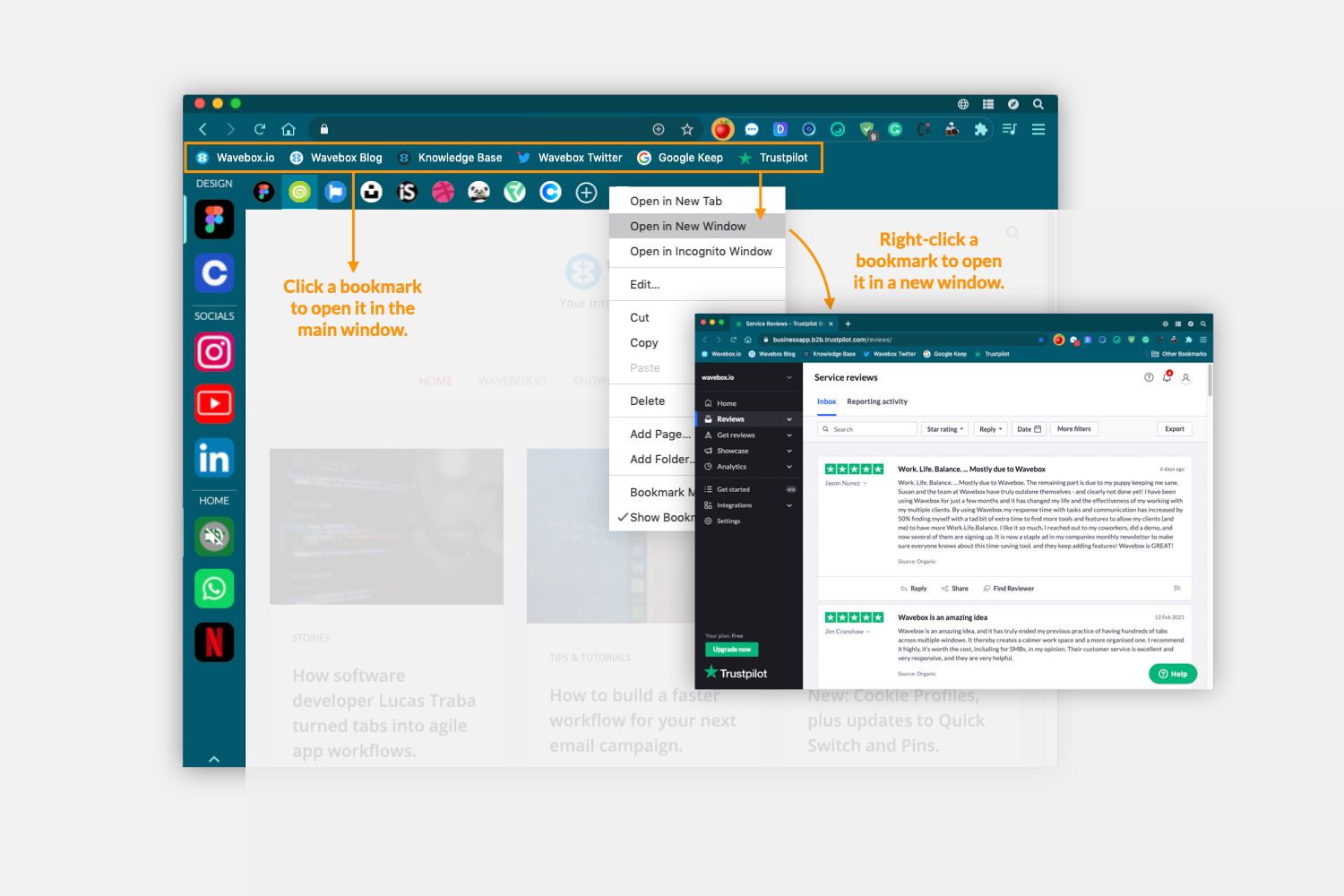 The bookmarks bar is already available in all secondary Wavebox windows. But we've now enabled the option in the main window too. At the moment, bookmarks will open in situ, therefore replacing what's in focus in the main window. Alternatively, you can right-click on the bookmark to open it in a secondary window. If you want to open the bookmark in a new tab, just create the tab first and then click on the bookmark. This feature is 'experimental' at the moment, so please send your feedback to support(at)wavebox.io.
⚙️ Create a new sidebar group from any app.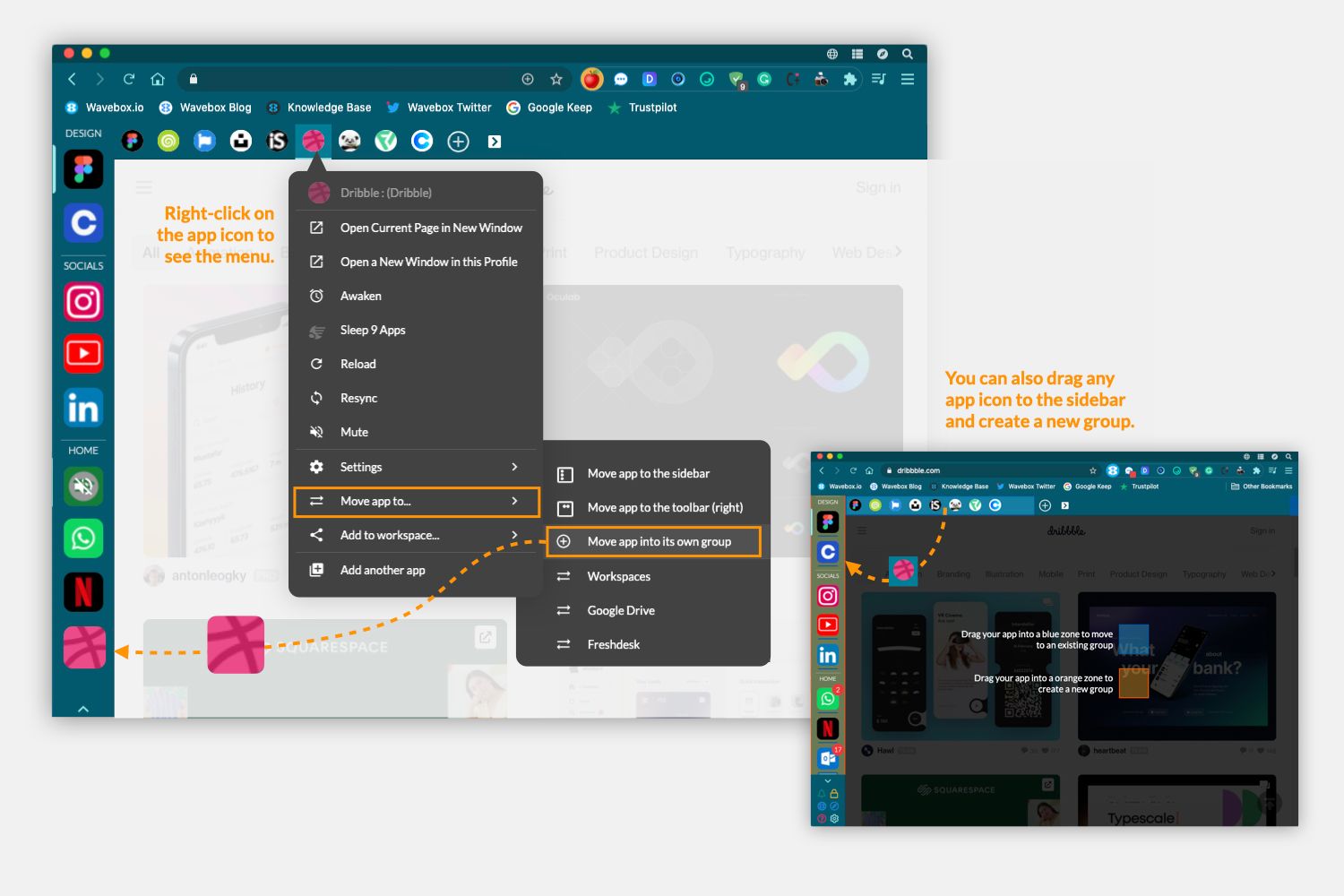 We've added the option to create a new sidebar group from an App by using the right-click menu. Just right-click on the app icon, then select 'Move app to > Move app to its own group.' The app will then appear at the bottom of the sidebar. (Note that you can also drag any icon from the top toolbar into the sidebar to create a new group.) The app will also retain its settings, together with 'pins' and 'recents' list.
👀 Always show the tab strip.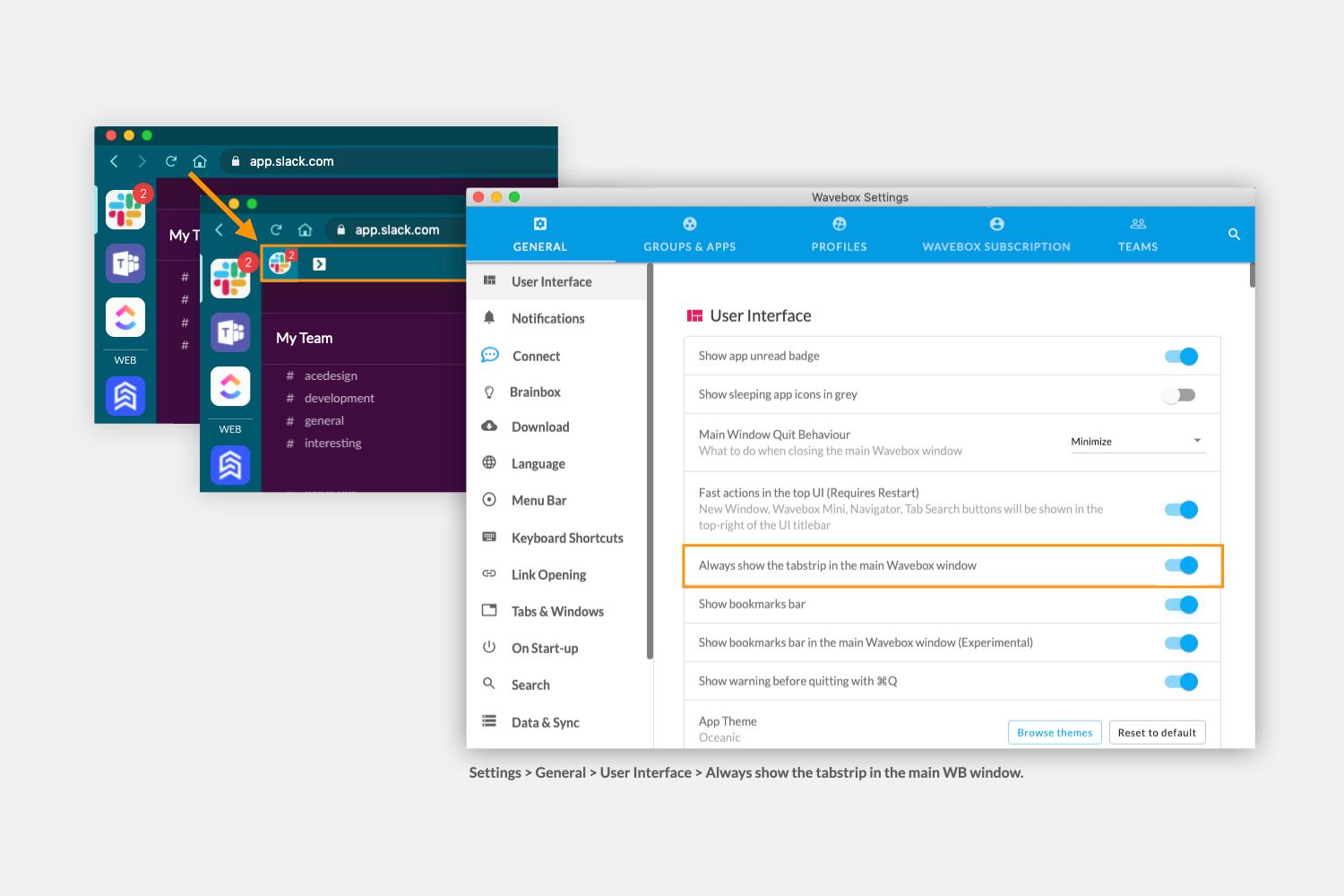 You can now elect always to show the tabstrip in a group. Previously the tab stip was hidden in groups with only one app. To enable it, go to 'Settings > General > User Interface > Always show tabstrip in the main Wavebox window > Toggle ON. Now you can quickly start browsing using App Tabs in any new group.
🔎🛠️ Search added to settings.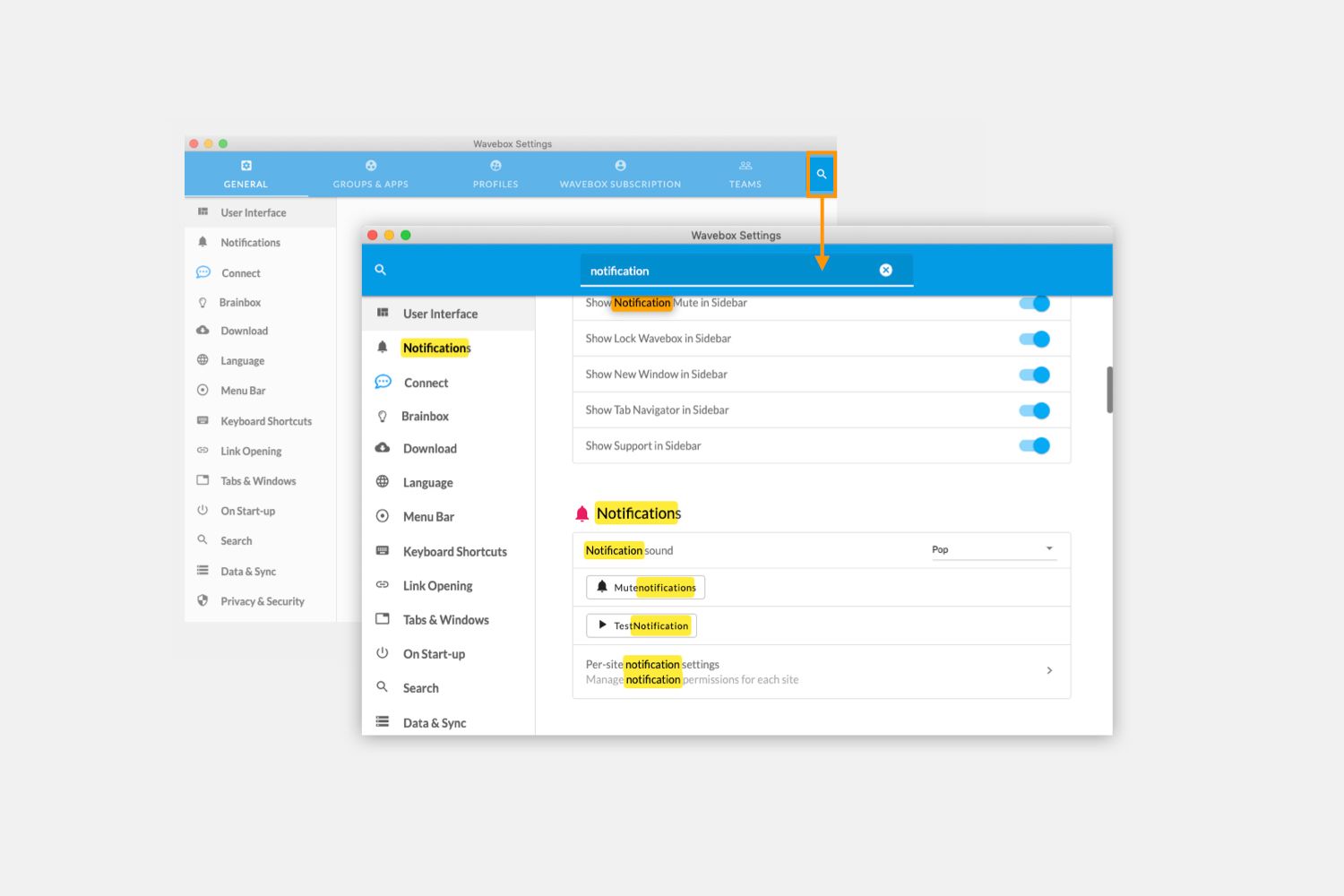 This is a small improvement but a very popular feature request. There's not much more to say other than "we've added Search to Settings". Enjoy.
🚀🚀 Performance improvements.
We've been busy optimizing and tweaking the way Wavebox works under the hood to bring some impressive performance improvements. These make the app feel more snappy and helps it use less CPU. Here are a few things we did and how they make Wavebox faster.
🧱 🖼️ We now run some intelligent store heuristics to pre-predict changes and automagically batch these together. When something updates, be it an unread count, tab title, or something else, it now needs to do less to show those updates on screen.
🚀 ✨ We have tweaked how some apps would share large blobs of cache data. Previously, it would leave stuff hanging around in places where it was never used. That was kind of pointless, and removing it lead to an instant reduction in memory usage.
💤 💾  We have also made improvements to tab sleeping. When a sleeping app relaunches, instead of just destroying the tab and creating a new one, we now save its state to disk. So when you wake it up, it will remember your old navigation stack and reload up faster.
Other important bits and bobs.
Update to Chromium 88.0.4324.192. 🚀🚀  We can now maintain parity with any new version of Chromium within just a few hours of a release.
The Wavebox Mini now also remembers the last open tab after minimizing/restart.
The Connect side panel has also been updated so that it's theme aware. Keep an eye out for more Connect updates in the coming months. 💬
To read the full list of fixes and updates go to the Release Notes.
---
To get the latest features, update to the latest version of Wavebox as soon as you can.  in the app, go to:
Settings > General > Updates > Check for update now. Enjoy!