🤖 2023 Reboot! Biometric support for Privacy Lock, Embedded iFrame Widget, and lots more.
Last but not least, in this final blog of our 2023 Reboot series, we introduce some awesome new features and improvements.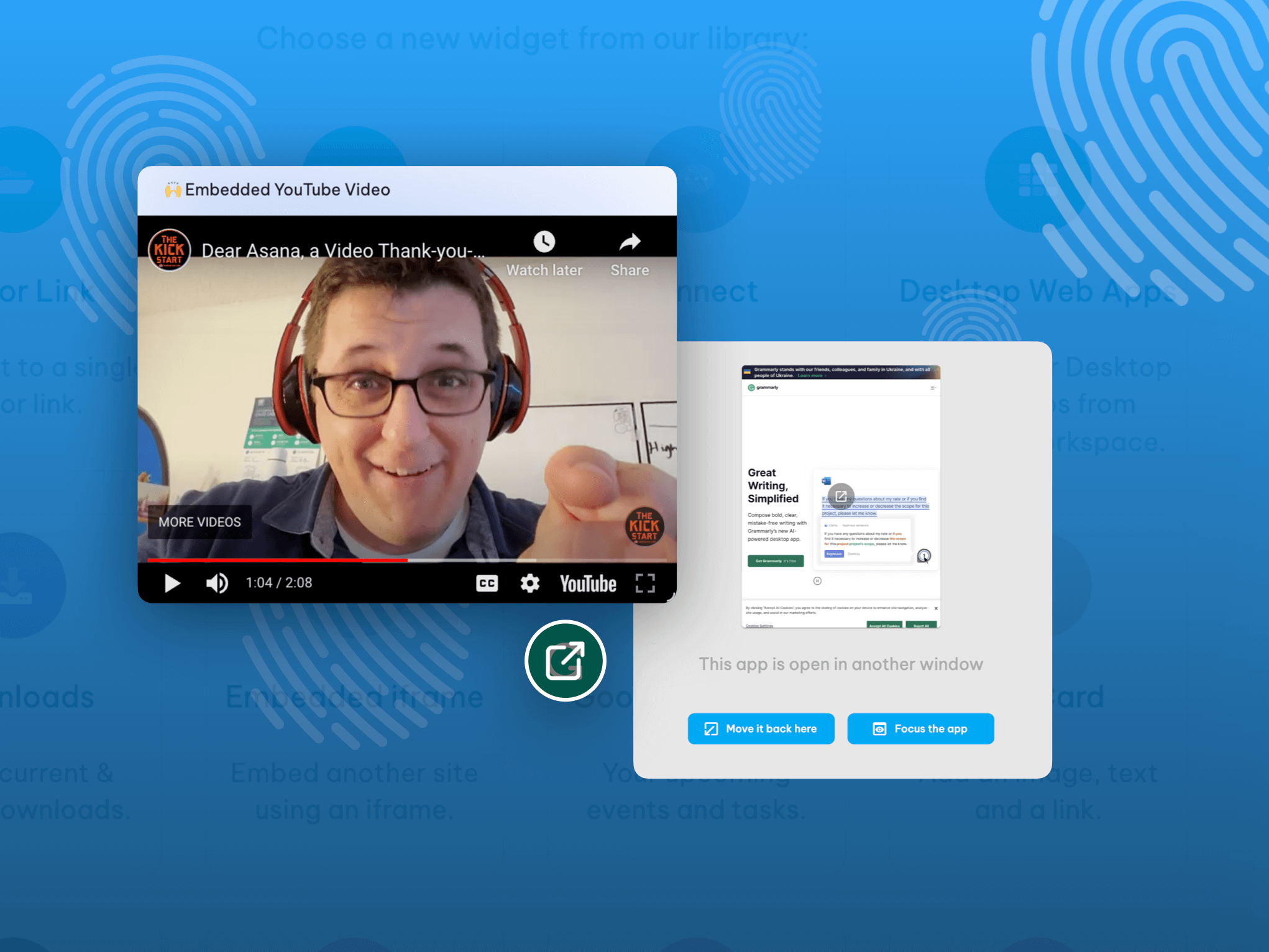 Last but not least, in this final blog of our 2023 Reboot series—click here for blog 1 and blog 2—we introduce some awesome new features and improvements.  User feature requests prompted the majority of these updates, so a BIG thank you to everyone who got in touch to share their productivity-boosting ideas—from bulk-tab sleeping to multi-monitor hopping, Wavebox has you covered.
🕵️‍♀️ Lock/Unlock Wavebox using Biometrics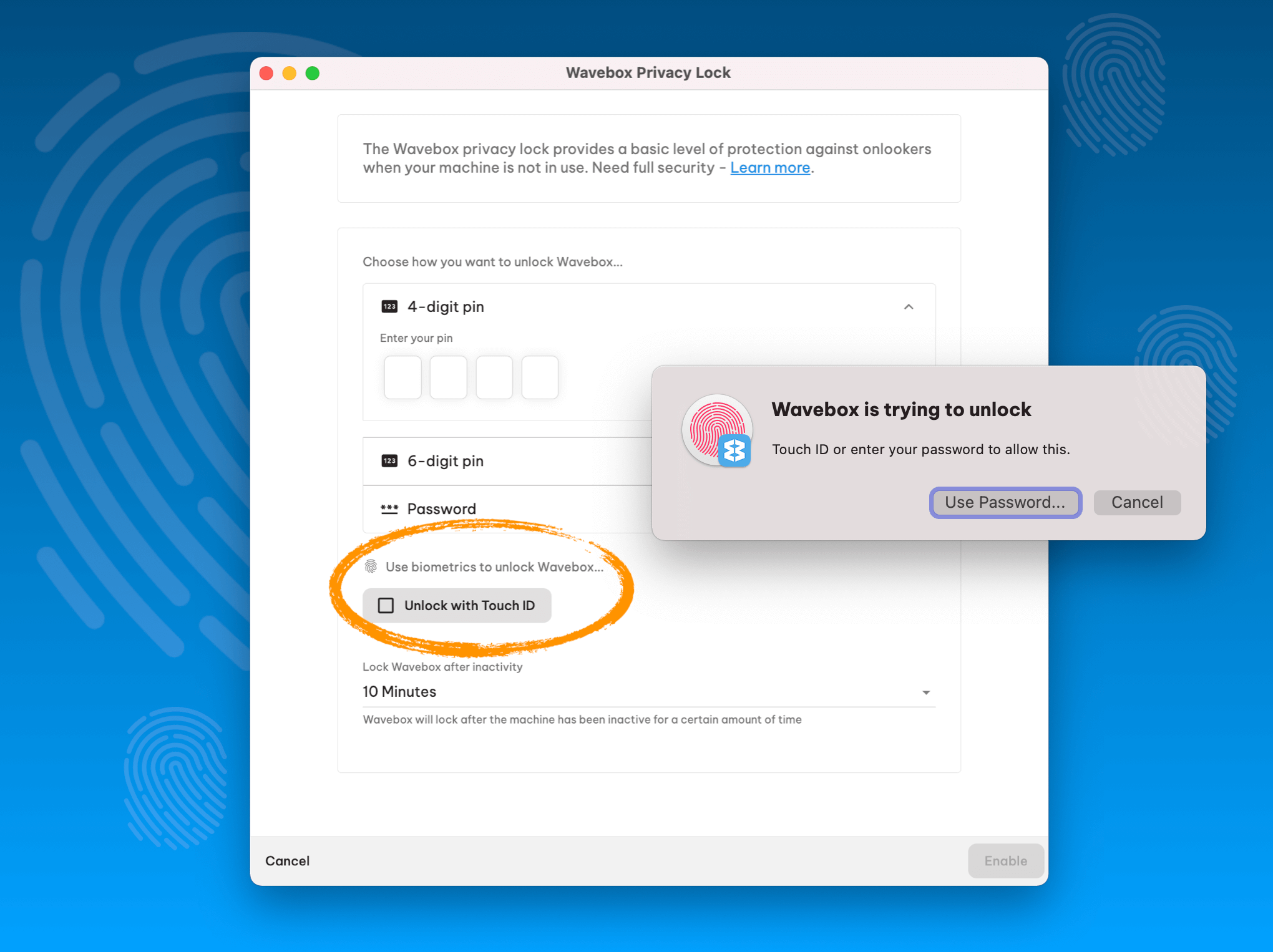 As far as we know, Wavebox is the only browser with a built-in privacy lock. With a single click, you can instantly lock your Wavebox app, which is handy if you step away from your workspace for a few minutes. Unlocking again is easy, either using a PIN or password and now we've added support for biometrics—macOS Touch ID and Windows Hello.
Try it now: If you already have the lock enabled, right-click on the padlock (bottom-left), configure, and then tick the box for 'Unlock with Touch ID'.
👨‍💻 Multi-Window Controls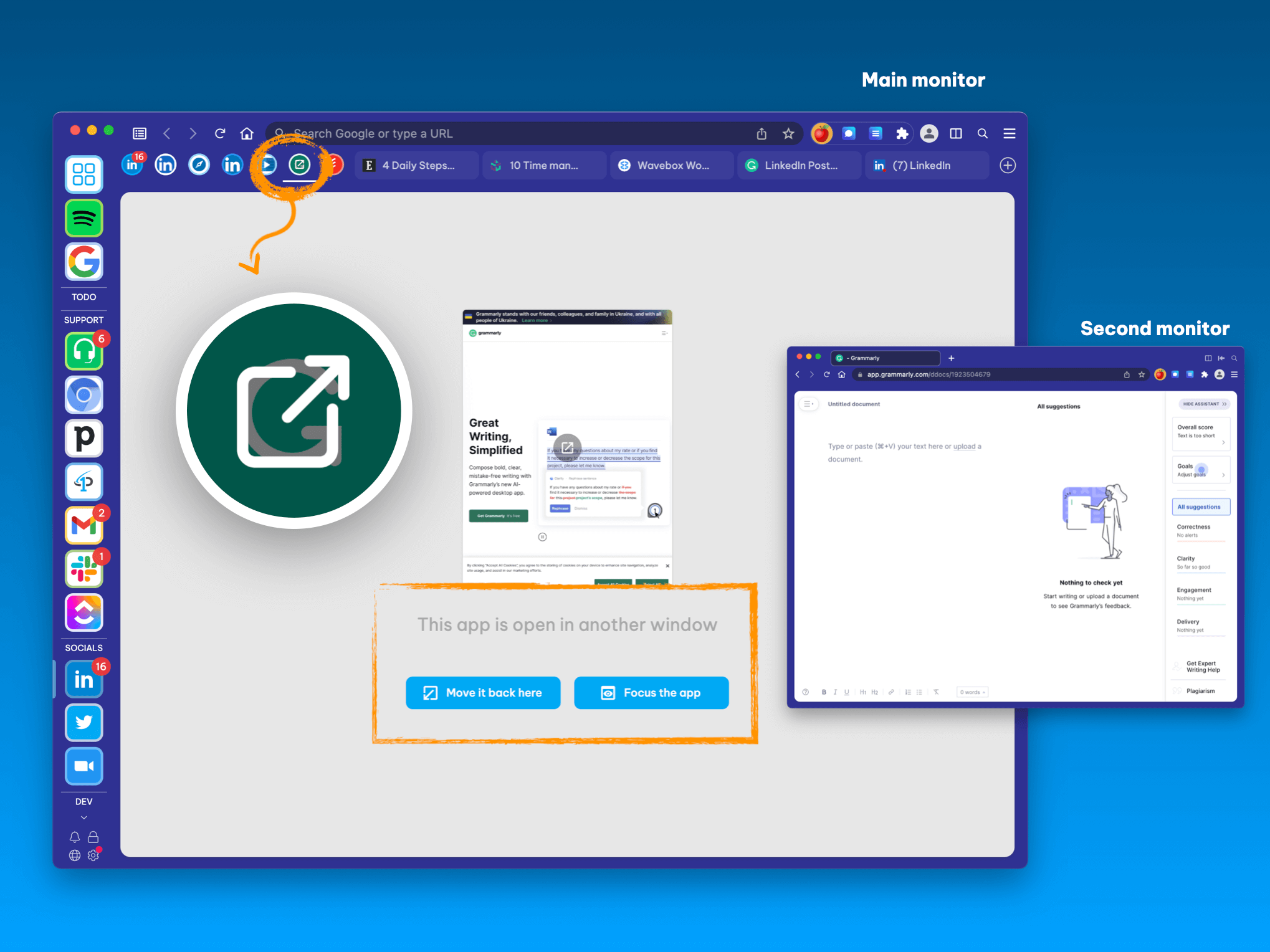 Wavebox has excellent support for multi-window users, and we've just made it even better! It's now possible to move an app into a new window and then bring it back into the main window with a single click. This will help to speed up workflows when working across more than one monitor.
Try it now: Right-click on any app icon and select Move app into new window. The main window will show a thumbnail of the popped-out app, plus some navigation options.
🚀 New Keyboard Shortcuts
Ah...so many keyboard shortcuts and so little time.  Just kidding—we have all the time in the world to enable new keystrokes and simplify everyday tasks!  And Wavebox users can't get enough of them, it seems. Here's what's been requested and added recently:
You can now Shift/Ctrl/Cmd+Click links in Smart Notes to open them in a new window.
We've added support for using the left/right arrow keys in the App Switcher.
There's now a keyboard shortcut to open a tab in the active group rather than the default (which is active service). This shortcut is unmapped by default but can be set under Settings > Keyboard Shortcuts > Opening apps & tab
You can now Ctrl/Cmd+Click links in Workspaces and open those links in background tabs.
We've also added support for middle mouse clicking a group, this sleeps all apps and tabs within the group (not really a keyboard shortcut, but definitely a shortcut nonetheless).
Try it now: Go to Settings > Keyboard Shortcuts to edit and assign new key combinations for your workflow.
🔎 Settings Search Improvements
It was only a few weeks ago that Wavebox Settings had a major revamp, making it easier to find stuff and discover new functionality. In this release, search now has a front-row seat right at the top of your Settings window (top-right) and is super intelligent, bringing the most relevant options into view so you can quickly make any changes and get on with your day.
You may also notice that My Wavebox and Teams has been removed from the Settings window.  Read Blog 1 of this 2023 Reboot Series to learn more about our new Admin Portal, and Blog 2 to discover our Wavebox for Teams relaunch.
🖼 Embed an iFrame into a Workspace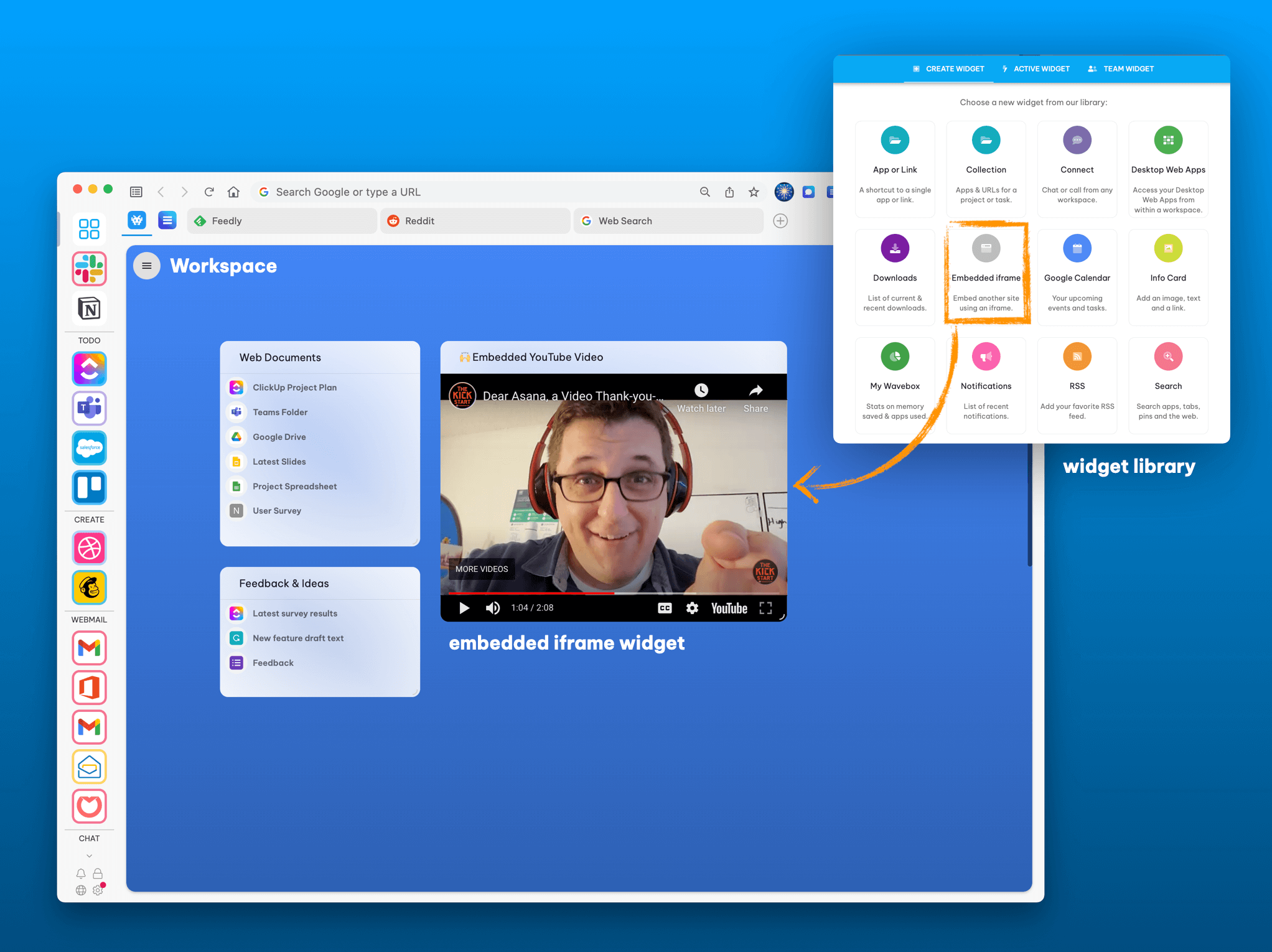 Next, it's the new Embedded iFrame widget. This is a nice addition, which has actually been hidden away under Advanced Flags for quite a while. We tweaked a few things and finally felt ready to let it loose into the Widget Library. Note that you can only embed websites that support embedding; therefore, not all websites will work. We found that YouTube and Todoist work brilliantly, however! (BTW, that's Waveboxer and Asana trainer Bryan Bennett in the screenshot, hey Bryan!)
Try it now: Click on any workspace, followed by the Add Widget button top-right.  Select the Embedded iframe from the widget library, then paste in your URL and click on the save icon.
😴 New Sleep Settings & Enhancements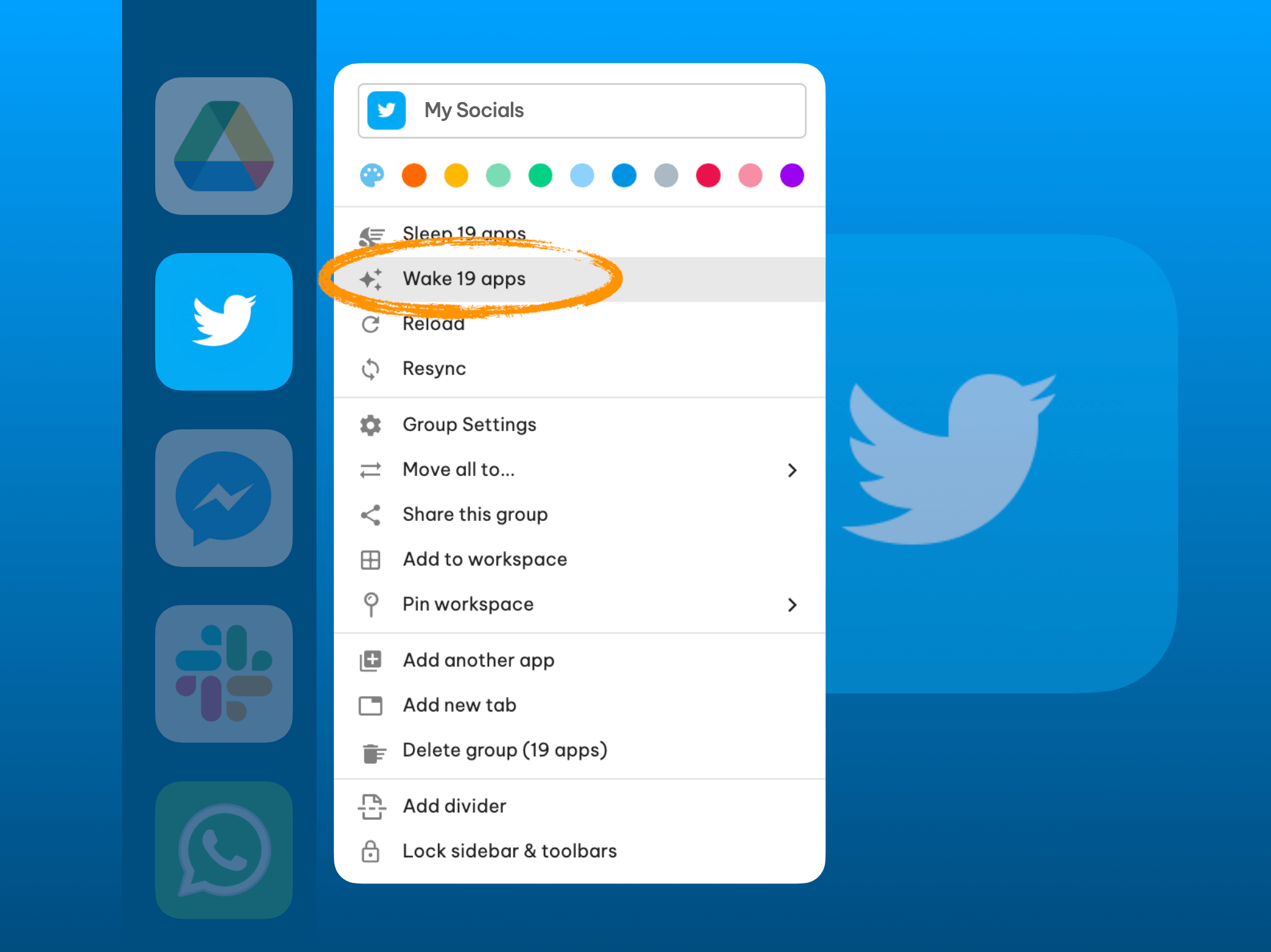 Keep your Wavebox running smoothly with these new Sleep settings.  Sleep—sometimes referred to as tab suspending—is integral to Wavebox's DNA, and we've added a couple more knobs and dials to help you keep track of what's asleep and what's awake.
Need to avoid a tab to time out? You can now quickly disable sleep on any tab when you need to. Right-click on the tab and select Keep Tab Awake.
Out of the box, all apps in Wavebox sleep after 15 minutes. However, this can be tweaked on an app-by-app basis. But if you've done too much fiddling and want everything to sleep simultaneously, go to Settings > Sleep > Apply Sleep to All Apps and enter a time in the pop-up box.
We had the option to sleep all apps in a group but not to wake all apps in a group. So we've added it in, but with a warning...waking up lots of apps at the same time may temporarily affect Wavebox's performance i.e., don't go sending a support ticket saying that Wavebox has slowed down...well, duh! 🤔 Right-click on any group and click on Wake X Apps in the menu.
We've also added an option to sleep all apps when activating Focus Mode. Click on the bell icon bottom-right, and check the box to Automatically Sleep Groups before activating.
---
Click here to read the full release notes (it's quite long), and why not check out the other blogs about this week's release?
2023 Reboot Blog Series