How to Use ClickUp Alongside other Apps & Tabs in Split View
View ClickUp pages alongside any webpage, and optimize your ClickUp workflow by using split view in Wavebox.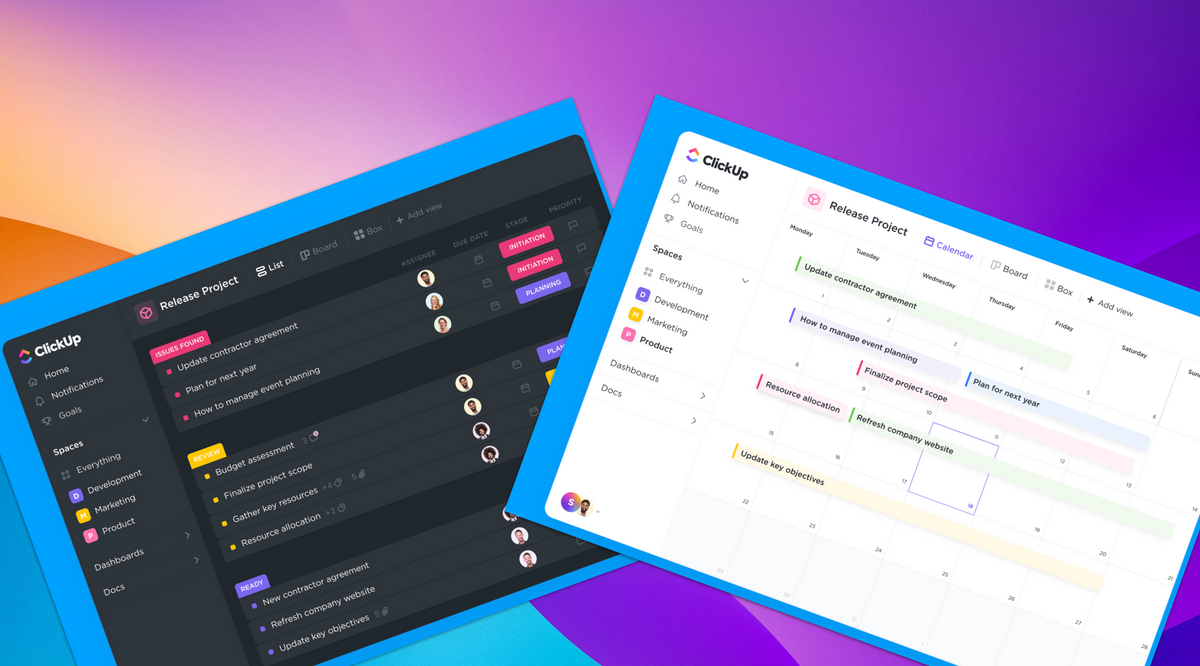 If you're like me, you're always looking for ways to optimize your workflow and be as productive as possible when working online. One way to do this is by using a split view, which allows you to have two apps or tabs open side-by-side in the browser so you can reference both simultaneously. Unfortunately, ClickUp does not currently support split view, which is frustrating because it is such a time-saving feature!
That's where Wavebox comes in, and I will share how I would use split view in ClickUp.
Using split view in ClickUp is easy.
Wavebox is a browser built for work that allows you to add ClickUp apps to the webdock (vertical sidebar). Wavebox is like the ClickUp desktop app, but has a web browser built-in. As well as being able to add multiple ClickUp accounts to Wavebox and get real-time notifications, you can open links in tabs alongside your ClickUp app to keep everything tidy in one place. This means you can quickly and easily switch between your work tasks and related tabs without constantly alt-tabbing between the desktop app and multiple browsers.
Wavebox becomes the best desktop app for ClickUp when you're looking to be more productive and need something side-by-side. In Wavebox, you can use split-screen to open ClickUp on one side of the screen and either another ClickUp page or another tab on the other side. To do this:
Right-click on your ClickUp app
Pick "Split app" and then "Split left"
Open another tab, and it will appear on the right!
Now you've got a ClickUp tab on one side of the screen and whatever else you're working with on the other. This really does help you be more productive!
Related: Elevate your Web Workflows With Super-Smooth Split-Screen.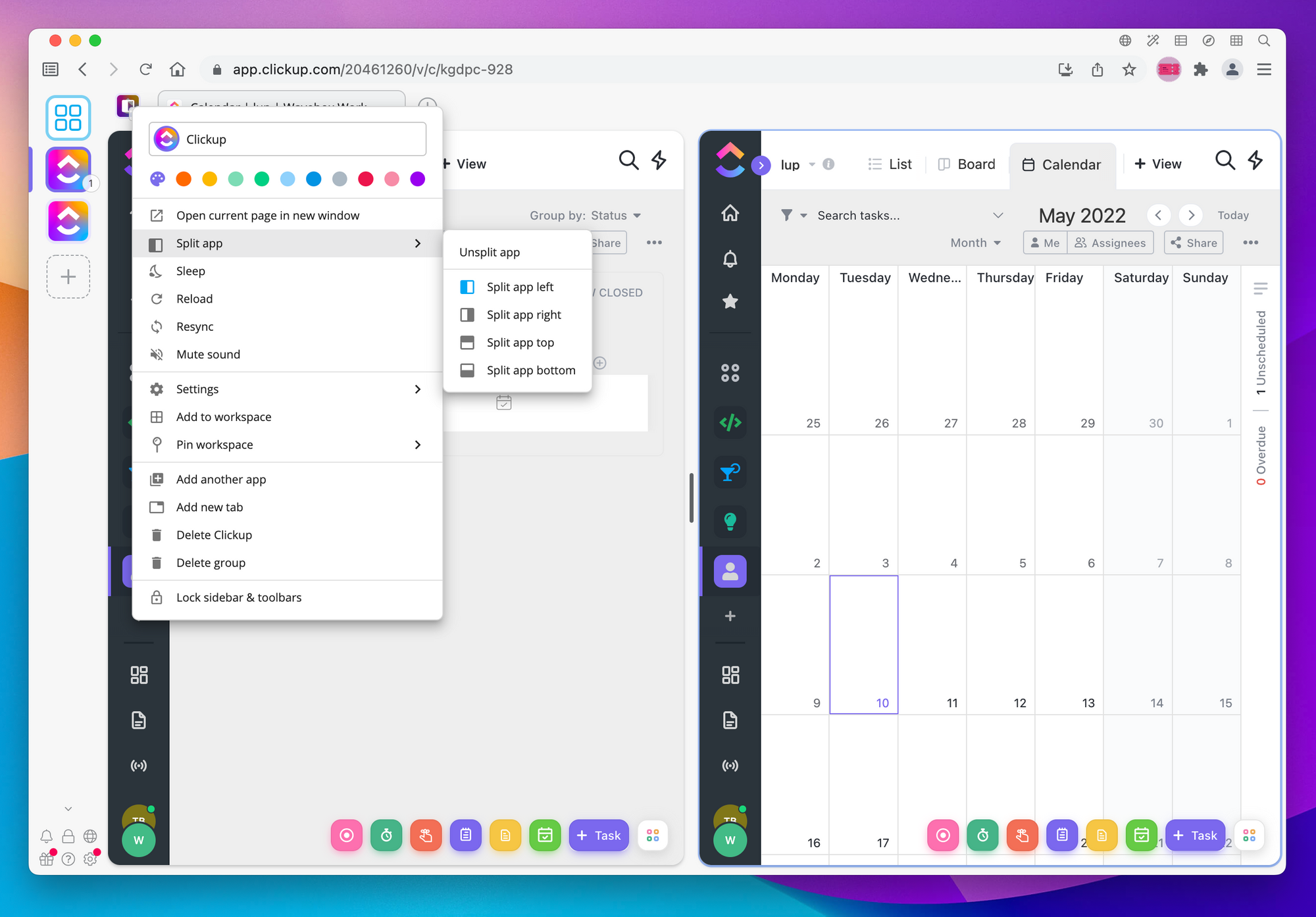 Split view enables ClickUp users to be even more productive.
I've been using split view with Wavebox & ClickUp, which has made a massive difference in my productivity. I can have my task list open in one window, and relevant task details open in the other window side-by-side with split view. This enables me to quickly see what needs to be done and get started on it right away. And it doesn't have to be a page from ClickUp, I can view any webpage, cloud document, or anything with a URL.
Split view helps me be more productive and allows me to be more organized. Keeping track of all my tasks and progress in one convenient place makes it easier to stay on top of things. If you're looking for a way to boost your productivity, I highly recommend giving split view a try. I think you'll be surprised at how much it can help.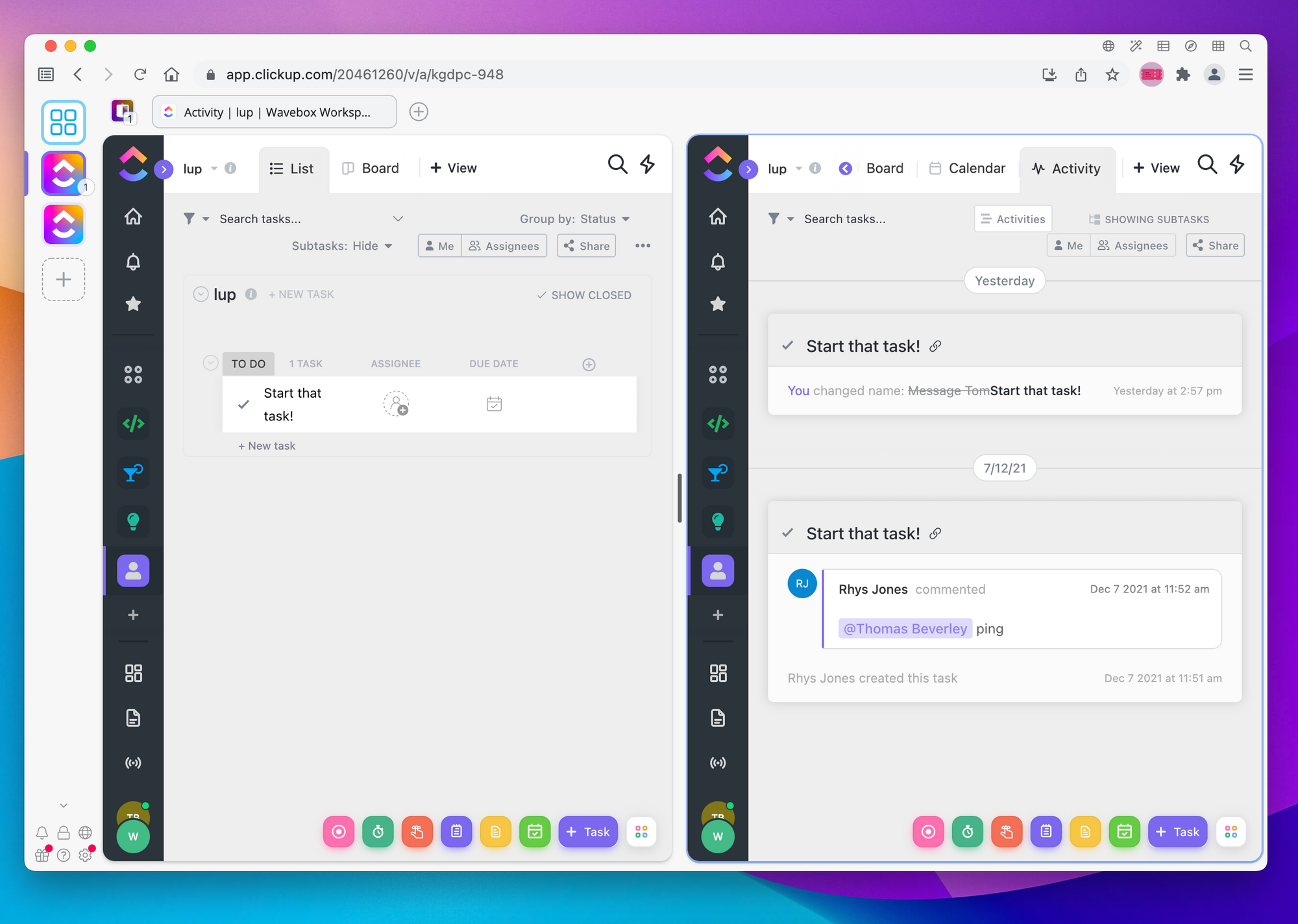 Get started with Wavebox - the best ClickUp app for desktop.
Sign in to as many ClickUp accounts as you need by downloading Wavebox and managing those accounts and all their tabs in a single Wavebox window. With our productivity features, you can save two days per week.