How to Install Grammarly in the ClickUp Desktop App?
If you're a fan of Grammarly and want to use it with the ClickUp desktop app, Wavebox has the answer.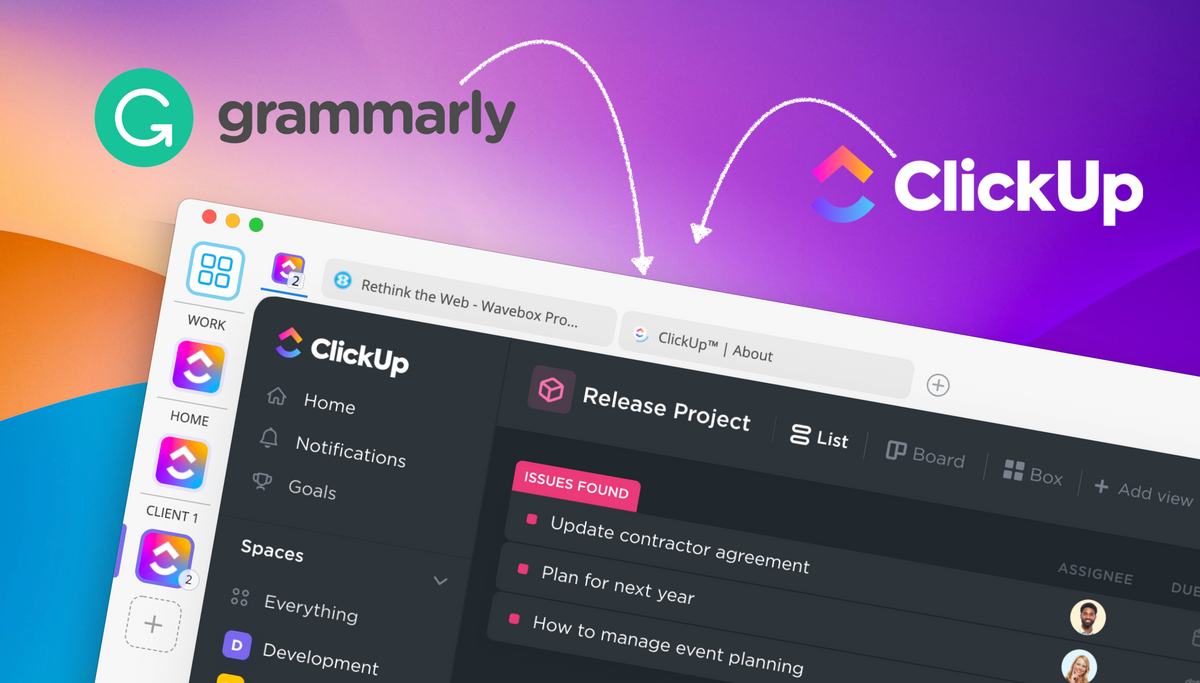 If you're a fan of Grammarly, you might be disappointed to learn that the popular grammar checking tool doesn't work with the ClickUp desktop app. ClickUp is a project management tool that's recently gained popularity, and while it has many excellent features, the lack of Grammarly support is a big downside.
However, there are a few possible workarounds for this problem. You can either use the ClickUp web app instead of the desktop app, or you can use Wavebox.
How can I add ClickUp to Wavebox?
Using ClickUp in Wavebox is a similar experience to Chrome or Edge, but Wavebox offers added productivity features to help you work smarter. If you're using Wavebox for the first time, you'll first need to add your ClickUp accounts. Here's how:
Download and install Wavebox (Mac, Linux, Windows)
Click the + button in the sidebar & then 'Start with an app'
Locate ClickUp in App Directory and follow the on-screen wizard
Sign in to ClickUp using your credentials
Once you've added your ClickUp account, an icon appears in the Wavebox webdock (vertical sidebar). Now you can click on the icon to use ClickUp in the main Wavebox window.

Next, add your other ClickUp accounts to the webdock in the same way, e.g., for home, other business, different clients, etc. When all your ClickUp accounts are added, you can switch between them using the icons in the webdock—no more signing in the about
If you want to power up your ClickUp usage in Wavebox even further, you can customize your ClickUp icons in the webdock to easily recognize them. To do this, right-click on the icon and select 'Settings > Group Settings.' From the menu, you can also edit the name and color of the app border.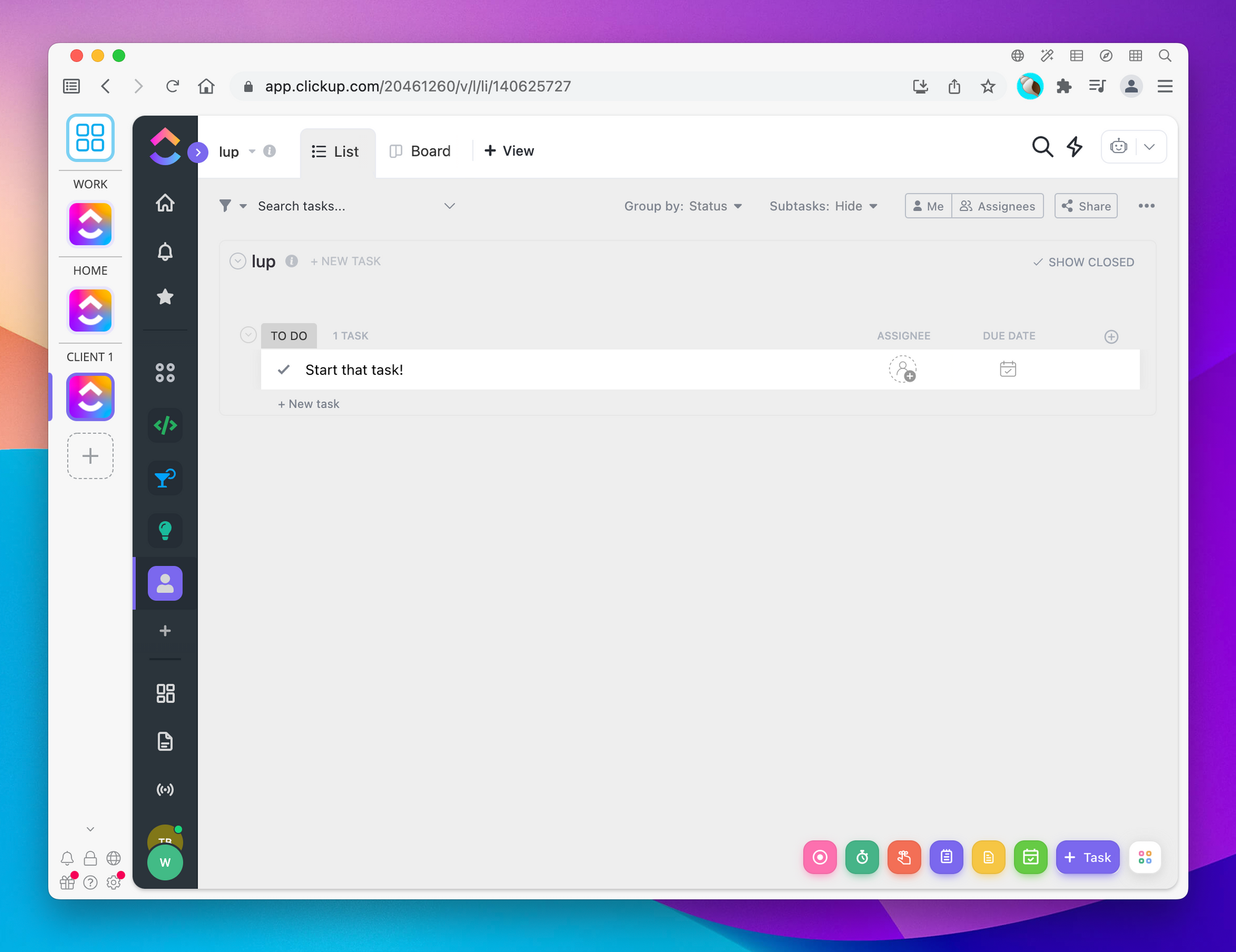 How can I add Grammarly to Wavebox?
If you're looking to improve your grammar and spelling, you may be wondering how you can add Grammarly to Wavebox. Grammarly is a great tool that can help you catch errors in your writing and ensure that your communication is clear and concise. Here's a quick guide on how to add Grammarly to Wavebox from the Chrome Web Store:
Grammarly is an excellent way to improve your writing skills quickly, and by following the steps above, you can use Grammarly in Wavebox to catch errors in your writing in ClickUp and all other apps and tabs you use every day.
Related: 20 Top Browser Extensions to use with Wavebox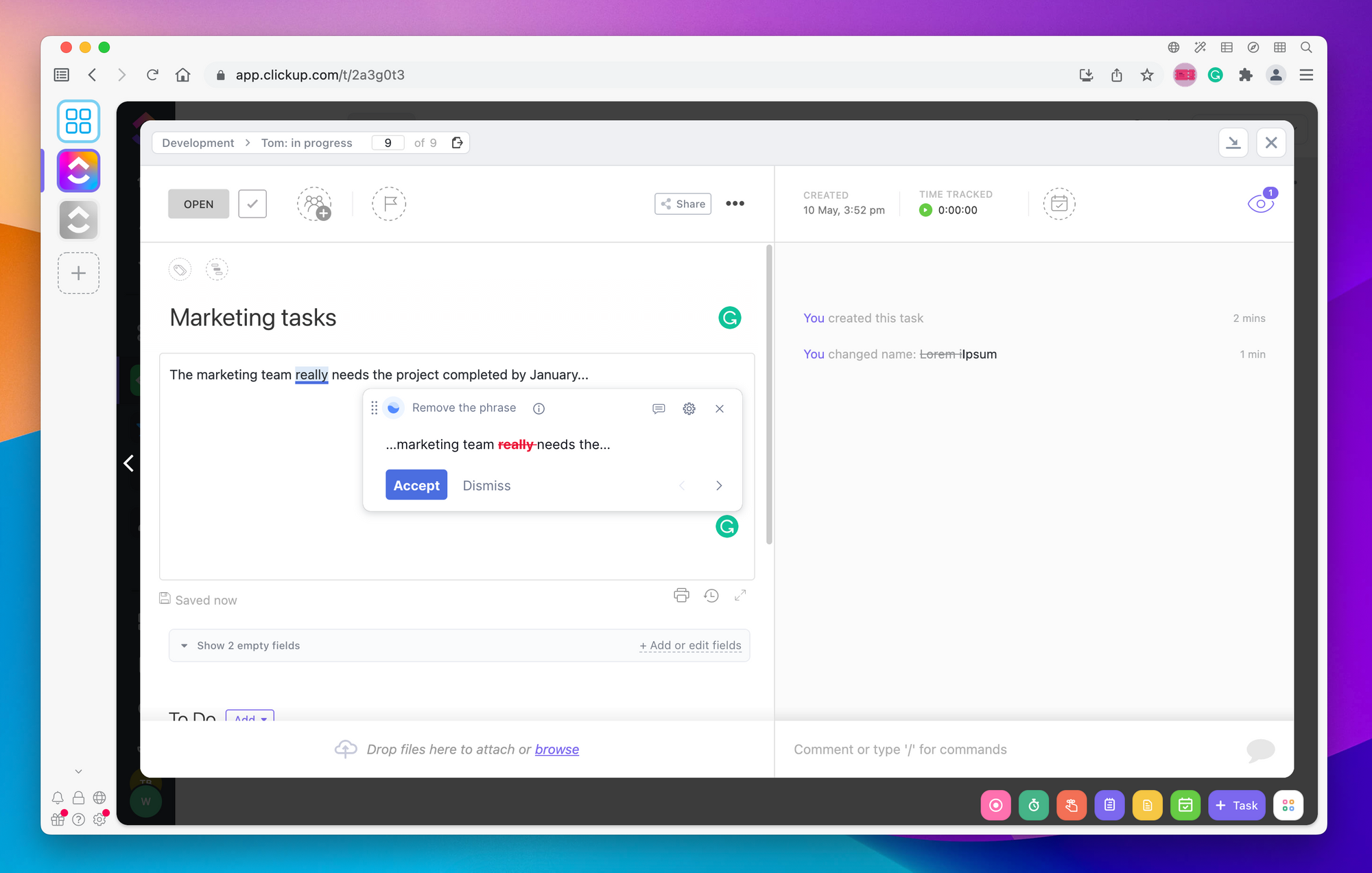 How does Grammarly and ClickUp work together?
Grammarly is used to check the grammar of any text that you type into ClickUp. This includes task descriptions, comments, and even chat messages. When in the ClickUp editor, click the Grammarly icon to highlight any errors and view any suggested changes.
This integration is beneficial for co-workers who are working on group projects. It's easy to make mistakes when you're collaborating with others, but Grammarly can help you spot them and avoid them in the future.
If you're a business owner, you can use Grammarly to help you communicate more effectively with your team. It's essential to make sure that your team understands your instructions, and Grammarly can help you make sure that your messages are clear and error-free.
Overall, Grammarly is an excellent tool for anyone who wants to improve their writing. It's handy for professionals and business owners alike to communicate clearly and effectively. If you're not using it already, you should definitely give it a try!
Get started with Wavebox - the best ClickUp app for desktop
Sign in to as many ClickUp accounts as you need by downloading Wavebox and managing them all in a single Wavebox window. With extra productivity features such as split-screen, unified search and easy tab navigation, you can save 2 days per week when working online.