🤖 What is the Wavebox App Store?
Wavebox is unique in that it allows you to add your favourite sites as apps along the web dock (sidebar). These apps can have superpowers 🦸 that normal sites don't have such unread badges, instant actions like compose and more. You add apps to Wavebox by using the App Store.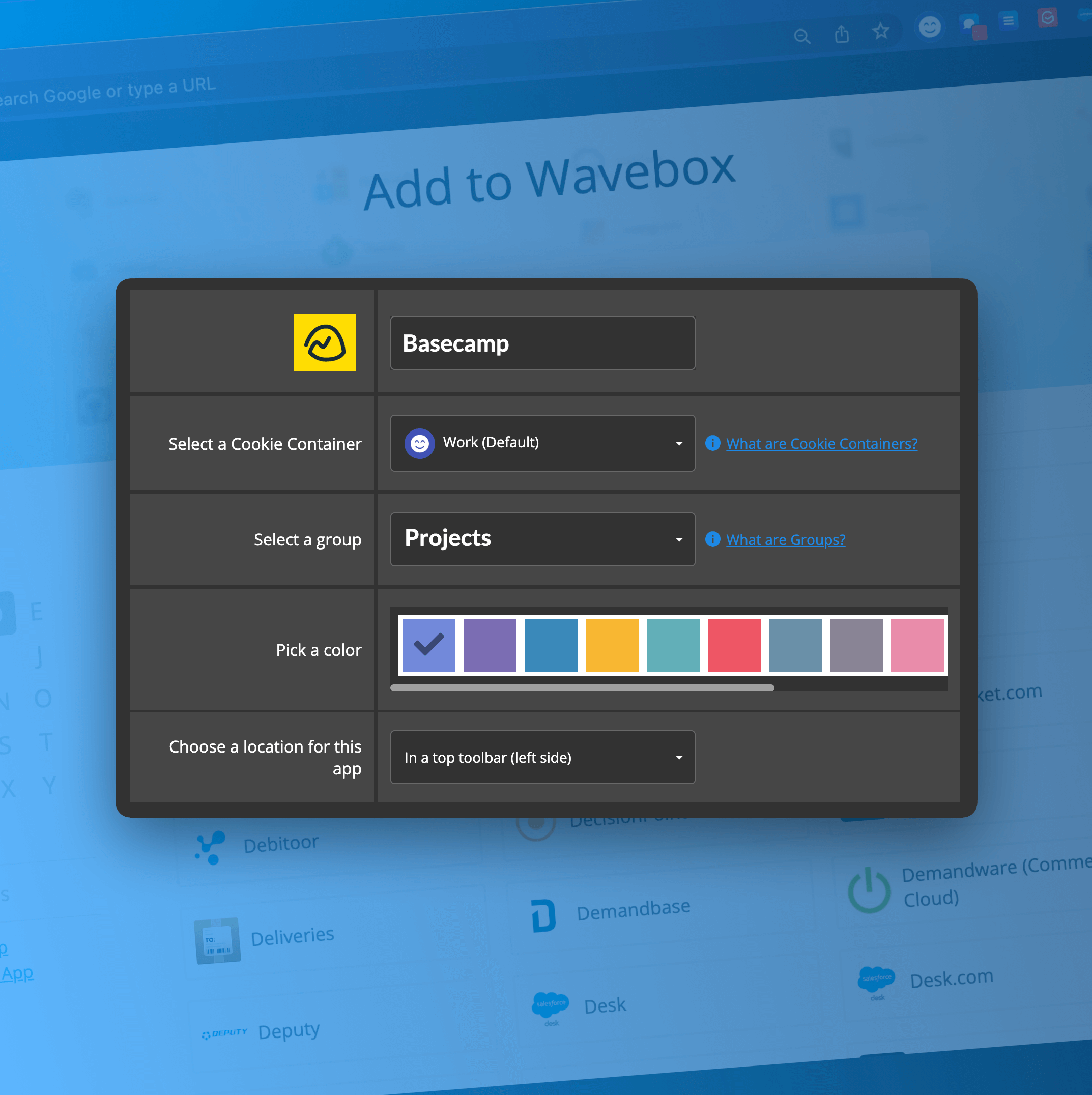 🤖 Wavebox KnowHow Series This article is part of a Wavebox blog series that breaks down our powerful productivity platform into bite-size features: More articles →
Wavebox is unique because it allows you to arrange all your favorite apps along the webdock (sidebar) and top toolbar. Both these navigation aids provide one-click access to all your frequently used tools, so you can easily switch between them and get work done.
Read this KnowHow article to learn more about Groups and Apps →
Wavebox ranks Apps as slightly more important than Tabs. They are services you use daily, need to stay signed in to and keep up to date with. They are often central to any workflow e.g., Xero is central to your finance workflow.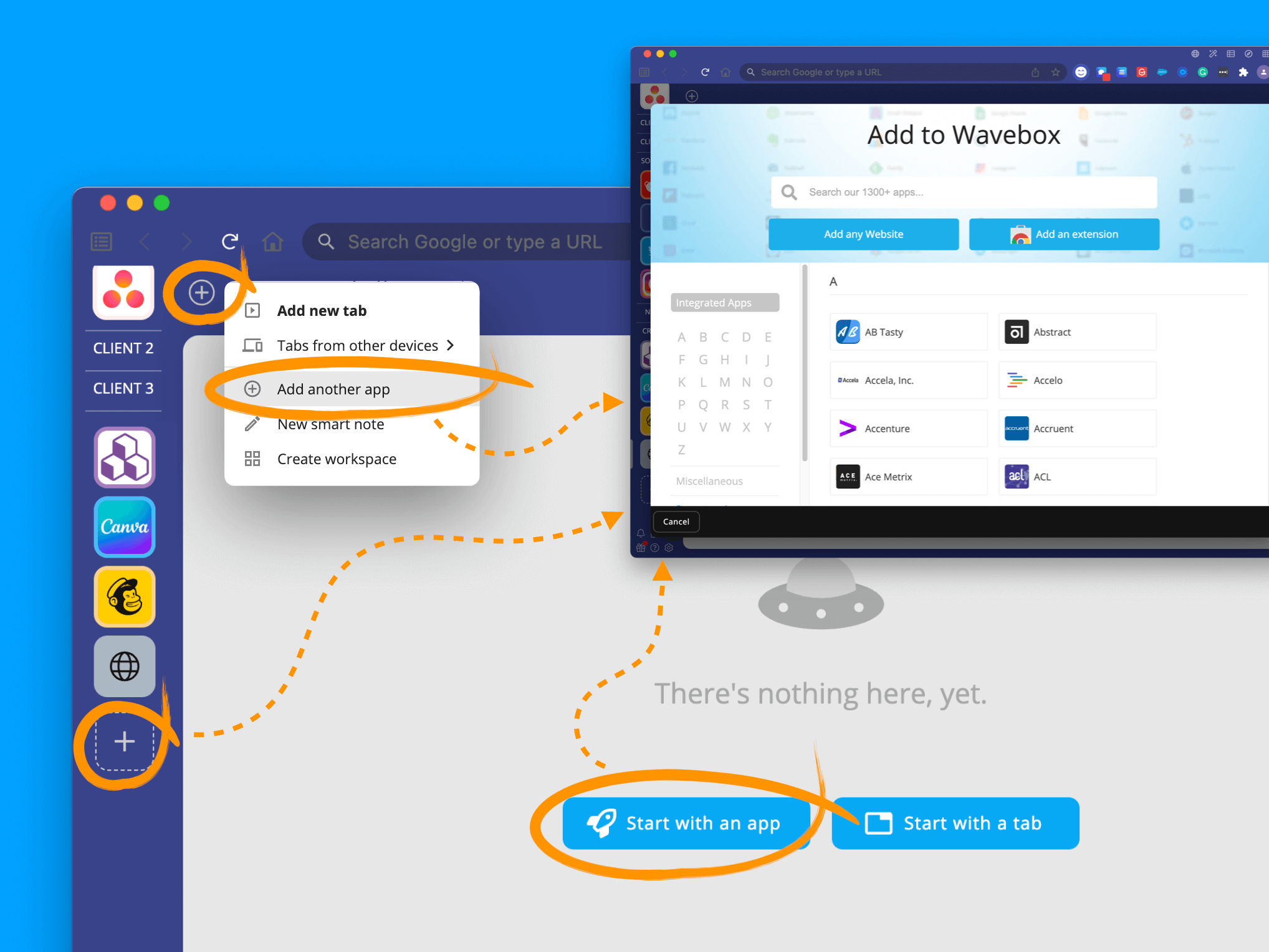 One way to add an app is by using a listing in the Wavebox App Store. To start, add a new Group by clicking on the + plus button at the bottom of the webdock. From there, you can use the 'Start with an app' button or the + plus button in the top toolbar. The App Store will pop-up, and you can search for an app you want to add.
Can I add an app that isn't listed in the Store?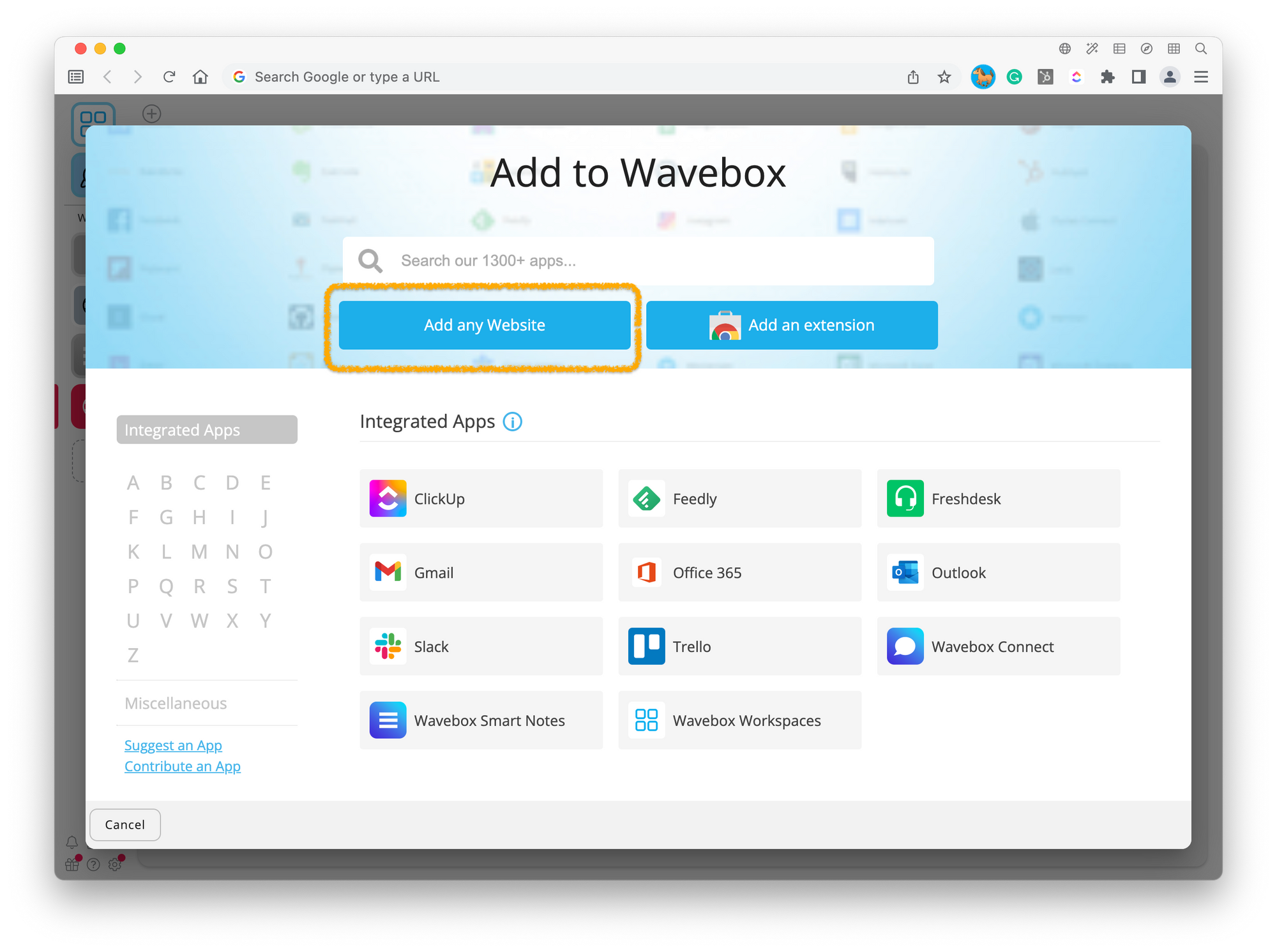 If you can't find the app you want, don't panic.  You can add anything to Wavebox as long as it has a URL. From the App Store window, click on the 'Add any Website' button to paste in the URL and add it as an App to your main Wavebox window.
What are Integrated apps?
Integrated apps—currently ClickUp, Feedly, Freshdesk, Gmail, Office 365, Outlook, Slack and Trello—have all been fully integrated with Wavebox to provide enhanced notifications, unread badges, and status information. All other apps in the Store, we call them linked apps, can still offer all of these, but the level of detail may be limited by what the websites provide to the browser.
Can I request an app for the Store?
Yes! Just reach out to Wavebox support with the app you'd like to see added to the Store. It's worth mentioning that Wavebox can only add apps with a web login (e.g. Telegram yes, Signal no), and it's a good idea to try adding it using the 'Add any Website' option first to check that it works okay in Wavebox.
---
🚀 Try Wavebox - From medical researchers to virtual assistants, Wavebox is helping busy people worldwide rediscover the web and harness its potential to make life easier—just take a quick look at our Trustpilot reviews to see how delighted Waveboxers are with their new browser workflows. Download Wavebox on mac, Windows, and Linux to start your 7-day free trial.
---
🤖 Wavebox KnowHow Series This article is part of a Wavebox blog series that breaks down our powerful productivity platform into bite-size features: More articles →