What are Desktop Web Apps?
We've taken Chrome's Progressive Web App feature (also available in Edge) and given it a little Wavebox boost.  Progressive Web Apps are websites that are installed on your computer, so they behave more like 'native' apps than browser tabs - the apps are independent of the browser - you don't need to have the browser running - and there is no address bar or tabs to clutter things up. Features and benefits of Progressive Web Apps include;
Open from the dock/taskbar
Open from Launchpad (mac) Application Launcher (Linux) and Desktop (Windows)
App icon appears in the OS switcher (Cmd+Tab, Alt+Tab)
Separate window with minimal UI - no address bar, tabs, etc
Support for all Chrome Web Store extensions
More efficient than running Electron apps for each app.
How to Create your First Desktop Web App
🤓 Wavebox Desktop Web App feature is currently available on Windows and Linux.  Need DWAs for macOS? Contact support for additional instructions.
1. Install any Website or URL as an App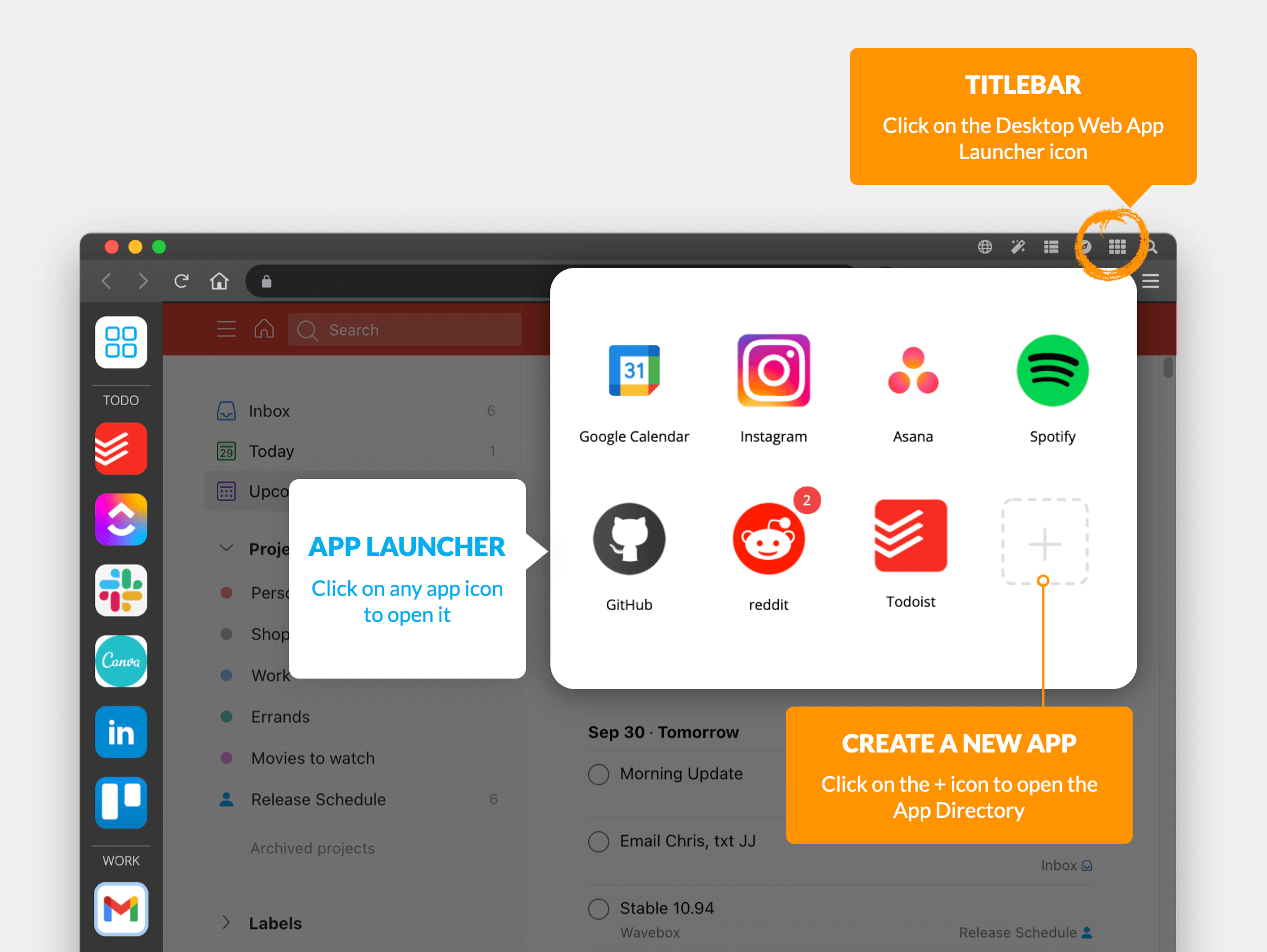 Click on the Desktop Web App icon in the titlebar (9 small squares top-right).
Click on the gray + icon to open the App Directory
Find an app in the Directory, or click on 'Add any Website' to paste any URL
From the Add screen, you can:
Give the App a Name
Upload a custom Icon (template available soon)
Select a Cookie Container or create a new one
Choose the app's Title Bar color
Then click on 'Done' to install the app.
2. Launch the App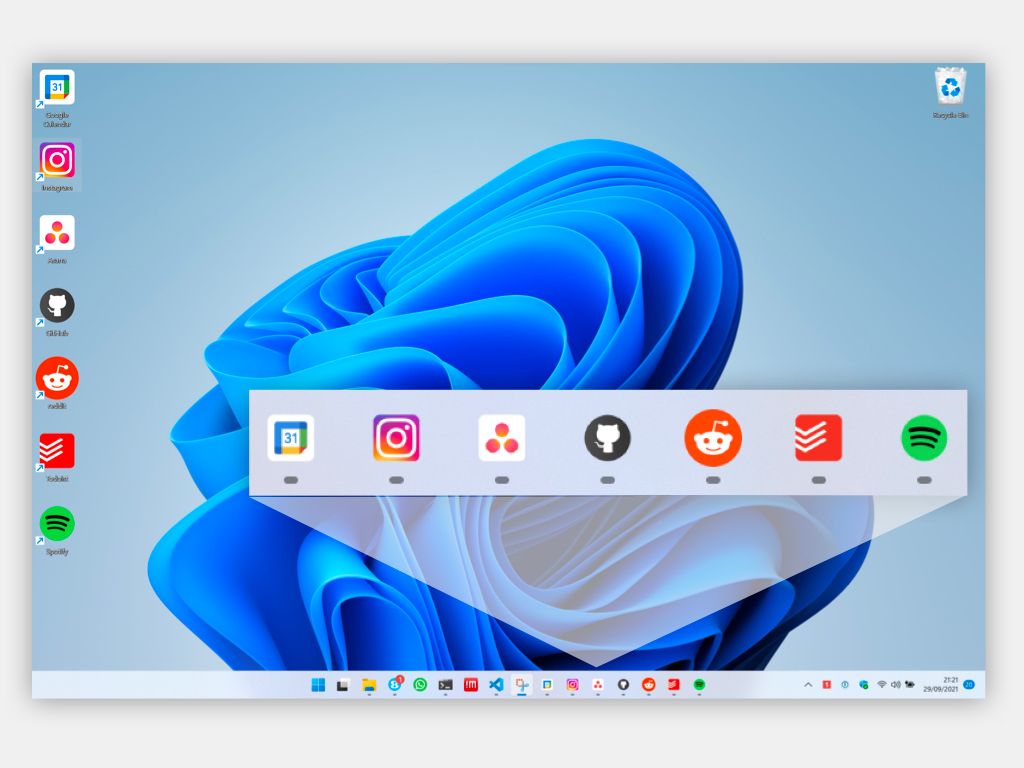 On Windows, the icon appears on the Desktop, and you can right-click to 'Pin to Taskbar.'
On Linux, the icon is added to your Application List, and then right-click to 'Add to Favorites.'
On mac, the icon appears in Launchpad.  Launch the app so it appears in the Dock, then right-click to 'Options > Keep in Dock.'
In Wavebox, you can click the Desktop Web App icon top-right to open the app launcher.
You can also add a Desktop Web App widget to any workspace and launch your apps.
3. What Does it Look Like?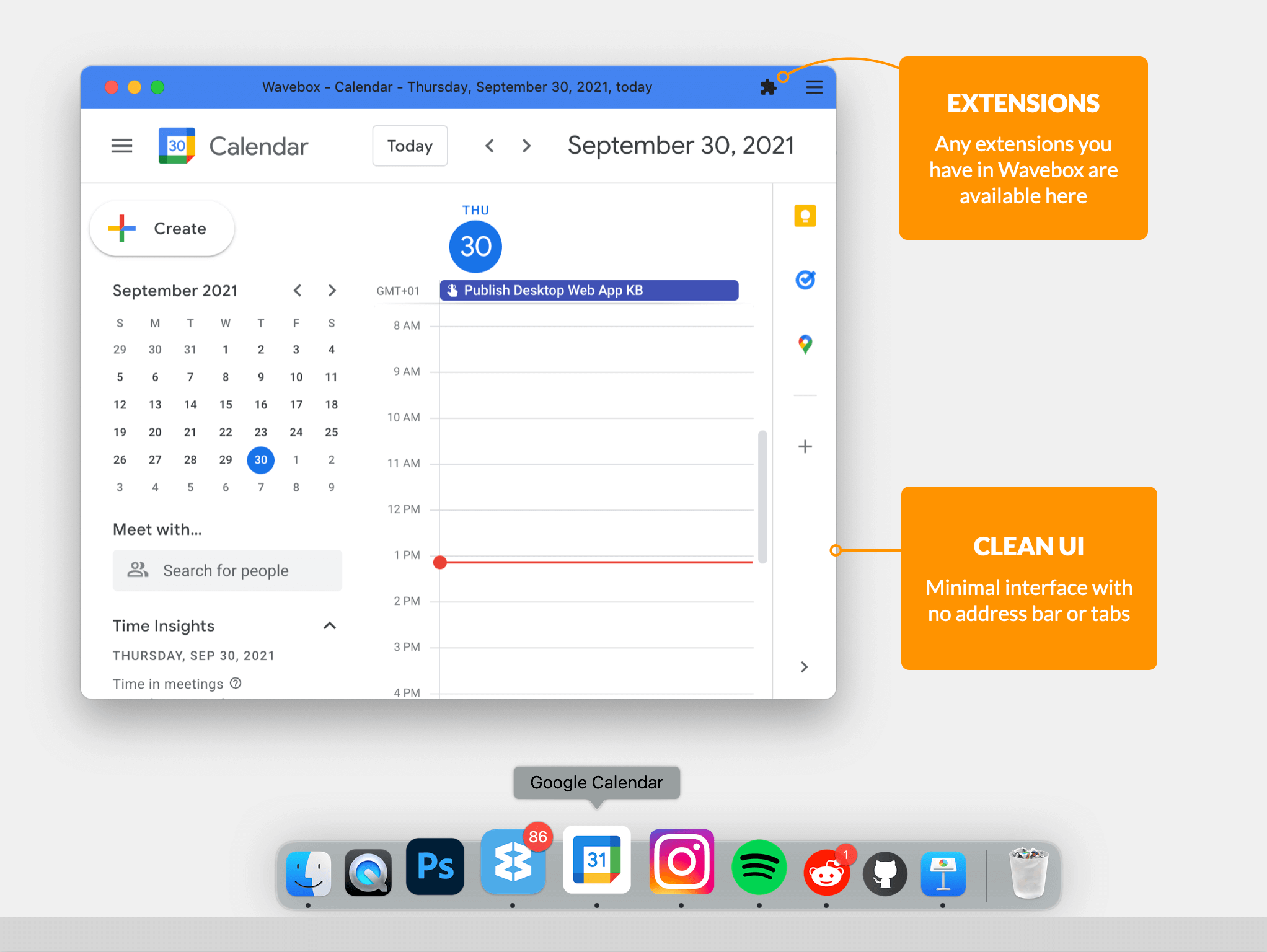 The app will open in its own resizable/movable window with a titlebar
Note that there is no address bar tempting you to start random searches
The interface doesn't support tabs either, so no multi-tasking!
Extensions are available by clicking on the jigsaw icon at the top-right
The burger menu top-right reveals a limited number of settings.
However, the right-click menu is supported, so if you want to save a page in your existing Wavebox workflow, you can. e.g., send to a workspace, open in a new tab, save as an app, etc
4. Edit the App Settings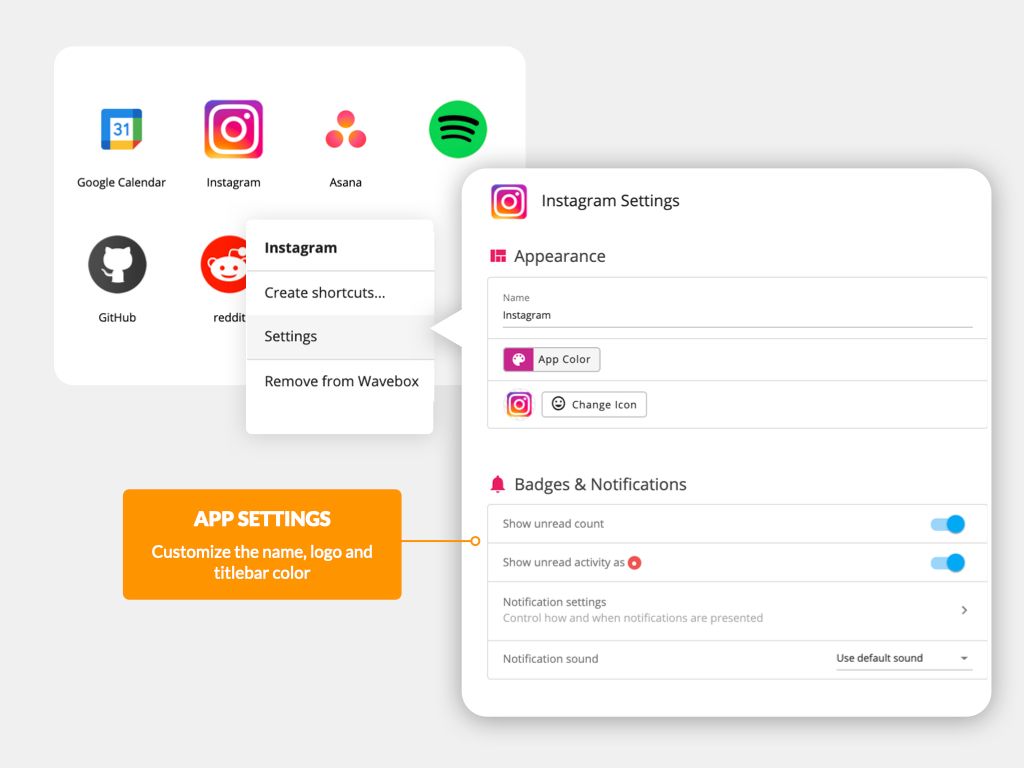 Click on the Desktop Web App icon top-right to open the window, then right-click on any app icon followed by 'Settings.'
You can edit the app name, icon, cookie container, and notification sound anytime.
Make any changes in the pop-up window, then click on 'Done.'  The changes will appear right away.
You can also visit Wavebox://apps in any Wavebox tab to manage all the apps you've installed on your computer.