Anyone can create a template from a Wavebox group or profile and share it with another Wavebox user. The recipient can add the template to their Wavebox in just a few clicks.
Here are some templates you can create and share with friends, colleagues, and co-workers.
A time-saving group workflow you've created
A group you've curated for research or campaign
A set of groups for onboarding new colleagues to your team
A complete profile to onboard new starters to your organization
A full profile that's useful for others in your industry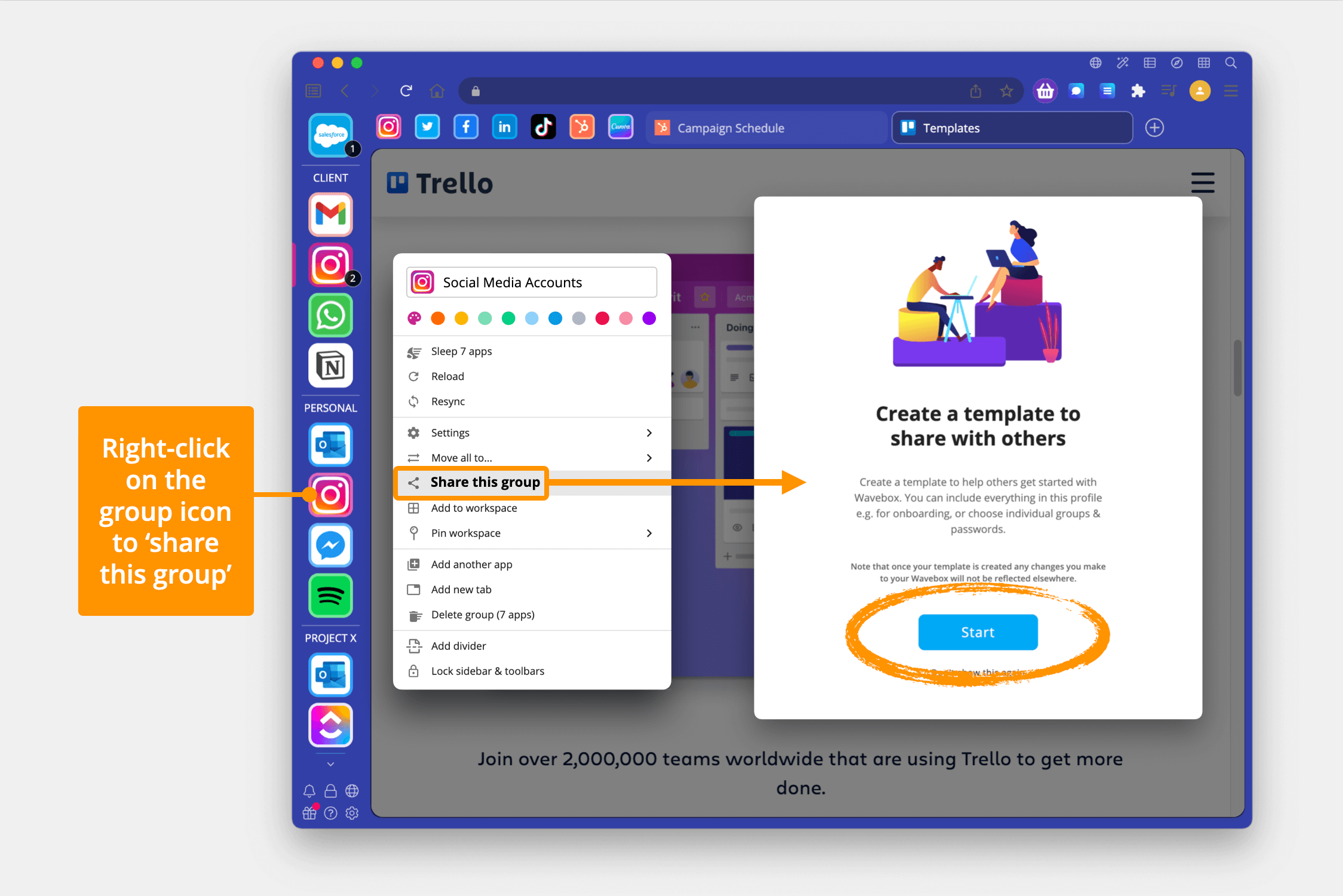 Templates: The Basics
You can create a group template from the group's right-click menu.
You can also create a profile template from the profile menu (user icon top-right).
You can specify what you want to include in your template using the Template Wizard, e.g., groups and tabs.
You can also bundle passwords into your template. If passwords are included, the template is protected by a master password which must be shared separately.
You can share a template with other Pro users using codes. The code is in the form of a URL and is automatically generated by the Template Wizard.
New Wavebox Pro users can use the share code during installation to get set up more quickly.
Existing Wavebox Pro users simply click the share code in Wavebox or paste the URL into any Wavebox tab to add the template to their setup.
After creating a Template, it will appear in your Admin Portal under Templates in the sidebar.
Wavebox for Teams users can make share Templates with their team.
Templates are entirely static. Any changes made to an app/group/profile after the export/import are not reflected elsewhere.
What do Templates include?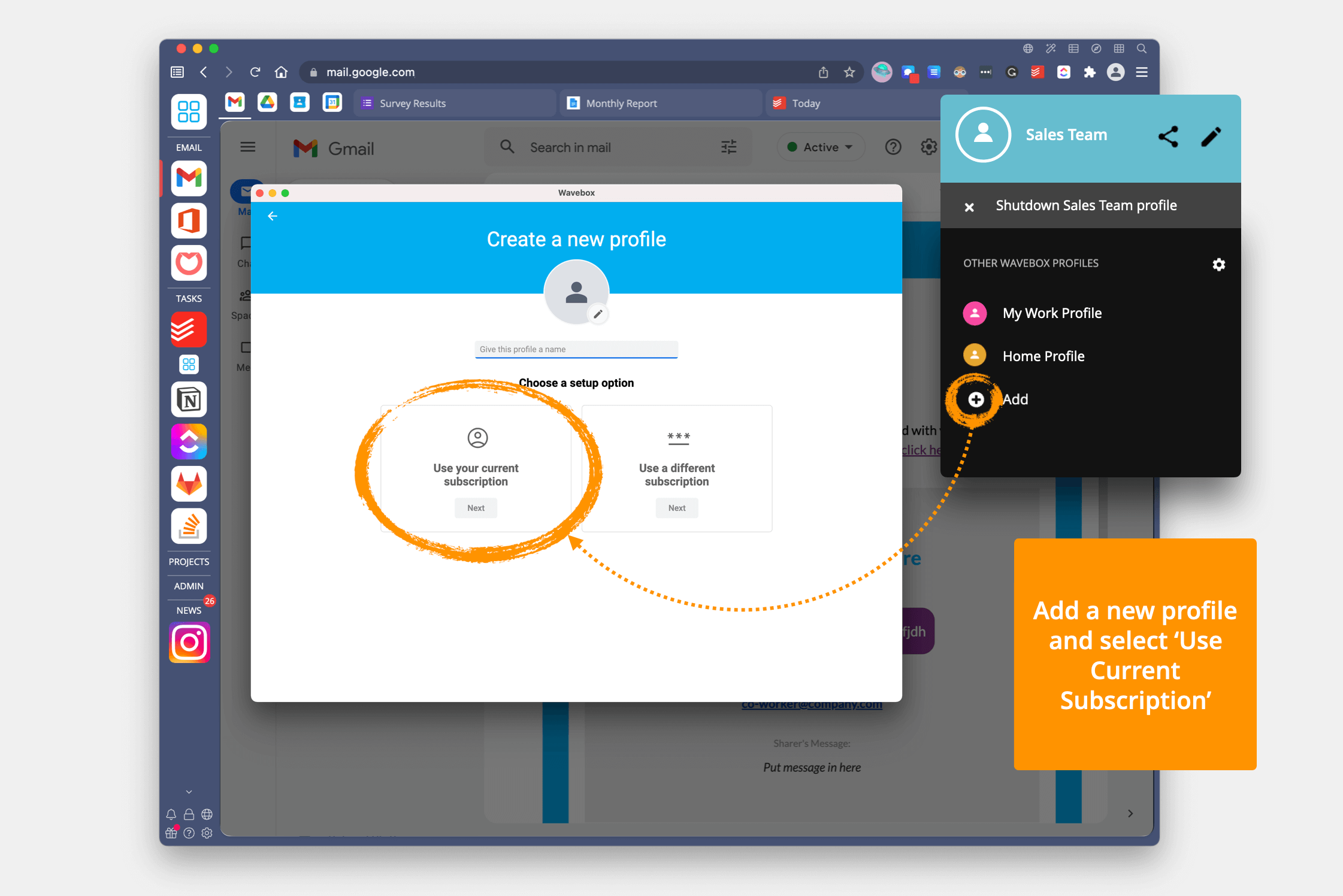 Included with Apps:
App type (integrated, app directory, weblink)
Cookie container for the app
Name, icon & other appearance settings
Notification & badge settings
Sleep & Window opener rules
Saved items (tooltip menu)
Included with Groups & Profiles:
Cookie container for the group
Icon, name, color, badge colors & other appearance settings
Dividers (if present)
Templates do not include:
Cookies or browsing history.
Passwords (if not included).
Private workspaces.
App-wide settings from the main 'Settings > General' section e.g. Keyboard Shortcuts, Theme, UI choices, etc.
Managing your Templates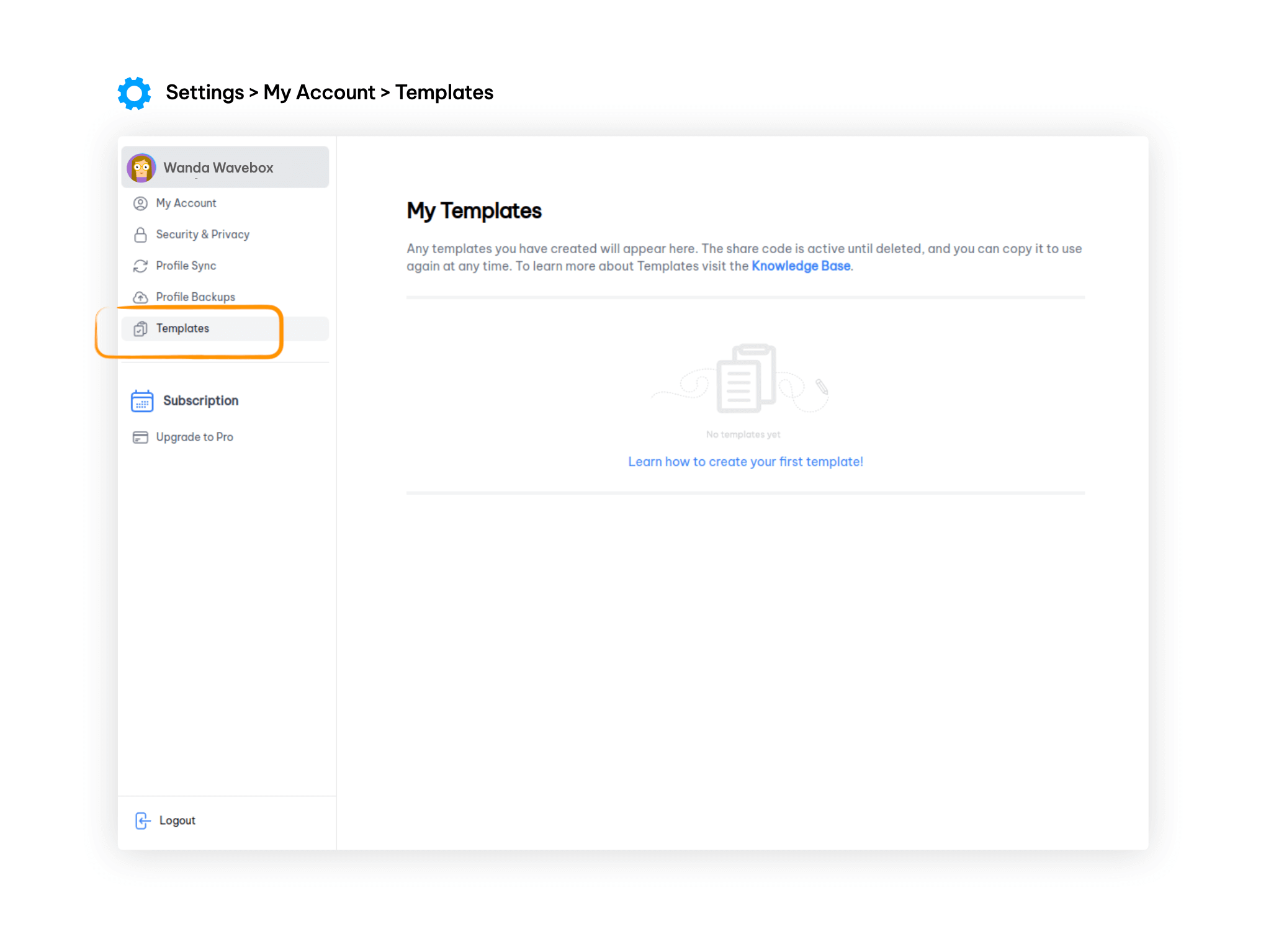 Every template you create can be accessed via the Admin Portal.
Hover over the Settings cog (bottom-left) and click on My Wavebox. Then click on Templates in the sidebar.  From there you can copy template codes and delete templates.
If you are on the Wavebox for Teams plan, you can also check a box to make a template available to the team e.g. appears on install.
Read more about templates: