New! Revamped Settings, Focus Mode Updates & Google Calendar Widget.
Along with the inaugural Chromium update and the usual stability and performance updates, we have some fab new features for you to try!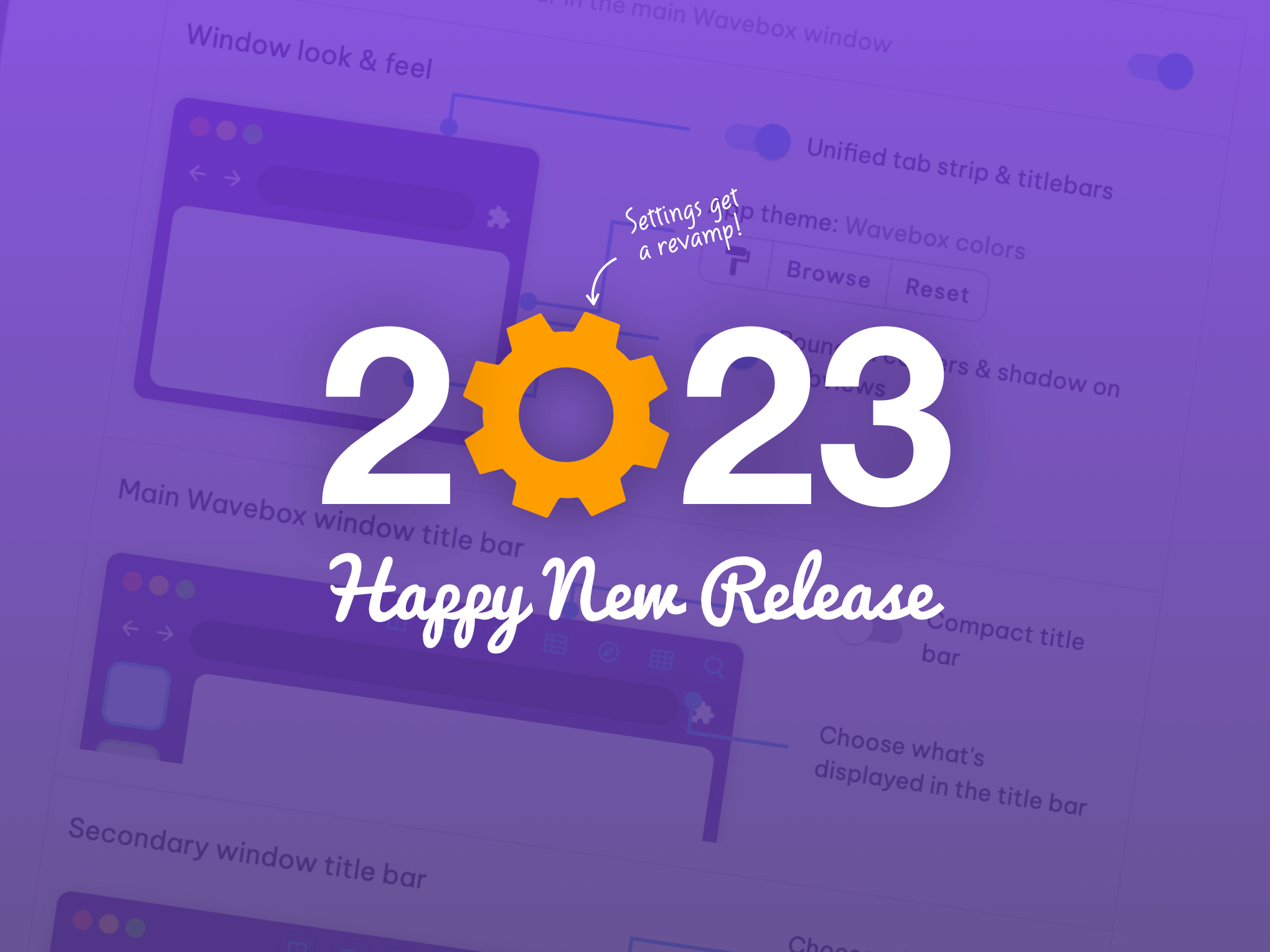 🥳 Happy first release of 2023! Along with the inaugural Chromium update of the year, plus the usual stability and performance updates, we have some fab new features for you to try this week.  So, pop along to 'Settings > About > Check for Updates' and try them out today!  Check out the release notes.
⚙️ New Settings UI
Settings has had a major glow-up to kick off the New Year in style! 💋 We've replaced (around a thousand😛) toggles with fancy interactive diagrams that provide visual cues as to what each setting does. We've also done some general tidying up and tweaking. We hope that the new layout will make Settings a great place to discover new features as well as customize them.
Other updates to Settings include:
It's faster to load.
The search is also faster, more precise, and more reliable.
We've added fixes and made tweaks so that it's less daunting!
Also added some new settings...
⭐️ More New Settings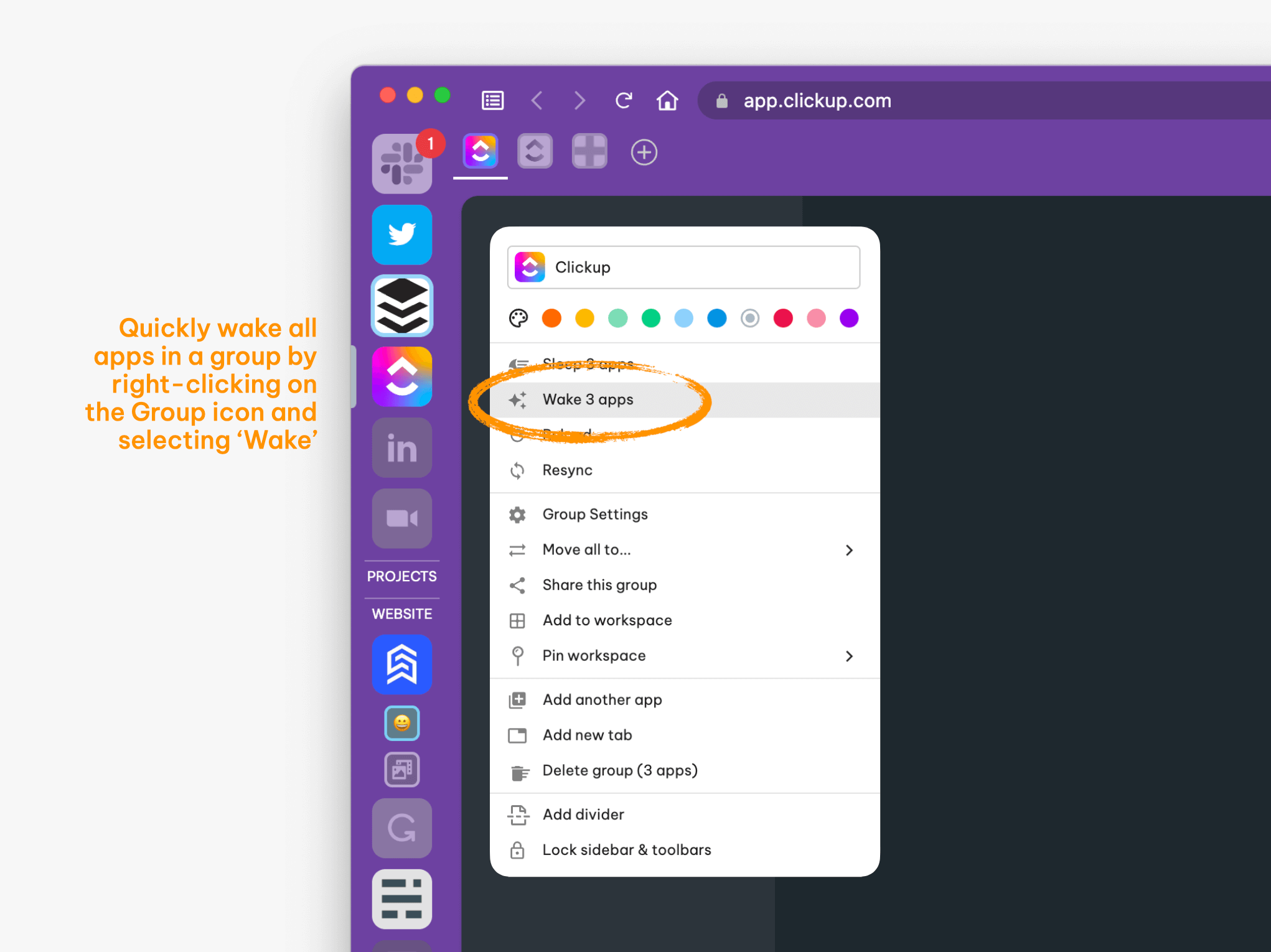 Sleeping: You can now wake all apps in a group. Just right-click on a group icon and select 'Wake Apps.'
Sleeping: There's now an option to bulk-enable sleep on ALL apps, which overrides any individual app settings.  Go to: Settings > Sleep > Apply Sleep to all Apps.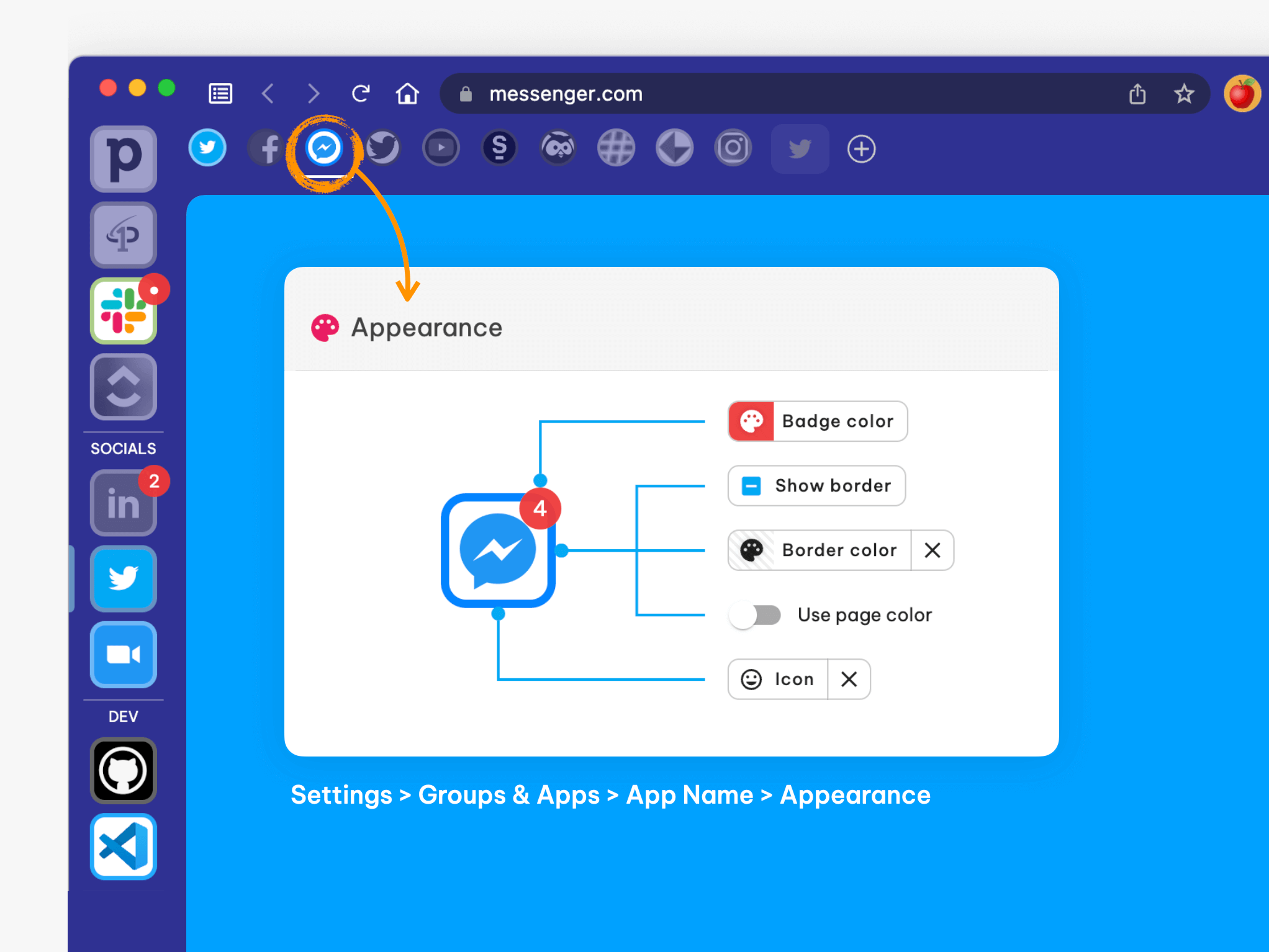 Icons: We've added new customization options to App Settings so you can show/hide the border on individual apps.
Workflow: You can also modify what happens when you close a tab—we've added a 'Last App' flag to the options. Go to: Settings > Advanced > Advanced Flags to make your selection.
📅 Add Google Calendar to any Workspace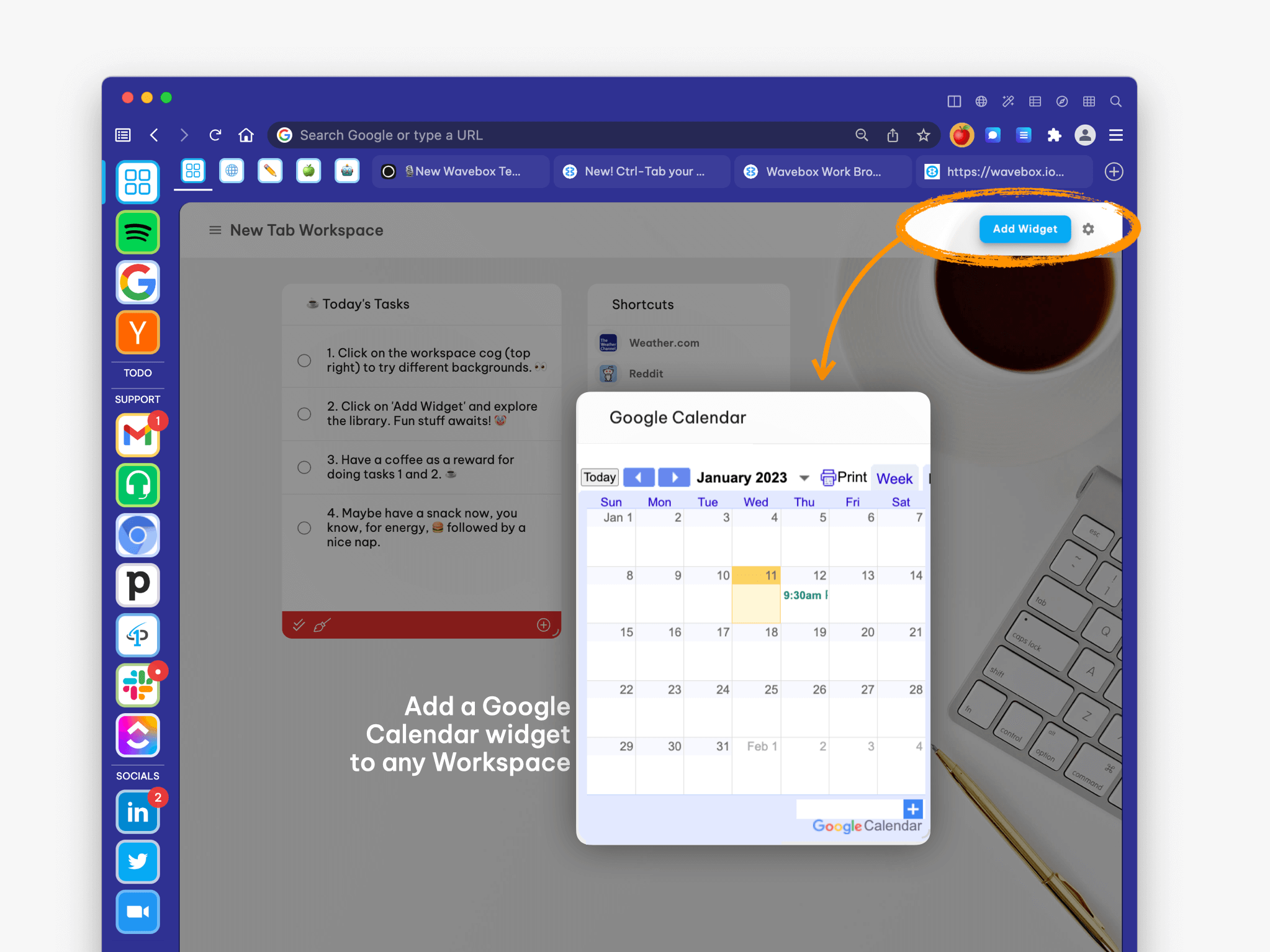 Plan your day and keep an eye on your diary without leaving a Workspace! How? By using the new Google Calendar widget, of course! Here's how:
Go to any Workspace
Click on 'Add Widget' and select 'Google Calendar' from the Library
Follow the simple embed instructions.
🙉 New Focus Mode Features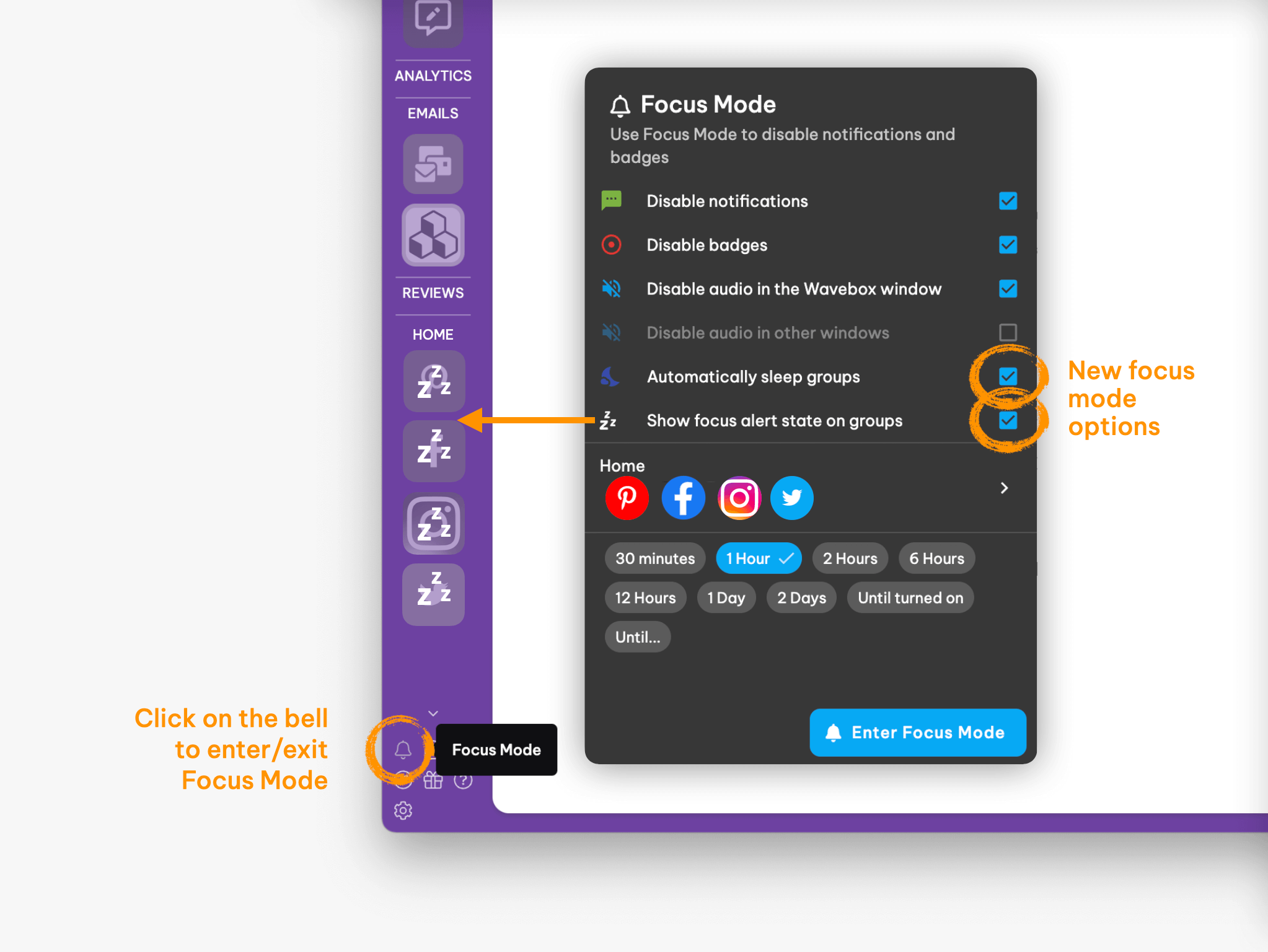 Whether you need to concentrate or temporarily block out distractions, Focus Mode is a great way to pause notifications, hide badges, and mute sounds. And in this release, we've added a couple of user-requested options:
You can now choose to overlay a snooze icon on groups/apps to indicate what's in Focus Mode.
We've also added the option to sleep groups, as well as mute them when entering Focus Mode.
---
🙌 🥰 Thanks to everyone who reached out with feature requests and suggestions. Email your ideas to support@wavebox.io, or click on the 💡light bulb icon bottom left to use the Feature Request form. You can also Tweet and message us on Facebook @waveboxio. Click here to read the full release notes.