7 Ways to Boost your Productivity in 2023 by Switching Browsers.
Working across hundreds of tabs in any other browser leads to confusion and stress. But with Wavebox, the experience couldn't be more different.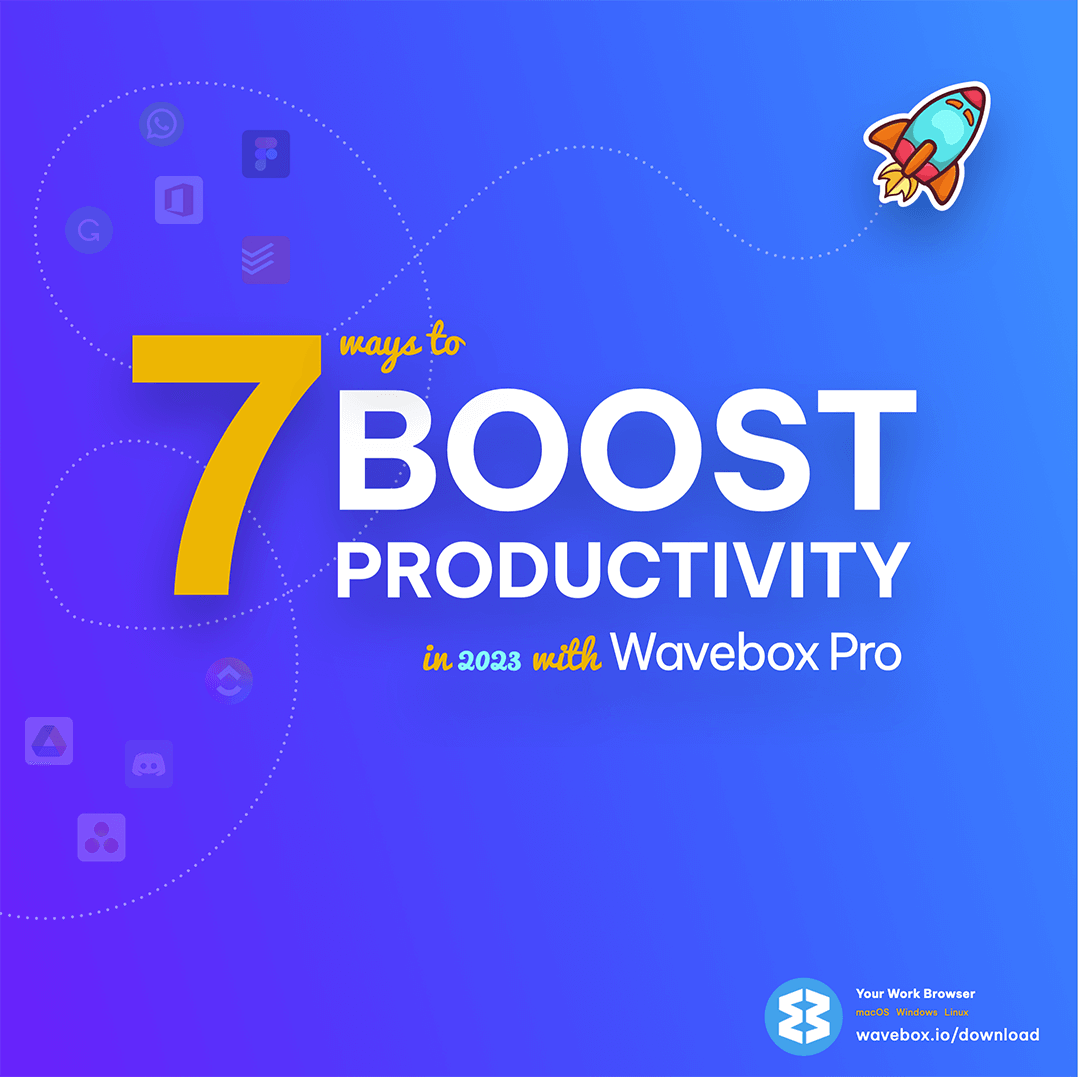 Using a browser that's built for work will significantly boost your productivity in 2023.
Working across hundreds of tabs in any other browser leads to confusion and stress.  But with Wavebox, the experience couldn't be more different.
Wavebox is a Chromium browser built specifically for working on the web. It does everything that a normal browser does, and a whole lot more. Not only does it bring all your work web stuff together and provide quick navigation between your favorite apps, it also makes working across them easier by adding features like multi-account sandboxing, unified notifications, and search. Wavebox allows you to transform untidy tabs into powerful permanent workflows, and complete everyday tasks in a snap—no signing in and out, no switching browsers or desktop apps.
So if you are looking at ways to be more productive and efficient in 2023, here are seven reasons why trying Wavebox Pro should be at the top of your New Year's to-do list!
🚀 1. Automation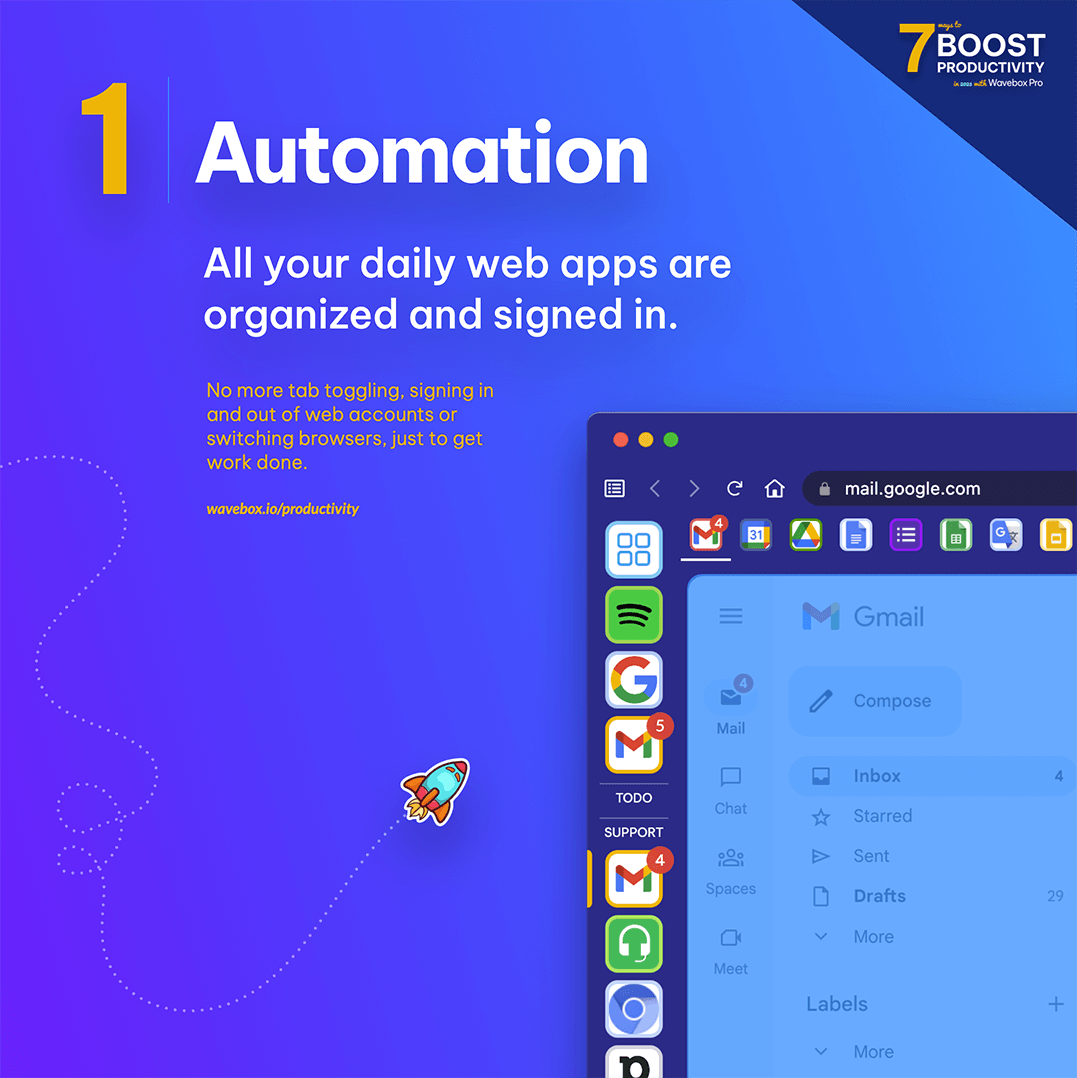 Does it take 20 minutes (or longer) to set up your browser, even before you start work? There is another way. Switch to a productivity browser and have all your apps and tabs organized and signed in. You can automate manual tasks like signing in and out of different accounts, re-entering passwords, opening/closing tabs, searching through tabs/bookmarks, and copying/pasting links. Wavebox users save around 90 minutes daily by automating time-zapping processes such as these. Learn more.
🚀 Boost: Having all your work apps and tabs organized, and correctly signed-in will help you feel less stressed and more in control.
🧘🏽 2. Focus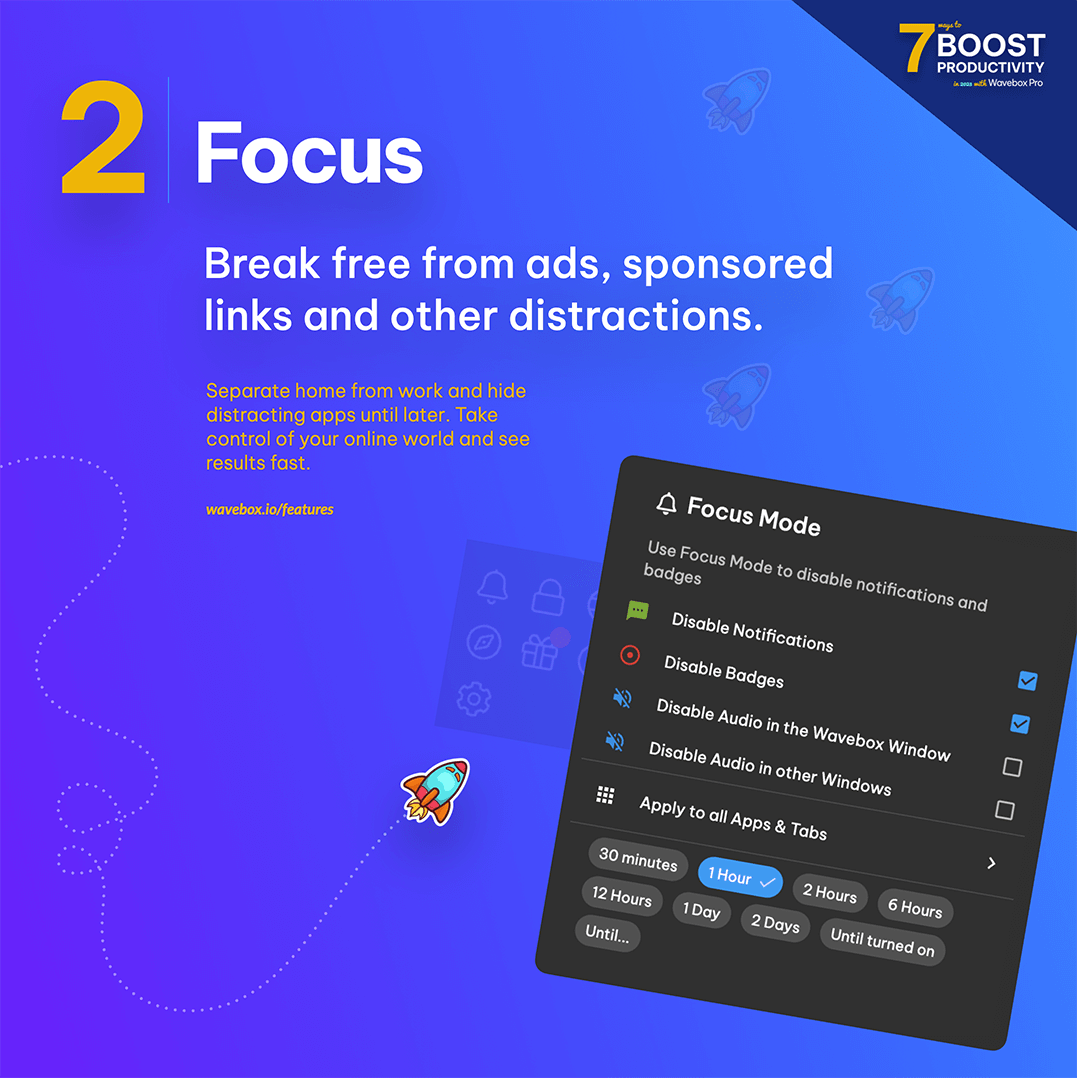 There's no escaping the fact that browsers are built to deliver ads, and with ads come distractions.  And with every new release, Chrome is being optimized for Google Workspace users, as Edge is for Microsoft Teams. But if you work across all ecosystems, and prefer having (1) no distracting ads or sponsored promotions, and (2) built-in productivity-boosting features like global search, workspaces, unified notifications, and workflows across all software ecosystems, then it's time to try an alternative browser like Wavebox that allows you to focus on work. Learn more.
🧘🏽 Boost: Separating work from home and blocking out ads and distractions will help you maintain focus and achieve more in your day.
🔗 3. Workflows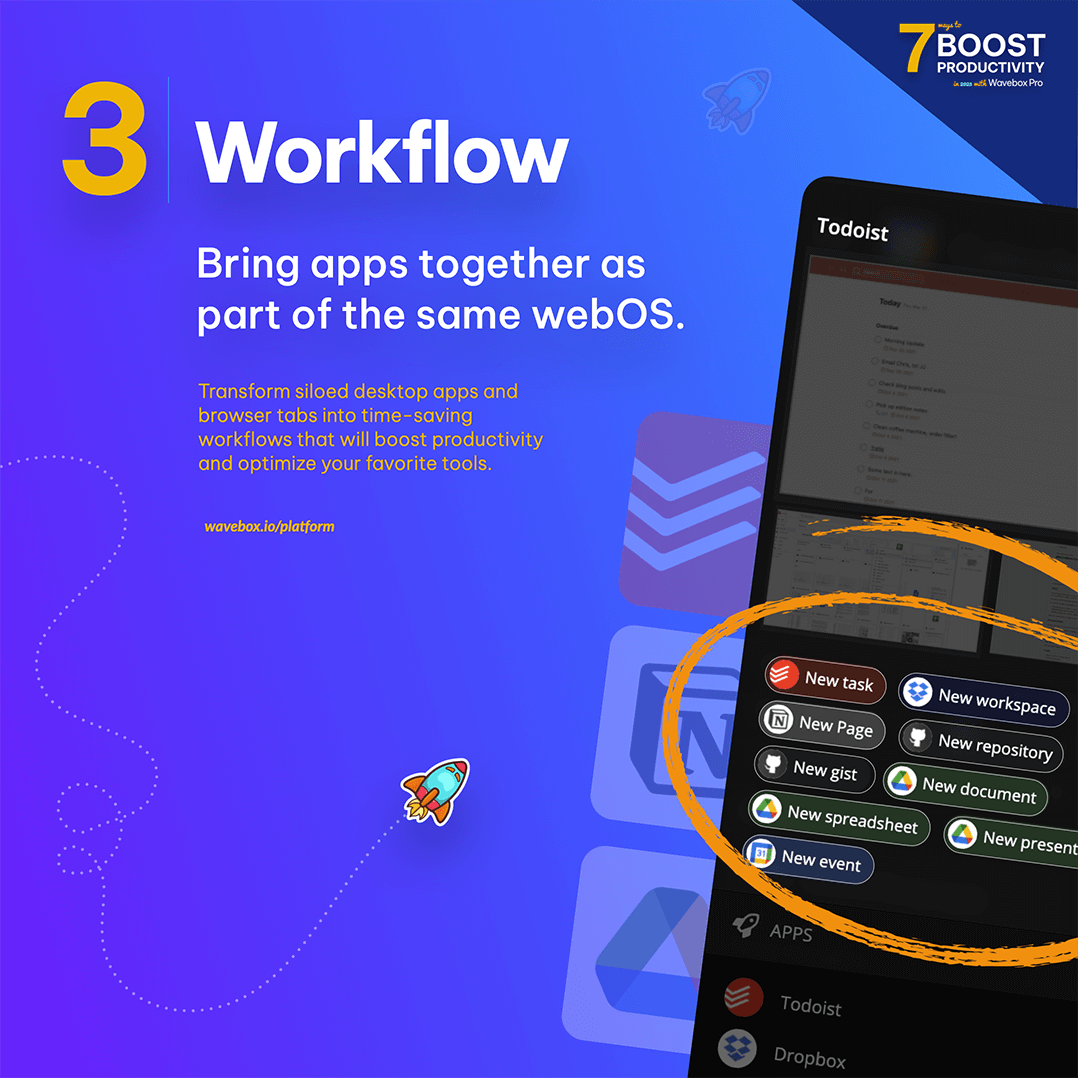 We all use a bunch of different web apps to get work done. Some are installed on our computers, whilst others are open in tabs. You may even have apps open in more than one browser, and on other computers. Wouldn't it be faster to have all your apps in one place so you can swiftly click between them to complete tasks in half the time? In Wavebox, you can! Wavebox has a built-in AI Link Engine that learns as you click between apps—the more you use it, the better it gets. For example, if you click on a Todoist link in Slack, it opens in Todoist, and if you have more than one Todoist account, it will also open in the correct one for that link. Learn more.
🔗 Boost: With all your apps in one place, you can focus on work rather than navigation.
📕 4. Context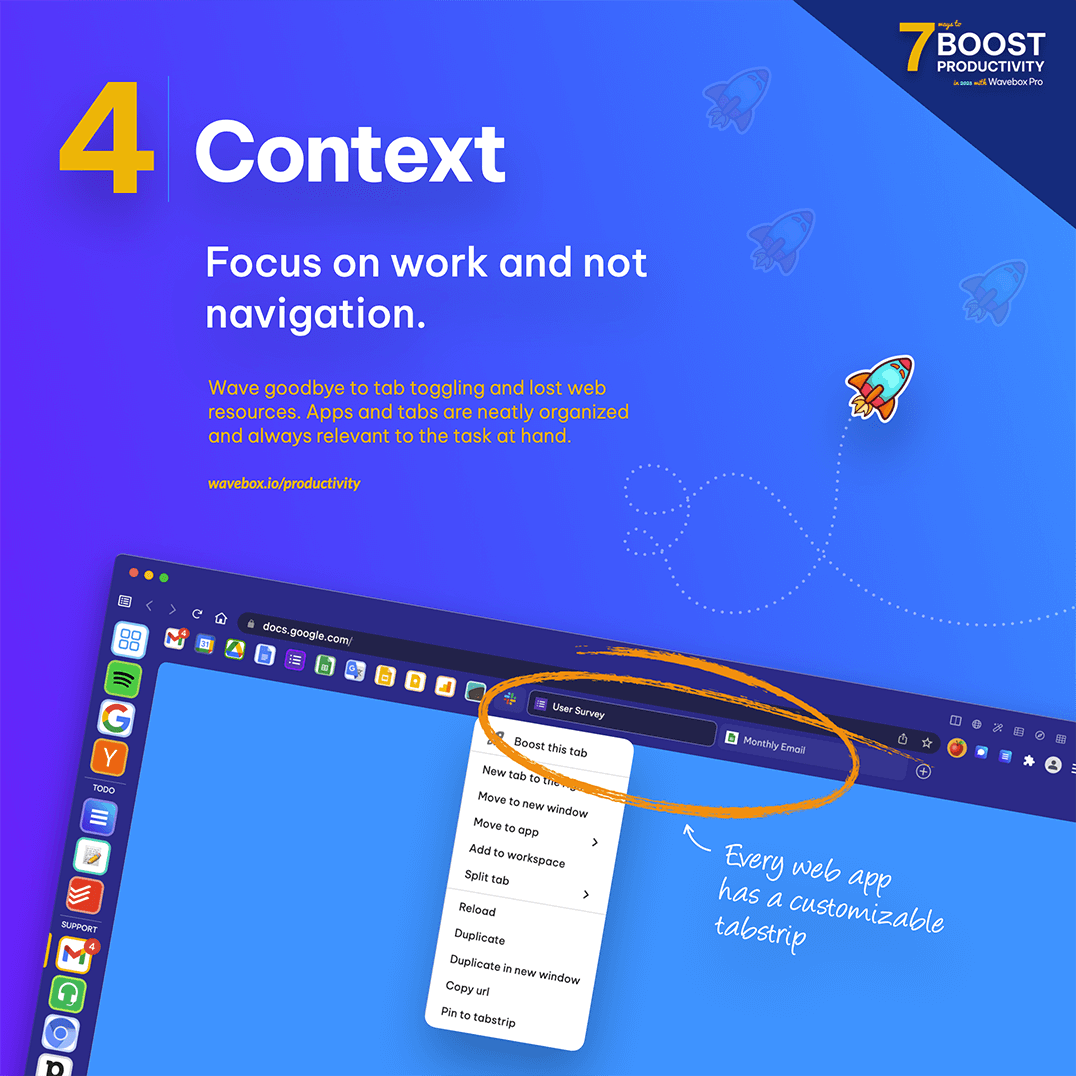 Maintaining context as you work is great for productivity. Having to switch Chrome profiles, sign in-and-out of accounts, or jump out to desktop apps to get the data you need for a task, is counterintuitive and distracting. By automating dull manual processes, removing distractions, and building focused workflows, you will maintain concentration and fly through work.
For example, Wavebox's unique approach to tab navigation means that you'll never end up with a bunch of cluttered and confusing tabs that don't belong anywhere. Tabs are always used within apps or groups to be relevant to what you are working on, limiting distractions and saving valuable time. In fact, most of Wavebox's best features are based on unifying resources to maintain context and make life easier, including; global Search, Webmail handler, Workspaces, Smart Notes, Connect (built-in screen share), Wavebox Mini (unified notifications and unread badges) and Quick Switch.
📕 Boost: Wave goodbye to tab toggling and lost web resources. Apps and tabs are neatly organized and always relevant to the task at hand.
🔋 5. Performance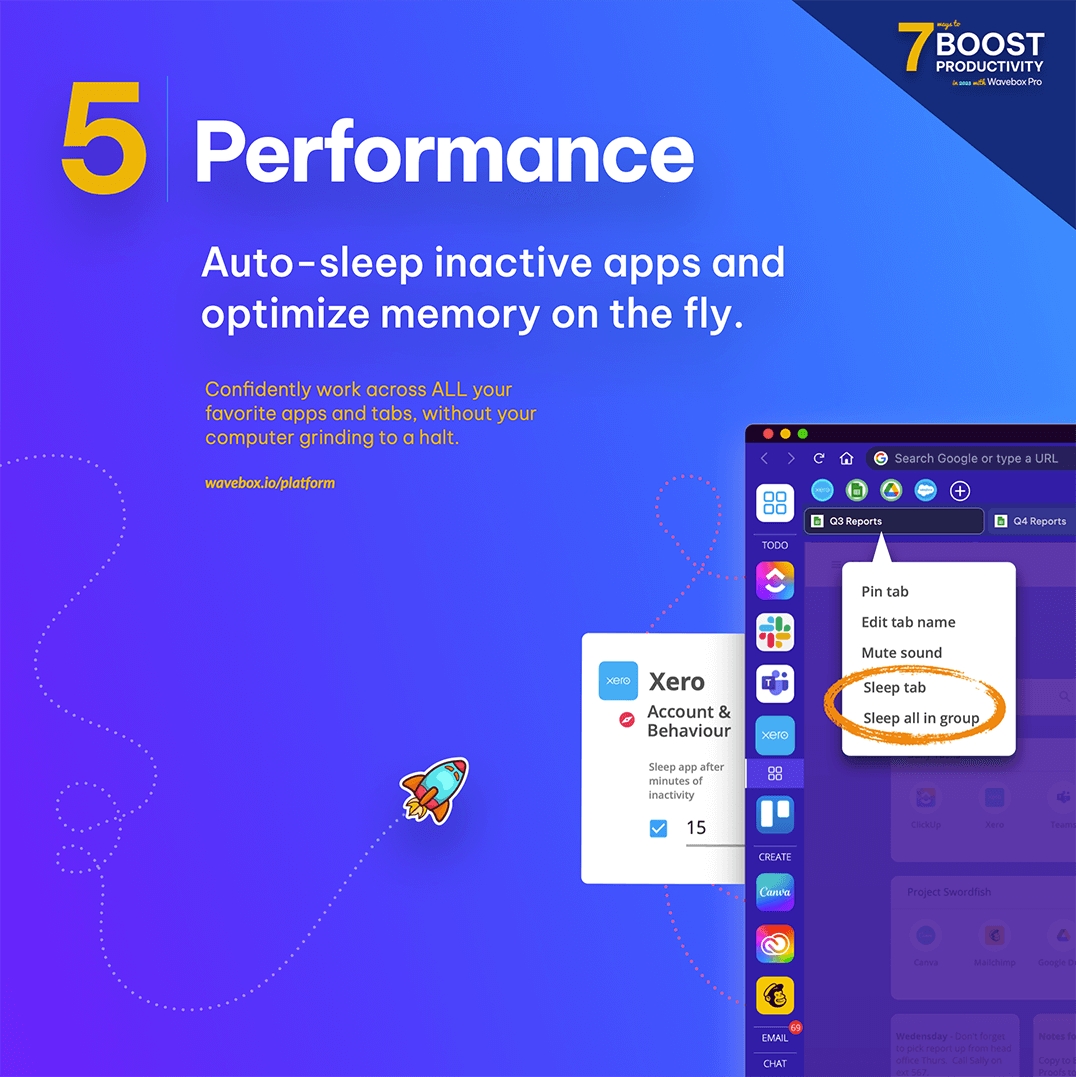 How many apps and tabs do you have open in a workday? 10, 30, 50? Do you even know? Running too many browser tabs consecutively in most browsers will slow your computer, and have a negative impact on productivity.  This is definitely not the case in Wavebox, which has tab sleeping and memory optimization built into the core platform. When multitasking on the web, everyone on your team needs a browser that can cope with fluctuations in demand to deliver a consistent performance, even with a gazillion open tabs! I have over 100 apps open in my Wavebox and twice as many tabs pinned, bookmarked, and organized—all of which are instantly available via the global search—and it ticks along perfectly. Learn more.
🔋 Boost: Built to cope with the demands of today's complex online worlds, it can feel like you've upgraded your computer!
🎨 6. Customization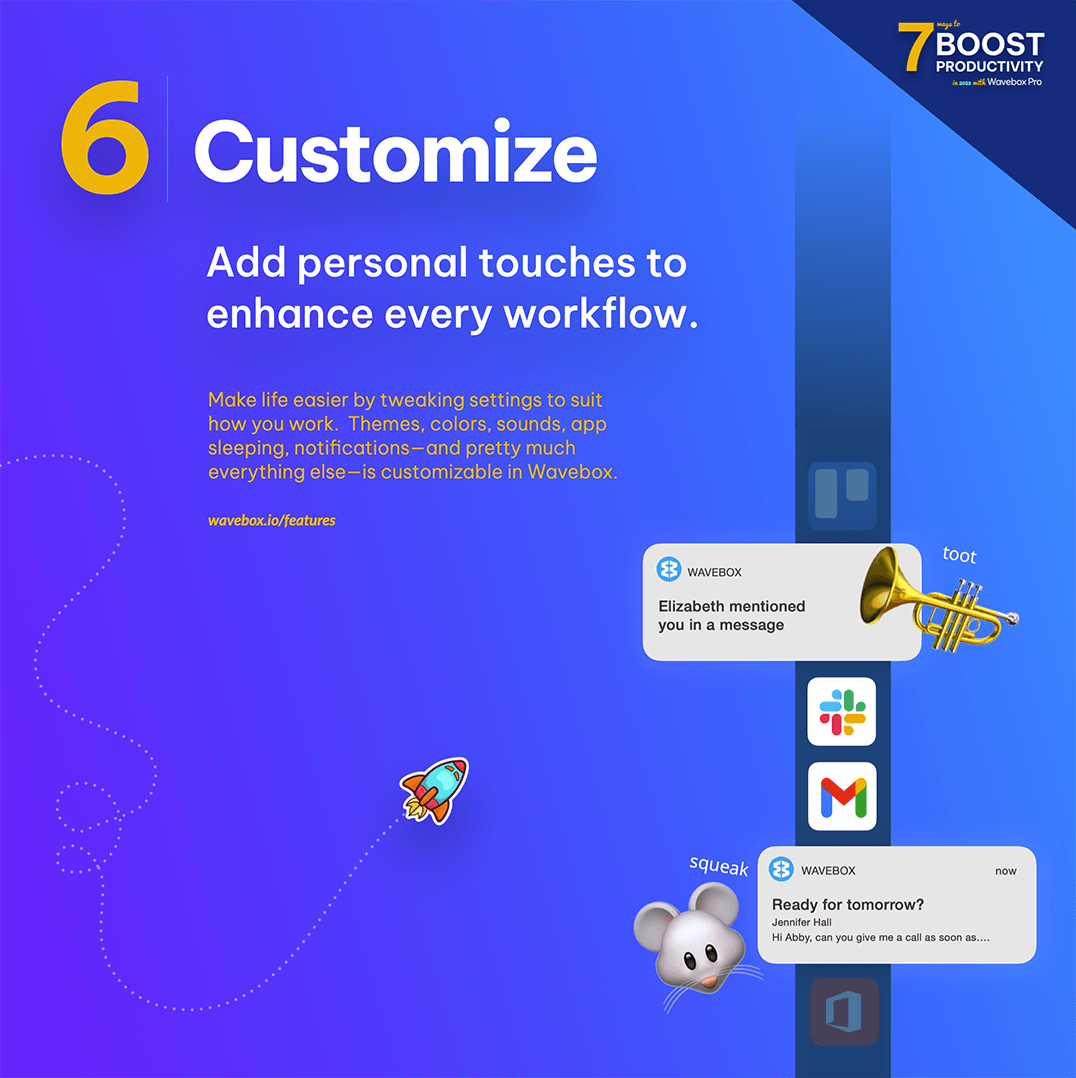 Most browsers can easily be customized via settings. You can also use extensions (from the Chome web store) to add further features. But when you need to stay signed in to 5 different WhatsApp accounts, as well as 6 Instagram, 6 Facebook, and 10 Gmail accounts, 4 of which need to sleep, have different colored unread badges and notification sounds, and specific link opening rules for them all......then you're going to need Wavebox, where most of these options are a single right-click away.
🎨 Boost: With plenty of knobs and dials to keep everyone happy and, generally, make life easier.
🤝 7. Onboarding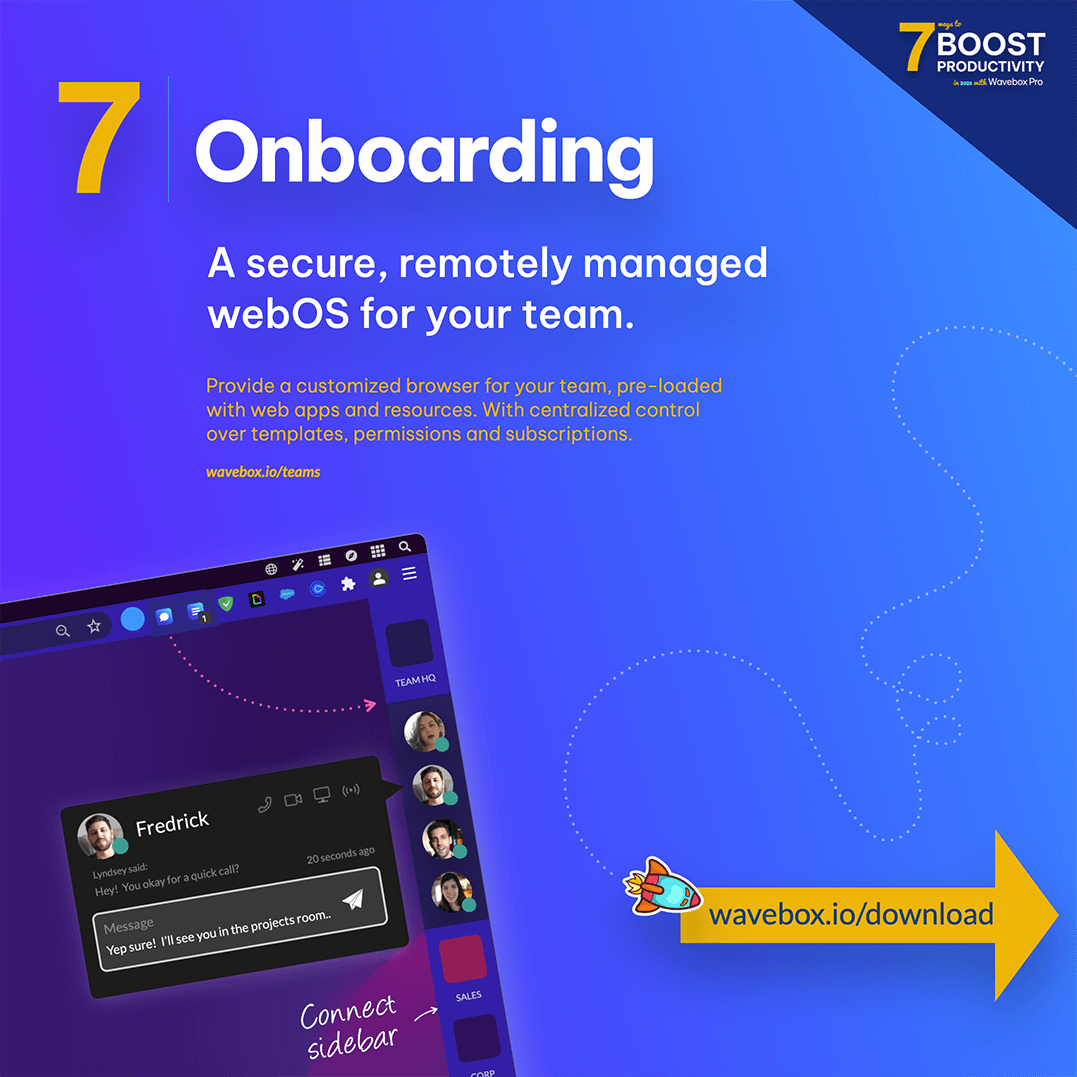 From monthly payroll to project planning, your business probably uses over 40 SaaS apps. There are team-wide apps that everyone uses, e.g. Slack, Asana, and Monday, plus more specialized ones, e.g. Figma, Xero, and Salesforce. ‌Imagine if every team member could login to a browser, and have all the apps they need already signed-in (correctly) and ready for work. Wouldn't that save you so much time and effort, especially when welcoming new hires to your organization? With Wavebox, you can remove distractions, enhance apps with great new features, improve machine performance, and increase productivity across your entire organization. Learn more.
🤝 Boost: A secure, remotely managed webOS for your business.
---
There are cost savings too!
With all the top productivity tools built-in, like tab sleeping, workspaces, team sharing, and chat/audio/screen sharing, you will save on monthly extension subscriptions. Having all your apps in one place–for both individuals and teams—is the perfect opportunity to organize, monitor, and evaluate all your existing SaaS subscriptions, and maybe save some money. Learn more.
Now try Wavebox!
Wavebox is a secure and private productivity platform with Chrome built-in. If you like using Chrome or Edge, you'll LOVE Wavebox. With better navigation, improved memory management, flexible sign-in capabilities, and unified workflow management, Wavebox is an all-in-one toolkit for better online working.
Try Wavebox today and be blown away: https://wavebox.io/download