Make the Switch to Wavebox 10
Following the recent soft launch of WB10, we are now delighted to invite all Wavebox Pro users to make the switch from version 4 using our migration wizard.
Wavebox 10 is a completely new version of the app, which has been built directly on a Chromium foundation (rather than Electron).  This new platform has allowed us to build a faster, more stable app that is crammed with great features!
Blog post on Wavebox 10 features >
Wavebox version 4 (which is what you're probably using now) has been renamed Wavebox Classic, and everyone currently on this version should think about making the very simple switch to Wavebox 10. After downloading the app from wavebox.io, there are just a few simple steps to follow.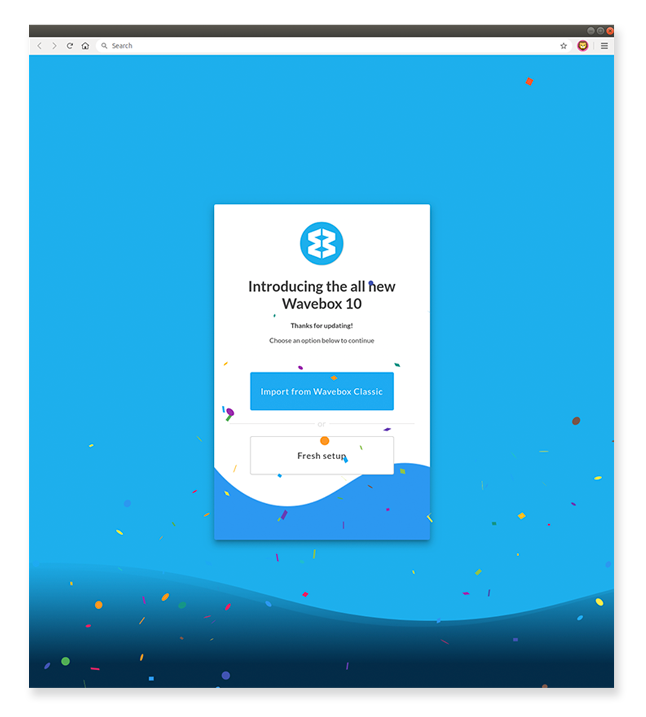 Although all your apps and settings can be carried over from Wavebox Classic, for security reasons we do not copy over your passwords, so you will need to sign-in to your apps the first time you use them.  You will only need to do this once. Wavebox 10 also has an in-built username/password manager to make signing-in again (if needed) much quicker.
Alternatively you can add any Chrome password extension, such as LastPass, Bitwarden or 1PasswordX to help with the sign-in process.  
In fact, you can add any Chrome extension to Wavebox 10 - just click on the Dashboard icon at the top of the sidebar, then click on the Extensions button to take you straight to the Chrome web store. Then search for the extension you want and click on the blue 'Add to Wavebox' button.
Other exciting new features in Wavebox 10 include;

Significant performance improvements.
Improved app grouping in the sidebar.
Support for essential web-features such as screen sharing, video conferencing and PDF viewing.
Desktop lock (pin code or password).
Dashboard app 'collections' and activity monitor.
Improved 'profiles' for isolating or sharing cookies across apps (multi-account sign-in).
In-built username/password manager.
Download manager.
Support for Chrome extension themes.
Multi-window support with tabs.
Address bar for adhoc Google searches and app navigation (with an option available to hide this).
There is a new Knowledge Base for Wavebox 10 and there are links to it from the app.  Click on the red 'Question mark' icon at the bottom of the sidebar and select 'Knowledge Base' to find answers to your frequently asked questions.
As this is a brand new platform, please note that we are still working on bringing across some Wavebox Classic features. We are also pushing out frequent releases to the app, so take note of regular update prompts, and install them as soon as you get chance. There's also a yellow star in the top right-hand corner of your dashboard to notify you when there's something new to discover.
Related information:

Why we've moved from Electron to Chromium
Wavebox 10 Knowledge Base
Sign-in to Multiple Google & Microsoft Accounts in 3 Simple Steps
20 Top Browser Extensions to use with Wavebox