20 Top Browser Extensions to use with Wavebox.
Chrome extensions can help you be more productive at work, save time, get organised and work more efficiently. We take a look at the Top 20 most frequently requested extensions by Wavebox users. Wavebox now supports all Chrome extensions.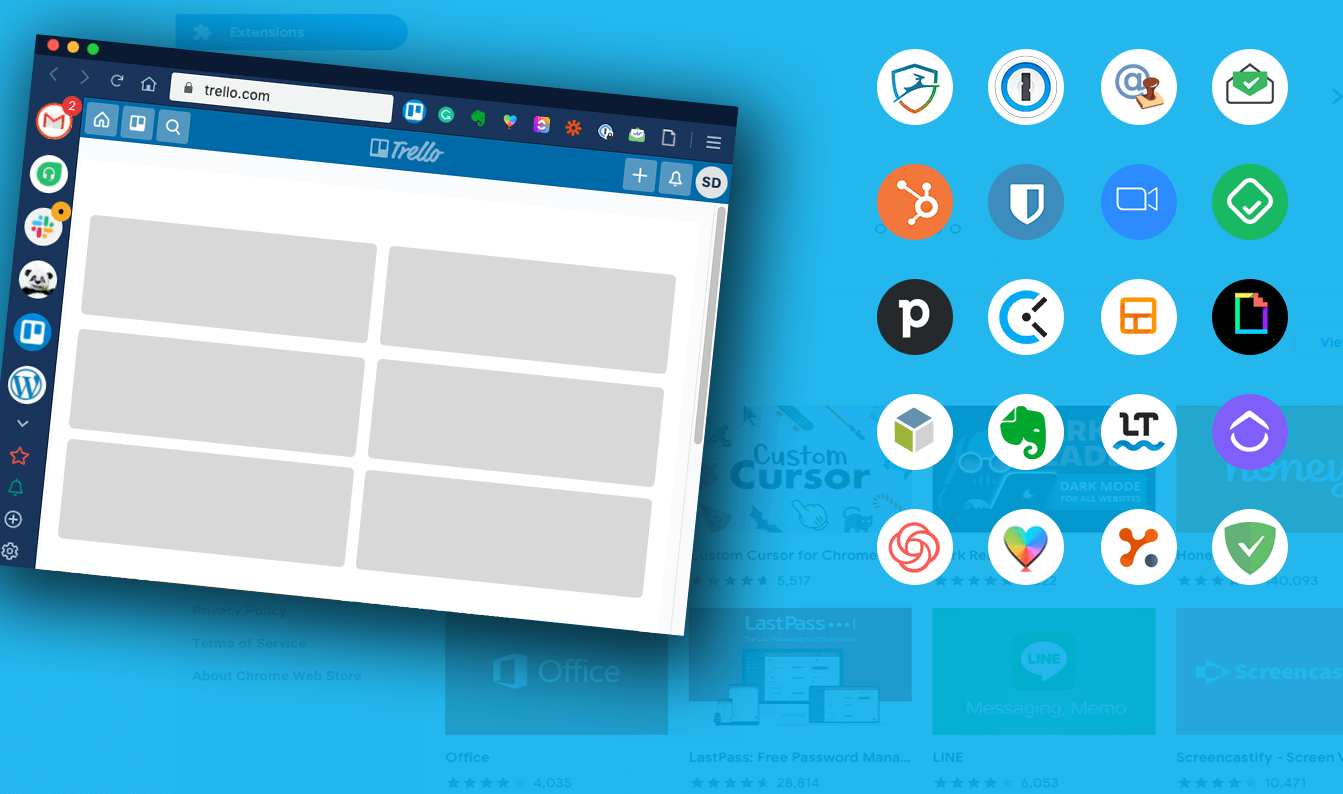 Built on Chromium, Wavebox supports all Chrome extensions by default, so we thought we would take a look at the most frequently requested extensions by our users - all of which can now be added to Wavebox! 🙌
What is a Chrome extension? They are small programs that enhance the browser experience by adding various features from themes, to managing your entire sales and CRM process. Chrome extensions are listed in the Chrome Web Store and here's how easy it is to add one to Wavebox e.g. 1PasswordX.
In Wavebox, paste the following URL into any address bar: https://chrome.google.com/webstore to open the Chrome web store.
Browse the store to choose an extension e.g. type '1PasswordX' into the search box.
From the extension listing page, click on the blue 'Add to Wavebox' button.
After install, click on the grey jigsaw icon in the top toolbar (to the right of the main address bar) then find the extension in the list and click on the pin icon to add it to the top toolbar. That's it! Here's a list of 20 popular extensions used by Waveboxers:
Keep Data Safe Online: Password Security, Adblocking
Use these extensions for securely storing and safely using all your passwords, allowing you to use them as and when you need to on-the-fly. You will need to create a central account for these (note to self: don't forget the password for your password manager) and login to that account after adding it to your Wavebox.
Manage your Inbox to Achieve your Goals: Email Tracking & Sales
Power-up your workflow to the absolute max with these turbo-charged plugins for Gmail. Install these extensions once in Wavebox, then use it across all your Gmail accounts, which can be signed in simultaneously.
Boost your Productivity: Tasks, Scheduling & Time-management.
Work efficiently, be organised, and get more out of your day by using these smart productivity tools.
Work Efficiency : Communication & Information
Capture and check information as you work with these handy extensions, then share or save for later - guaranteed you'll always have the right data to hand after adding these tools to your Wavebox.
Grammar & Spell Checker - Language Tool
LanguageTool finds many errors that a simple spell checker cannot detect, like mixing up there/their, a/an, or repeating a word, and it can detect some grammar problems. It supports more than 25 languages, including English, Spanish, French, German, Polish, and Russian.

Loom
Capture, narrate and instantly share videos to communicate faster, clearer and friendlier. 100% free! Loom is a new kind of work communication tool that helps you get your message across through instantly shareable video. Capture your screen, record your front-facing camera, and narrate it all at once, then instantly share with a simple link.

Evernote Web Clipper
Use the Evernote extension to save things you see on the web into your Evernote account.Evernote Web Clipper helps you save interesting things you find on the Web into your Evernote account. With Evernote Web Clipper, CLIP any webpage, HIGHLIGHT what matters most, ANNOTATE, take SCREENSHOTS, and have access to that information whenever and wherever you need it.
Have a Little Fun
Sharing joy with a colleague or friend just got easier. These two cheery extensions will brighten up any email, note or document. Distracting? Okay maybe a little, but you've got to have a bit of fun, right? 🙌🤪
Giphy for Gmail
Add the power of GIPHY to your Gmail experience. Search and discover the best GIFs for your every email need quickly and easily. Search and discover the best GIPHY GIFs and Stickers right inside of your Gmail composer. Add the perfect GIF or Sticker into your email with just one click!

Emoji Keyboard
This Emoji Keyboard extension lets you input emojis right in a web browser. It also comes with an extensive search functionality that helps easily get emoji by keywords. Click to the extension icon to invoke an emoji keyboard. Please hover on emojis to see their meanings. And just click on an emoji to copy it to the clipboard & insert it to an input element.
A few notable extras ❤️❤️❤️
Technically more than 20, but how can we forget some of the most popular extensions that Wavebox supported prior to Wavebox 10. Yep, they all still work 😉