🍉 Summer Recap: 15 New Features You May Have Missed.
Summer has flown by! Here's a quick round-up of 15 shiny new things to make life even easier when you get back to work.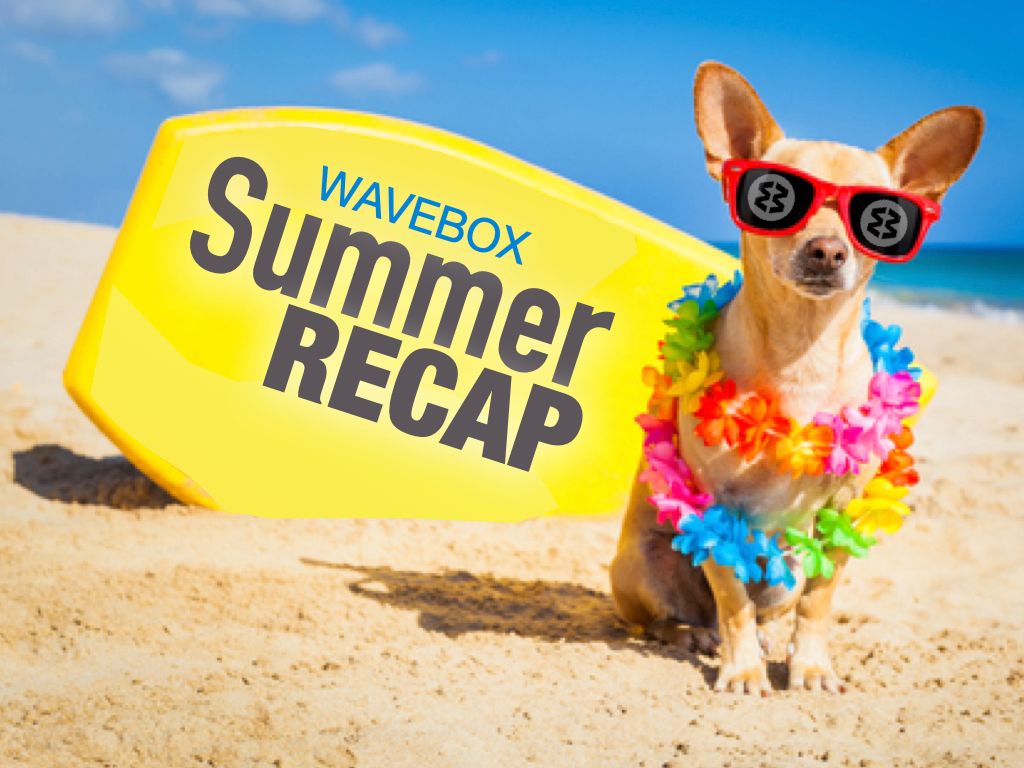 Today we celebrate the first Wavebox release for September.  Wow, it's September already, how'd that happen? 🤔😅
Summer has flown by, but in-between sipping cocktails on the beach  (we wish🍹) we still managed to release some great new features.  So, in case you were lucky enough to actually sip cocktails on a beach, therefore missing our release notes, here's a quick round-up of 15 shiny new things to make life even easier when you get back to work.
#1. Workspaces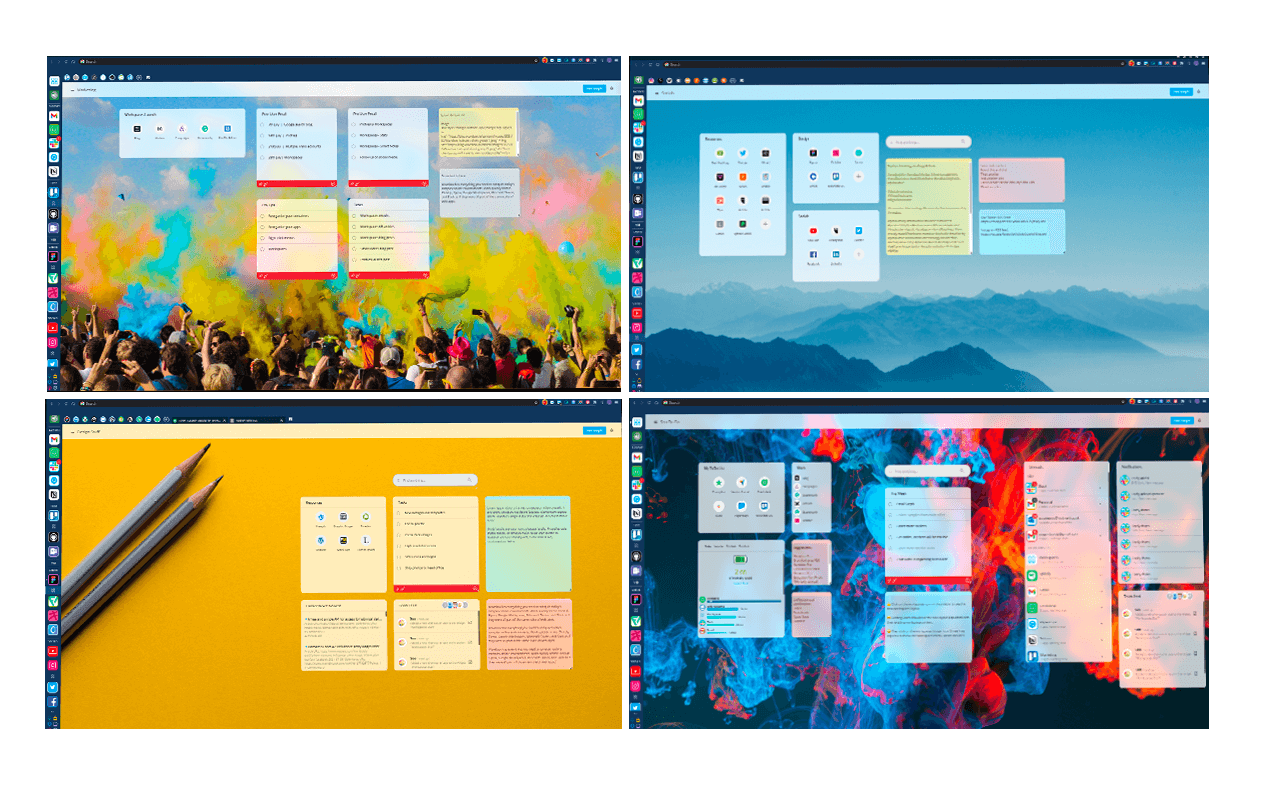 August 2nd was a major release for us with the launch of new Workspaces and Widget Library. You can now bring all your web resources together in workspaces, to use as a launchpad for any project, business or client. You can create as many workspaces as you like, and pin them to groups in the sidebar, and you can keep them private or share with your team.   Read the blog post.
#2. Workspace Widget Library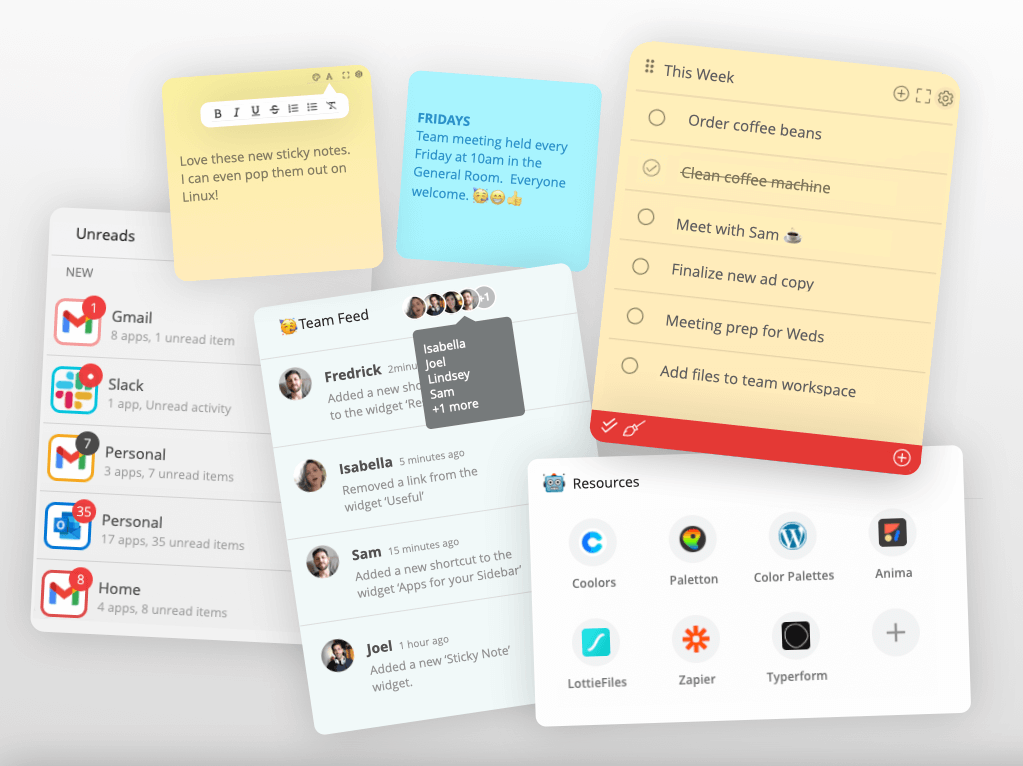 Explore our easy-to-add widgets that will transform any workspace into a productivity hub. Click on the 'Add Widget' button in any workspace (top-right) to launch the Widget Library, which includes: collections, sticky notes, to-do lists, RSS feed. You can even get a summary of what apps you've used in Wavebox with the 'My Wavebox' widget! Read the blog post.
#3. Multiple New Tab Pages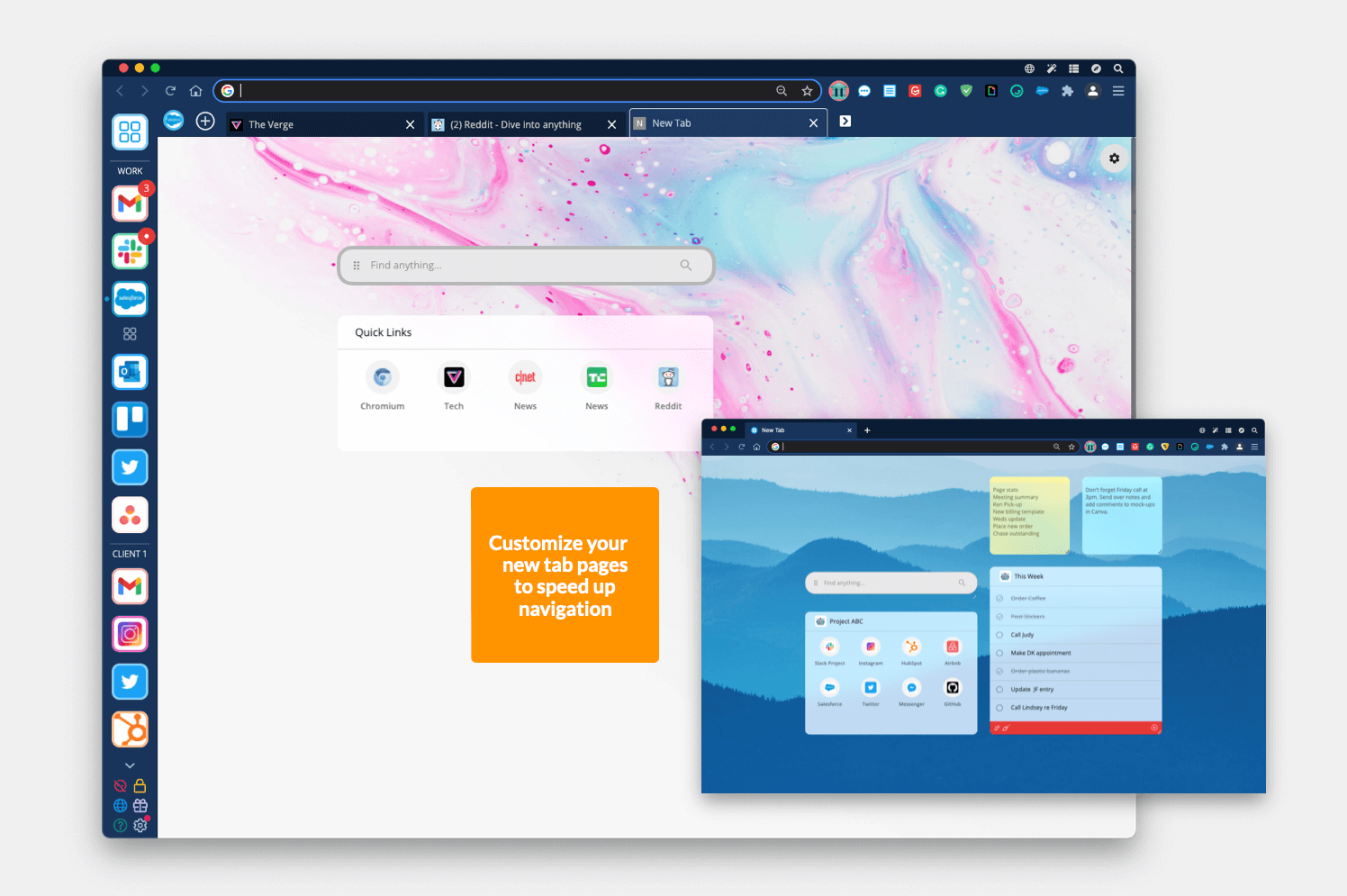 If you use a Chrome extension for your new tab page, then it's time to level up and use Workspaces in Wavebox instead. Chose any existing workspace to use in your new tabs. Use an existing workspace, or create a workspace just for the job - then add your favorite shortcuts, app links, task list, search box and, sticky notes!  You can also set a different new tab workspace for each cookie container too.
#4. Tooltip Title > App Home URL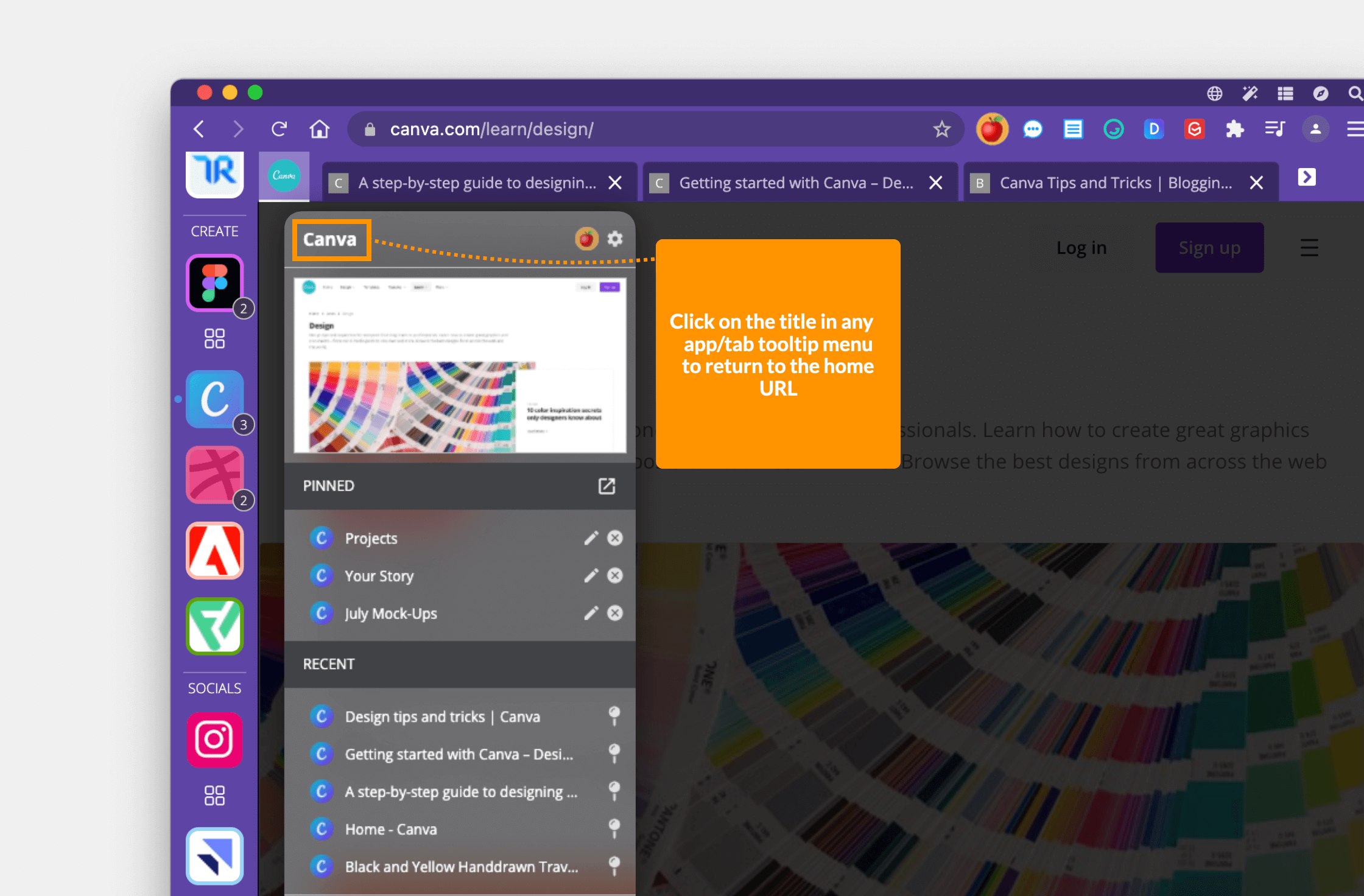 Fed up of waiting for an app to wake up before you can click on the 'Home' button? Tooltip menu to the rescue!  Hover over any app icon to bring up the tooltip menu and then click on the App Title to go straight to the app's home URL.
#5. Send Tabs to a Workspace (Updated)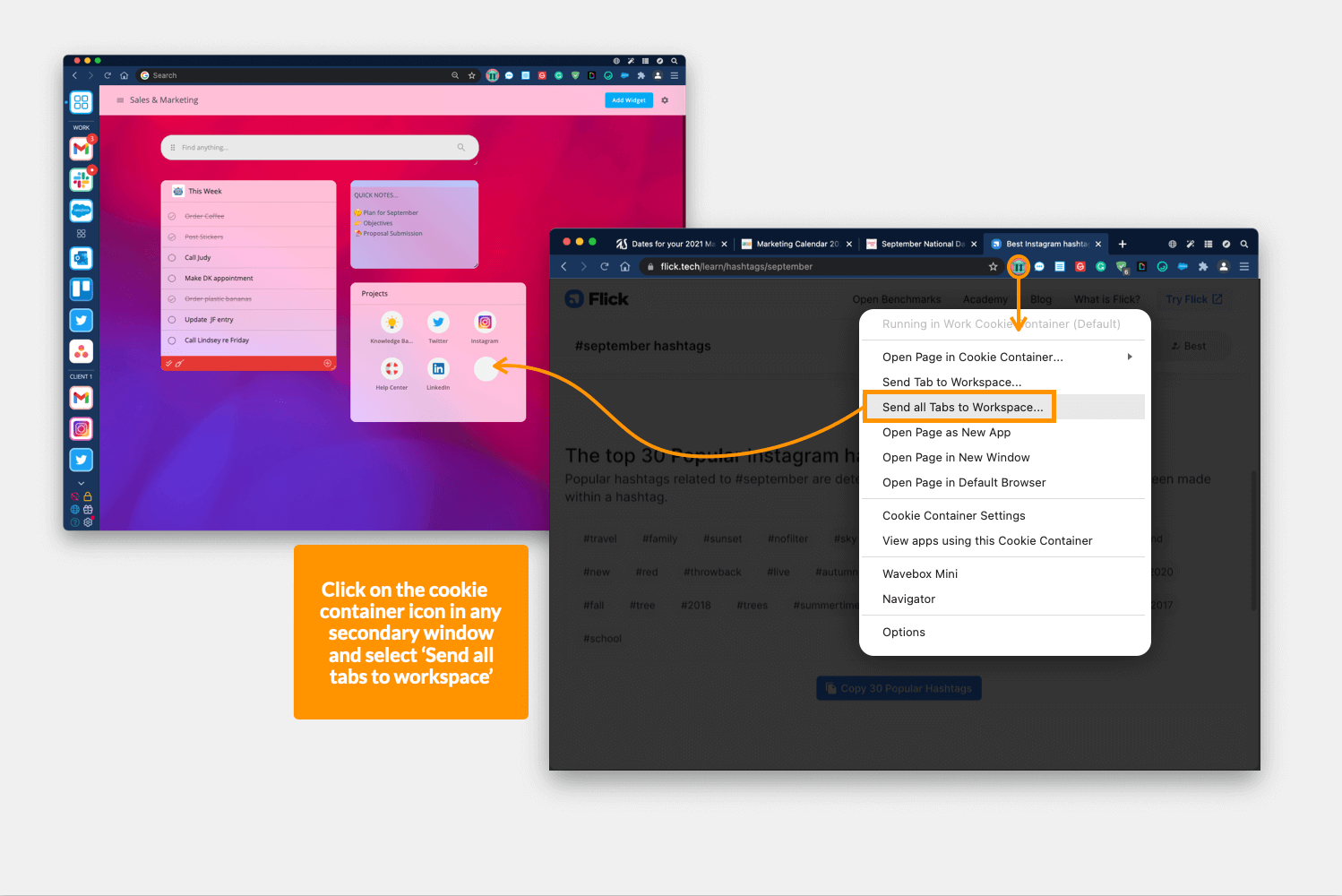 Following the launch of Workspaces, our handy save a session feature has been updated. Click on the profile icon in any secondary window to send the tab, or all tabs, to any workspace.  You can now choose which workspace to send it too, and which Collection widget or you can create a brand new Collection widget.  Perfect for saving and restoring your tab sessions to the main Wavebox window.
#6. Smart Notes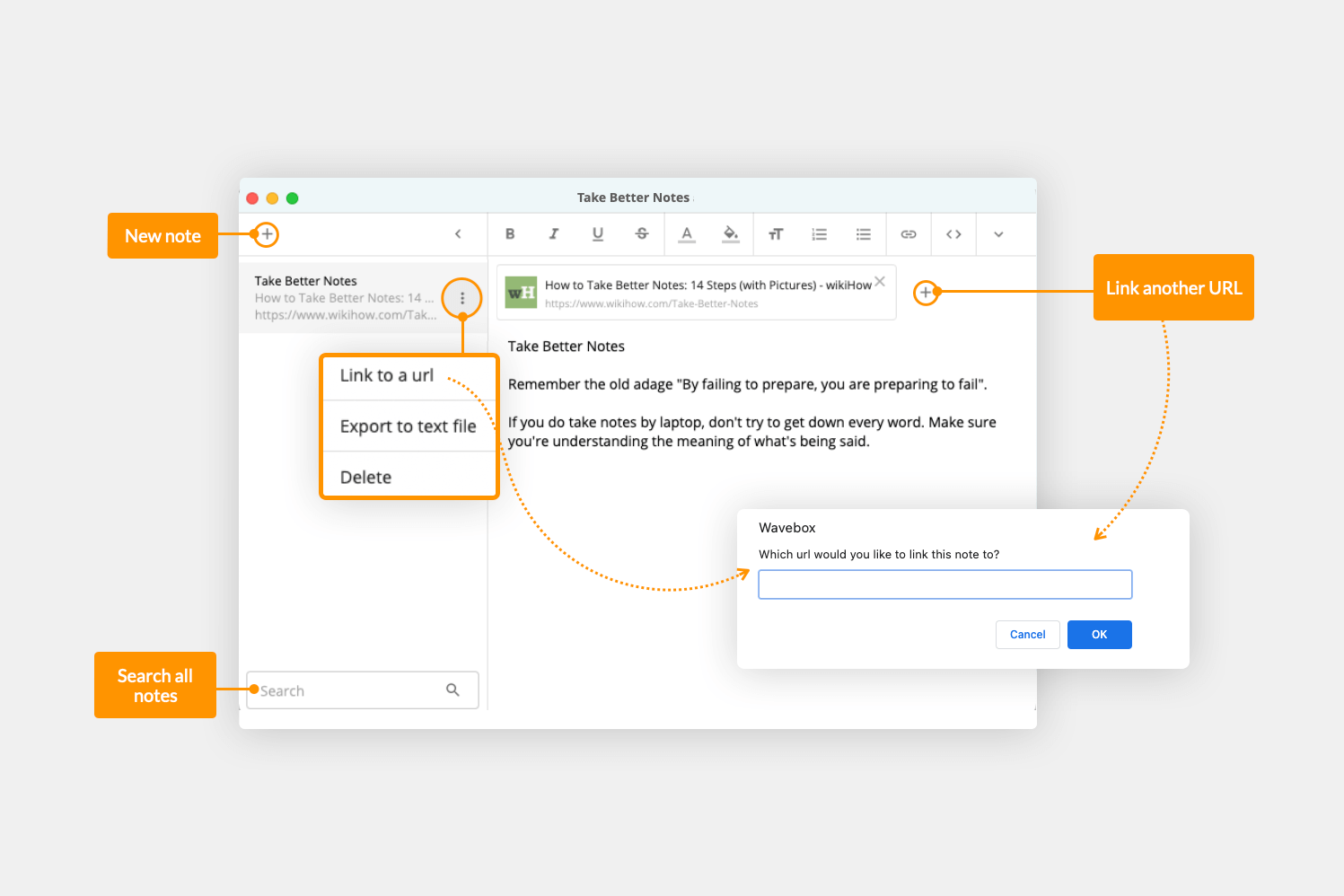 Smart Notes work in Wavebox like a Chrome extension.  The Smart Notes icon is always visible next to your other extension icons (a white note pad with blue border), so you can click on it to create a note for any app/tab you're working in.  You can create as many notes as you like, and a notification badge will display on the Smart Note icon to let you know there's a note for the page you're on.  Learn more about Smart Notes.
#7. Tab Count Badge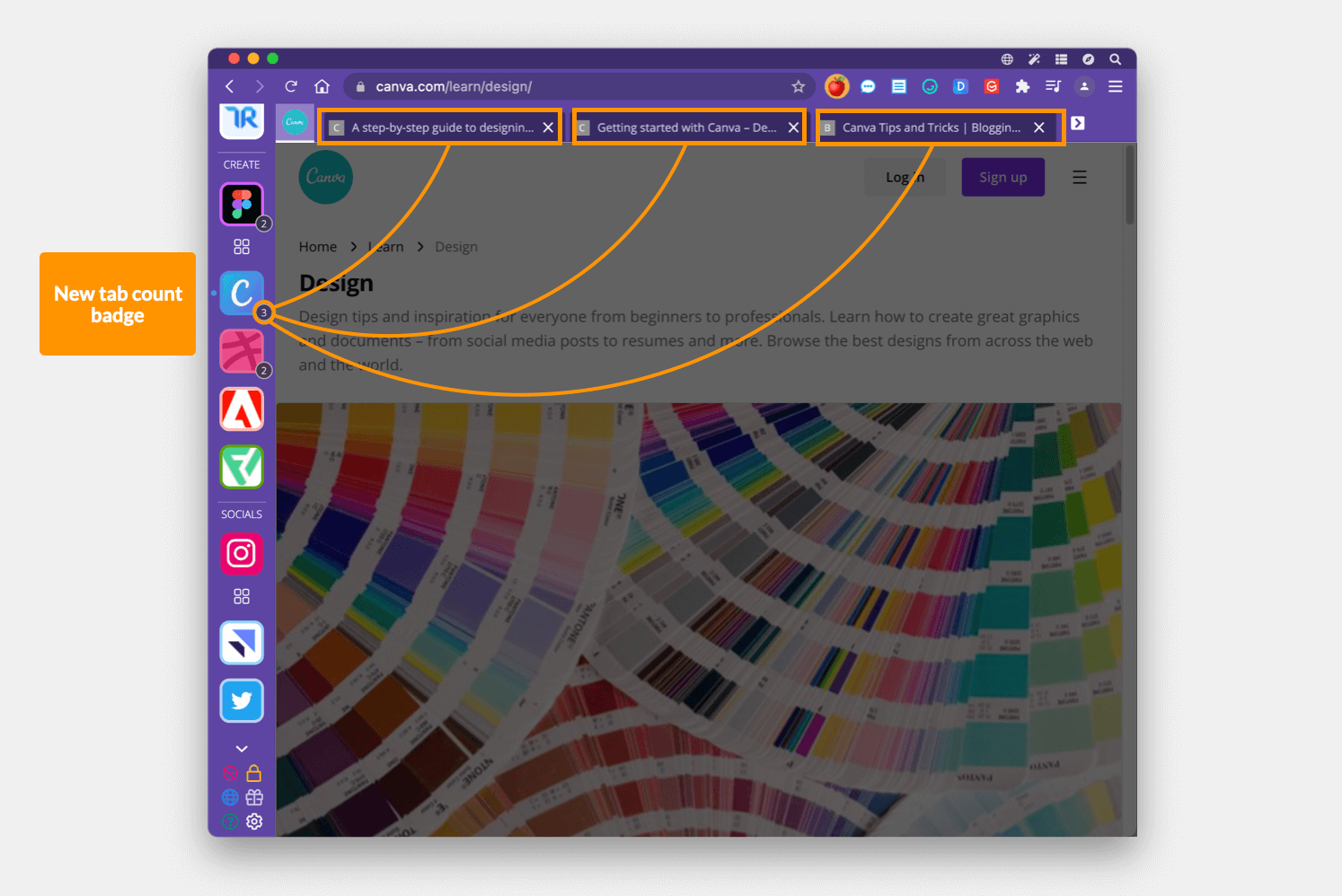 If you're the kind of person who loves tabs, and you love Wavebox's focused App Tabs even more, then you gonna like this one.  You can now choose to show a tab count badge on your sidebar group icons!  (We think this may prove to be a marmite option, so you'll need to activate it in Settings > Advanced > Advanced Flags > Group & App Tab Counts > Toggle ON).

#8. Tab Display Mode, Now Per Group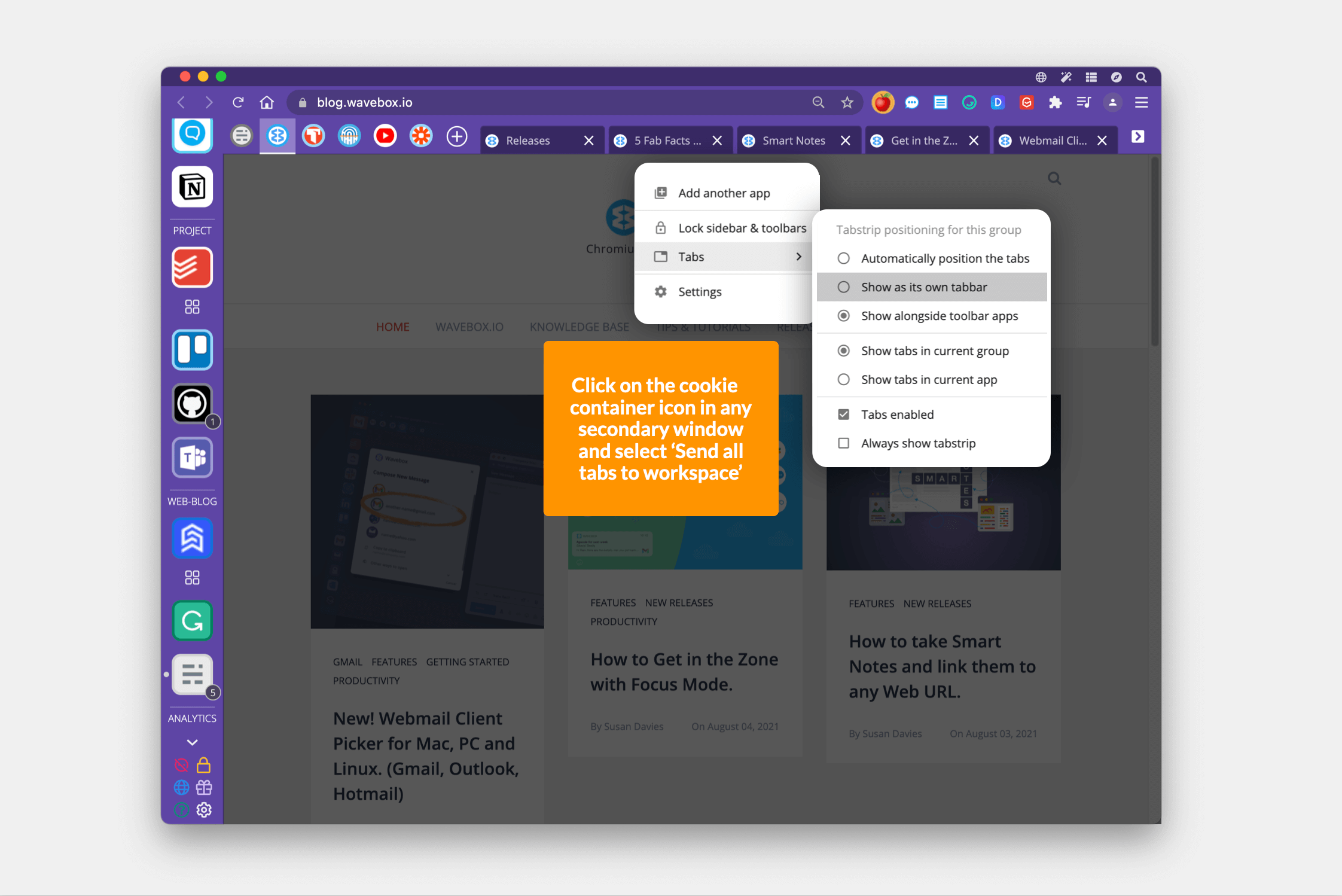 You can currently set your App Tabs to display either for the group, or just for the app you're working in, and previously your chosen setting was then applied app-wide.  However, we've now introduced App Tab settings per group, so that you can choose a display option for each group.  We're still testing so you'll need to switch it on in Settings > Advanced > Advanced Flags > Each Group Has Own Tab Display Option > Toggle ON.  Let us know what you think!

#9. Custom Unreads Widget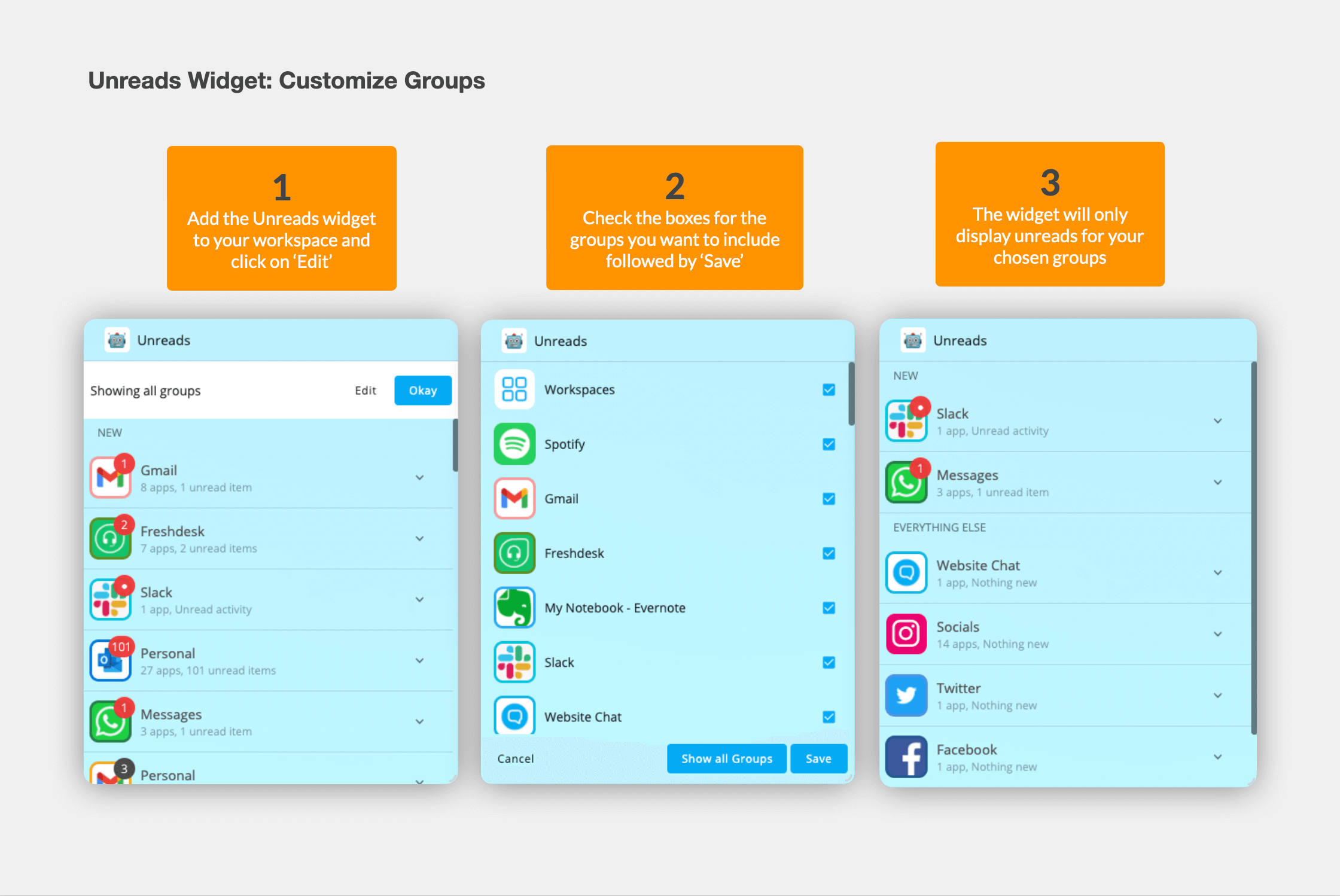 Each tab from the Mini Menu has a widget in the library for you to add to any workspace (unread, unified, notifications, connect).  The Unreads widget has also had some tweaks - you can now choose which groups to include in the list, so you can have different versions for different workspaces e.g. an Unread list just for your chats, or one for your social media accounts.

#10. Change Notification sounds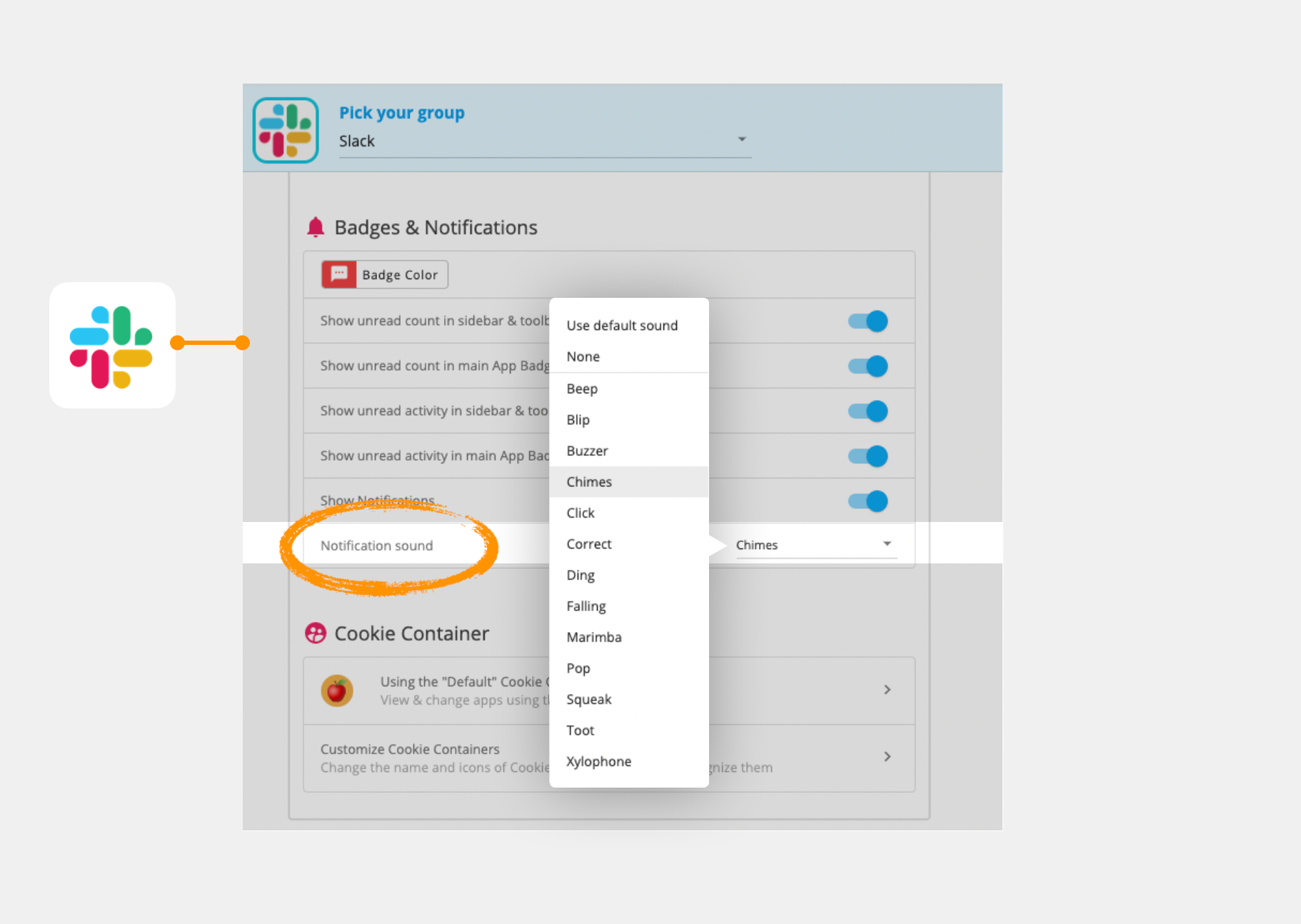 By popular demand, we've added a custom sound option for up to 13 different groups. So if you want a Chime sound for Slack notifications, right-click on the Slack icon, and go to Settings > Group Settings > Badges & notifications > Notification Sounds > Choose a sound.
#11. Focus Mode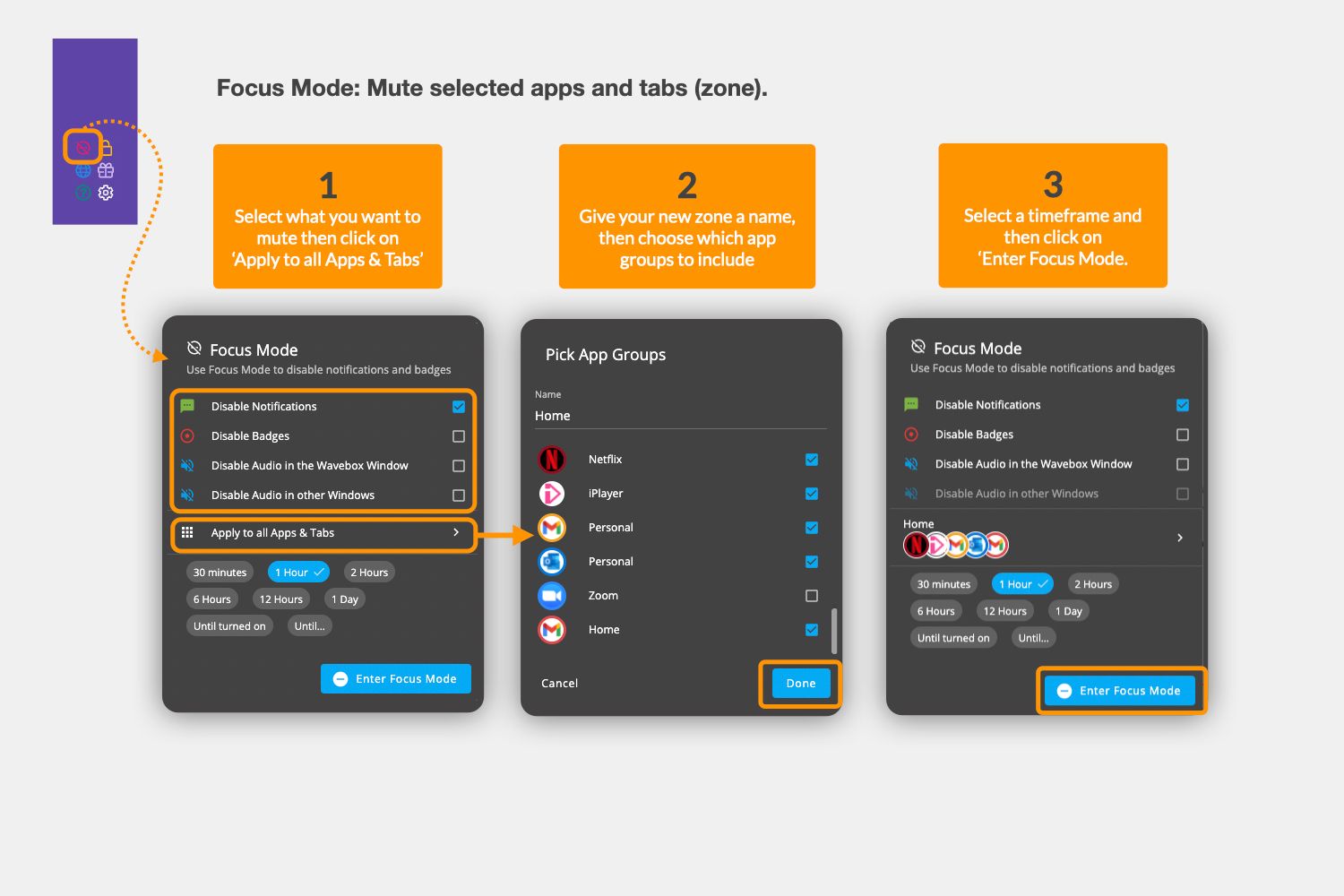 Our Mute Notification option has had a major facelift.  Click on the red circle icon in the sidebar (replaces the green bell) to see the new Focus Mode modal.  You can now choose to pause desktop notifications, hide unread badges, and mute sounds, all at the click of a button.  Learn more about the new Focus Mode.
#12. Webmail Client Picker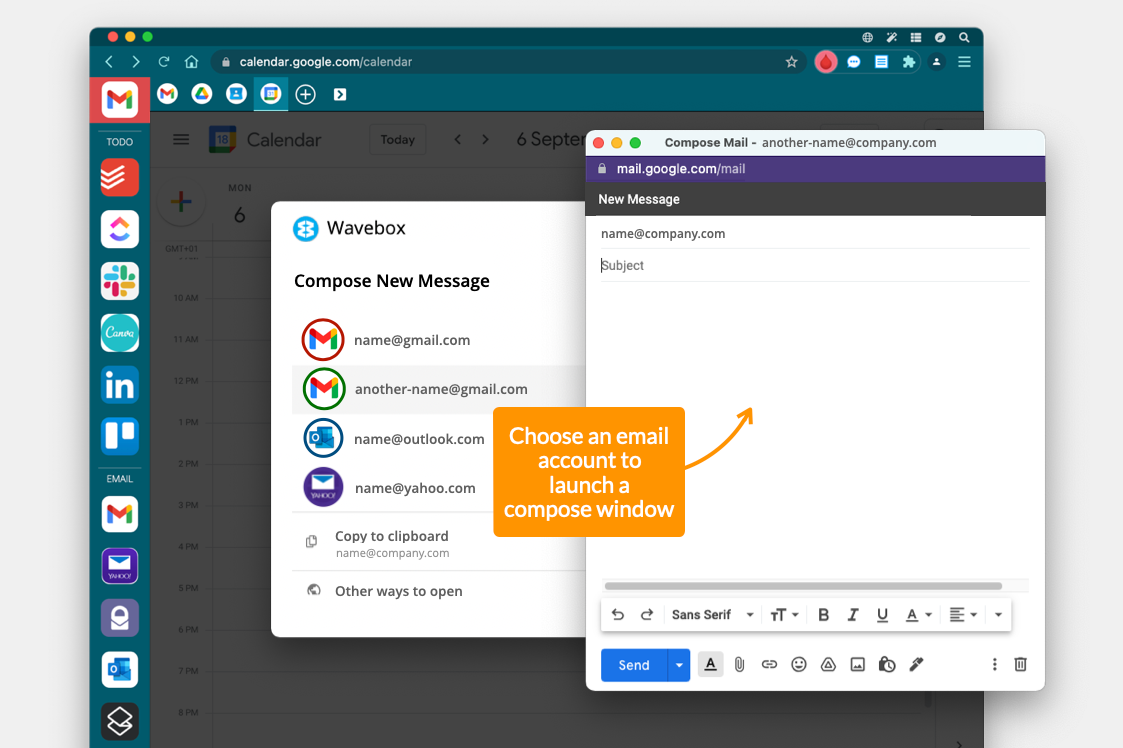 Click on any email address (in Wavebox or any other app on your desktop) to reveal a shiny new email picker modal showing a list of ALL your webmail addresses in the app. Simply click on the one you need for that email, and a compose window will pop up ready for you to type your message. Awesome! Learn more here.
#13. External App Link Opening Rules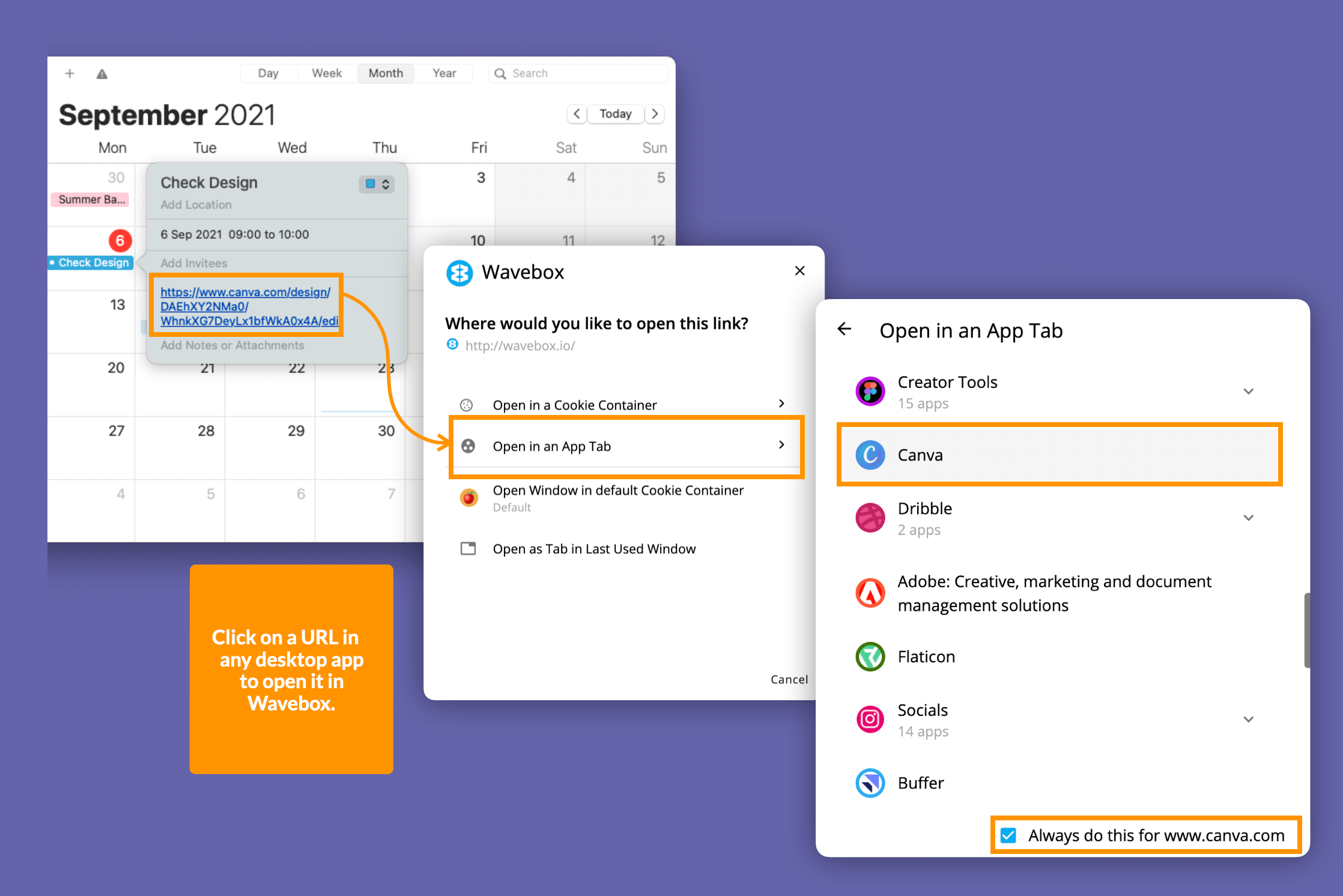 By selecting Wavebox as your default browser you can start to automate how links work between Wavebox and other apps on your desktop.  Click on any URL e.g. In Calendar, to bring up the external link handler window.  From there you can choose the best place to open the link, and save it for new time.
#14. In-App Feature Request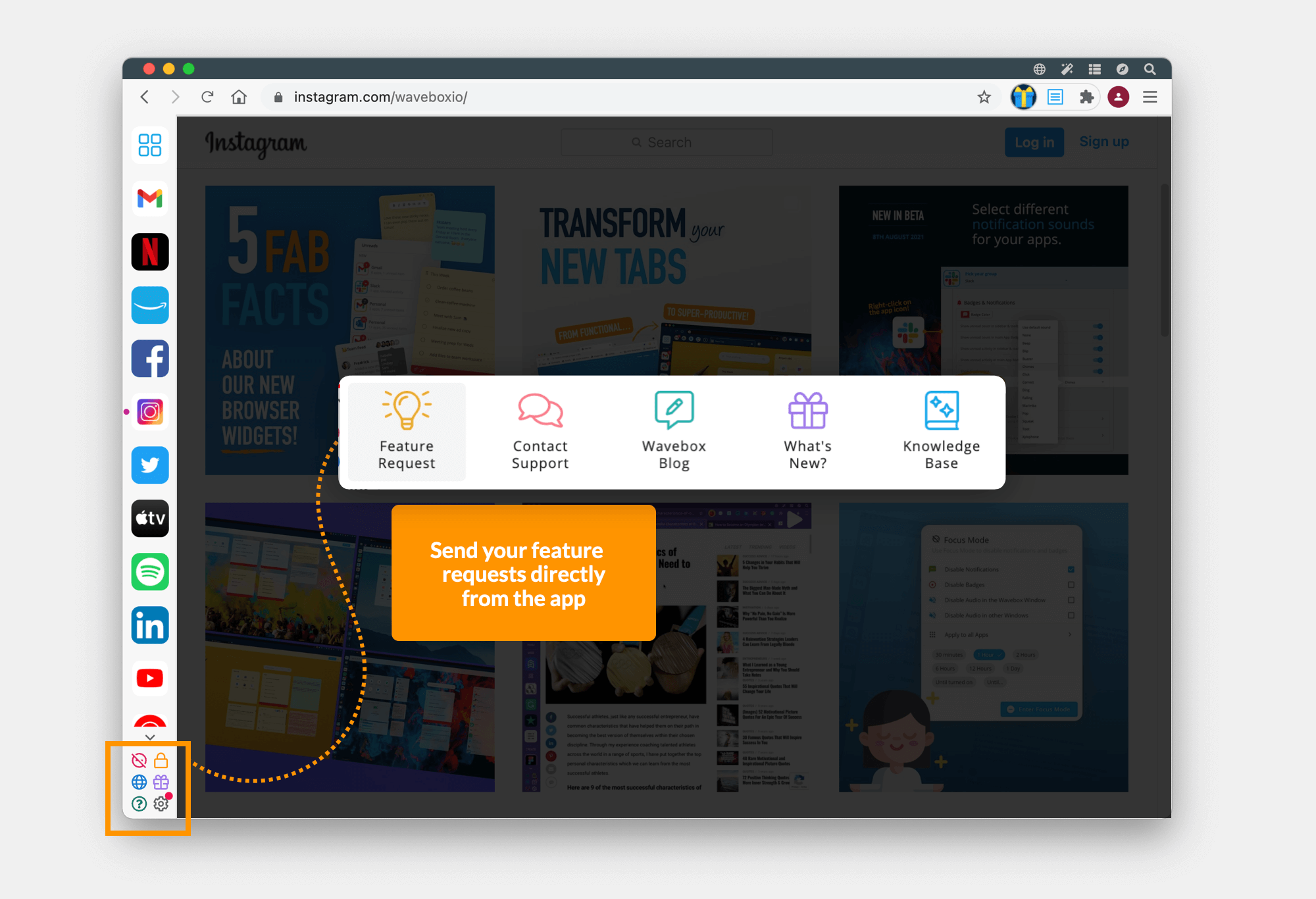 Many of the features we've added this summer came from user suggestions - we love nothing more than making Waveboxers happy - and you can now send your feature ideas direct from within the app.  Just click on the green question mark icon in the sidebar, followed by the yellow light bulb icon!
#15. Tab Keyboard Shortcuts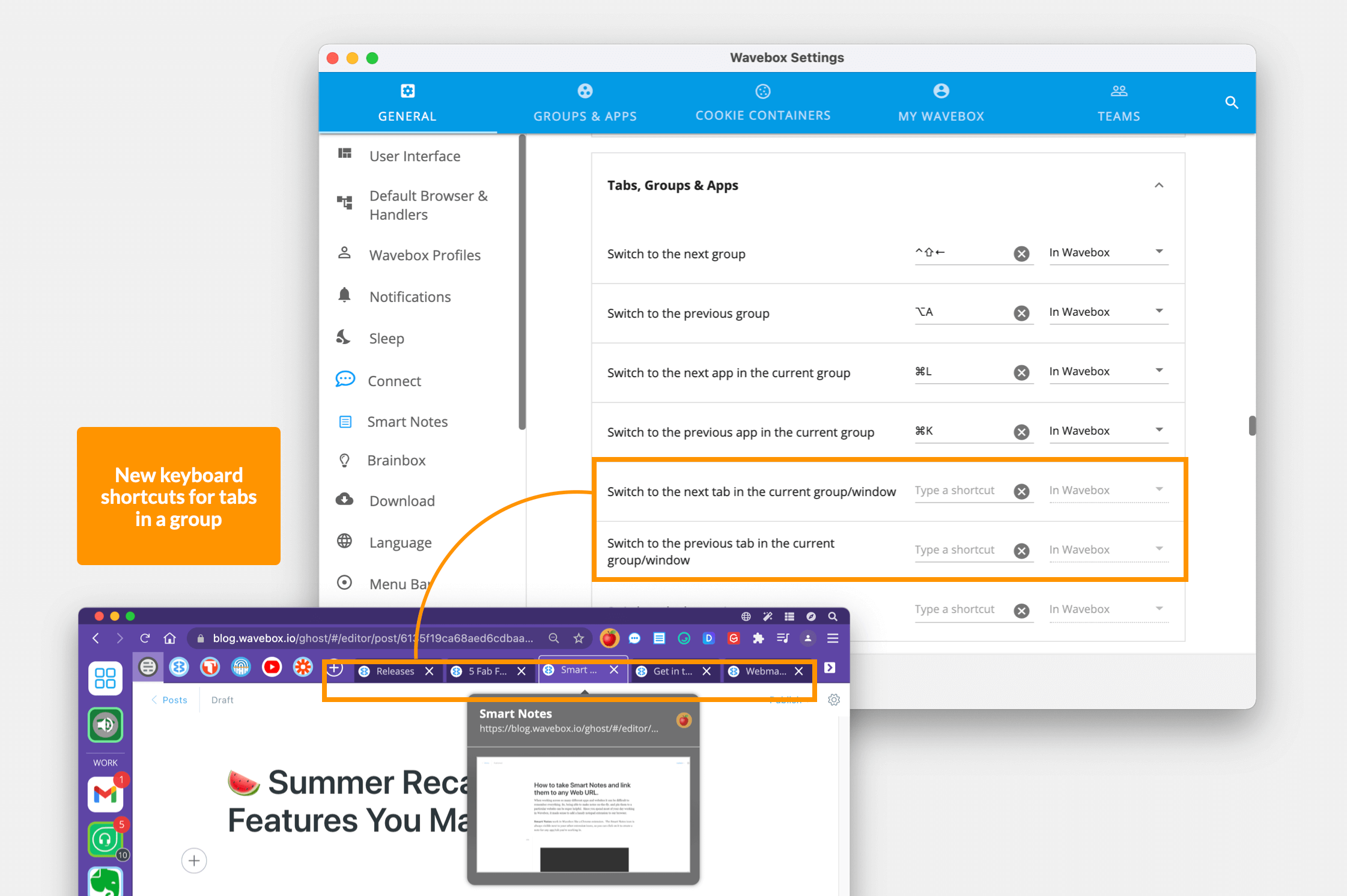 Finally, we've added some new keyboard shortcut options for navigating quickly between tabs in a group.  Just go to Settings > Keyboard Shortcuts > Tab, Groups & Apps > Switch to the next tab' etc.
---
For the latest feature news, subscribe to us on Instagram, Facebook or Twitter. You can also join our Reddit group for insights from the dev team.
New Releases: https://blog.wavebox.io/releases/
How to Update: Go to: Settings > Updates > Check for Update Now.