Connect is a secure and encrypted browser-based communication tool for you and your team. Connect is free for all Wavebox Pro subscribers.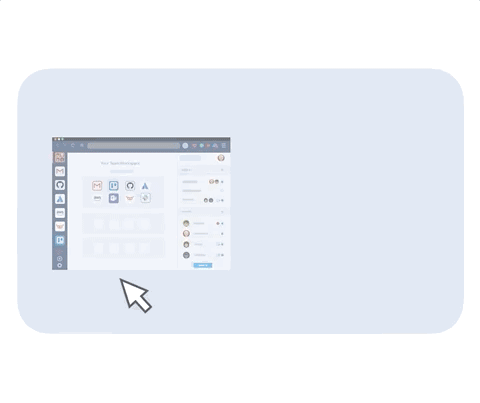 Using Connect, you can chat, call and screen share with the people you work with, without installing additional desktop apps, generating meeting codes, or sharing web links. Everything works within the Wavebox browser itself, so you can continue chatting/calling as you work with colleagues across all the same tools in Wavebox. Staying in the browser also means that we can use WebRTC to offer end-to-end encrypted channels between peers for voice, video and files.
You may already use tools like Zoom, Hangouts, Microsoft Teams and Slack - which all work wonderfully in Wavebox already - and Connect doesn't aim to replace these tools. Connect is more your go-to tool for quick chats, video call catch-ups, or on-the-fly screen sharing sessions with team members who are using the same tools. Connect brings chat, voice, and video to every web service, allowing your team to work more efficiently, increase productivity, and improve team communication across app workflows.
Read the Connect launch blog post →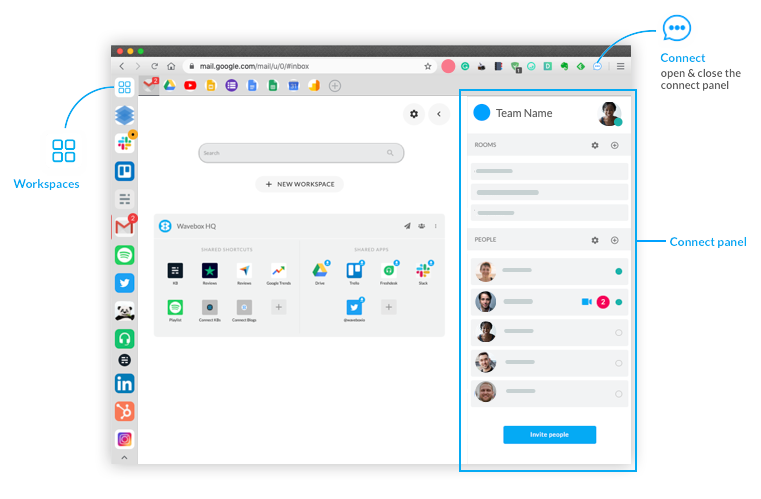 Here are some key facts & features of  Connect:
Secure, drop-in communication between all members of a team using Wavebox Pro.
Click on the bubble chat icon in the top toolbar (on the right with your extensions) to open the Connect panel, then create your first team.
This will also create a shared workspace for your team.  You can access your workspaces by clicking on the dashboard icon at the top of the sidebar.
You can manage teams, rooms and people by clicking on the cog icons in the Connect panel. You can also make changes in Wavebox's main settings (sidebar cog). Go to: 'Settings > General > Connect' and 'Settings > Teams'.
Your computer's performance may slow a little down during video calls, which is to be expected as the browser juggles memory consumption in the background. However, please let us know if performance is significantly affected so we can troubleshoot.
New Wavebox users will start a 7 day free trial of Wavebox Pro upon accepting the invite.  They will be guided through the install process.  
Connect is an optional service. You can remove the icon from your top toolbar by going to 'Settings > General > Connect > Disable (toggle OFF)'.