How to manage multiple email accounts
We all have too many email accounts, but here's how you can manage them all in one place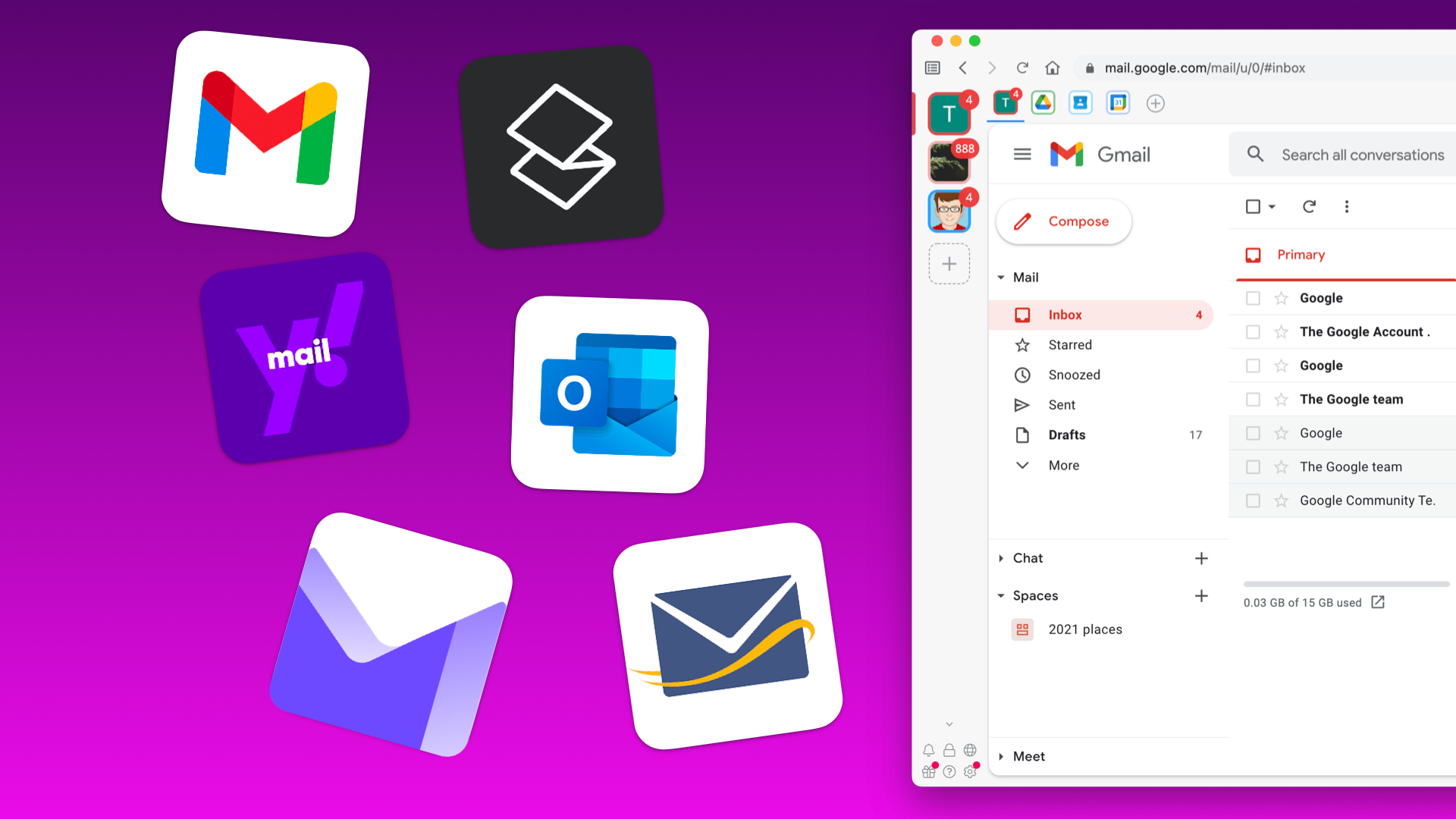 We all have too many email accounts. It's a pain to keep track of them all, and it's even worse when you have to remember different passwords for each one. Even if you use the same password for all your email accounts, it's still a hassle to manage them all.
There are a few reasons why we end up with so many email accounts. One is that we create new accounts for different purposes. We might have one for work, one for personal use, one for online shopping, and so on.
But how do you manage all of these email accounts? The solution is to consolidate email accounts into one place.
The problem with too many email accounts
We all know how important it is to stay organized and on top of our email accounts. But what happens when you have too many email accounts? Having too many email accounts can actually make you miss stuff because it's difficult to keep track of them all, important emails buried in cluttered inboxes, emails heading into accounts you just don't check regularly, it can become a real problem. It doesn't have to be like this though, you can learn to manage multiple email accounts much more effectively.

The benefit of managing multiple email accounts in one place
Managing multiple email accounts in one place can be a huge benefit for anyone who juggles multiple inboxes on a daily basis. Having all of your accounts in one place makes it much easier to keep track of what needs to be done, and you can avoid the risk of missing an important email and it helps to keep you more productive!
How to manage multiple email accounts with Wavebox
Wavebox is a desktop app that helps you to manage all of your email accounts in one place. With Wavebox, you can easily keep track of your different accounts and quickly switch between them. Each account has its own entry down the sidebar, making it super easy to switch between email accounts in an instant.
Wavebox supports lots of different types of email accounts, with Gmail, Outlook & Office 365 being the primary platforms, these accounts are integrated meaning they have some additional features such as enhanced notifications and badges.
With Wavebox, you stay logged into all your email accounts at the same time, and switching between them is simple. You'll never lose or close your email from your browser again, they're locked into the sidebar for instant access! This makes it easy to stay up to date with your work, personal, business accounts and more.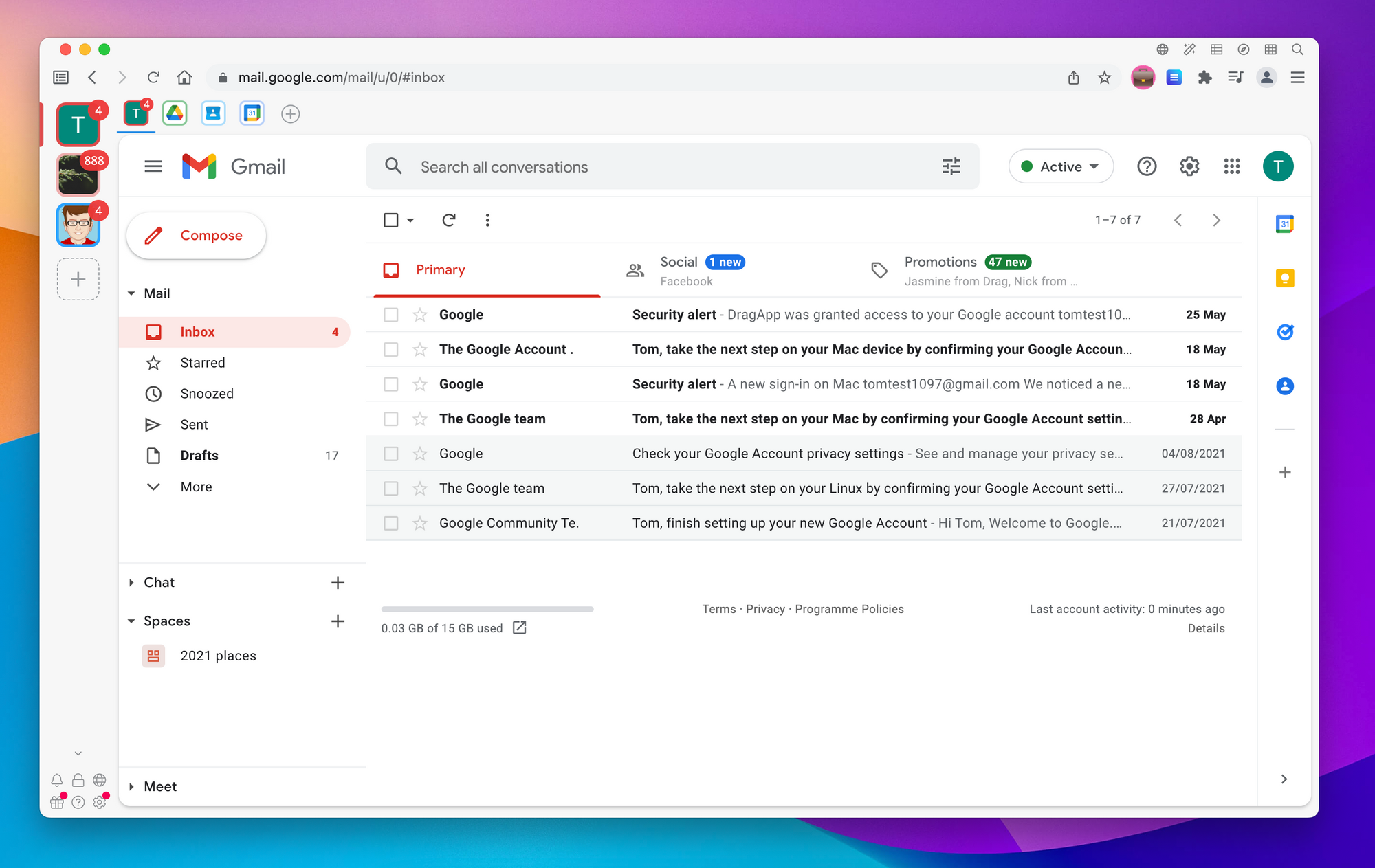 Download Wavebox to get started managing multiple email accounts in one place today!
How to get all your emails in one place
With Wavebox, you can add an unlimited number of email accounts, from any email platform, each one has its own entry in the sidebar.
However, if you want to consolidate all your emails into a single inbox, you could try email forwarding. Email forwarding allows you to send a copy of an email you receive to another email address placing all your emails in a single inbox. This comes with its own problems, your inbox gets even more cluttered and emails destined for home and work can end up mixed up in the same inbox. You can try to use labels and folders to separate the emails, but if you're receiving a lot of emails you might find an app like Wavebox makes managing multiple accounts much easier.
This is useful if you want to keep a secondary email address up-to-date with the messages in your primary email address, or if you want to share an email with someone.
How to consolidate email accounts
Consolidating all your email accounts into one place may sound like a good solution, but it's actually virtually impossible. Different email providers use different technologies meaning that even if you could consolidate all your accounts into one place, you wouldn't be able to take advantage of all the features that each provider offers. Your contacts are likely spread out across all your email accounts. consolidating them into one place would be a huge challenge. Also, you probably have different email addresses for different purposes (i.e work & personal). If you consolidated all your accounts, you would have to remember which email address to use for each purpose.
Wavebox on the other hand, allows you to aggregate all your Gmail, Outlook and any other type of account, so you never miss another email. Follow these steps to consolidate your email accounts,
Click the plus button in the sidebar on the left
Pick start with an app, and search for your email provider
Follow the on-screen wizard & sign in
You can add an unlimited number of email accounts to Wavebox and manage each account and all their inboxes in one place. Lots of email providers also bundle things like calendars, these all get added into Wavebox alongside your email accounts, so everything you need is in one place.
Software to manage multiple email accounts
If you've ever found yourself in a situation where you have multiple email accounts to manage, you know how frustrating it can be. You've got to log in and out of each account constantly, and keeping track of all your different inboxes can be a real nightmare. Wavebox is the best software to manage multiple email accounts.
First of all, Wavebox lets you easily add and manage multiple email accounts. You can add as many accounts as you want, and Wavebox will keep them all organized for you in one place. Wavebox also supports all major email providers, so you can be sure that all your accounts will work with the software.
Another great thing about Wavebox is that it lets you see all your inboxes in one place. You can easily switch between accounts and see all your new messages in one place. Wavebox also supports Gmail's multiple inbox feature, so you can see all your messages from all your accounts in one place.
If you're looking for the best software to manage multiple email accounts, Wavebox is the obvious choice.
Related: Getting started with Wavebox
How to manage multiple Gmail accounts
Wavebox is a great solution for managing multiple Gmail accounts, you can add all of your Gmail accounts and switch between them with ease and you can also customize your Wavebox interface to make it work the way you want it to.
Once you have your Gmail accounts added to Wavebox, you can start using them right away, to switch between accounts, simply click on the account name in the sidebar.
Related: How to manage multiple Gmail accounts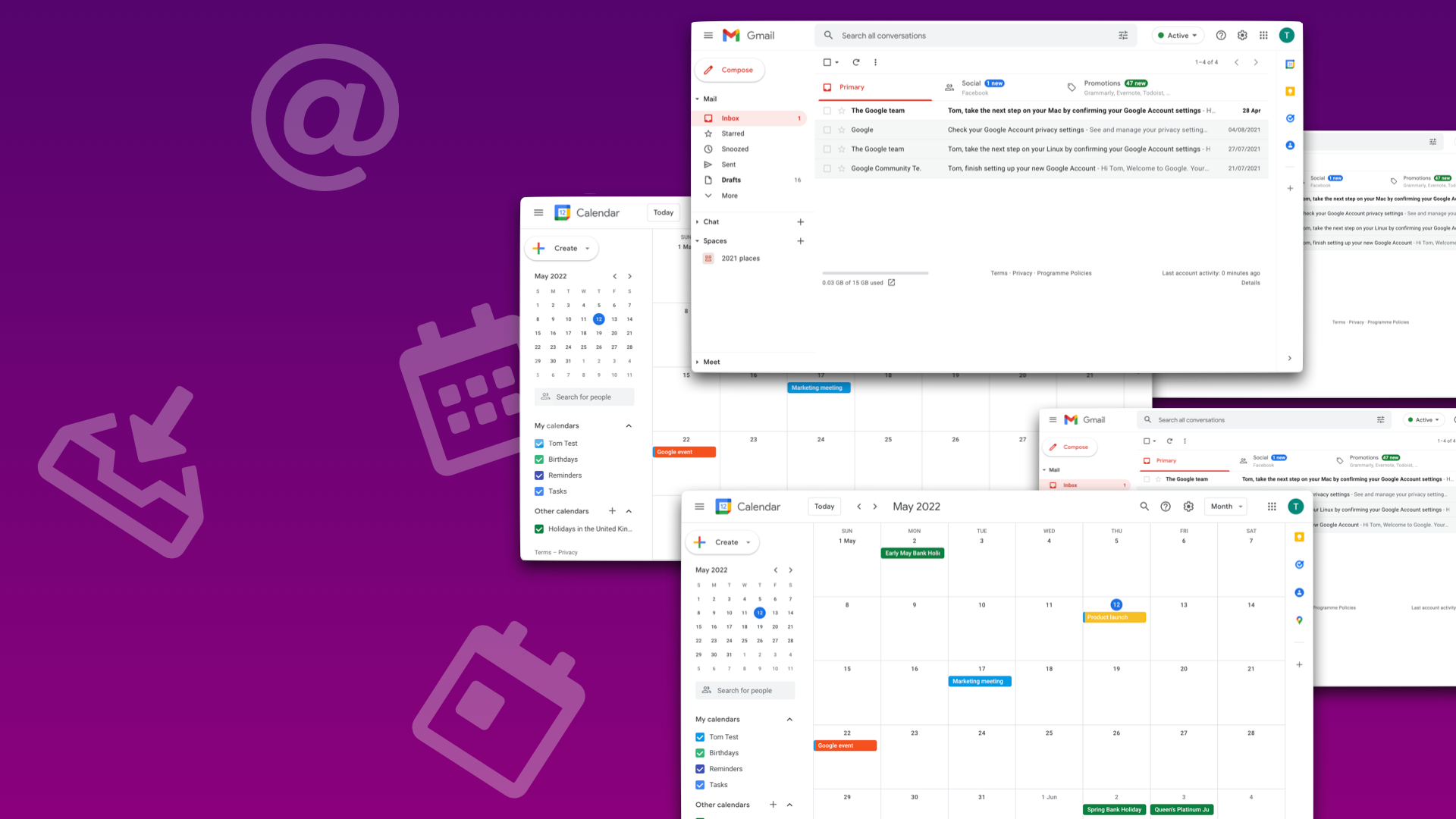 How to manage multiple Outlook or Office 365 accounts
Outlook and Office 365 use the same interface when it comes to email, but this doesn't make it any less powerful. Adding them to Wavebox is a breeze, simply search for Outlook or Office 365 in the app store and follow the steps to add it to Wavebox.
Once added, your unread badges and notifications will show up when new messages arrive and you can switch between accounts just by clicking their icons in the sidebar.
Related: How to manage multiple Outlook accounts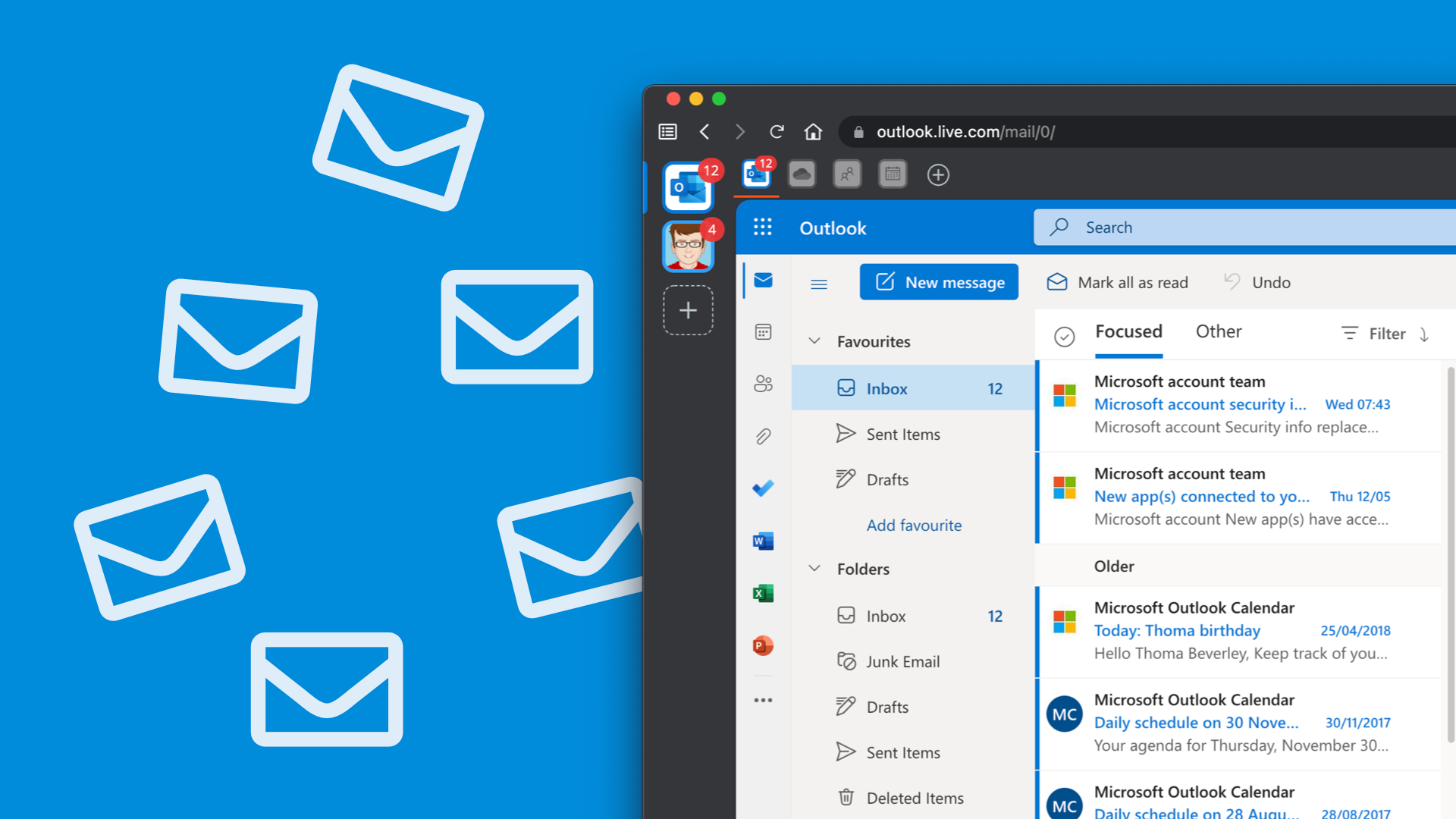 How to combine Gmail and Outlook in one account
With Wavebox, your Outlook & Gmail accounts live side-by-side in the sidebar. Switching between them is as simple as clicking on the icon of the account you want to open and just getting on with your day. This keeps them easily accessible so you can switch between them at any time.
You can also configure Outlook to forward emails to Gmail, so that your emails are all in one inbox. This can be a great solution if you only receive a few emails and don't need a strong separation between things like work and home. Check out his excellent article on how to forward your emails with step-by-step instructions.
Related: Gmail vs Outlook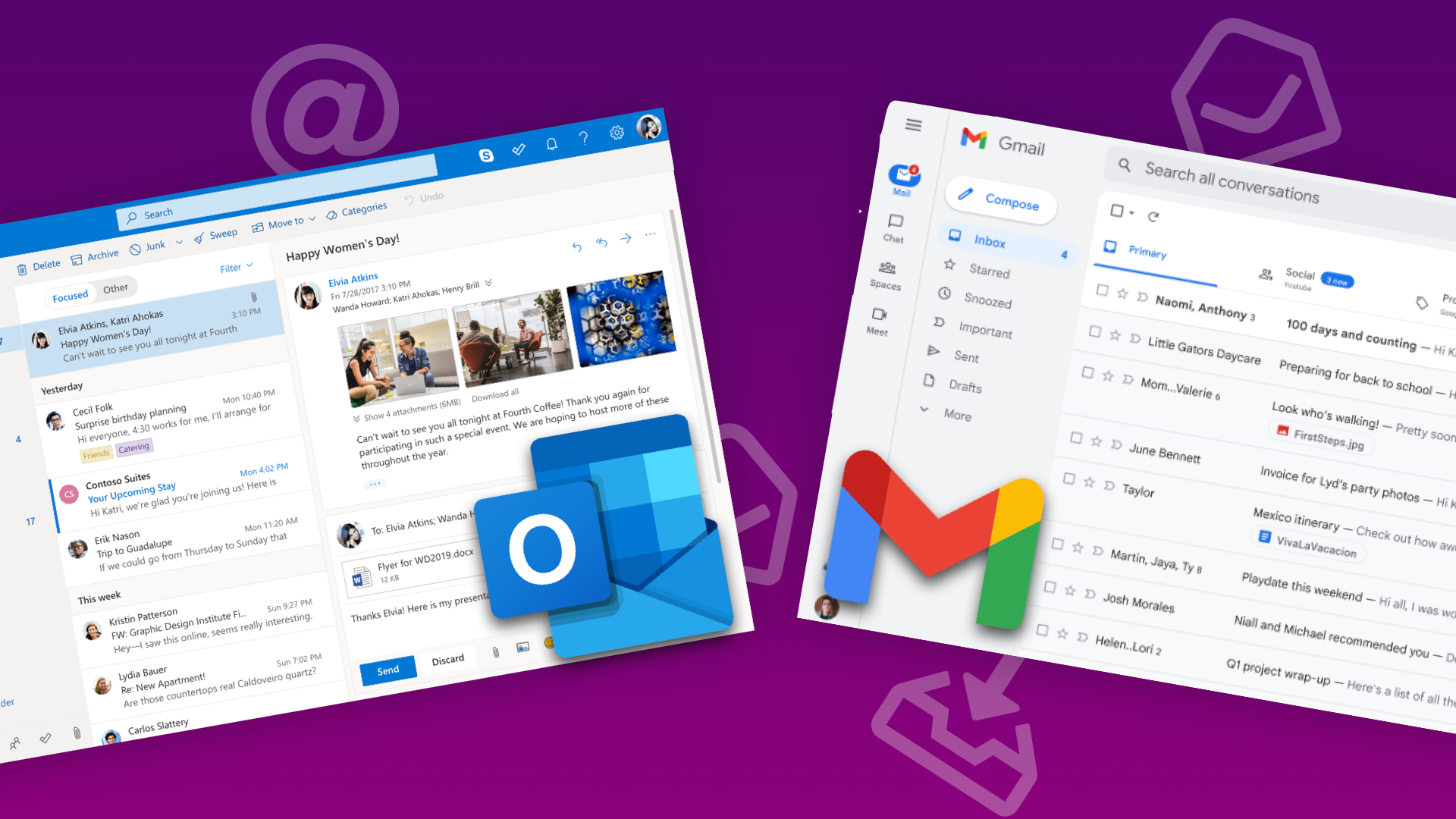 Email apps available in Wavebox
Alongside Gmail, Outlook and Office 365, Wavebox supports a wide array of other email providers. Some of these are used by millions of users, so if you're one of those, you can add them just the same into the sidebar. Here are just a few of the other email providers Wavebox supports:
AOL: AOL Mail provides a safe and delightful email experience for millions of people around the world.
Apple Mail: With iCloud, Apple provides an email address as well as calendar tasks and much more!
Fastmail: Email, calendars and contacts done right. Fastmail provides private, secure, ad-free email hosting for you or your business
Hushmail: Encrypted Email & Secure Web Forms. Our healthcare plans come configured for HIPAA compliance right out of the box.
Gmail: Email that's intuitive, efficient, and useful. 15 GB of storage, less spam, and mobile access. Gmail is one of the world's most popular email services!
Mail.com: Email how it is supposed to be; Free, simple and secure, multiple mail accounts in one place, from any device
Mailbox.org: A paid email & cloud storage service with power features
Office 365: Office 365 is Microsoft's cloud suite of Office products, each account includes an Outlook email ready to use
Outlook: Outlook is the free personal email account from Microsoft, offering outlook.com and hotmail.com email addresses.
Polymail: Polymail is a new email platform that keeps you on top of your most important communications.
ProtonMail: ProtonMail is the world's largest secure email service, developed by CERN and MIT scientists. We are open source and protected by Swiss privacy law.
Tutanota: Tutanota is the world's first secure mail service with automatic encryption - engineered in Germany. Open source & forever free. Protect your privacy now.
Superhuman: Superhuman is not just another email client, it rebuilt the inbox from the ground up to make you brilliant at what you do
Yahoo Mail: Yahoo makes it easy to enjoy what matters most in your world. Best in class Yahoo Mail, breaking local, national and global news, finance, sports, music, movies and more. You get more out of the web, you get more out of life.
Yandex Mail: Yandex Mail offers secure protection from viruses and spam, mail sorting, highlighting of email from real people, as well as free 10 GB of cloud storage on Yandex disk
Zoho Mail: Ad-free Business Email Hosting with a clean, minimalist interface. Integrated Calendar, Contacts, Notes, Tasks apps. Free for up to 5 users.
How to get all your messages in one place
By using Wavebox, you can add all your email accounts into one place, but once you're done adding those, why not try adding all your other communication platforms too? Wavebox supports WhatsApp, Telegram, Slack, Discord and thousands more!
Download Wavebox today, to boost your productivity and manage all your email accounts in one place!