Welcome to Wavebox Pro – thanks for downloading!
The Wavebox setup process is super-simple and only takes a minute. After that you can look forward to having:
All your favourite web apps in one place, with no more alt-tabbing and signing in-and-out.
What's new notifications delivered to your desktop, across all apps.
Apps that go to sleep when you're not using them, keeping your machine purrrrrring like a contented kitten. 😽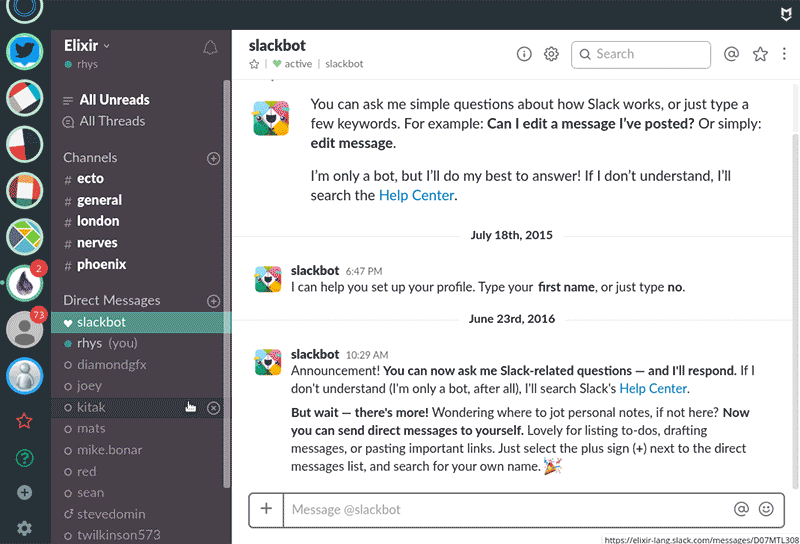 1. Add your first app e.g. Gmail
When you first install Wavebox you'll see a welcome screen inviting you to 'Add an Account'. Click to open our App Directory, then find your account and select it e.g. Gmail. You will be taken through some quick steps, which may include signing-in to your account, and selecting your services e.g. Calendar, Drive etc. Once completed, your Gmail icon will appear in the Wavebox sidebar. Click on it to see your Gmail account in the main Wavebox window. If you've added any services, then they will appear as smaller icons in the top toolbar. Job done! How easy was that?
2. Add more apps, like Slack and Trello, or any other cloud app or website.
Just repeat the process above for your other accounts. If you can't see your app on the list, then use the 'Add Any Website' option. You can paste ANY web URL using this option e.g. a link to a Google doc, social account, PDF etc. Once added you can easily switch between these accounts using the icons in the sidebar.
3. Add more services
Services are listed as smaller icons underneath your main accounts, and they can be anything; websites, webmail, web apps etc. Add a service by right-clicking on an account icon and selecting 'Add another Service'.  The smaller icon will then appear in the top toolbar.  You can also add services by right-clicking on (1) the top toolbar, (2) a page or weblink in the main Wavebox window.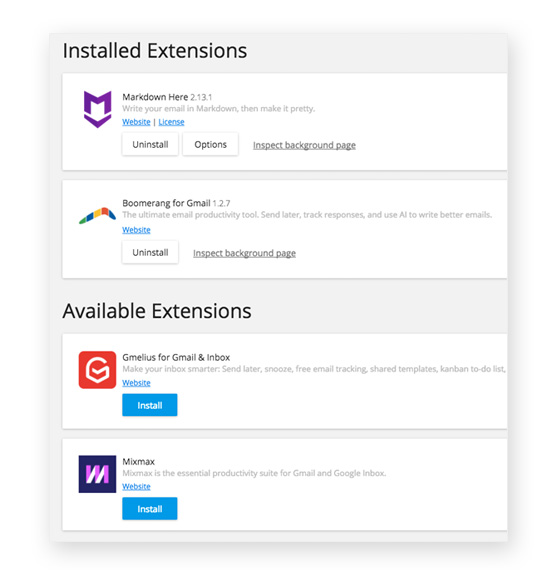 4. Add Extensions
Next, you can add some of the Chrome Browser Extensions you currently use. You can find a list of supported extensions by selecting the 'Account Settings' cog and then the blue 'EXTENSIONS' tab. Simply 'Install' the extension you want from the list to add it to Wavebox. Extensions we currently support include Boomerang, Markdown Here, Gmelius, Mixmax and LastPass, but new extensions are being added all the time, so keep an eye out for updates.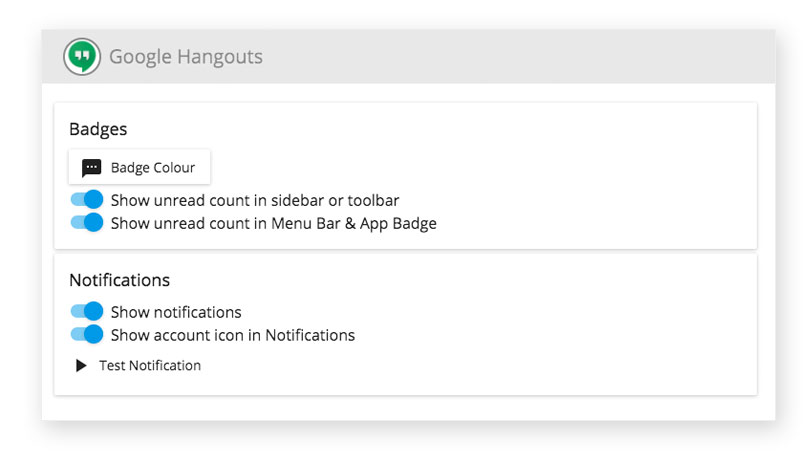 5. Customise your Notifications
You can make changes to account notifications by right-clicking on any app icon and selecting 'Account Settings'. Look for 'Badges' and 'Notification' toggles under 'Services'. General notification settings can be found by clicking the 'Settings' Cog (bottom-left), then under the blue 'GENERAL' tab.

5. Sleep your Accounts
You can use the sleep options to ensure Wavebox runs efficiently. It basically puts your apps 'to sleep' in the background when not in use, to save machine resources. You will still receive notifications for integrated accounts when asleep.  It works in several ways:
Pop-ups: When an app account isn't being used a pop-up will appear letting you know that it will go to sleep. You can disable this by clicking on 'Keep Awake'.   Also, upon waking an app, a pop-up will give you the option to keep that account awake e.g. you're using it more often than you used to.
Manual: To activate the sleep mode yourself, simply right-click on any app icon and select 'Account Settings'. Then check the box under 'Behaviour' and enter a time setting for that account. When you're not using that account in the main window it will automatically go to sleep (shown as grey) until you wake it up again.
Manual (Temporary): You can over-ride the account settings at any time by right-clicking on any icon and selecting 'Sleep' or 'Awaken' for that account.  Bear in mind that this will only work in that instance, and will not permanently change your settings for that account.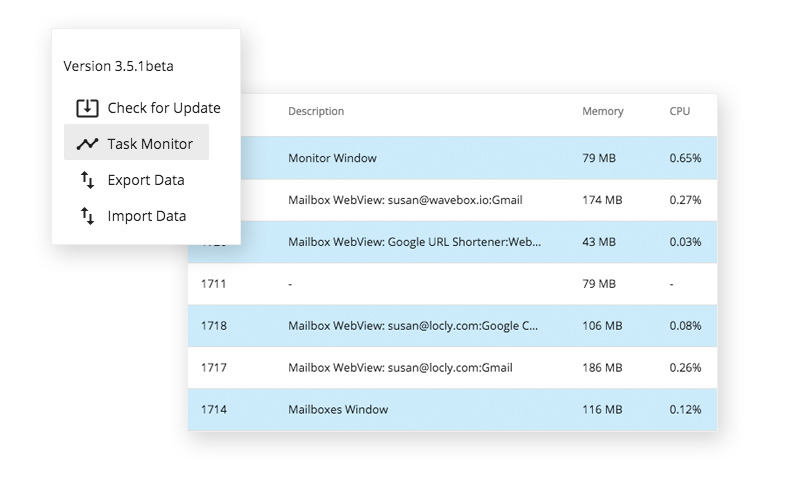 6. Keep Track with Task Monitor
Finally, it's always worth keeping an eye on how your apps are performing from time to time using Task Monitor. This gives you a real-time update on resources used by each linked app. Simply click on the 'Settings' cog, then under the 'General' tab look for the 'Debug' header and select 'Task Monitor'.
---
Need Help?
Don't forget, if you get stuck or have any issue with Wavebox, there are many ways to get in touch with us for help:
❤ Wavebox HQ